On January 11, 2023, the Northwest Florida Legislative Delegation held a meeting at the Okaloosa County Admin Building in Shalimar, Florida.
During the meeting, Chairman of the Okaloosa Board of County Commissioners, Trey Goodwin, presented Okaloosa County's Legislative Priorities for the 2023 Legislative Session, which included a proposed project to construct a new roadway parallel to Highway 98 in order to alleviate traffic congestion in the area west of Hurlburt Field.
According to Commissioner Goodwin, the proposed project consists of constructing an approximate 3-mile roadway that runs parallel to Highway 98 and will provide significant relief to congestion along US 98 for all the residential areas west of Hurlburt Field. The new collector road will allow for the relocation of access to Florosa Elementary; thereby removing school turning traffic from US 98.
According to the county, the road would start near Solar Street (near Arby's) and end at Green Drive.
The new roadway, which is being referred to as the West Highway 98 Collector Road, involves multiple agencies with preliminary coordination efforts having occurred with FDOT, Eglin Air Force Base, Okaloosa County School District, and Santa Rosa County.
According to Okaloosa County, Water and Sewer also has a need to run additional utilities in conjunction with this roadway, and funds are needed to move forward with an environmental study and design, estimated to cost $750,000.
To date, Eglin staff has provided preliminary approval for use of Federal property to accommodate the construction of the new collector road and utilities, according to the county. County staff is moving forward with the development of the required environmental documents and preliminary design for submission to Eglin.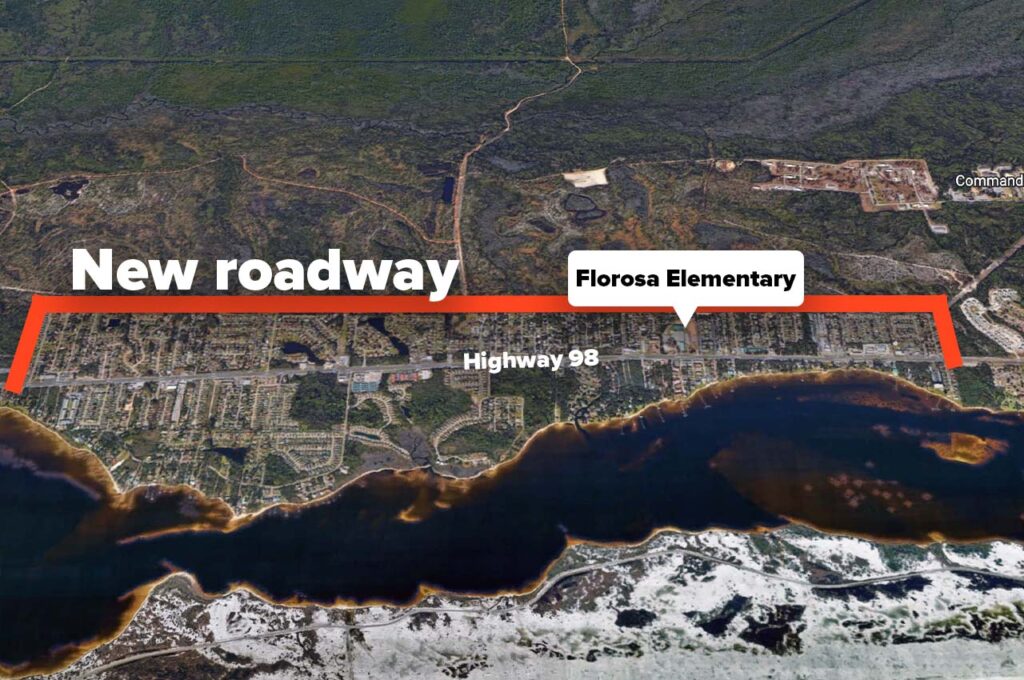 According to the county, improved access, safety, and traffic flow can be expected once the proposed improvements are in place. In addition, the collector road could have a bicycle/pedestrian component to allow alternative transportation methods to Florosa Elementary School.
Funding requested at this time will be utilized for the development of the required Environmental and Preliminary design documents that will be submitted to Eglin in order to obtain the necessary land easements.
The county is requesting $375,000 in funding from the State, which will be matched with local dollars, for the environmental assessments necessary for this project.
"I will tell you that in my time in office, one of the biggest complaints that I've had from our partners across the fence at Hurlburt has been Highway 98 traffic and getting their people to and from work. This is an opportunity to leverage a new roadway," said Commissioner Goodwin. "We think it would be very worthwhile and represent a huge benefit, not only to Okaloosa County, but to Hurlburt and those who commute in from Santa Rosa County, quite frankly as well."
Representative Dr. Joel Rudman, who represents Santa Rosa County, was part of the legislative delegation and commended Commissioner Goodwin and Okaloosa County for making the topic of traffic west of Hurlburt Field a priority, as it does affect his district.
"If you ask me, the number one issue in District 3 is the traffic to and from Hurlburt," he said. "For anyone who doesn't believe that, I would encourage you to meet me at my office in Navarre. We'll meet at 4:00pm. You can drive from Fort Walton to Navarre at 4:00pm and we'll probably end up meeting at 6:00pm, so it's a very real issue."