As of 12pm on Sunday, Superintendent Marcus Chambers confirmed that Okaloosa County Schools will be closed on Monday, August 16th due to Tropical Storm Fred. This includes all school activities.
Okaloosa County School District will monitor the storm and make a decision later on Monday for school on Tuesday, August 17th.
Walton County schools will also be closed on Monday
Fred has regained Tropical Storm strength and now has a well-defined low pressure center which should assist in gaining some confidence in the forecast.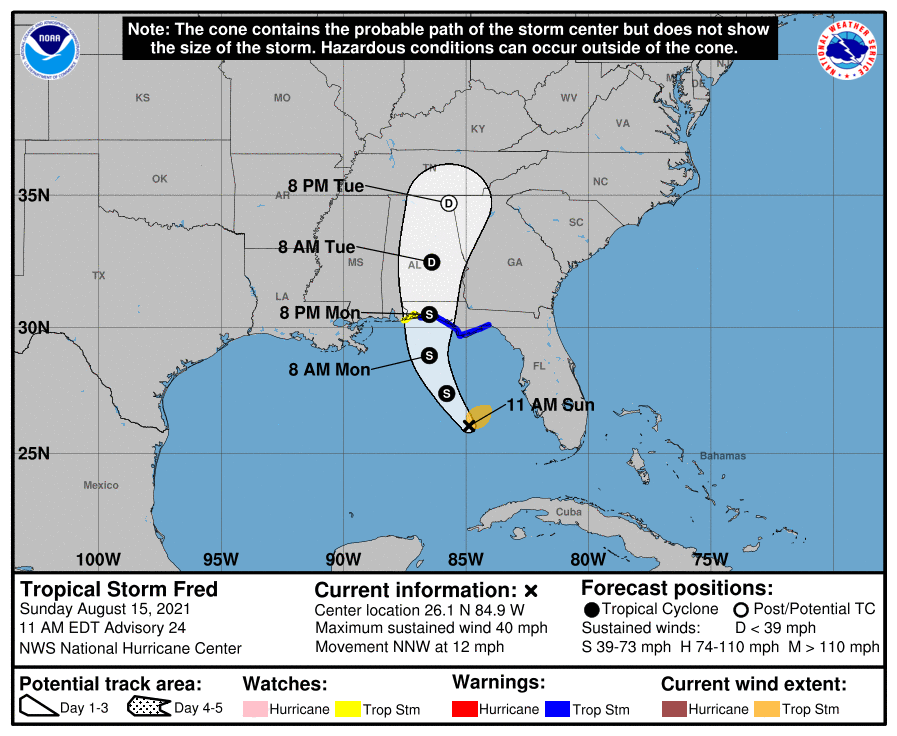 "The track has shifted farther East with landfall now projected in Okaloosa County on Monday evening," said Patrick Maddox, Okaloosa Public Safety. "Although the chances for tropical storm force winds have risen into the 56%-61% range, the chances for experiencing the heaviest rainfall are decreasing some, with much of the county in the 4-6" range and the eastern third in the 6-8 range."
These values can change with track adjustments.
Only minor coastal flooding of 1-3 feet is forecast, but the potential for flash flooding exists with rapid rainfall.
Fred is still forecast to be a 50mph Tropical Storm upon landfall.
According to Maddox, earliest estimated arrival of T/S winds, if they were to occur, would be 6am Monday morning.
Most likely arrival in Monday afternoon.
However changes in the track can push that timing North or South as well.