It's been 16 months since the half-cent sales tax was approved by Okaloosa voters. But for Superintendent of Schools Marcus Chambers, it represents a landmark decision for Okaloosa County schools, who have not seen significant construction in almost 20 years.
Thanks to record sales-tax collections in 2021, projects like single point-of-entry, perimeter fencing, and some roofing projects are years ahead of schedule.
Now, the Okaloosa County School District is ready to move onto much bigger projects by way of Certificates of Participation (COP). On Monday night, the Okaloosa County School Board approved the issuance of Certificates of Participation not to exceed $130 million.
"We have three years* to get a lot done in Okaloosa County and we're talking classroom additions, cafetoriums, multipurpose buildings and being able to look at 19 construction projects across 15 schools," said Chambers. "That's pretty significant."
According to Chambers, a Certificate of Participation is a process that school districts across the state of Florida, and across the nation, utilize in order to get funding to get projects going.
By using a COP, school districts get money up front and then pay it back with available resources, such as the half-cent sales tax.
This financing tool allows a school district to utilize a lease structure and borrow money for capital projects. A school district will utilize the Certificate of Participation when there is a specific revenue stream that can be tied to the capital project. In this case, the half-cent sales tax and other school sources.
Fun fact: The OCSD currently has no outstanding debt.
What the $130 million will fund 💰
Classroom additions for Crestview High School, Laurel Hill, Elliott Point Elementary School, Silver Sands; and
New Cafetoriums for Plew Elementary School, Ruckel Middle School, Bob Sikes Elementary School, Edwins Elementary School, Shalimar Elementary School, and Wright Elementary School; and
Renovation and expansion of dining areas for Pryor Middle School, Baker School, and Crestview High School; and
New multipurpose athletic buildings for Niceville High School, Crestview High School, Baker School, Choctawhatchee High School, and Ft. Walton Beach High School; and
Multipurpose room renovation at Laurel Hill School.
Florida for the win 😎
"We looked at the half-cent sales tax revenue for the past 9 months of the program, since January of this year, and our sales-tax revenue is 39% higher than the projections that we used originally," said Assistant Superintendent Steve Horton.
According to Horton, as it relates to Certificates of Participation and borrowing funds, interest rates are still low.
"We don't have a situation here in December where interest rates are at a historic low, but they are low, relatively speaking," said Horton. "So if there was a time in which a school board or an entity would go out and make use of Certificates of Participation, now's a good time to do that."
As we've seen with residential construction prices, the same can be said on the commercial side too. It's higher now than it has been in the past.
However, thanks to the "Guaranteed Maximum Price" agreement between the Okaloosa County School District and Jacob's Titan, the project management company, the school district will not have to cover any increase in final construction costs. That will be on Jacob's Titan to cover the difference.
"We are very pleased with the work that Jacob's Titan has done in the past with staying within a Guaranteed Maximum Price they provide us," continued Horton. "In essence, anything that comes beyond that, they would absorb that as their own risk. So we're pleased with the GMP that's coming before us today."
In a normal GMP situation, there would be a shared-savings split between the OCSD and Jacob's Titan. However, because of the uncertainty of construction costs at the moment, Jacob's Titan has forgone the first $10 million in savings.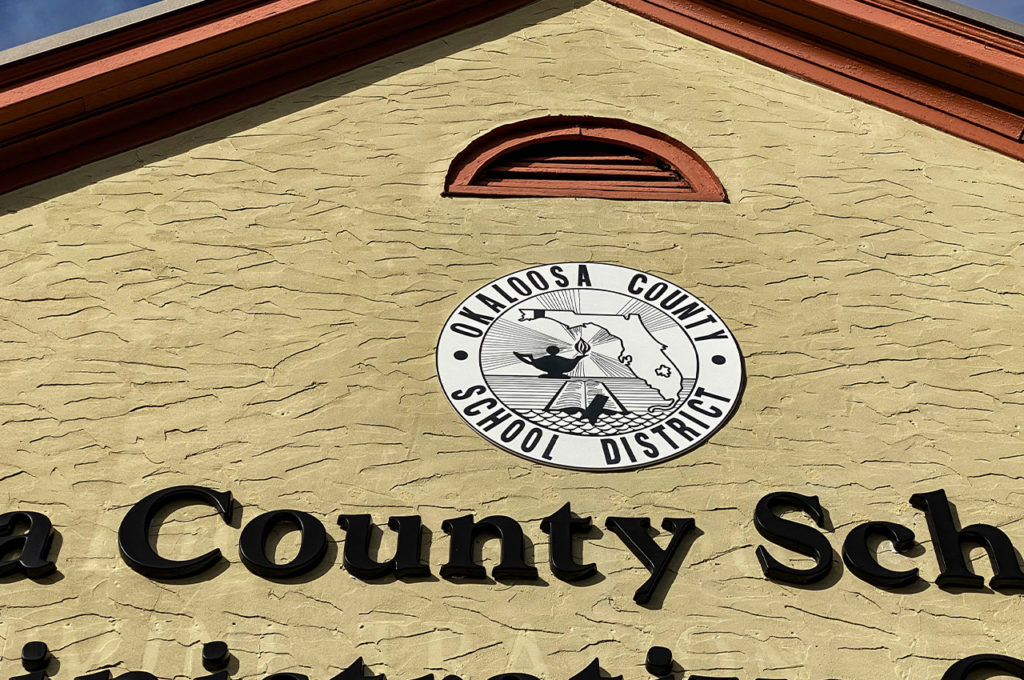 A closer look at the projects 👀
New Cafetorium Projects – The new Cafetorium contains a full-service kitchen and serving area as well as a large dining area that can be divided with a moveable partition. At the opposite end of the building is a platform that can be used for performances or other public events, complete with a Music Room behind the platform. The building also contains PE Storage, restrooms and office areas. There are two large restrooms provided, also.
Plew Elementary School
Ruckel Middle School
Bob Sikes Elementary School
Edwins Elementary School
Shalimar Elementary School
Wright Elementary School
Expanded Dining Area Projects – The schools listed below are due to receive expanded dining areas through renovations or additions to existing buildings. In some cases, adjacent classroom or stage areas will be incorporated into the existing dining footprint to allow for additional dining capacity. Building additions that provide for new square footage are also being planned at some schools.
Pryor Middle School
Baker School
Crestview High School
New Multipurpose Buildings – Multipurpose Athletic Buildings consisting of a full-size basketball court that can be subdivided into half-court areas with a floor-to-ceiling curtain are planned for the schools listed below. The building will include a lobby with large restrooms, a small kitchenette that can be used for concessions, and ample storage for athletic equipment. A mechanical mezzanine above the restrooms will contain the HVAC equipment that will heat and cool the building.
Niceville High School
Crestview High School
Baker School
Choctawhatchee High School
Ft. Walton Beach High School
Multipurpose Renovation Project – Laurel Hill School will meet their Multipurpose Building needs by renovating their existing "old cafeteria" building into a multipurpose room. This room will be used for public events as well as school performances and award ceremonies.
The existing classrooms currently contained in the building will be replaced with a new classroom building and will be demolished to provide the open areas needed for the new Multipurpose area.
The exterior will feature new windows installed where the original windows were located and a new entry lobby area reminiscent of the original structure built in the 1950's.
Restrooms will be provided as well as a new platform and storage areas. The building will receive a new roof as part of the renovation, also.
Classroom Addition Projects – New classrooms will be added to accommodate for overcrowding and to reduce the use of portables on their campuses. The four (4) classroom additions listed will be "ramp" style designs, while the larger, eight (8) classroom buildings will mimic the design of the existing, adjacent structures.
Crestview High School – 8 Classroom Addition
Laurel Hill School – 4 Classroom Addition
Elliott Point Elementary School – 8 Classroom Addition
Silver Sands School – 4 Classroom Addition
19 in 3…*
As Superintendent Chambers addressed the School Board, he mentioned getting "a lot done in 3 years."
According to Steve Horton, there is a reasonable expectation that these types of projects can be completed within 3 years. If the district cannot get these projects completed, they will be subject to repaying a portion of the interest on the remaining funds.
As for when dirt will get moving, Horton told Get The Coast on Monday that they plan on starting with the high school multipurpose buildings first, with bidding starting in late January/February timeframe.
"This is exciting for the students of Okaloosa County, for the families and the employees of the school district, to be able to really do the things that we need to do," said Chambers.