Save the Closet is a mobile community closet for those in need. It was born when Katy Lingle wanted to give Hurricane Michael victims access to good quality clothing. Katy answered our questions about Save the Closet and here's what we found out.
What is Save the Closet?
"Save The Closet is mobile community closet, which has turned into more of a mobile store. It offers a free shopping experience for those in need. It was an idea I came up with following Hurricane Michael, in an effort to give donations in a dignified manner. Rather than grabbing a bunch of mediums and dropping off a garbage bag or, even worse, making people already dealing with devastating conditions DIG through trash bags, I felt we could do better, so… we did!"
What types of donations are needed?
Save the Closet is always in need of new, and gently used men's women's, and children's clothes, shoes, and accessories. Unusual sizes are always in urgent need.
Financial donations can be made at savethecloset.com and clothing donations can be arranged via message on Facebook or e-mail at info@savethecloset.com.
How do you get the donations to the people that need clothes?
"Currently, we operate from storage units spread out from Santa Rosa Beach to Lynn Haven, FL. We receive pre-sorted (hopefully) donations and volunteers assess EVERY item for condition and quality. Our motto is, if we wouldn't wear it, we don't share it. We strive to provide a quality level others would pay for. With all the excess in our society, no one should have to spend precious resources for nice clothes after a disaster. This takes an enormous amount of time and space, of course so, in addition to regular sorting, we organize large volunteer events to big a dent in the pile."
Save the Closet schedules events around the region, usually partnering with churches and towns for adequate space and assistance. The long term goal of Save the Closet is to hit the road and be able to participate in disaster relief with other organizations.
All upcoming events are posted on the Save the Closet Facebook Page.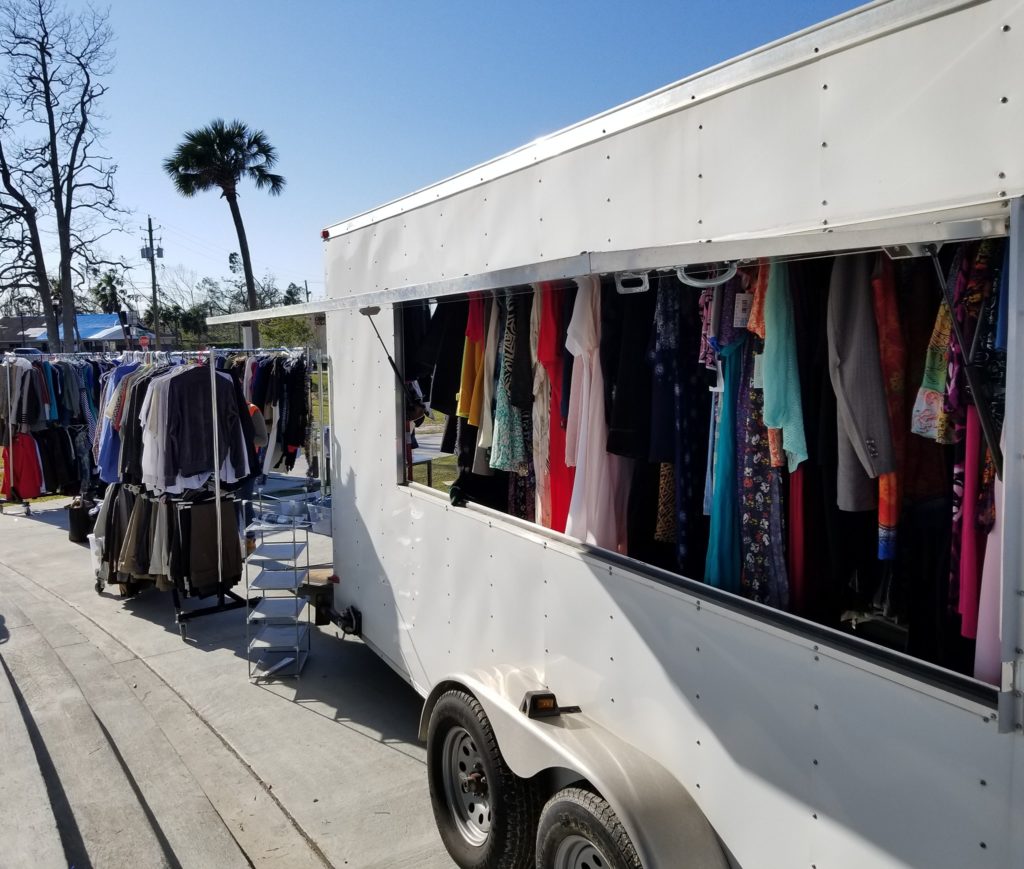 What else would you like our readers to know about Save the Closet?
"We truly have the most remarkable volunteers in the world who are committed to helping us realize our goals. The intended next phase will include a membership based Community Closet called Share The Closet. A long-term way of helping recovering areas significantly reduce the needed expense on quality clothing."
Katy says if she could share one piece of advice, she would encourage people that have ideas to go for it and try it! Save the Closet was born because she chose to put herself in the shoes of those impacted by Hurricane Micheal. She wanted them to have access to good quality clothing during their time of need.
"The absolute joy of watching a little boy find a pair of cowboy boots that fit, a silly hat, or a man finding work pants for that new job, or a suit for Church, or a woman finally feeling PRETTY in the midst of horrific loss, is indescribable. We literally watch transformations born from the excess of others and it's beautiful."

Katy Lingle – Founder of Save the Closet
Save The Closet is a ministry of Lighthouse Vision Outreach, a nonprofit corporate trust.