On Tuesday morning, after a presentation from Destin Councilman Parker Destin, the Okaloosa Board of County Commissioners voted unanimously to approve providing up to $6,290,000 dollars in tourism development tax for the acquisition of three parcels in the City of Destin adjacent to the Shore of Crystal Beach Park. This would create 251 feet of linear beach.
"Many of us who grew up here know that over the last 2 decades, we have not seen the beach when driving down old Highway 98", said Parker Destin. "This will be the first time that you can see the beach, in an old Destin fashion, in decades."
As we all know, beach access continues to be a major tourism issue for the County and the City of Destin. In response, the Board of County Commissioners recently adopted a 5-year, $30 million strategic Tourism Capital Projects plan to make long-term investments in beach and water related tourism assets. The County has allocated $13,000,000 toward this beach acquisition.
For the city of Destin, acquiring public beach has been the council's top priority in the city's 2020 strategic plan with $9,000,000 of half-cent sales tax money being pledged to this initiative.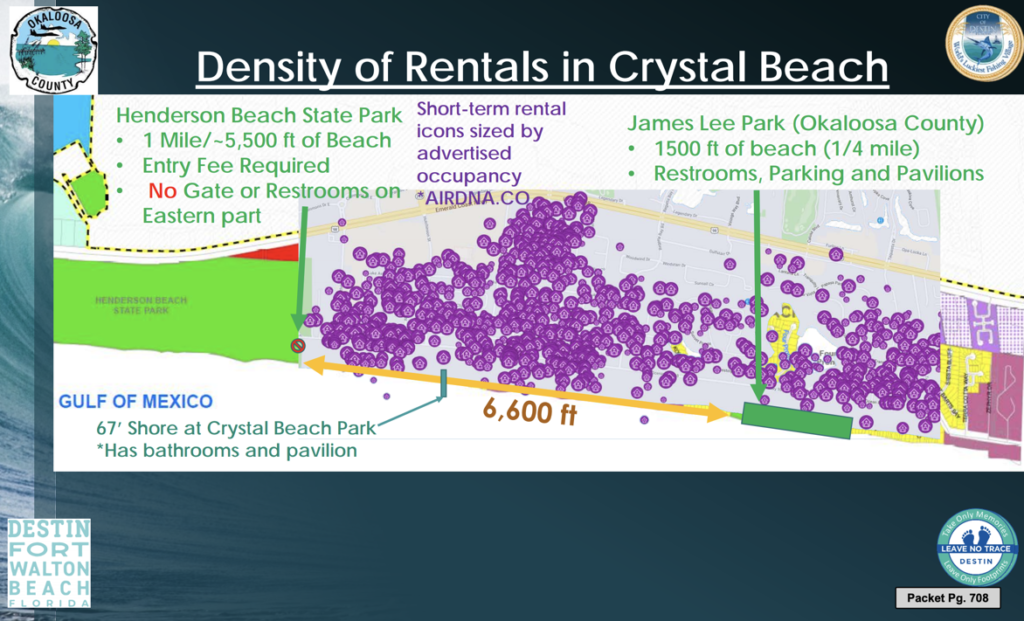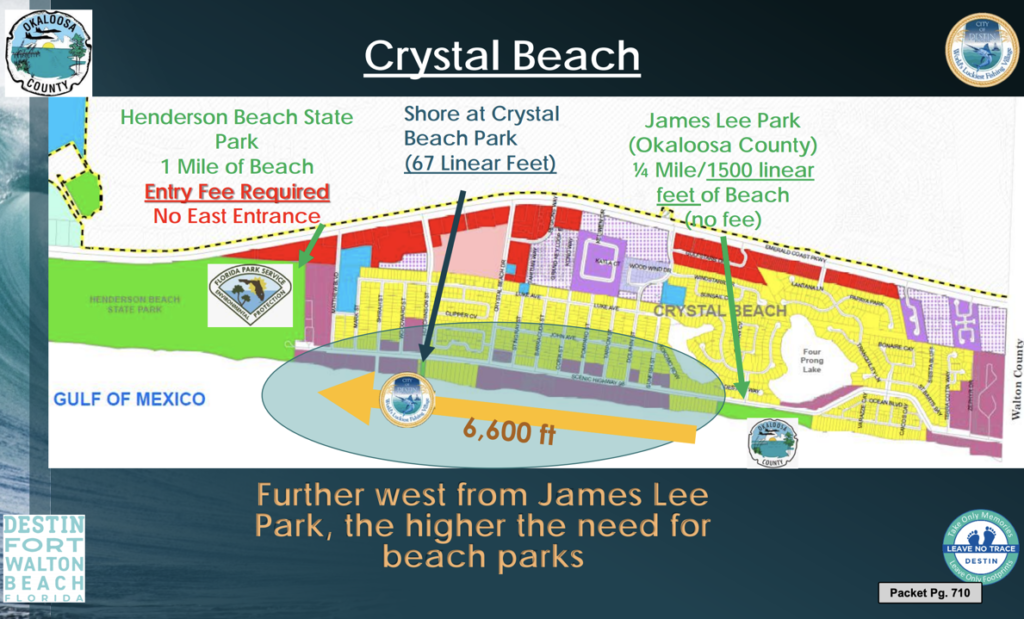 To implement one of the main strategies, the City and County have worked together to assemble the first group of properties for acquisition. According to county documents, funding for the initial set of acquisitions is proposed to be funded with the following ratio:
59% County (TDC) ($6.29 Million)
41% City ($4.37 Million)
The properties are located adjacent to either side of the existing 67ft wide "Shore of Crystal Beach Park."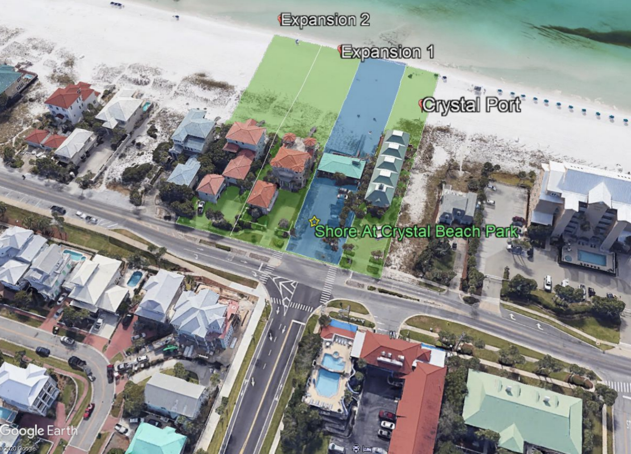 According to the city, two of the properties are expected to close fairly quickly (the property to the west and the easternmost property). The lot between the City park and the easternmost property, per the agreement, may not close until sometime in 2021 unless the owner is able to timely secure another investment property, for tax implications purposes.
Work is currently is being done with the owner to move up this date or pursue another method sale that has similar tax protections. Should this parcel not be able to be secured for whatever reason, the county would move forward with an alternate split "Plan B" park design for the properties.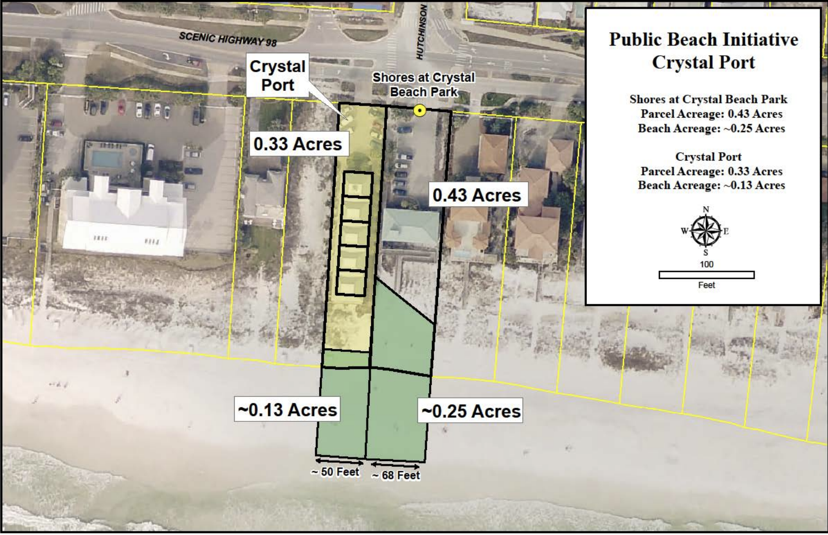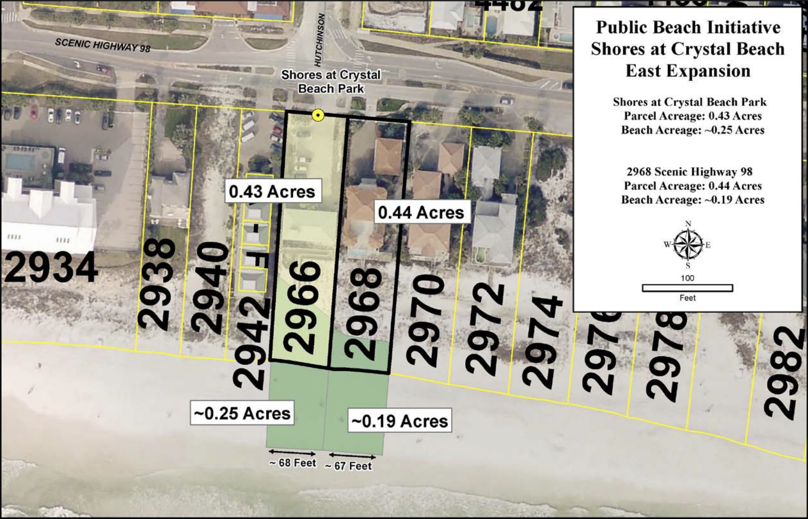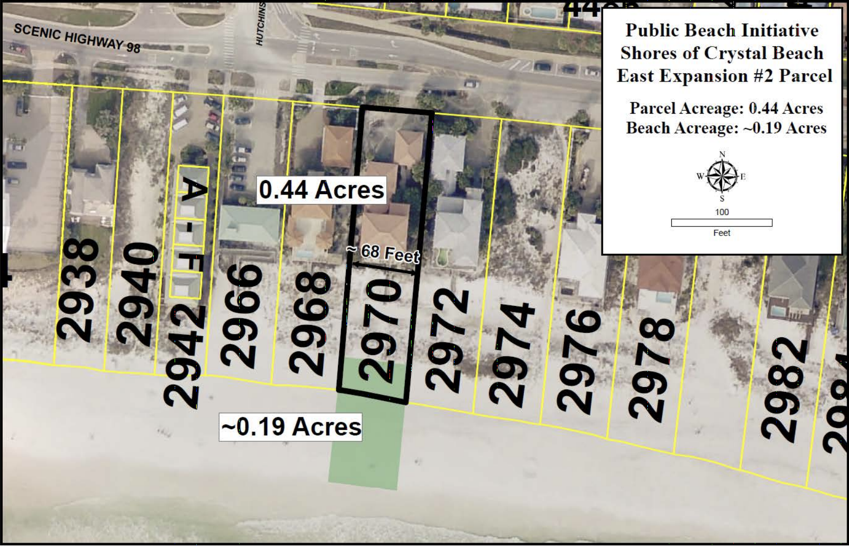 So who owns it: If acquired, it is proposed that these parcels would be City owned as a City Park. Because tourism tax dollars were used, deed restrictions would be recommended for the property (in favor of the County) prohibiting any sale or lease of the property without the formal approval of the County Commission and limiting property usages to a park and public beach access.
Rendering of what it could look like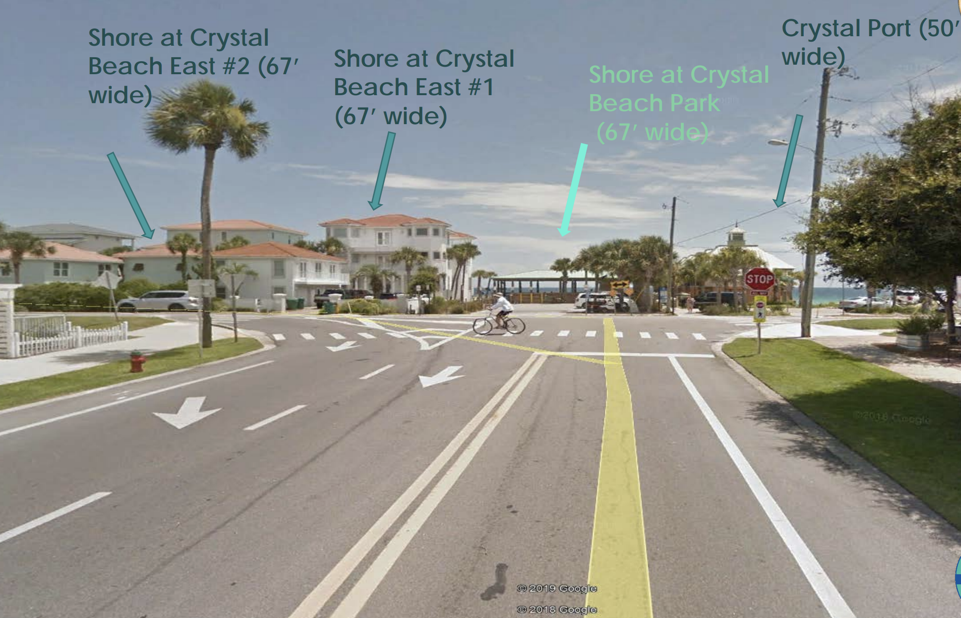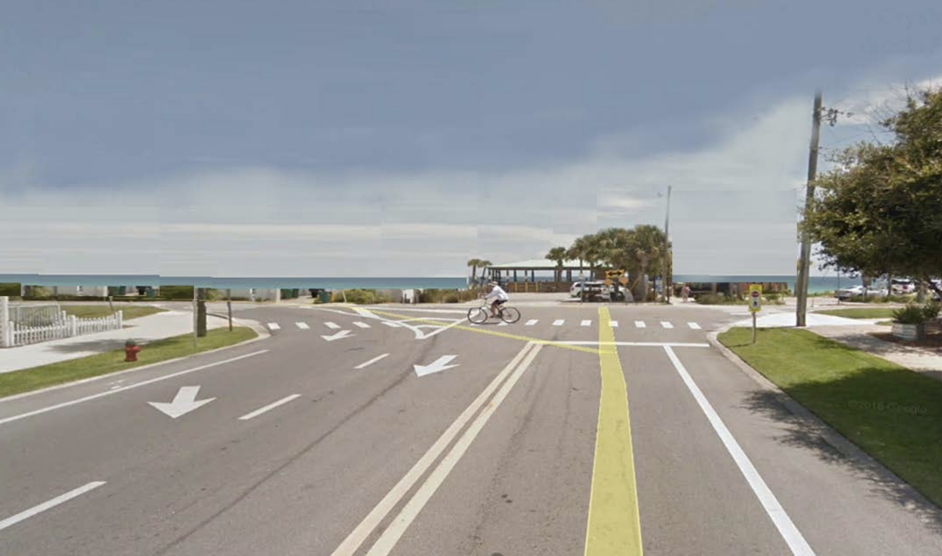 Referring to the rendering of what Crystal Beach could like, Parker added, "Many of us remember a time in Crystal Beach when that was the majority, and not an exception. This will be the first of many beach acquisitions."