The Okaloosa County Tourism Department has put a heavy emphasis on water-based activities throughout Destin-Fort Walton Beach.
Now, the Tourist Development Department has outlined a 5-year plan to make Destin-Fort Walton Beach the dive capital of Florida, while maintaining its status as a premier fishing destination.
As recently as 2017, very little funding was being budgeted for artificial reef construction and the majority of those funds were used as a match for an annual grant from Florida Fish and Wildlife Conservation Commission's Artificial Reef Program.
Since then, the Coastal Resource team has been ranked near the top of the grant applications for the past four years and currently manages a budget of $610,000 for artificial reefs, according to Alex Fogg, Coastal Resource Manager for Okaloosa County.
According to Fogg, this is considered a strong annual budget for artificial reef construction compared to other programs throughout the state, although other locations will allocate significant funds to large projects on a case-by-case basis. 
Local news sent to your inbox 🤝
Thousands of locals read our newsletter every morning! It's FREE and makes sure that you never miss important local updates.
Additionally, the TDD has received (and spent) more than $3 million in grant funds from the Natural Resource Damage Assessment and RESTORE Act to expand the artificial reef program. However, all of those funds were required to be spent on a specific type of modular concrete artificial reefs.
Recently, the Coastal Resource Team was able to modify their offshore artificial reef permits to allow vessels greater than 60ft in length to be deployed. They have since deployed several unique vessels as artificial reefs.
Prior to these recent vessel deployments, the last vessel deployment was in 2011.
"All of the vessels that have been deployed in the last two years were donated," said Fogg. "And while these opportunities are a positive step for our artificial reef program, it is somewhat inconsistent due to having to wait on a vessel to be donated."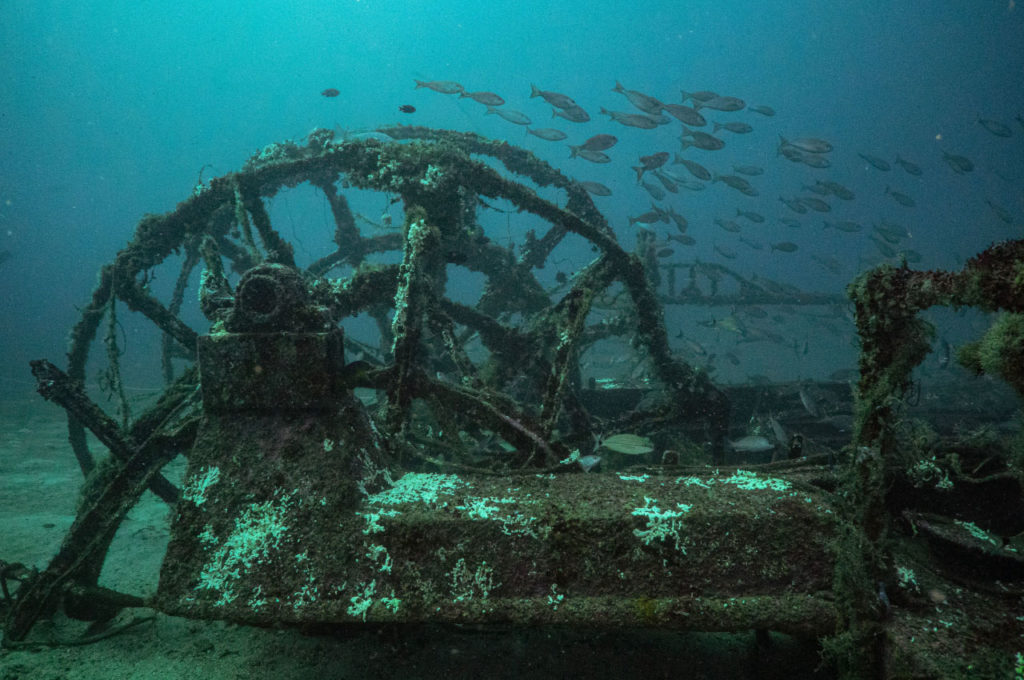 Fogg says that the donated vessels are generally smaller and not as unique as other potential vessels, and likely won't establish Destin-Fort Walton Beach as the dive destination they are striving to be.
"We are proposing to increase the density of unique, marketable artificial reefs and experiences by making some additional targeted investments," he said. "These initiatives will align with our destination stewardship approach by expanding fish habitat, creating interesting water destinations for diving and fishing, providing novel scientific research opportunities and adding to our expanding list of visitor adventures."
The plan to increase the role of artificial reefs in tourism
The plan to increase the role of artificial reefs in tourism includes an investment of $12 million in strategic artificial reef deployments over the next 5 years from a combination of TDD, State, and Federal funding.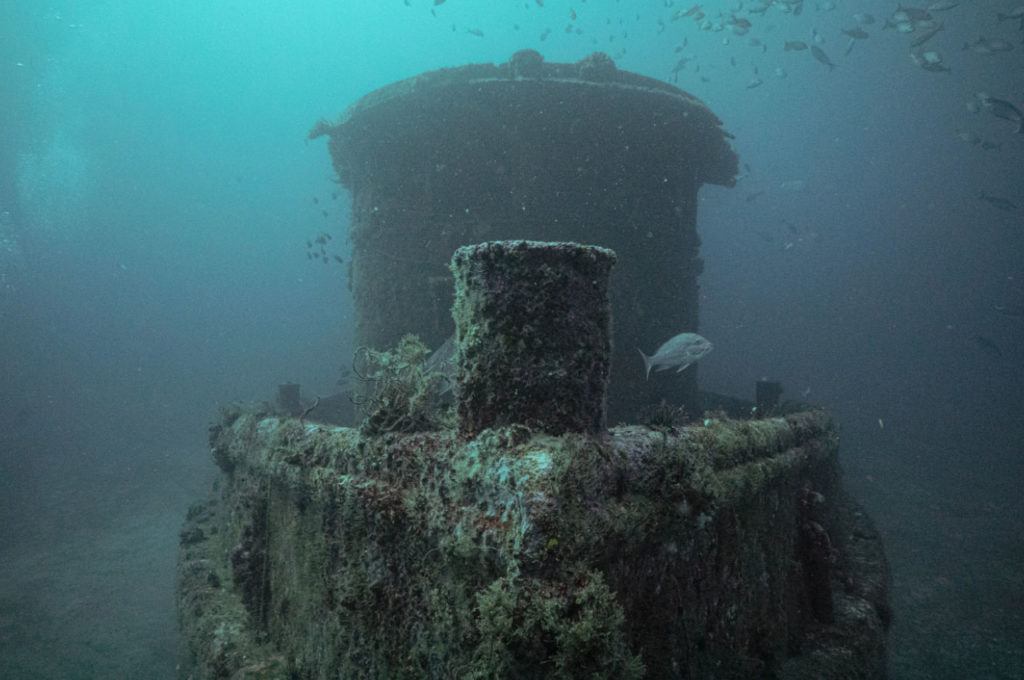 Of the $12 million total plan, $2 million has been recommended by the TDC to come from tourist development tax revenue, and $4 million from RESTORE, NRDA, state and federal sources. The remaining $6 million in funding is being explored.
The $2 million is to capitalize on a pair of large research vessels that are available in Louisiana and are strong candidates for deployment as artificial reefs.
"These vessels are named the DOLPHIN and MANTA and are both approximately 190ft each," said Fogg. "The complexity of these vessels will not only provide an ideal location for scuba diving and fishing activities, but they will also provide essential habitat for commercially and recreationally important species that our destination is dependent on."
Additional vessels will be sought each year to fulfill the intent of this plan, according to Fogg.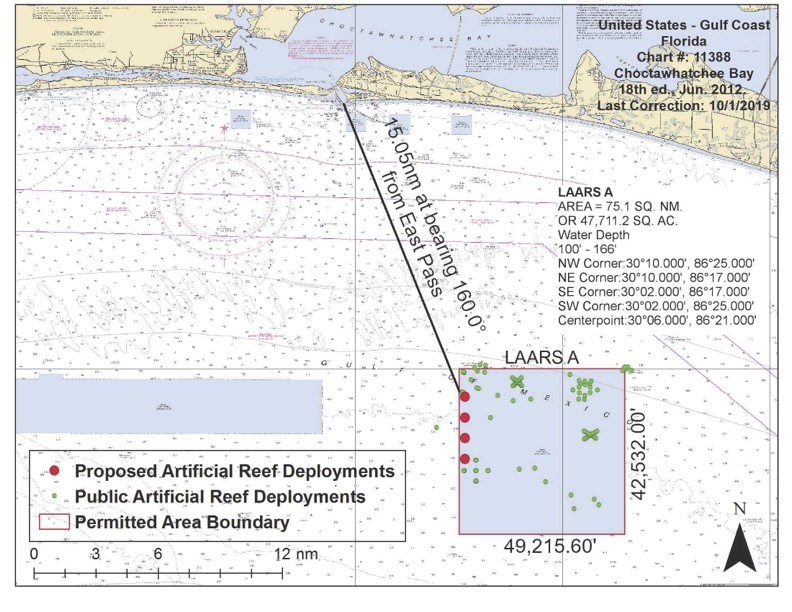 "We have a good base of approximately 10 unique and marketable large wrecks to build on," he added. "Other artificial reef programs around the state are not necessarily planning ahead for developing long-term vessel deployments or how to package them for tourism. The destination can be a leader and looking ahead toward long-term investments would further promote Destin-Fort Walton Beach as a premier diving and fishing destination."
Additionally, the military is expected to continue to provide materials of opportunity such as large concrete and heavy steel targets resulting in 1-2 large reef sites per year for the duration of their training.
Modular concrete artificial reefs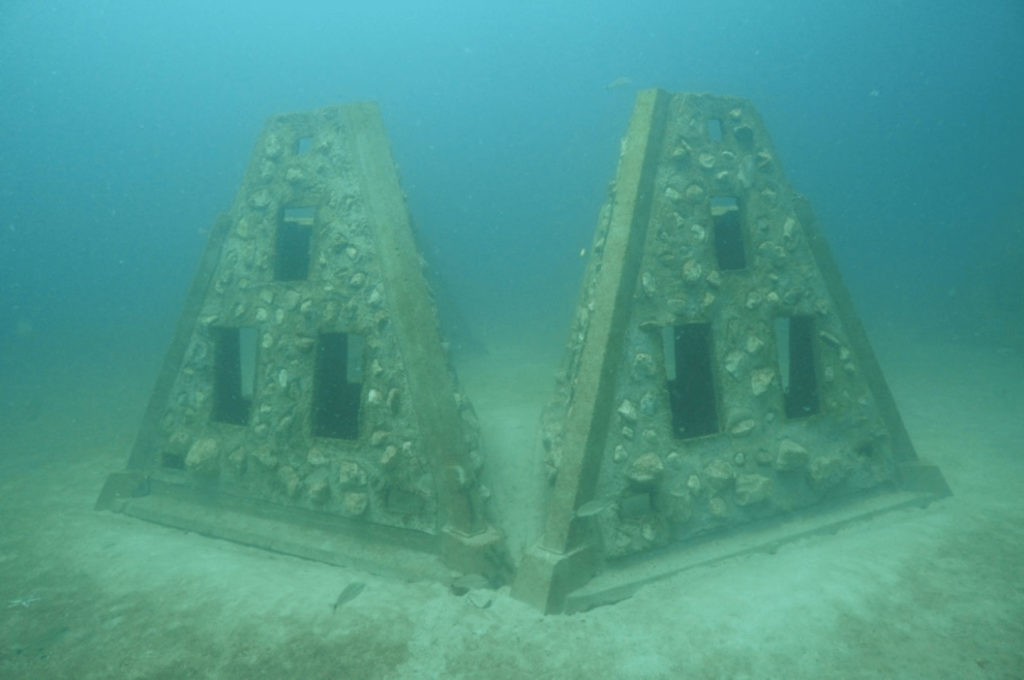 Using a combination of Natural Resource Damage Assessment funds and RESTORE funding, $4 million would be used to deploy modular concrete artificial reefs within the County's inshore, nearshore, and offshore permitted reef areas.
These reefs will be planned around existing resources to enhance aging (15 to 30-year-old) artificial reefs.
The TDD will continue to apply for $60K FWC grants, as well.
The Coastal Resource Team would also continue to receive and deploy donated materials in conjunction with these proposed artificial reef deployments.
Large vessel deployments
$8 million would be invested in the purchase, preparation, transportation, and deployment of large vessels as artificial reefs.
$2 million would be expended for the first year (FY 21-22).
$1.5 million per year for the next four years.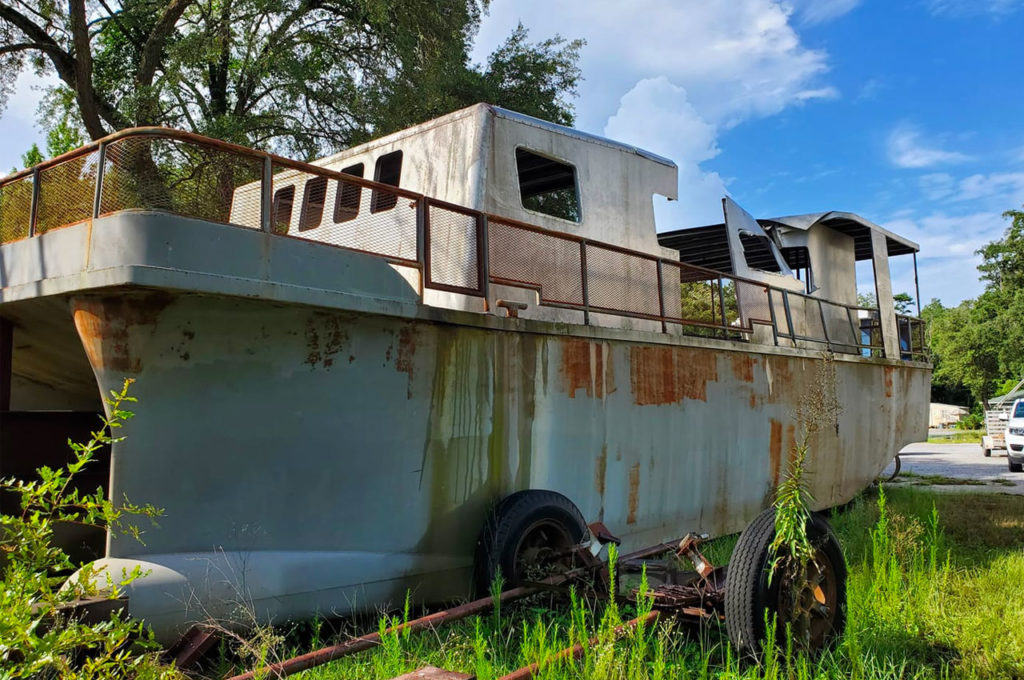 County staff would continue to coordinate with stakeholders, private organizations, and government agencies such as the military, Coast Guard and U.S. Customs as opportunities present themselves.
"If the opportunity of an extra-large vessel (i.e. 500ft+ military vessel) or some other unique structure were to present itself, we may accelerate the plan," said Fogg. "The goal would be to create at least six large vessel artificial reef sites during this 5-year period."
Military material donations
Another aspect of the 5-year plan is to encourage, support, and continue to partner with the military to obtain additional artificial reef material. The hope is that these relationships will result in four to eight large artificial reef sites during this period.
"This program has the potential to contribute significant large reefs to the destination and each of these will provide a unique story that highlights the strong county/military/community partnerships we embrace here," said Fogg.
Implement an inshore (Choctawhatchee Bay) reef program.
Few reefs have been deployed in bays and estuaries throughout the state. Based on the plan from Okaloosa's Coastal Resource Team, this will be the only active inshore reef program in the state.
"Not only will it provide a site that can be easily accessed on days with unfavorable sea conditions in the Gulf of Mexico or by members of the community who are unable to take their vessel offshore, but it will provide hard substrate for encrusting organisms like oysters which help clean the bay," said Fogg.
This initiative involves permitting (currently underway) three areas and completing deployments at all three sites in five years.
Beachside, shore-accessible, "snorkel reefs"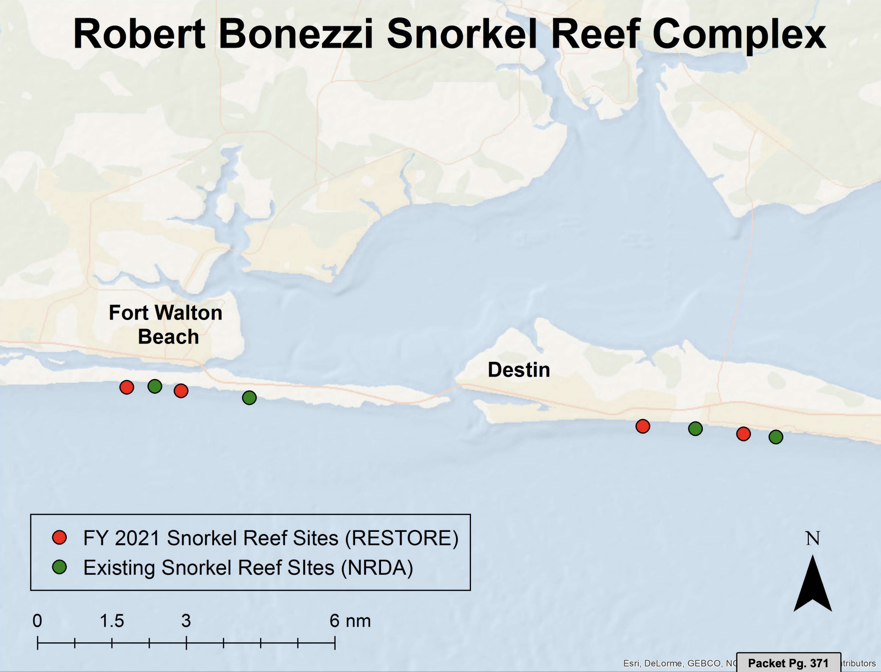 In Spring 2019, Okaloosa County started what would become the "Robert Bonezzi Snorkel Reef Complex" offshore Destin and Okaloosa Island beaches. Currently, there are a total of 8 reef sites.
The next part of this will see an additional eight beachside, shore-accessible, "snorkel reefs" added to the complex.
"This will be an outstanding opportunity for people to be able to go and fish, paddleboard, dive, and snorkel at reefs just 800 feet offshore," said Fogg.
Local news sent to your inbox 🤝
Thousands of locals read our newsletter every morning! It's FREE and makes sure that you never miss important local updates.
Develop high resolution and highly visible imagery
The final part of the plan includes the development of high resolution and highly visible imagery and information about the reefs.
This could include:
Additional 3-D renderings of the reefs and interactive models to be featured on the website.
Development of multibeam sonar maps that can be imported into most onboard chart plotters and cell phones.
Travel books that discuss the reef program and how to access or finds the reefs.
Launching a national campaign for each of the large vessel projects as they are deployed.
Creating a marketing campaign that discusses the diverse fishing and diving opportunities created due to the largest artificial reef program in the State of Florida.
"We want people to come to Destin-Fort Walton Beach and be able to dive these reefs," said Fogg. "People know about the artificial reefs in the Keys and people know about the Oriskany in Pensacola. We don't have to be Pensacola, but we can absolutely be a destination that you can go to and dive a lot of different reefs, not just one."