Abs are great, but have you tried 100 Layer Donuts? If you've ever been to Seaside, you've seen the super trendy Airstreams boasting some tasty eats. While there are airstreams serving up barbecue, crepes and even grilled cheese, the Five Daughter's Bakery Airstream is serving up more than just donuts… LOVE!
The Story of Five Daughters Bakery Airstream
While the 100 layer donuts alone are enough to make you fall in love with Five Daughters Bakery, their story will have that deal signed and sealed.
Five Daughters was originally started out of a home kitchen in Franklin, Tennessee by Isaac and Stephanie Meek and their five daughters. 30A has always been a vacation destination for the Meek family and they dreamed of spending summers with their daughters at the beach in Seaside.
Isaac and Stephanie came to celebrate in South Walton after opening their third store in Nashville. They planted an actual 100-layer donut in the sand at Seaside as an act of faith as they wanted to spread love and donuts to this community. That act of faith came to fruition and now you can visit the Five Daughters Bakery in Seaside and enjoy a donut made with love!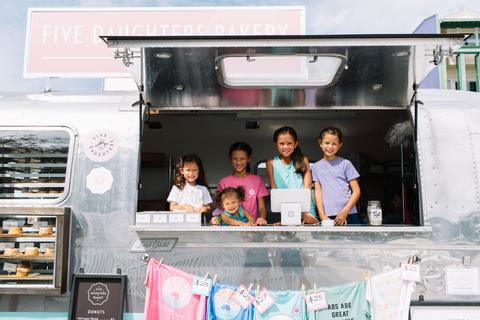 Quality Ingredients
On top of the delicious donuts, Five Daughters is determined to be very mindful of the ingredients they use in their donuts. They vow to use no chemical preservatives, genetically modified organisms, hydrogenated oils, soy, artificial colors or flavors. Their donuts are made from scratch daily and they get their ingredients from local sources as much as possible! Additionally, they have an option of Paleo donuts!
A Company With Values
I'm a sucker for a company with good values. Five daughters bakery has a list of their core values. Here's what they are:
Love one another – Our relationships matter more than our bottomline
Honor one another
Use the highest quality products – Local first, organic second, always non-gmo
Integrity
Supreme Customer Service
Be our best – Make the best pastries & treats with the best possible ingredients in the best atmosphere – served with joy!
"We believe in love. We believe in family. And we believe in quality food. "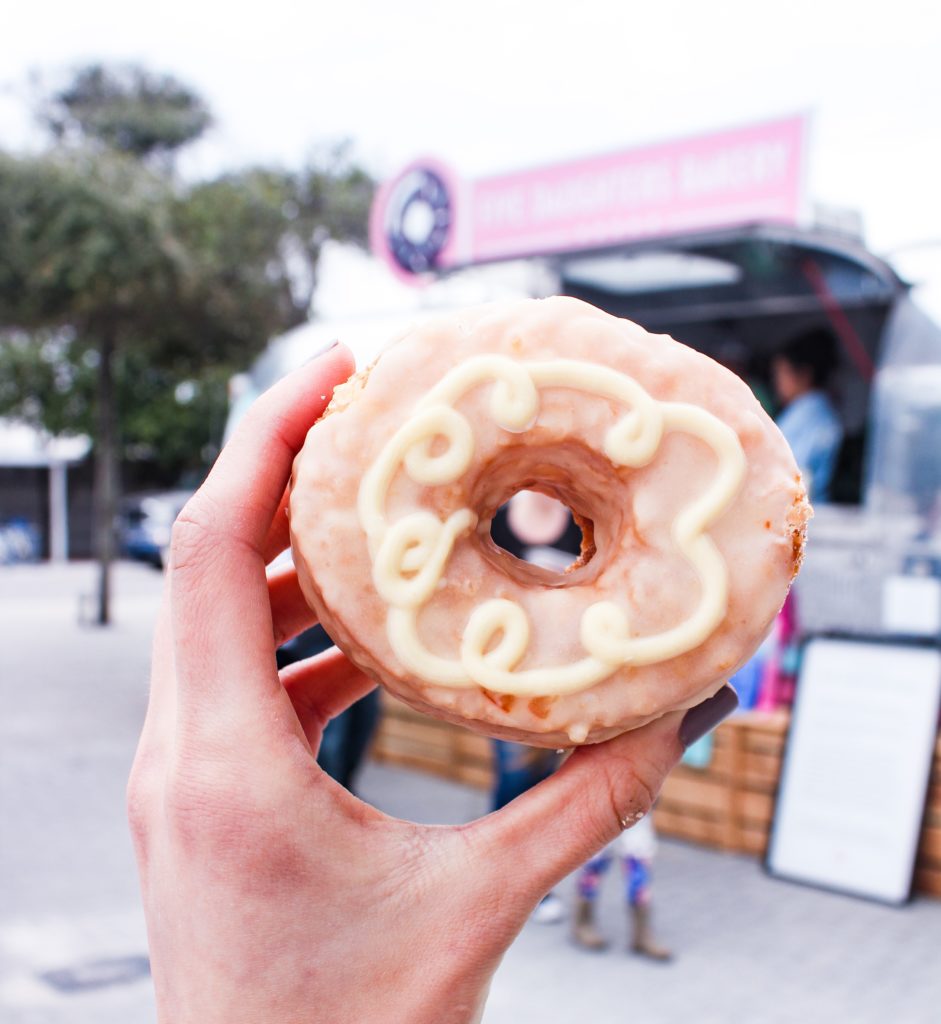 The 100 Layer Donut
The 100 layer donut is the Five Daughters Bakery version of a cronut. It is a hybrid of a croissant and a doughnut, and takes up to three days to craft this creation. Once cooked, the 100 layer doughnut is rolled in sugar, filled with cream, and topped with a heavenly glaze.
---
Five Daughters Bakery already had a place in my heart after enjoying my first donut from them, but when I heard their story I fell even more in love!
Have you tried the Five Daughters Bakery Airstream yet? If not, what's your favorite Airstream to grab a treat from at Seaside?