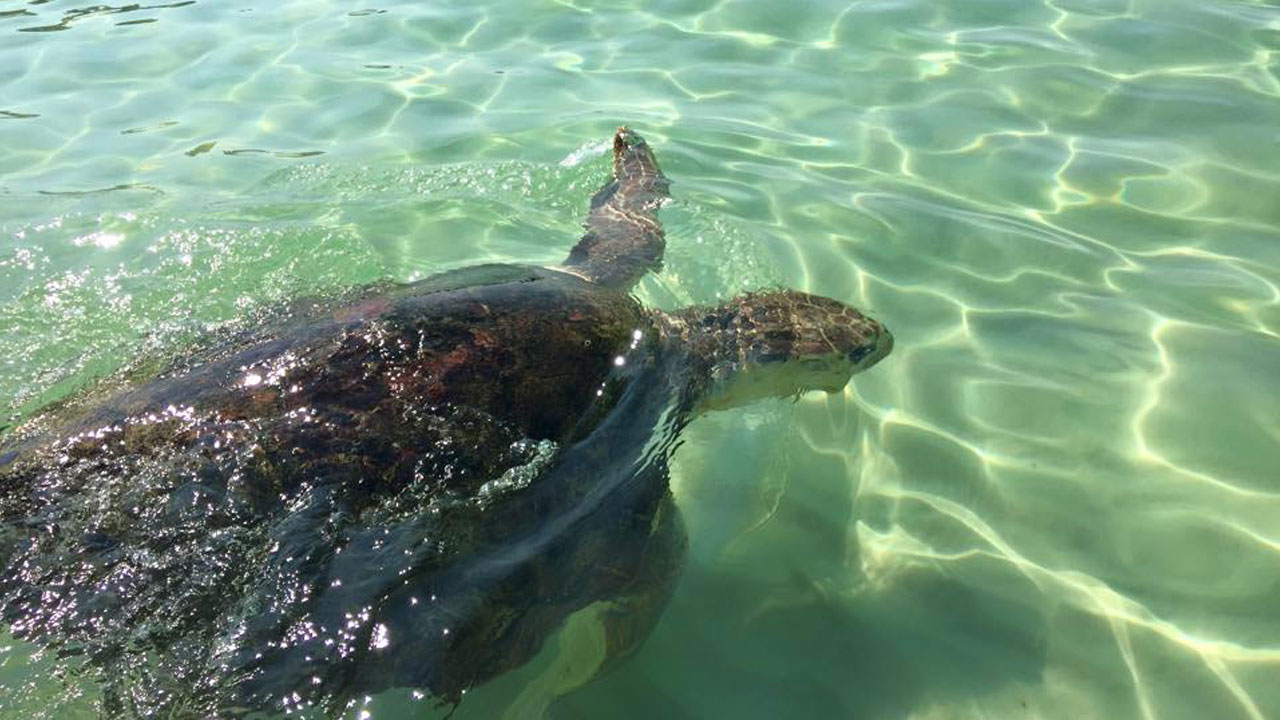 On August 14, 2015 at 9:30am, the Gulfarium's Sea Turtle CARE Program held a public release at Henderson Beach State Park as the staff released two rehabilitated loggerhead sea turtles.
Both turtles were suffering from very different ailments but have been deemed releasable by the Florida Fish and Wildlife Conservation Commission.
Meet Gerdy…who was observed lethargic and listless three miles off the coast of Topsail Beach State Park
Gerdy's friend is Norma Jean…who was hooked by a fisherman off the Navarre Beach Pier in June, requiring surgery to remove the hook and line.
It's no secret that we love our Gulf of Mexico Friends, as evident by the posts on Facebook
Sea Turtle Released #1

Posted by TomandIna Carr on Friday, August 14, 2015
Because there is nothing quite like looking at the Gulf of Mexico on a pretty day
Each turtle making their way to the water
And finally reaching their destination
Who doesn't love Sea Turtles?..I mean, seriously!
People lined the beach and into the water to watch the turtles head back into the Gulf of Mexico
According to the Gulfarium, "incidental capture in fishing line is one of the greatest threats to sea turtles. If such an event occurs, the best thing to do is safely secure the turtle and cut the line, leaving at least one or two feet of line."
They go on to give more instructions:
"Do not release the turtle and do not try to remove the hook or line as this can cause damage. Immediately arrange for transportation to the nearest rehabilitation facility."
For more information on upcoming sea turtle releases, check out the Gulfarium's official page.