Good morning!

As President Trump addressed the nation last night, Okaloosa County was focused on one thing:
The closing of the Mid-Bay Bridge! 😩If you travel using the Mid-Bay Bridge and this is your first time hearing of the closure, I'm terribly sorry for ruining your morning. 
According to Okaloosa County officials, the Mid-Bay Bridge has been closed effective immediately due to emergency repairs and commuters should see alternative routes.
The Northwest Florida Daily News reported that corrosion on post-tensioning tendons was found by inspectors.
Post-tensioning tendons are one of the internal support systems placed inside the bridge. There are multiple tendons in each span of the Mid-Bay Bridge.
The bridge will open to traffic once repairs are complete. However, no estimated completion time was given.
To read our entire coverage of the closing and to read about EMS and school transportation routes, click here.
Are you affected by this closing? Thoughts on the abrupt shutdown of the bridge?
---
Taproom and Bottleshop
Yesterday afternoon I had the opportunity to check out the 850 Craft Reserve over by the mall. They are located on the right-half of the old Applebees building and have a pretty cool setup.
If you like unique (and somewhat hard to find) beer, this is a spot you need to visit. Aside from having 12 on tap at all time, they have a cooler filled with different brands for on-site consumption or carry out.
They also have a grand opening happening this Saturday!
I sat down with owner Kevin Tarver to get him to explain the concept of 850 Craft Reserve and what you can expect from this new bar.
Have you been to 850 Craft Reserve, yet?
How 'bout some headlines?
Not sure how I missed this, but WEAR TV is reporting that Fort Walton Beach is set to join a lawsuit over cell towers.
According to the report, the city wants more control over cell towers in the city and in December the city council voted to join a lawsuit challenging Florida's Advanced Wireless Infrastructure Deployment Act.
What you need to know:
The law gives the state jurisdiction in public places where cellular towers are built.
It also limits local governments when it comes to lease fees and requirements.
The city attorney is suggesting there be time set aside for public input.
I've reached out to the City for clarification on this since I cannot find anything else on the matter.
A recent study by SmartAsset explored the best places to save for retirement in Florida and both Santa Rosa County and Okaloosa County made the list. Santa Rosa came in at #3 and Okaloosa took the 4th spot in the state!
The study takes into account a paycheck friendliness score, a 401(k) plan performance score, a public pension plan performance score and a score for the number of financial advisors per capita.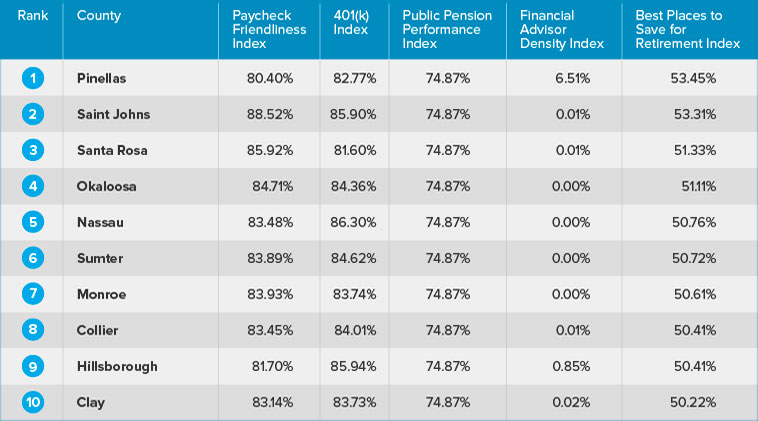 To view the data and methodology for how the data was researched and compiled, click here.
Ok, that's all I have for you this morning! Remember, if you are commuting you might want to leave a little earlier since so many people will now have to use alternative routes. Hope you have a great Wednesday and I'll see ya tomorrow!