January 24, 2023
|
Reading time:
14 mins
TOGETHER WITH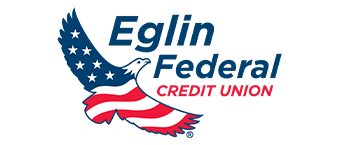 Good morning!
Let's jump right into the news you need to know this Tuesday morning, starting with a weather alert.
WEATHER
Residents urged to prepare for Overnight Severe Thunderstorm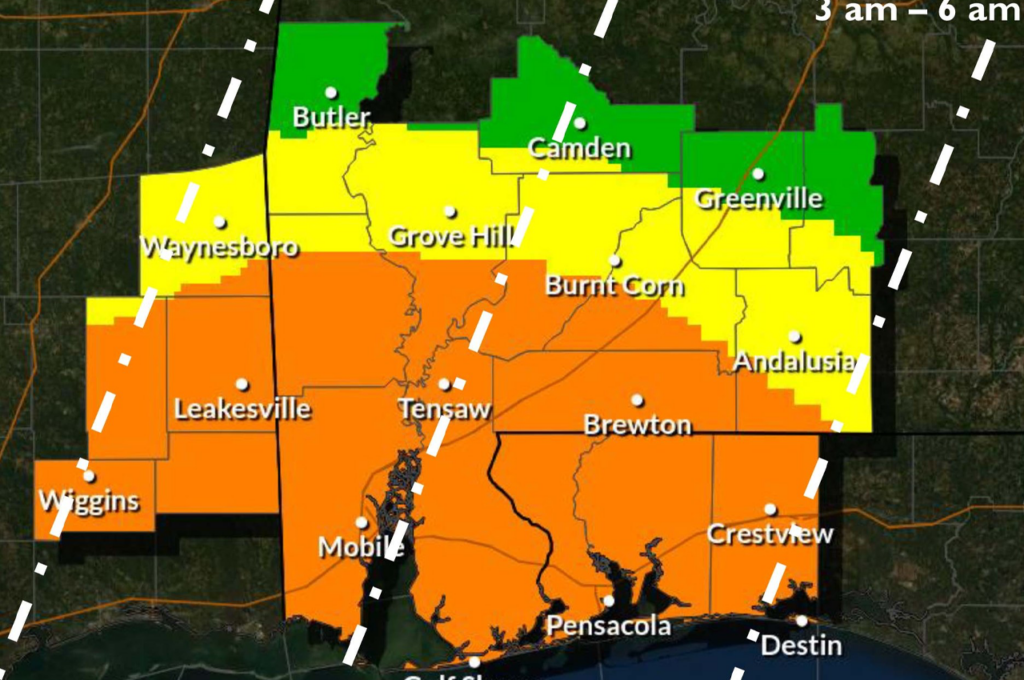 A large low pressure system will move along the Northern Gulf and inland regions overnight Tuesday into Wednesday morning, according to Okaloosa Public Safety Director Patrick Maddox and the National Weather Service.
A line of strong to severe thunderstorms is expected to develop along this cold front late Tuesday evening and progress Eastward.
Maddox also noted that this "potent system" may produce gradient winds sustained at 35MPH with gusts to 50MPH outside of any thunderstorms.
"Some stronger storms may contain large hail and gusts of 70MPH," he wrote. "The possibility for tornadoes, some greater than EF2 exists. The main line of storms looks to arrive in Okaloosa county near 4 or 5am Wednesday morning and be exiting the area near 6am."
He also warned residents that "some discrete supercell activity is possible ahead of the main squall line. These individual, discrete storms, separated from the main line, have a greater likelihood for strong tornadoes."
Maddox emphasized the speed of this system, stating that "This will be a fast-moving system and, although there will certainly be areas which receive heavy rain, only 1-3" of rain is forecast at most due to the speed of the system."
He also added that coastal hazards including high surf of 8-10', minor coastal flooding and high rip current risk will also be present.
"This will be an overnight threat which could also impact morning commutes," said Maddox. "Please have multiple ways to receive emergency information, remain weather-aware and report all unsafe conditions."
SPONSORED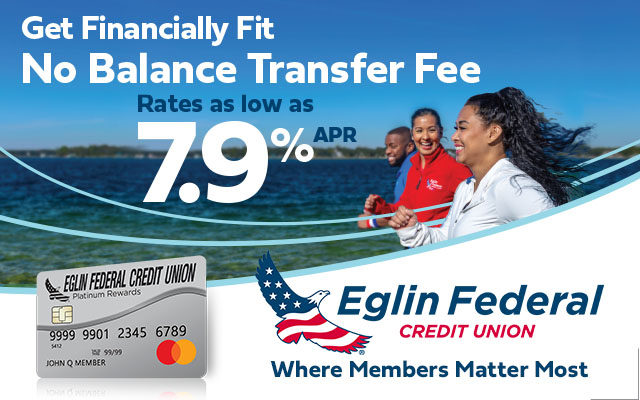 Start the New Year right by getting your finances in shape!
Lose the high interest credit card rate and transfer your balance to an Eglin Federal Credit Union Mastercard! There's no balance transfer fee, no annual fee, no cash advance fee, AND no international transaction fee. Interest rates are as low as 7.9% APR.
Get your finances in shape, and apply in person or online at eglinfcu.org/mastercard.
GIVING BACK
Charity Fish Fry raises $20,000 for family of Corporal Ray Hamilton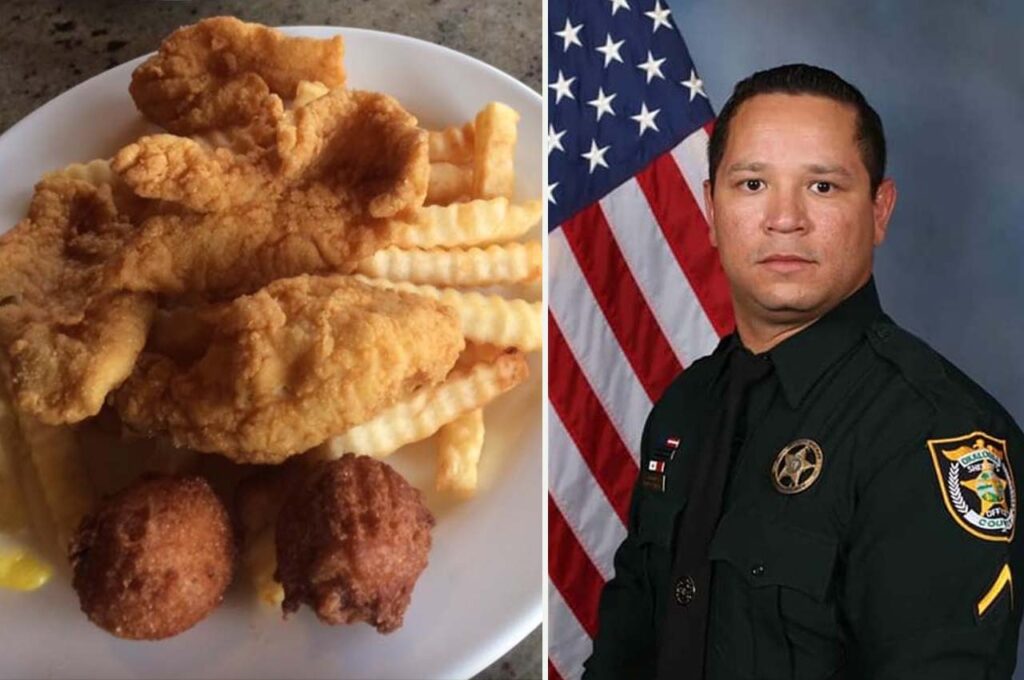 On Sunday, January 22, 2023, Dewey Destin's Seafood Restaurant held a Charity Fish Fry at the Northwest Florida Fairgrounds in honor of Okaloosa County Sheriff's Corporal Ray Hamilton, who was killed in the line of duty on Christmas Eve.
The event was a huge success, with an estimated 1,500 people showing up to support the cause and raise approximately $20,000 for OCSO Star Charities.
In a video uploaded by the Okaloosa County Sheriff's Office, Parker Destin spoke about the event, along with Hamilton's wife and Chief Deputy Ken LaPee.
"I knew that if we created an environment where folks had the opportunity to show up and let the men and women in uniform know, including Corporal Hamlin's family, that they care and that they would show up, and that's a true testament to this," said Parker Destin, event organizer. "I think every man and woman who puts on the uniform knows that they're duty bound to go into harm's way on our behalf. I think that creates a reciprocal duty on us as the community to care for them in the event of a tragedy to help them try to put their lives back together."
The outpouring of compassion and support was not lost on Corporal Hamilton's family. His wife, Renee Hamilton, said "I'm completely overwhelmed and grateful for all the support the community has given us."
OCSO Chief Deputy Ken LaPee also expressed his gratitude for the community's support, stating "You drive down the road in the pouring rain and we see the parking lot. It brings tears to your eyes to see how this community comes together and show their level of support in a great loss, but man, what a silver lining to see the love and the people just surrounding us at the Sheriff's office, Renee and her family, and it's amazing. We live in a great place. I'm so proud of our community."
Overall, the Charity Fish Fry was a powerful demonstration of the community's love and support for the men and women in uniform who put their lives on the line to protect us. The event was a fitting tribute to the memory of Corporal Ray Hamilton and a shining example of the kindness and generosity of the people of Okaloosa County.
GIVING BACK
Youth Village unveils new playground experience with artificial turf and vinyl privacy fence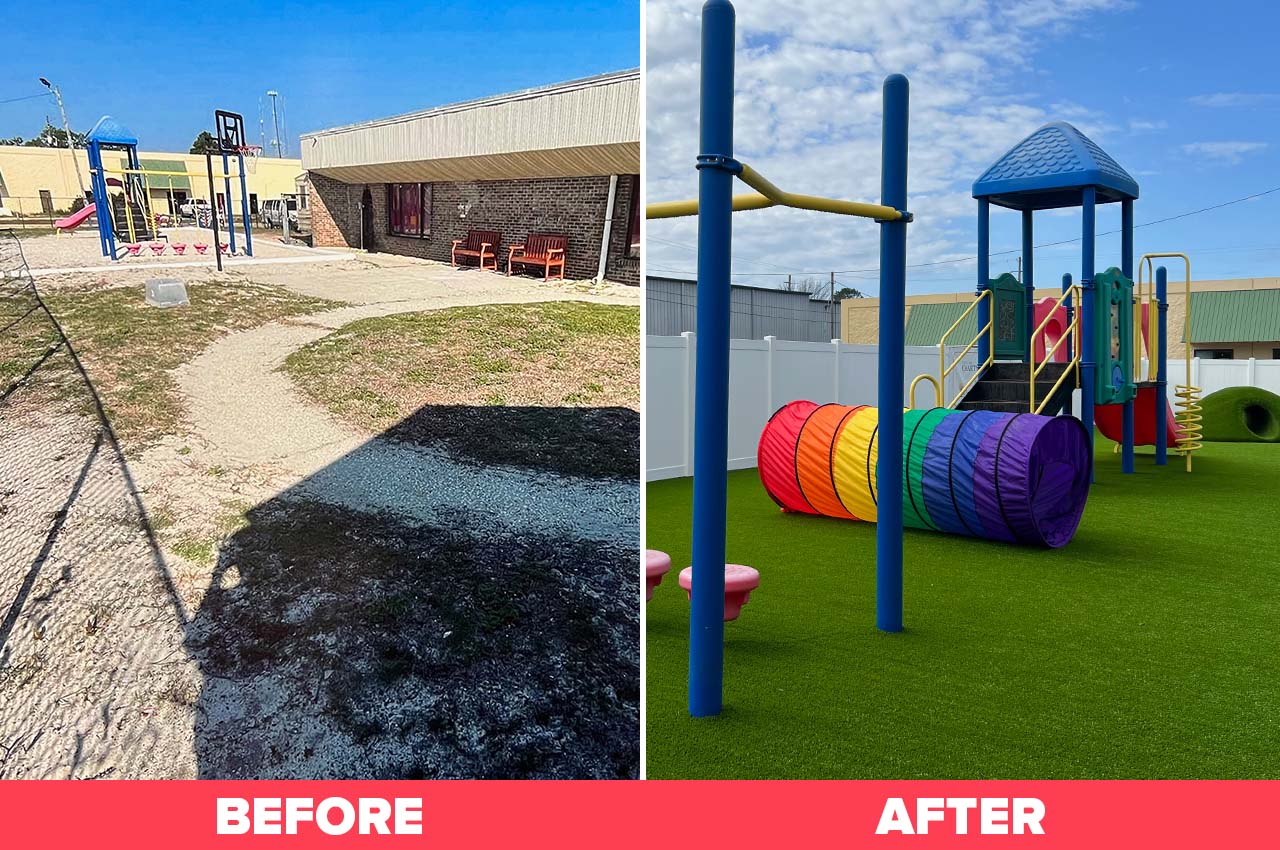 The Youth Village Child Care Center held a ribbon cutting ceremony on Tuesday, January 17th to unveil their new playground experience in Fort Walton Beach. The event was attended by members of the community, including local government officials and donors from the Destin Charity Wine Auction Foundation.
The new playground features artificial turf and a vinyl privacy fence, both of which were made possible by a generous donation from the Foundation.
Nellie Bogar, Founder and CEO of Youth Village, said they are "thrilled to have this new playground for our children."
"The artificial turf provides a safe and durable surface for them to play on, while the privacy fence allows for a secure and enclosed space for them to learn and grow," she said.
The Youth Village Child Care Center, located in Fort Walton Beach, has been in operation since 1999 and is licensed by the Florida Department of Children and Families. They provide adult supervision for children ages 3-5 and in grades K-8 during non-school hours, with a focus on educational and social development. The center offers the Voluntary Prekindergarten Education Program (VPK), which prepares young children for success in kindergarten and beyond.
According to Bogar, about 1/3 of their program children live in low-income households and about another 1/2 of their students live in single-parent households.
"These children are often regarded as 'at-risk,' but we prefer to call them 'untapped' because they have undiscovered strengths, talents, and knowledge," she said.
The installation of the new playground experience was a collaborative effortbetween Youth Village and ForeverLawn Emerald Coast, a local company specializing in artificial turf. Sean Galkowski, Design and Sales Consultant at ForeverLawn Emerald Coast, said "We were honored to be a part of this project and to be able to provide a safe and durable surface for the children of Youth Village to play on."
Galkowski and the Youth Village team conducted a full evaluation of the existing playgrounds and looked at samples of the ForeverLawn playground grass product. The project was split into two phases in order to maintain an active playground for the children during the construction process.
Phase one of the project involved the demolition of a small playground on the backside of the building, roughly 1,800 square feet. The project took three days to complete and required the removal of 30 tons of material and the installation of 25 tons of new material.
Phase two of the project was more complex and involved the demolition of the large playground area, removing approximately 130 tons of material including sand, dirt, and concrete. An old swimming pool was also discovered and removed from the area. In total, seven full-size construction containers worth of material were removed from the site.
Once the demolition was completed, the team brought in 85 tons of limestone as a base for the new turf. The team also installed 1,700 square feet of safety foam underneath the equipment to comply with critical fall heights, according to Galkowski. The project took seven days to complete, and the team added a 10-foot mound with a two-foot tunnel to the playground, providing an exciting new feature for the children to enjoy.
After the project was complete, Galkowski says he returned to the child care center and watched the children play on the surface, roll around and even watched the teachers getting in on the action.
"You just don't get that with dirt, sand or mulch in playgrounds," he added. "So it is a fantastic opportunity for these teachers to be down on the children's level."
The new playground is already in use by the children at Youth Village and has received positive feedback from both staff and parents. The artificial turf provides a low maintenance option that is safe and easy to clean, while the privacy fence offers a secure and enclosed space for the children to learn and play.
Bogar, along with members of the Youth Village, expressed their gratitude for the support of the Destin Charity Wine Auction Foundation, who made this new playground experience possible. 
As Bogar stated, "This new playground will have a positive impact on the children for years to come, and we are so grateful for the support of the Foundation in making this happen."
TRAFFIC
Okaloosa County proposes new Highway 98 Bypass to alleviate traffic congestion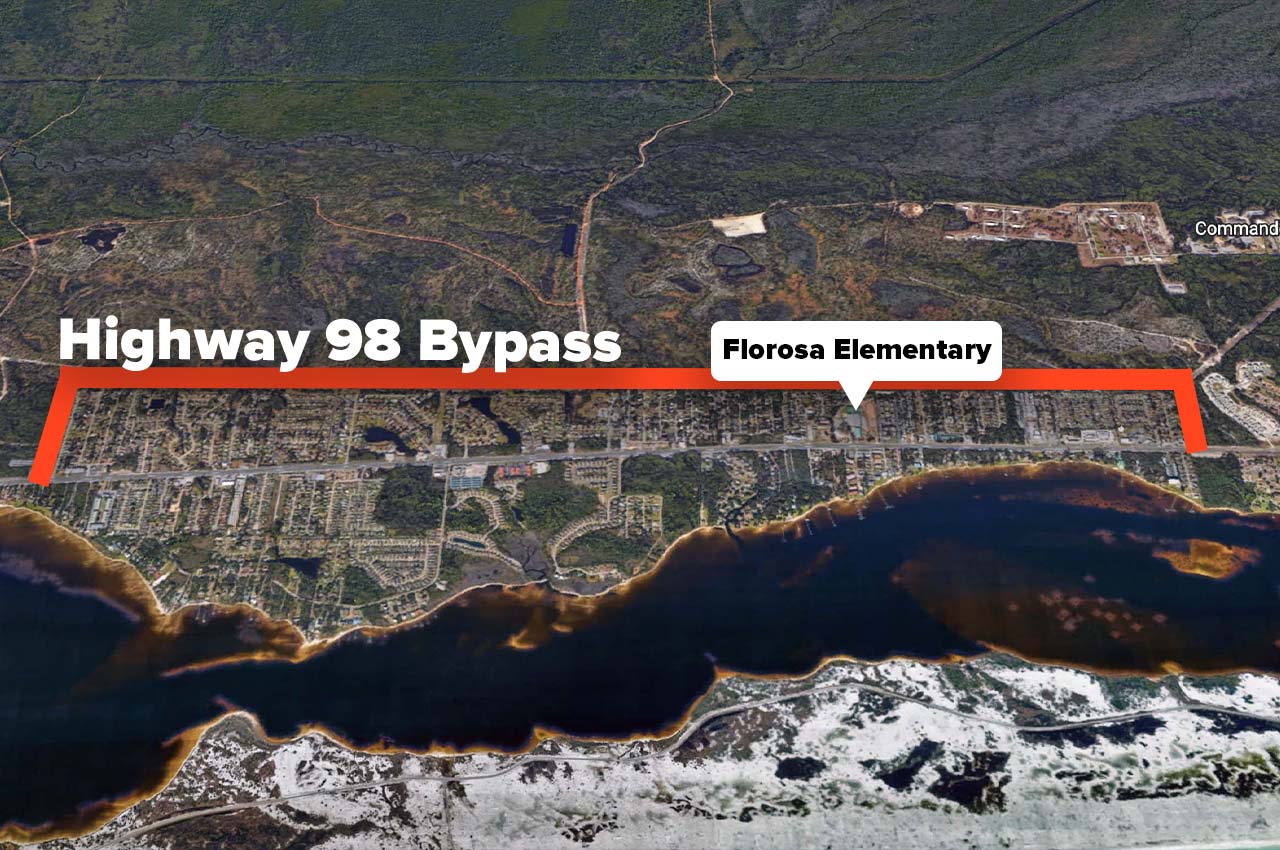 On January 11, 2023, the Northwest Florida Legislative Delegation held a meeting at the Okaloosa County Admin Building in Shalimar, Florida.
During the meeting, Chairman of the Okaloosa Board of County Commissioners, Trey Goodwin, presented Okaloosa County's Legislative Priorities for the 2023 Legislative Session, which included a proposed project to construct a new roadway parallel to Highway 98 in order to alleviate traffic congestion in the area west of Hurlburt Field.
According to Commissioner Goodwin, the proposed project consists of constructing an approximate 3-mile roadway that runs parallel to Highway 98 and will provide significant relief to congestion along US 98 for all the residential areas west of Hurlburt Field. The new collector road will allow for the relocation of access to Florosa Elementary; thereby removing school turning traffic from US 98.
According to the county, the road would start near Solar Street (near Arby's) and end at Green Drive.
The new roadway, which is being referred to as the West Highway 98 Collector Road, involves multiple agencies with preliminary coordination efforts having occurred with FDOT, Eglin Air Force Base, Okaloosa County School District, and Santa Rosa County. 
According to Okaloosa County, Water and Sewer also has a need to run additional utilities in conjunction with this roadway, and funds are needed to move forward with an environmental study and design, estimated to cost $750,000.
To date, Eglin staff has provided preliminary approval for use of Federal property to accommodate the construction of the new collector road and utilities, according to the county. County staff is moving forward with the development of the required environmental documents and preliminary design for submission to Eglin.
According to the county, improved access, safety, and traffic flow can be expected once the proposed improvements are in place. In addition, the collector road could have a bicycle/pedestrian component to allow alternative transportation methods to Florosa Elementary School.
Funding requested at this time will be utilized for the development of the required Environmental and Preliminary design documents that will be submitted to Eglin in order to obtain the necessary land easements.
The county is requesting $375,000 in funding from the State, which will be matched with local dollars, for the environmental assessments necessary for this project. 
"I will tell you that in my time in office, one of the biggest complaints that I've had from our partners across the fence at Hurlburt has been Highway 98 traffic and getting their people to and from work. This is an opportunity to leverage a new roadway," said Commissioner Goodwin. "We think it would be very worthwhile and represent a huge benefit, not only to Okaloosa County, but to Hurlburt and those who commute in from Santa Rosa County, quite frankly as well."
Representative Dr. Joel Rudman, who represents Santa Rosa County, was part of the legislative delegation and commended Commissioner Goodwin and Okaloosa County for making the topic of traffic west of Hurlburt Field a priority, as it does affect his district.
"If you ask me, the number one issue in District 3 is the traffic to and from Hurlburt," he said. "For anyone who doesn't believe that, I would encourage you to meet me at my office in Navarre. We'll meet at 4:00pm. You can drive from Fort Walton to Navarre at 4:00pm and we'll probably end up meeting at 6:00pm, so it's a very real issue."
OK, that's all I have for you this morning! I hope you have a great Tuesday!
p.s. What did you think of this morning's newsletter? Hit the reply button and let me know!
Published with ♥ by Get The Coast.
Did someone forward you this email? Subscribe here.
124 Eglin Parkway SE Fort Walton Beach, FL 32548