March 6, 2023
|
Reading time:
16 mins
TOGETHER WITH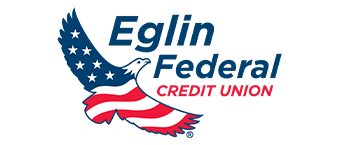 Good morning!
I hope you had a great weekend. Let's jump right into the news that you need to know this Monday morning…
POLITICS
Parker Destin appointed to Florida Historical Commission by FL Senate President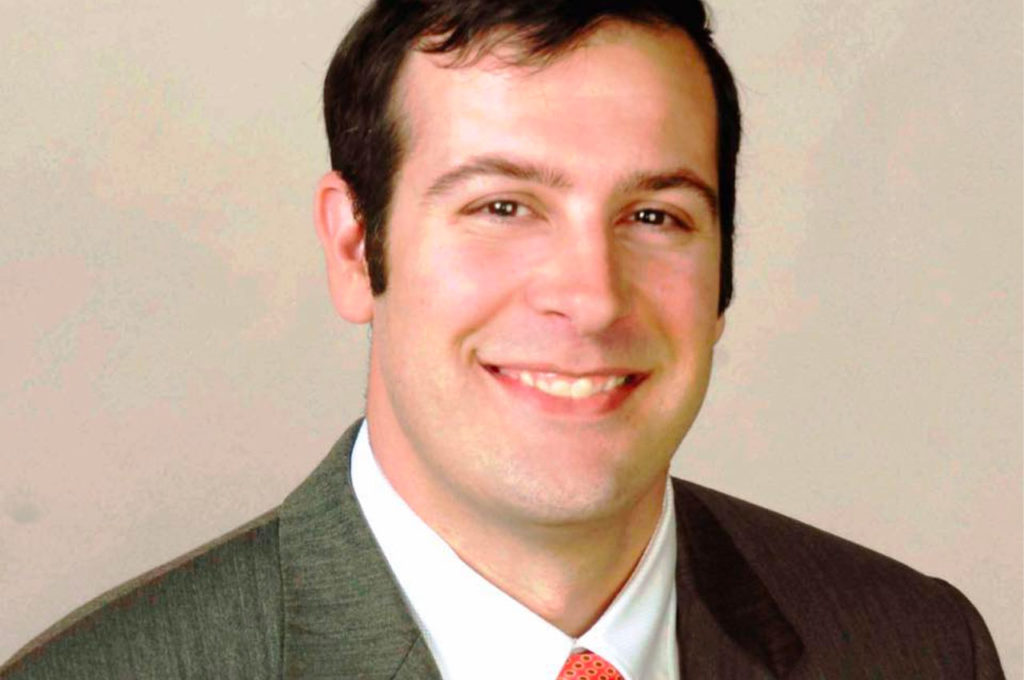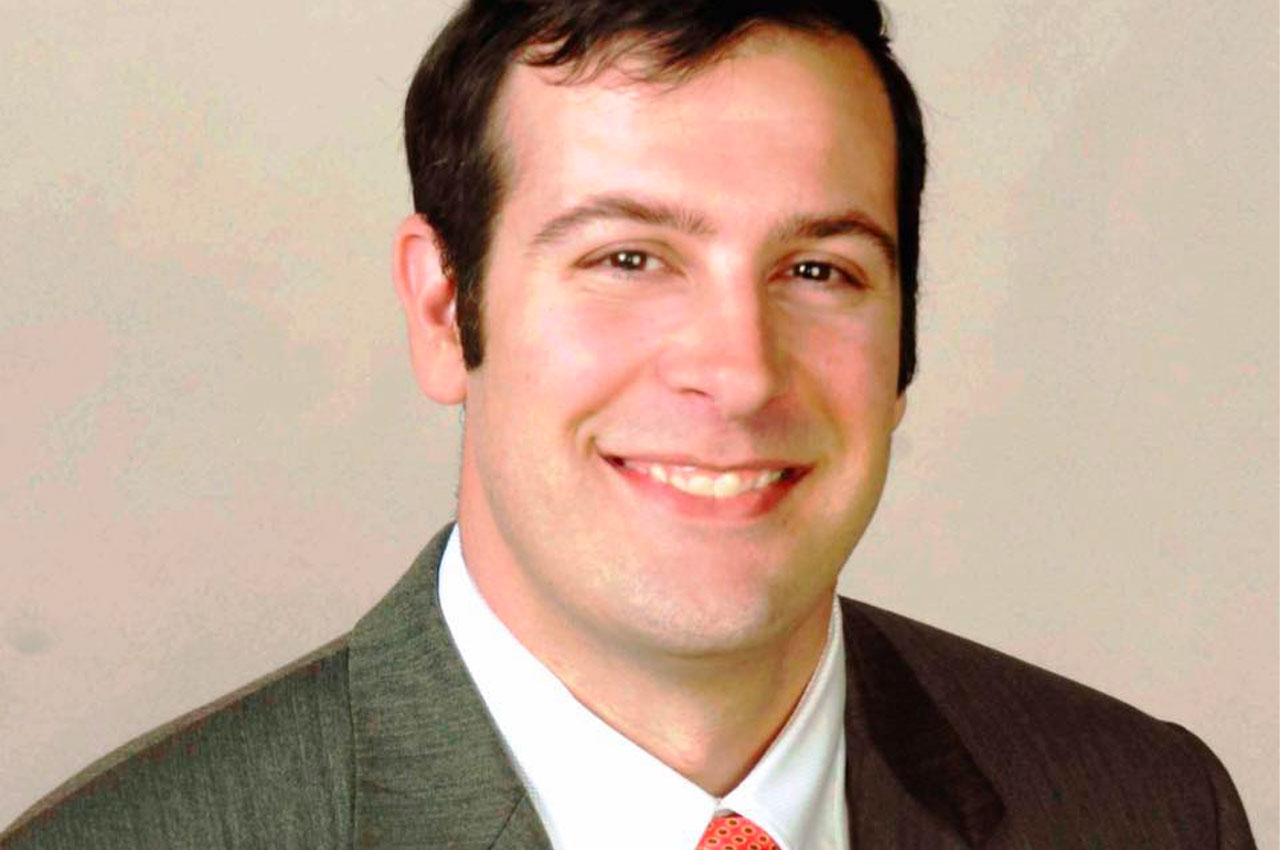 The Florida Historical Commission (FHC) is set to welcome a new member after Florida Senate President Kathleen Passidomo appointed Okaloosa's Parker Destin to the 11-member statewide commission. 
Created by the Legislature, the FHC aims to enhance public participation and involvement in the preservation and protection of Florida's historic and archaeological sites and properties.
The Florida Historical Commission is responsible for reviewing and ranking Historic Preservation Grant applications, advising the Division of Historical Resources, and serving as Florida's National Register Review Board to review and vote on proposed nominations to the National Register of Historic Places.
According to Destin, Florida's rich history is the story of America, and it's in our backyards. As a 6th-generation Floridian from a pioneering family with a passion for Florida's history, he says he is honored and excited to serve on the commission and champion public engagement with Florida's history, particularly in schools.
"The bewilderment and confusion many adults have when trying to understand current national/world events is often because many people just never connected with history during their school years," said Destin. "If we understand our history, we'll understand the present, which gives us our best opportunity to make smart decisions for our future."
Destin's enthusiasm for preserving Florida's history is evident in his lifelong dedication to collecting and cataloging historical documents and artifacts. He sees the opportunity to work with talented people serving on the FHC and assist the Legislature in prioritizing significant preservation resources as "beyond exciting."
With his passion and expertise in Florida's history, Destin is looking to make a positive impact on the commission and help ensure that Florida's past remains a vital part of its present and future.
"Ultimately, I'm just a big history geek, and this is the equivalent of getting to play at the Super Bowl for me," he added. "I'm honored and excited to have been selected for service by the Senate President."
SPONSORED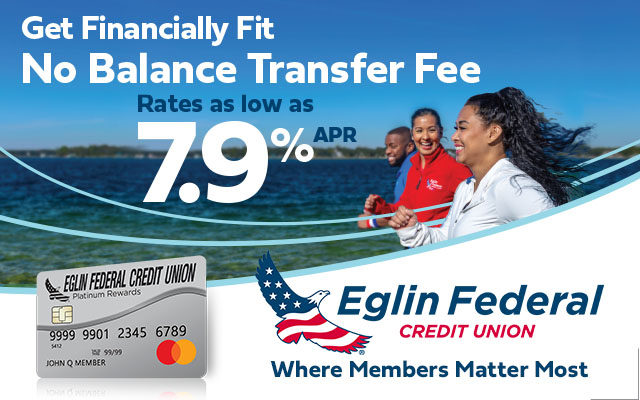 Lose the high interest credit card rate and transfer your balance to an Eglin Federal Credit Union Mastercard! There's no balance transfer fee, no annual fee, no cash advance fee, AND no international transaction fee. Interest rates are as low as 7.9% APR.
Get your finances in shape, and apply in person or online at eglinfcu.org/mastercard.
TRAFFIC
Part of Brooks Street to be realigned and converted to one-way traffic in Downtown Fort Walton Beach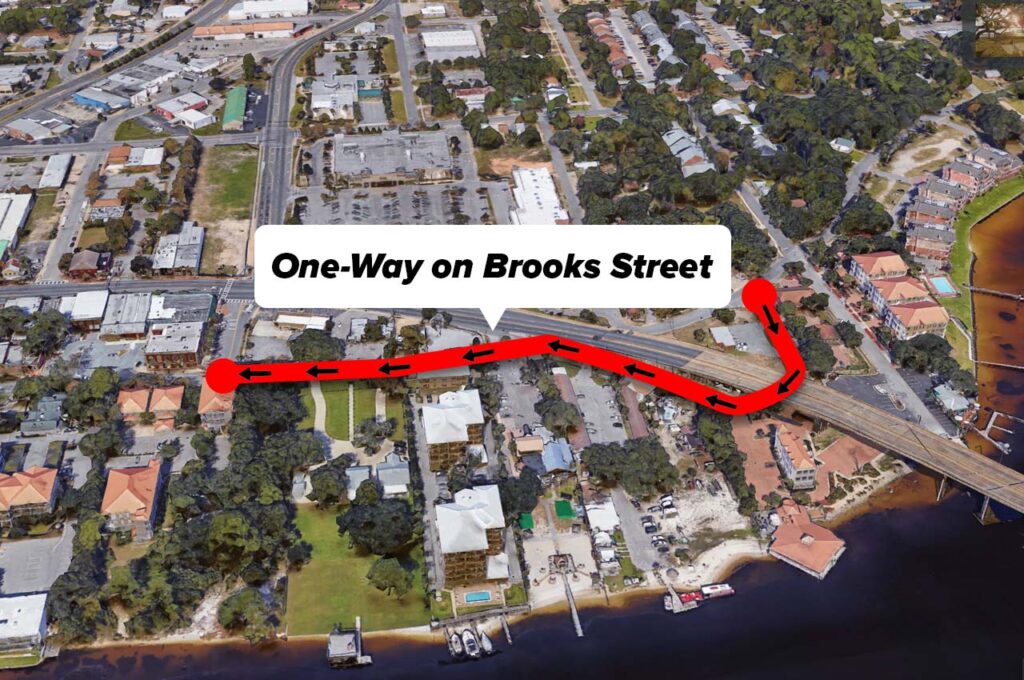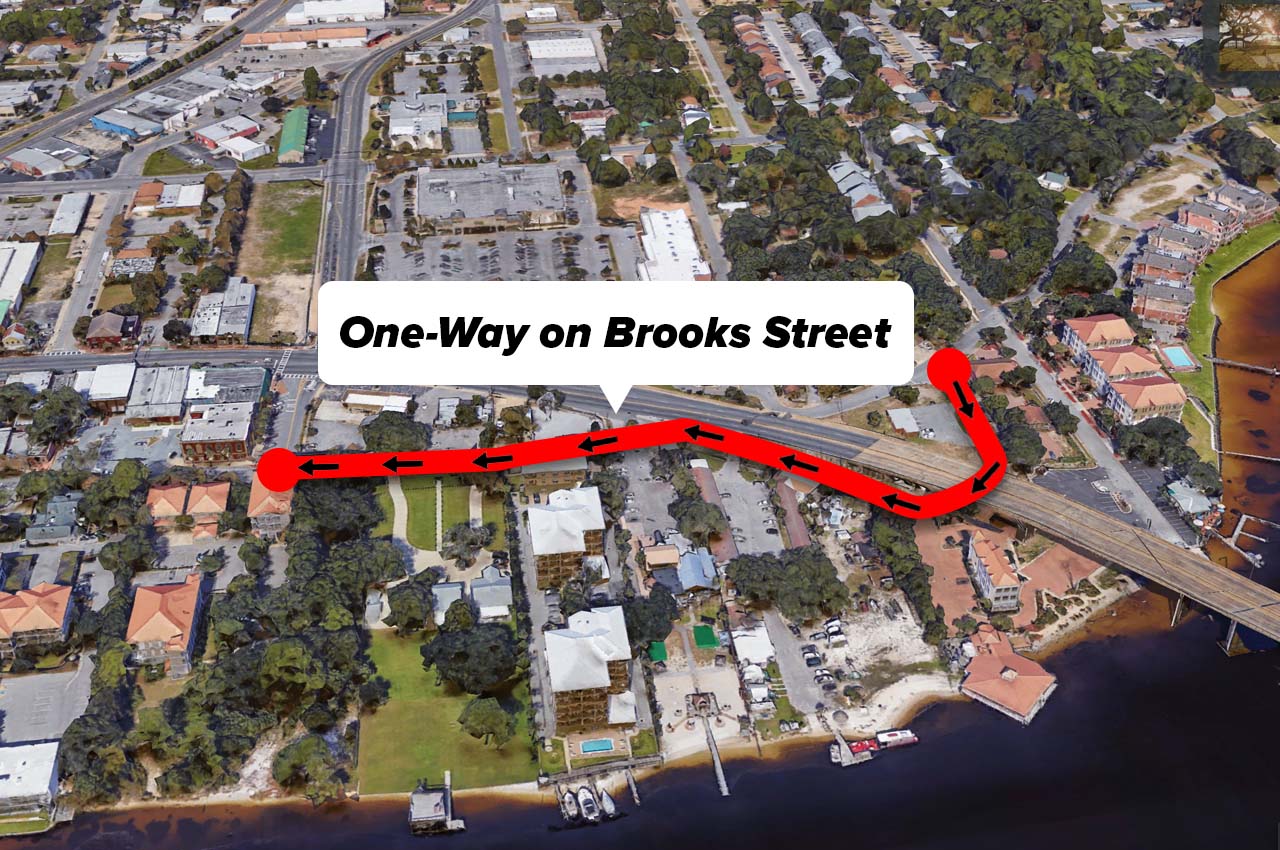 On Thursday, March 9, 2023, a portion of Brooks Street in downtown Fort Walton Beach will be realigned and converted to one-way traffic.
According to the Florida Department of Transportation, the section of Brooks Street affected will be from Perry Avenue to Florida Blanca Place, near the southeast entrance to Publix in the Shoppes at Paradise Point.
The one-way direction will east to west, allowing traffic to flow into the downtown area.
Drivers may experience lane closures on Brooks Street beginning on Wednesday, March 8 from 9 p.m. to 5:30 a.m. to allow crews to place traffic in the new configuration.
This configuration is expected to be in place while crews construct the new westbound bridge. Detour signage will be in place to direct drivers, pedestrians, and bicyclists.
"The City of Fort Walton Beach and FDOT are working closely together to come up with the best solutions for residents and visitors to access the downtown businesses and park area," said interim City Manager Jeff Peters.
Additionally, drivers may experience the following traffic impacts Sunday, March 5 through Thursday, March 9, from 9 p.m. to 5:30 a.m. as crews perform utility work:
U.S. 98 east and westbound alternating and intermittent lane closures between Perry Avenue and Pier Road.
Santa Rosa Boulevard east and westbound alternating lane closures from east of Amberjack Drive to Ross Marler Park.
Intermittent shoulder closures on Brooks Street, between Perry Avenue and Florida Blanca Place, and on Business Access Road.
COMING SOON
The Ships Chandler to break ground on 2nd phase of Freeport Marine and Service Center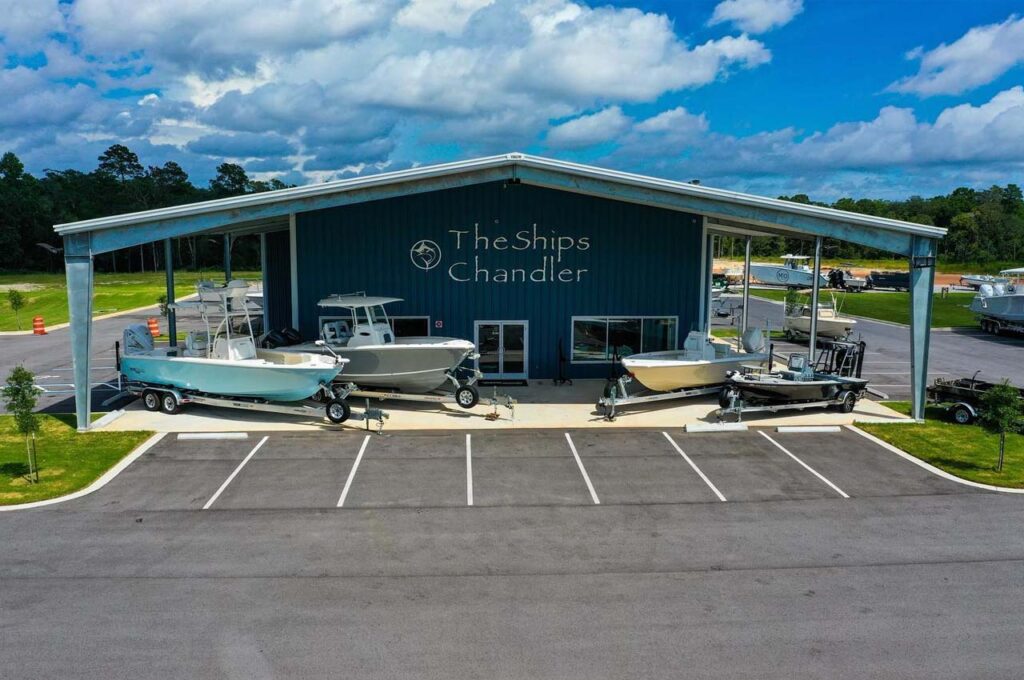 The Ships Chandler will break ground on the second phase of their marine and service center, located at 17309 US Hwy 331 in Freeport, on Wednesday, March 8 at 9 a.m.
The Ships Chandler originally broke ground on the first phase of the project in March 2021. Constructed by Chapman Building and Consulting and designed by Philip Spann and Associates, the new marine and service center is situated on over 14 acres of land and supplies the area with fishing and pontoon boats, outboard motors, engine services, and much more. 
The second phase of the project will consist of a 12,000-square foot building dedicated to engine repowers, electronics rigging, gelcoat and fiberglass work, as well as boat customization.
The second phase will also include a covered boat and RV storage area with 170 spaces that can fit up to 60-foot vessels. 
"We have always loved the customization and refit side of working on boats," said Peter Wright. "The new building will give us a dedicated space to house and work on the more in-depth projects we do with boats, including fiberglass, painting, and electronics."
The Ships Chandler is a family-run boating and fishing business that originated in Destin in 1980. Currently owned by Peter Wright, the business was started originally by his father. Peter Wright Jr., Peter's son, is also a prominent figure in the business.
TRAFFIC
28-year-old man jumps from the Navarre Beach Causeway after exiting a U-Haul
Shortly before 2pm on Saturday, March 4, 2023, a 28-year-old man exited a U-Haul on the Navarre Beach Causeway and jumped into the water.
According to the FHP report, a male driver of the U-Haul was traveling in the southbound lane and allowed it to travel into the northbound lane.
As his vehicle reached the top of the bridge, the male exited the vehicle while it was still in motion, and ran to the side of the bridge and jumped off.
According to FHP, a nearby fisherman witnessed the incident and went to the location where the male had entered the water. The fisherman was able to rescue the man from the water and transported him to the boat ramp.
EMS personnel treated the male subject, and he was later life-flighted to Fort Walton Beach Hospital for observation.
At this time, there is no further information on the driver or his current condition.
TRAFFIC
Okaloosa and Walton County Traffic Advisory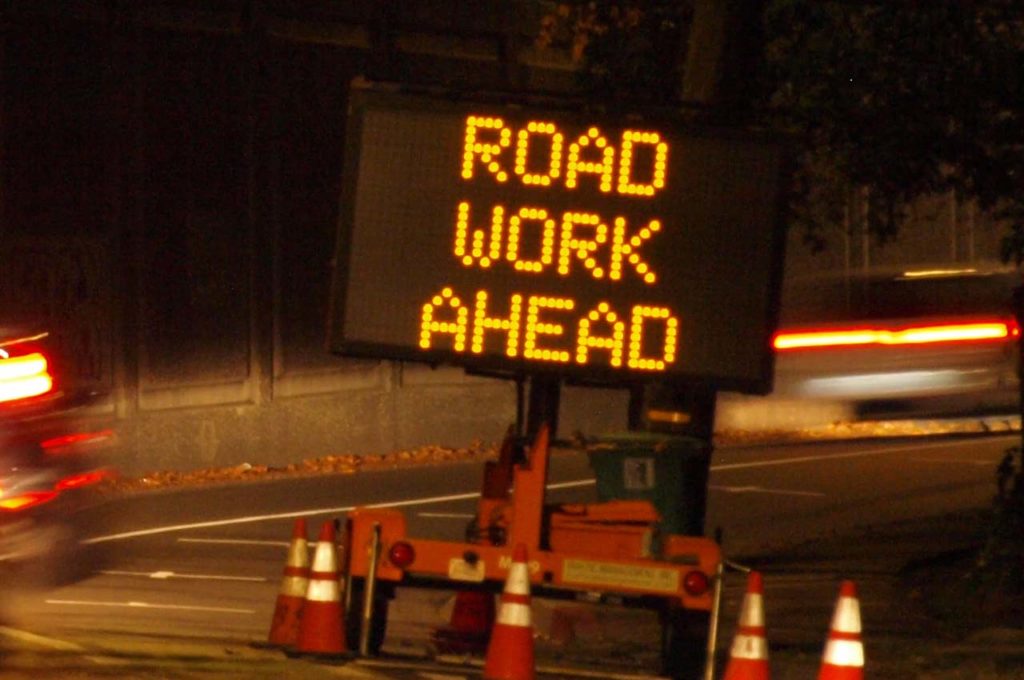 Drivers will encounter traffic disruptions on the following state roads in Okaloosa and Walton counties as crews perform construction and maintenance activities.
Okaloosa County:
State Road (S.R.) 20 (John Sims Parkway) Resurfacing Project – Drivers will encounter intermittent east and westbound nighttime lane closures on S.R. 20, from Edge Avenue to west of the Rocky Bayou Bridge, Sunday, March 5 through Thursday, March 9. These closures are required for median milling, median widening, and sidewalk construction.
S.R. 85 Resurfacing from John Sims Parkway to College Boulevard – Drivers will encounter intermittent, north and southbound outside lane closures Monday, March 6 through Thursday, March 9 from 9 a.m. to 12 p.m. for sidewalk repair and construction.
U.S. 98 Bridge Rehabilitation over East Pass Bridge – Drivers may encounter intermittent single-lane closures on the U.S. 98 over East Pass (Marler) Bridge, eastbound structure (Fort Walton Beach to Destin), Sunday, March 5 through Thursday, March 9, between 9 p.m. and 5:30 a.m. The existing 35 mph speed limit will be maintained during construction.
S.R. 4 Routine Maintenance at the new CEFCO in Baker – Motorist will encounter intermittent lane closures Sunday, March 5 from 8 p.m. to 5 a.m. for paving operations.
Walton County:
U.S. 98 Resurfacing from Village Road to East of U.S. 331 – Drivers will encounter the following traffic impacts Sunday, March 5:

Intermittent U.S. 98 east and westbound lane closures, between 7:30 p.m. and 7 a.m., for concrete removal and replacement and asphalt milling and resurfacing activities.
Intermittent closures the U.S. 98 east and westbound outside shoulders and turn lanes may be required as crews construct new sidewalks, widen existing turn lanes between Village Road and U.S. 331.
Intermittent temporary east and westbound outside daytime lane closures on U.S. 98, from Village Road to Mack Bayou Road, Monday, March 6 through Thursday, March 9, from 9:30 a.m. to 2:30 p.m. These closures are required to deliver concrete for sidewalk, curb and gutter construction.
S.R. 20 Turn Lane Construction at J. W. Hollington Road – Drivers will encounter intermittent lane closures the week of Sunday, March 5 for paving operations.
Interstate 10 Resurfacing from U.S. 331 (DeFuniak Springs Exit 85) to East of S.R. 81 (Ponce de Leon Exit 96) – Motorist will encounter intermittent outside east and westbound lane closures Monday, March 6 through Friday, March 10 for paving operations.
U.S. 331 Routine Maintenance near Brown Well Field Road – Motorist will encounter intermittent northbound lane closures Tuesday, March 7 through Thursday, March 9 from 8 a.m. to 4 p.m. for paving operations.
U.S. 331 Routine Bridge Maintenance over Choctawhatchee Relief – Motorists may encounter intermittent lane closures north of U.S. 98 Friday, March 10 from 9 a.m. to 4 p.m. for routine bridge maintenance.
All activities are weather-dependent and may be delayed or rescheduled in the event of inclement weather. Drivers are reminded to use caution, especially at night, when traveling through a work zone and to watch for construction workers and equipment entering and exiting the roadway.
NOW OPEN
City Food Hall opens at Destin Commons with 9 eateries and Top Golf Swing Suites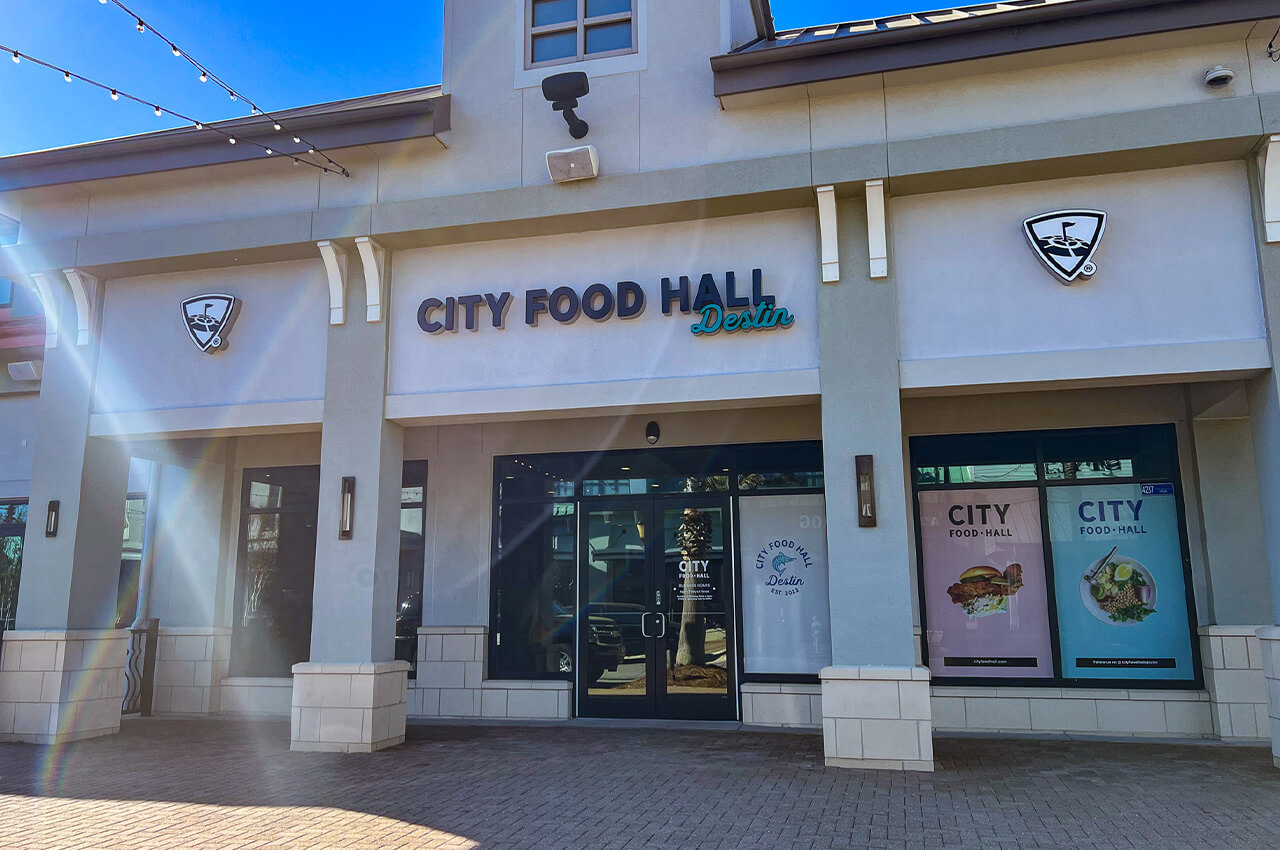 Culinary enthusiasts and avid golfers alike have a new spot to visit in Destin, as City Food Hall officially opened its doors at the Destin Commons on Friday. 
The 14,000-square-foot space houses 9 different eateries, a central bar, and two Top Golf Swing Suites. 
According to Kenzie Motai, Chief Operating Officer at City Food Hall, the goal of the space is to act as a culinary incubator, providing local chefs with the opportunity to operate at a low startup cost.
"We really like to look at ourselves as a culinary incubator," Motai said. "The concept is for us to build these beautiful spaces and make it almost turnkey for local chefs to be able to come in and start operating right away."
The 9 eateries at City Food Hall offer a diverse range of cuisines, from Jamaican-inspired soul food to health-forward café fare. Visitors can enjoy power foods from Birdie's Nourished Kitchen, Japanese cuisine with Southern flair from Nanbu Too, or bold Thai street food from Tuk Tuk Thai. Other options include Mexican-inspired dishes from Macho Taco, fresh cuts of fish from Poke Loa, and traditional Middle Eastern dishes from Zaitoun.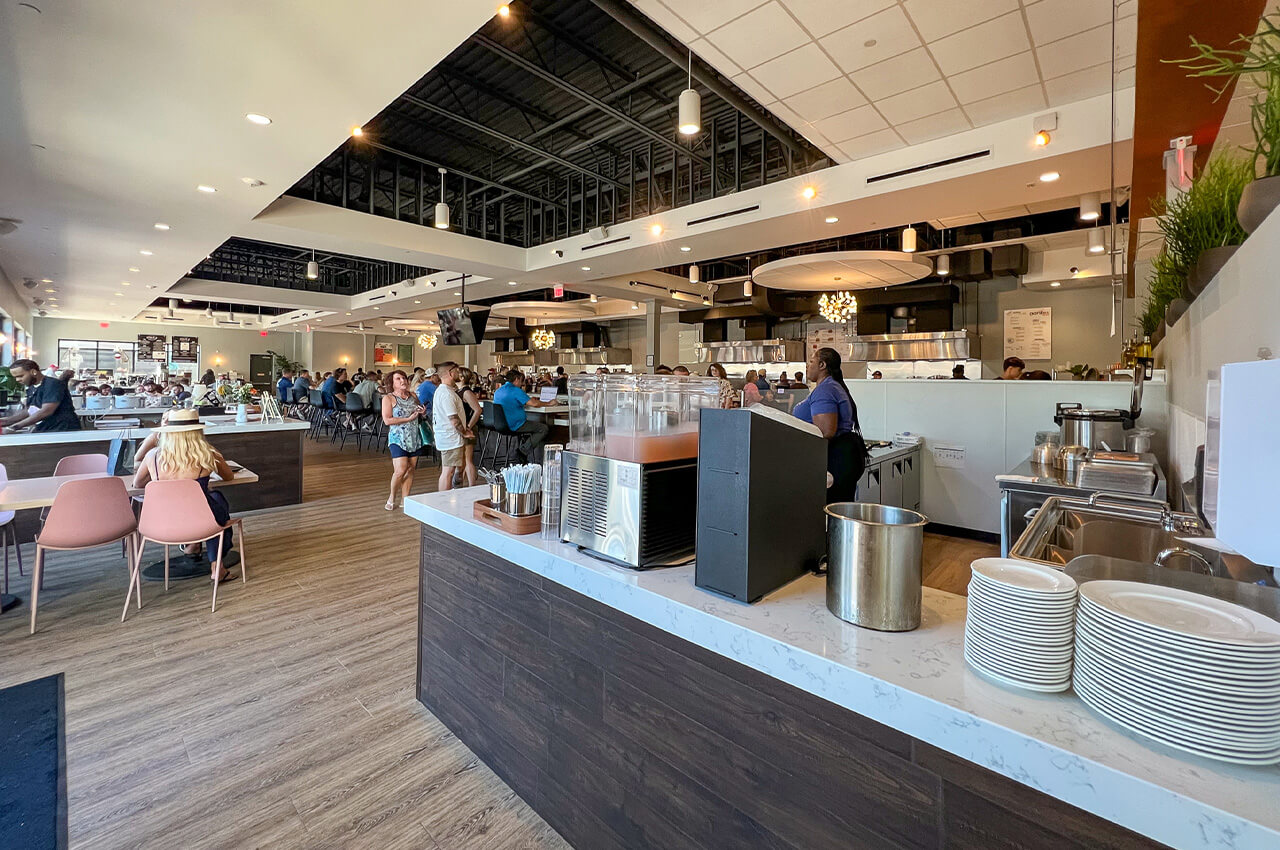 Here are the eateries:
Birdie's Nourished Kitchen: Birdie's offers a range of power foods from acai bowls and salads to healthy takes on traditional Southern fare.
City Food Hall Bar: Anchoring City Food Hall Destin, the bar features signature crafted cocktails, an expansive wine list featuring natural/sustainable/bio-dynamic options, and local beers.
Likkle jamdung: Jamaican Patois for Little Jamaica, is a concept created by Chef Shaun Watson. Originally from Kingston, Jamaica, Chef Shaun shares his Caribbean culture by giving the same creativity and authentic flavors in each and every dish served, from jerk chicken to braised oxtail.
Macho Taco: Mexican inspired soul food.
Nanbu Too: Created by owner and executive chef Nikhil Abuvala, Nanbu Too was born from his early love of Asian fare. Nanbu (translated to 'Southern' in Japanese) offers Japanese cuisine with Southern flair.
PB&J Bakery & Cafe: A health forward café with bold, unique dishes and nostalgic classics created by husband and wife duo, Phillip Bauer & Jess.
Pluma: A concept by brothers Robert, Ruben and Giancarlo originally from Miami, where they make 25-hour brined Fried Chicken.
Poke Loa: A family owned business from New Orleans serving up the freshest cuts of fish around. Poke Loa's fish is delivered fresh daily, and the fish, toppings and vegetables are chopped and prepared in house.
Tuk Tuk Thai: A concept by Chef Sonya Thaijjaroen bringing authentic Thai street food to the shores of Destin with ambitious dishes, bold flavors, mixed with hand-blended seasonings showcased by a military veteran owned team.
Zaitoun: A concept by a mother and daughter duo Lina and Haya, poised to bring traditional Middle Eastern dishes to the Destin community. The duo prides themselves on using signature recipes, spice blends, herbs, and homemade sauces to enhance only the freshest of ingredients.
In addition to the food offerings, City Food Hall also features a central bar with an expansive wine list, signature crafted cocktails, and local beers. The two Top Golf Swing Suites can be rented out by the hour for $45 on weekdays and $55 on weekends, offering visitors the opportunity to play different courses from around the world or other family-friendly games like football and soccer.
Motai says that they chose the Destin Commons as the location for City Food Hall due to its high visibility and heavy foot traffic. "We obviously want to be in highly visible areas and Destin Commons is one of the highest trafficked places," said Motai.
City Food Hall is open seven days a week, with hours from 11:00 AM to 9:00 PM on Sundays through Thursdays, and 11:00 AM to 10:00 PM on Fridays and Saturdays.
"It feels amazing to finally be open," Motai said. "Just seeing people enjoying the space and enjoying the food, it's pretty special to see it all come to light."
City Food Hall is located at 4237 Legendary Dr. H104, at Destin Commons.
OK, that's all I have for you this morning! I hope you have a great Monday!
p.s. What did you think of this morning's newsletter? Hit the reply button and let me know!
Published with ♥ by Get The Coast.
Did someone forward you this email? Subscribe here.
124 Eglin Parkway SE Fort Walton Beach, FL 32548