March 16, 2023
|
Reading time:
18 mins
TOGETHER WITH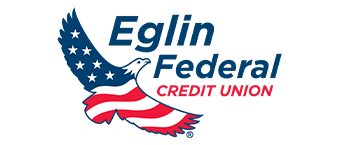 Good morning!
The 2023 Municipal Elections ended with 17.41% voter turnout (2,391 people). Here are the unofficial results for the March 14th Fort Walton Beach Election. The top 4 are the new council-members.
Jared "Bryce" Jeter – 16.85% – 1,408 votes
Larry Patrick – 13.38% – 1,118 votes
Gloria DeBerry – 12.84% – 1,073 votes
T. Payne Walker – 11.60% – 969 votes
Debra "Debi" Riley – 8.32% – 695 votes
Gareth A. Stearns – 6.38% – 533 votes
Kirby Locklear – 6.37% – 532 votes
Nathan Kelley – 5.48% – 458 votes
Ryan Hartman – 5.05% – 422 votes
Amy Jamieson – 4.75% – 397 votes
M.G. Moran – 4.22% – 353 votes
Jason E. Harwell – 2.70% – 226 votes
Brandon Bishop – 2.07% – 173 votes
POLITICS
'Meet and Greet' for Fort Walton Beach City Manager Candidates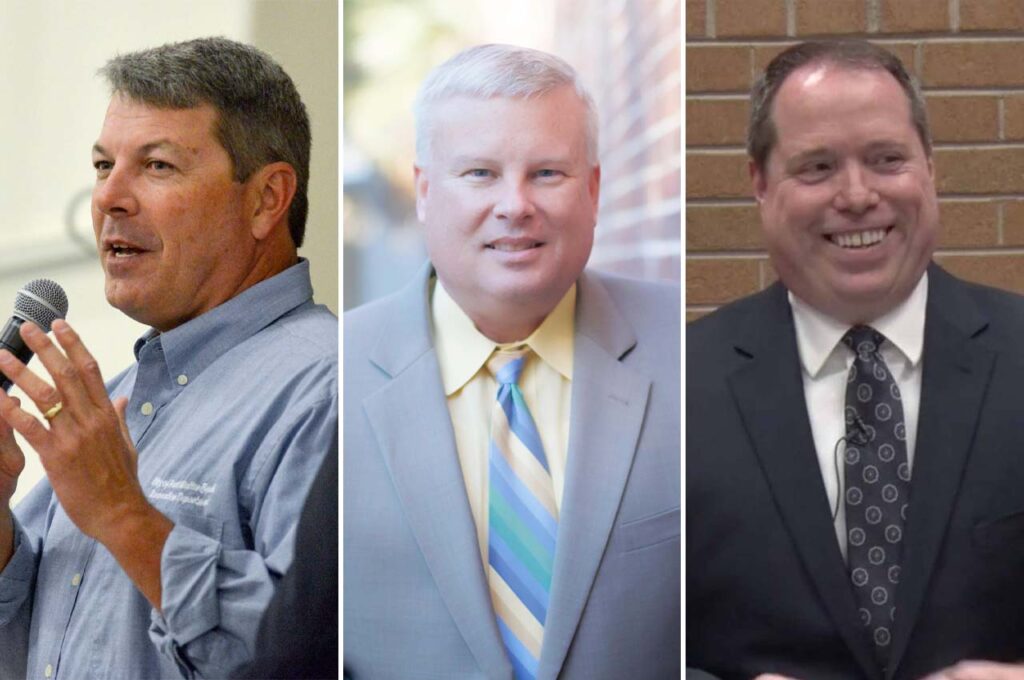 The public was invited to attend the Fort Walton Beach City Manager Candidate Meet and Greet on Wednesday, March 15, 2023, at 6:00 pm at the Recreation Center located at 132 Jet Drive NW. 
The event gave community members the chance to meet the top three candidates vying for the City Manager position.
The search for a new City Manager commenced following Michael Beedie's resignation in November, with Jeff Peters stepping in as interim City Manager.
According to the City's Charter, a permanent City Manager must be installed within 180 days after the office becomes vacant. The City Council chose executive recruitment firm Colin Baenziger & Associates, in collaboration with the City's human resources department, to conduct the recruitment search. The list of candidates was narrowed down to eight, including Jeff Peters.
At a special council meeting on March 7, 2023, the top three candidates were selected:
Jeff Peters
Dale Martin
Matt Coppler
Costs associated with the candidates' visit, including hotel, airfare, food, transportation, and the recreation facility, are estimated to be between $3,500 and $4,500.
Here's a brief overview of the top candidates:
Jeff Peters
A lifelong resident of Fort Walton Beach, Jeff Peters has been with the City for 17 years, starting as Recreation Director in 2006. Peters has been involved in numerous projects, including the Landing Renovation, Preston Hood Athletic Complex Addition, Brooks Bridge/Around the Mound, Heritage Park and Cultural Center Addition, Cemetery Administration Building, and City Hall. He prides himself on forming strong relationships with local organizations, City staff, and community members.
Dale L. Martin
Dale Martin served as the City Manager of Fernandina Beach, Florida, from December 2015 to February 2023. Located on Amelia Island, Fernandina Beach is a coastal resort community with a population of 13,500. Martin oversaw city services, including water, wastewater, stormwater utilities, police and fire protection, marina, airport, golf course, and parks. He managed 230 full-time and 150 part-time/seasonal employees, with an annual budget of approximately $196 million.
Matthew W. Coppler
From 2019 to April 2022, Matthew Coppler served as City Manager for St. Clair Shores, Michigan, a resort community of 60,000 located in the Detroit Metro area. Among his accomplishments, Coppler initiated modernization of the city's IT infrastructure, worked with the Mayor and City Council on prioritizing ARPA-funded projects, and negotiated collective bargaining agreements with three uniformed bargaining units.
The Meet and Greet event allowed Fort Walton Beach residents and council members to engage with the candidates and gain a better understanding of their qualifications and vision for the City.
The City Manager selection will be made at the City Council Regular Meeting on Tuesday, March 28, 2023, at 6:00 pm.
SPONSORED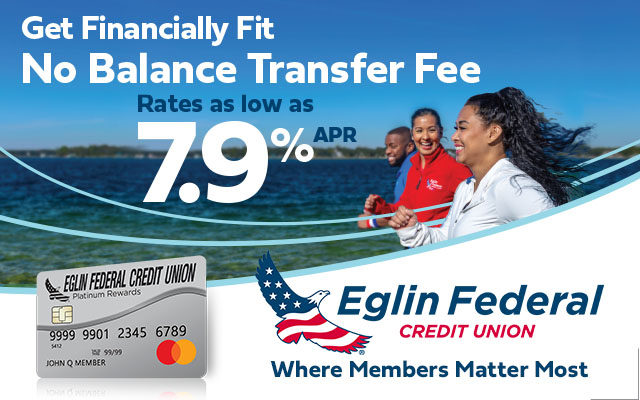 Lose the high interest credit card rate and transfer your balance to an Eglin Federal Credit Union Mastercard! There's no balance transfer fee, no annual fee, no cash advance fee, AND no international transaction fee. Interest rates are as low as 7.9% APR.
Get your finances in shape, and apply in person or online at eglinfcu.org/mastercard.
HEALTH
Local children receive Life-Changing Vision Aid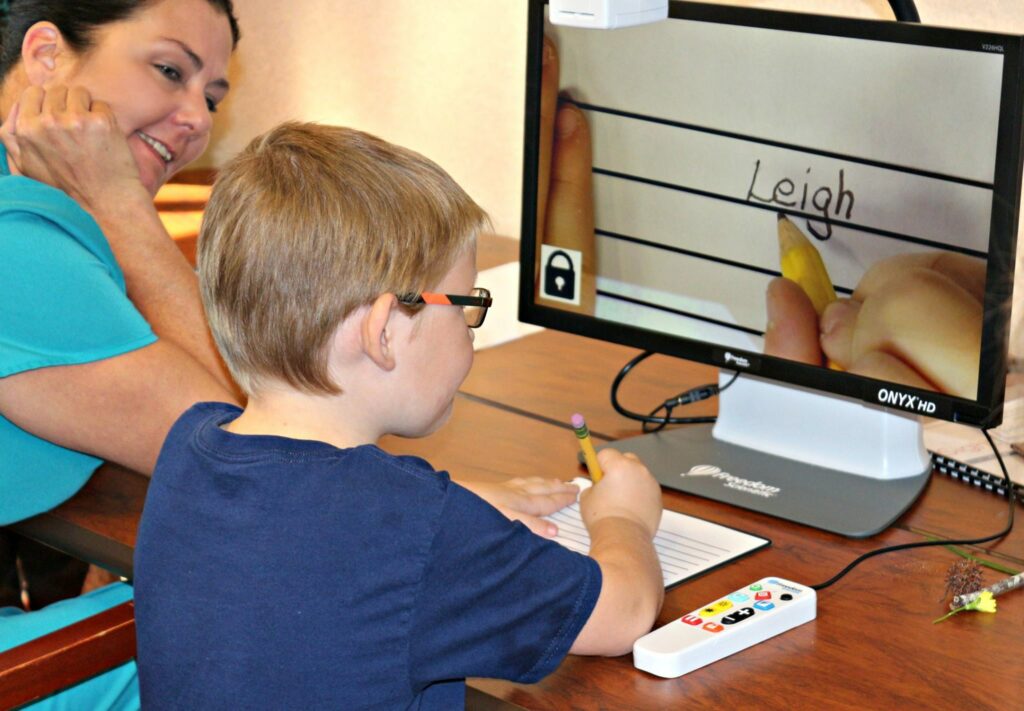 On Wednesday, March 15, 2023, eight visually impaired local children experienced a life-changing event as they received Electronic Video Magnifiers courtesy of The White-Wilson Community Foundation and Sight Savers America.
SSA, a nonprofit organization that's gaining national recognition, offers free assistive technology to eligible children with severe visual impairments that cannot be corrected through eyeglasses, contact lenses, or medical and surgical treatments.
In regions served by SSA, a significant backlog of children in need of advanced vision aids has developed, according to White-Wilson. Unfortunately, these aids often remain inaccessible due to their high costs and the lack of coverage by medical insurance.
With the introduction of SSA's Low Vision Program, children in Okaloosa, Santa Rosa, and Walton Counties who join the program, relocate to the area, or experience new or worsening eye issues will now have access to annual maintenance services.
The EVMs, which were provided at no cost to the families, are expected to make a tremendous impact on the children's lives. These devices can enhance contrast and magnify objects up to 118 times, enabling the children to read, write, complete homework, groom themselves, and even see their loved ones' faces clearly.
During the distribution event, SSA staff trained each child on how to use their new EVMs before they took them home. In addition, SSA will provide extensive follow-up eye care, maintain and repair the equipment as necessary, and keep records to analyze each child's progress with their vision equipment until they reach the age of 19.
SPORTS
Choctaw's fourth-quarter surge secures win over Niceville in Flag Football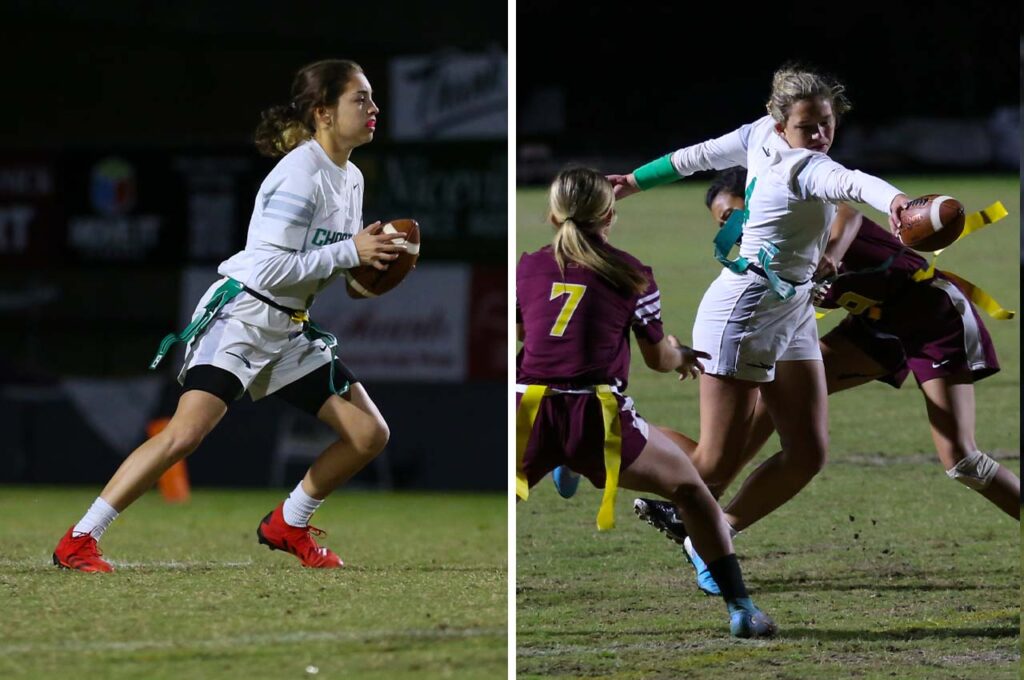 Choctawhatchee High School's Girls Flag Football team emerged victorious against Niceville High School on Monday, March 13, 2023. The match was a defensive standoff for the first three quarters, with both teams unable to put points on the board.
However, Choctaw pulled off a fourth-quarter rally, securing a 12-0 win against the Eagles.
Freshman quarterback Diaris Morales played a pivotal role in the Indians' triumph. Morales completed 14 out of 27 passes, amassing 120 yards and overcoming two interceptions. Morales also excelled in rushing, carrying the ball 13 times for 66 yards and scoring both of Choctaw's touchdowns in the decisive fourth quarter.
The Indians' receivers contributed to the team's offensive prowess, with Bailey Schwall leading the pack with four receptions for 44 yards. Kaitlyn Eisenberg, a senior, made two catches for 32 yards, while Nadia Birr, a sophomore, recorded three receptions for 21 yards.
On the defensive front, Choctaw's players had a total of 22 tackles. Junior Morgan Grace led the defensive charge with eight tackles and three interceptions, returning those interceptions for 48 yards. Grace also had two pass deflections.
Trinity Thomas, another junior, tallied two sacks for a loss of five yards.
The Indians are 3-1 so far this season and will play Fort Walton Beach High School on Wednesday (March 15), followed by Crestview on Thursday (March 16).
The Vikings and Bulldogs faced off this past Monday in a game that saw Crestview defeat the Vikings 8-6. The Bulldogs are 5-1 so far for the season.
PUBLIC SAFETY
After 24 years, suspect in sexual assault case behind bars in Okaloosa County
On Wednesday, the Okaloosa County Sheriff's Office announced that 24 years after a woman reported being sexually assaulted in the Poquito Bayou area near Shalimar, the suspect, now aged 60 and living under an alias, is behind bars in Okaloosa County.
Charles Craig Senior was recently transferred to the Okaloosa County Jail from the Kern County Sheriff's Office in California. Craig is accused of sexual battery in the early morning hours of March 11, 1999, according to the OCSO.
The victim says on that date she was leaving El Villa's Lounge in Mary Esther when a man, who identified himself as "Ron," offered her a ride. He drove her to an area near Sunset Lane in Poquito Bayou, grabbed her by the throat, and threatened to break her neck if she didn't comply to his demands, according to the report.
After the sexual battery, he released the victim at the intersection of State Road 89 and State Road 85 before a passerby picked her up and took her to the Niceville Police Department. A sexual assault kit and other items of evidence were collected.
In February of 2020, evidence was sent to the Florida Department of Law Enforcement for a new examination and a DNA profile was acquired, matching Craig. The OCSO determined Craig was living under the alias of Ronald Grisby and in February 1999 had listed his address as Destin.
After extensive efforts to locate him, Craig was finally found in California and signed a waiver of extradition back to Florida in late February.
"I'm so proud of the determination and ongoing efforts to seek justice demonstrated by our deputies," said Sheriff Eric Aden. "It's rewarding when cold cases heat up again, leading to an arrest that's been a long time in the making."
FOOD+DRINK
Pounders Hawaiian Grill eyes expansion into Fort Walton Beach with third location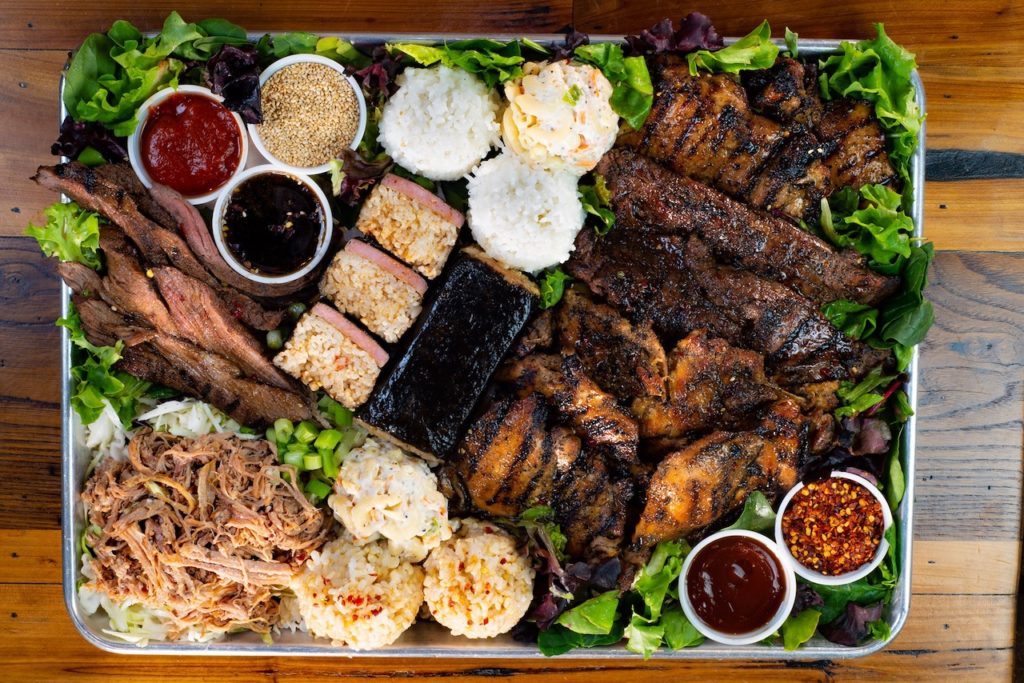 Pounders Hawaiian Grill, a fast-casual dining establishment that has quickly gained popularity since its inception in 2017, is actively seeking to expand its presence in the Florida Panhandle with a new location in Fort Walton Beach.
The announcement came via a Facebook post on Tuesday, March 14, 2023, where the restaurant reached out to its followers for potential leads on suitable spaces.
In the Facebook post, Pounders mentioned specific requirements for their new location, such as a minimum of 2,000 square feet, ample parking, and proximity to Highway 98. While the restaurant prefers to lease a space, they are open to purchasing property if the right opportunity presents itself.
In an interview with Get The Coast last year, co-owner Kakela Peters shared the story of Pounders' humble beginnings as a food truck before opening its first brick-and-mortar location in Crestview in 2017, followed by a second location in Niceville in 2019. The restaurant has since become a local favorite, with both current locations boasting a 4.8-star rating on Google.
Pounders Hawaiian Grill is known for its simple yet flavorful menu, which includes four main meat options: Garlic Chicken, Teriyaki Chicken, Teriyaki Steak, and Kalua Pig.
Peters attributes the restaurant's success to their focus on using high-quality ingredients, such as boneless, skinless chicken thighs, and a unique in-house Teriyaki sauce made from Aloha Shoyu, a soy sauce originally produced in Hawaii.
In addition to the main dishes, Pounders offers a variety of sides, including White Rice, Macaroni Salad, and a choice between Leafy Greens or Steamed Vegetables. The restaurant also serves a selection of beverages, featuring the "Aloha Maid" drinks assortment.
The success of Pounders Hawaiian Grill goes beyond its delicious food offerings, with a strong emphasis on customer service that stems from its mission statement: "To live and share the Aloha spirit and serve excellent Hawaiian-style food."
As the search for a suitable location in Fort Walton Beach continues, the anticipation for a third Pounders Hawaiian Grill location grows among residents and fans of the popular restaurant.
Pounders Hawaiian Grill currently operates at the following locations:
Niceville: 142 Palm Blvd N, Niceville, FL 32578 
Crestview: 1338 N Ferdon Blvd, Crestview, FL 32536.
MILITARY
Eglin Air Force Base Commander issues warning against trespassing on Closed Test Areas, beach access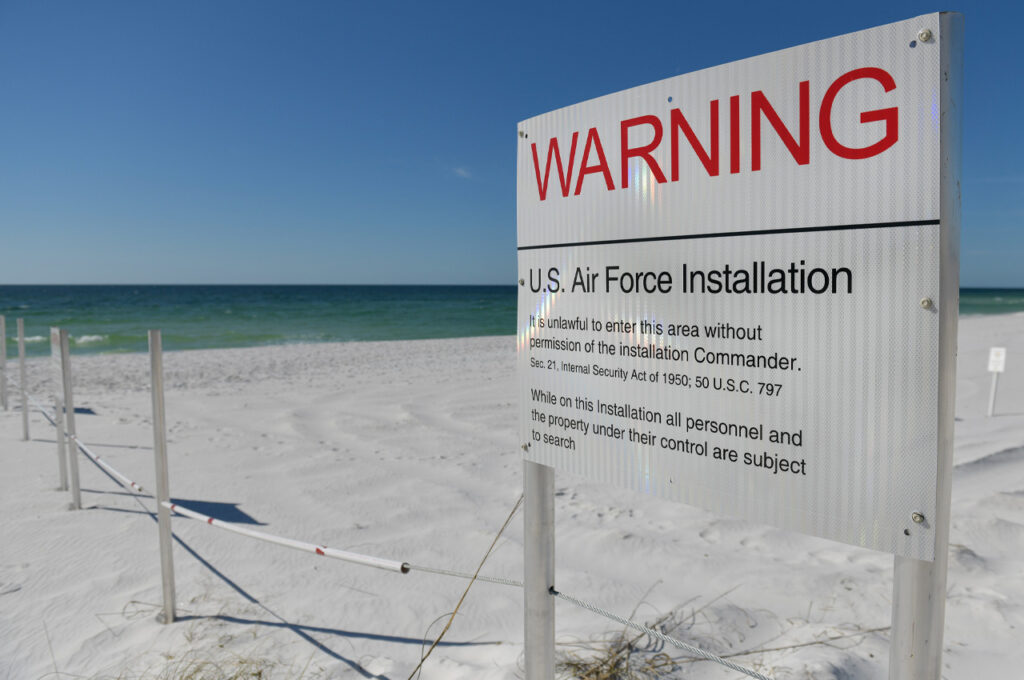 On Wednesday, March 15, 2023, Brig. Gen. Jeff Geraghty, the new commander of the 96th Test Wing at Eglin Air Force Base, issued an update regarding closed test areas and beach access.
In his news release, Gen. Geraghty reiterated the importance of Eglin Air Force Base, which spans three counties and is one of 13 major range and test facility bases in the Department of Defense. The test areas within Eglin's borders provide a center of development, testing, and deployment of lethal air power to support essential Department of Defense missions.
Many of these areas also provide refuge for a wide range of natural communities and 106 rare and endangered plant and animal species, as well as a wealth of Cultural Resources dating back thousands of years.
"Since returning here and taking command of the 96th Test Wing in June, I'm reminded of just how special this area is and how fortunate we are to live and work in such a military-friendly community," he wrote.
Eglin is also host to many hazardous activities that include training missions conducted by Air Force Special Operations Command, the U.S. Army's 6th Ranger Training Battalion and 7th Special Forces Group, as well as operators from every branch of service.
According to the General, the Closed Test Areas on Santa Rosa Island that stretch west of the El Matador Condominiums all the way to Navarre Beach have become an "easy target for trespassers" who want to take advantage of the secluded charm of Eglin's closed beaches.
Gen. Geraghty stated that despite the abundance of warning signs in place instructing beachgoers to stay out of Air Force Closed Areas, an unacceptable level of trespassers are ignoring the signage and causing mission impacts, damaging fragile habitats critical to many species.
"Due to unauthorized activities, and to preserve and protect this national asset on the Eglin reservation, our team has installed barriers and additional signage on the east and west sides of Eglin's Santa Rosa Island Closed Areas to further discourage trespassing," said Geraghty. "Additionally, our security forces will increase patrols in these areas and will begin issuing trespass citations to those who continue to violate our Closed Test Areas."
Furthermore, the security forces, with assistance from local and state law enforcement, will monitor the Santa Rosa Sound and cite individuals/boaters who are beaching and trespassing on the north side of the island.
Eglin maintains four other public beach access points on the island, including Eglin Beach Club, the Matterhorn, Princess Beach, and the old Airman's Beach Club. Each of these areas is available to beachgoers with a free permit.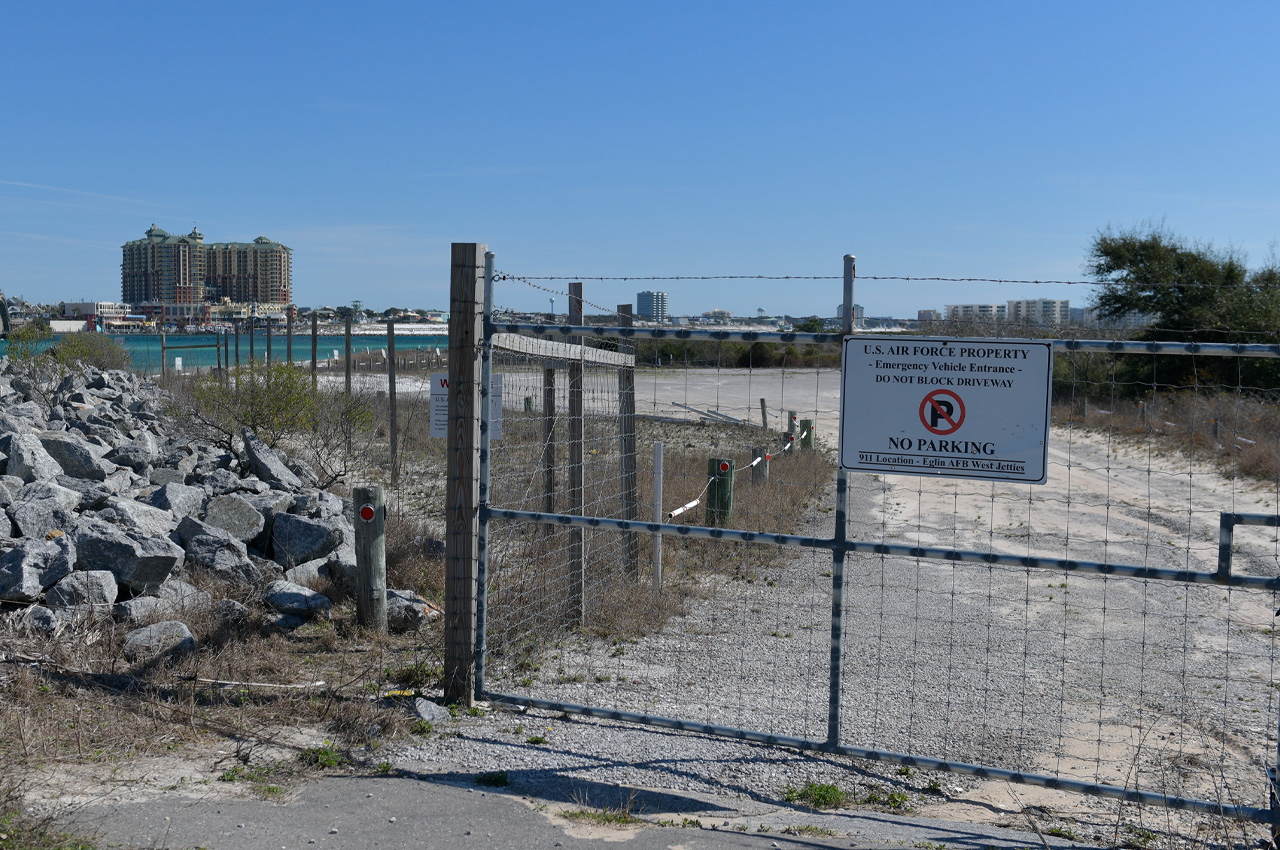 The popular East Pass Beach Area near the Destin bridge has been closed since May 2020 due to illegal commercial activity, trash dumping, and parking issues. The previous 96th Test Wing Commander, Brig. Gen. Scott Cain, closed the area to ensure the safety of the beachgoers and prevent any further illegal activity from happening on federal property.
According to details at the time, the closure was necessary because of the "incompatible and unsafe blend of beach goers and moving vessels along the shoreline, illegal and unsafe vehicular traffic, lack of adequate parking control, illegal commercial activity taking place by water-bound vendors, and inability to fund adequate solutions to safety and liability issues."
Initially, cones were placed along the road, but they were ineffective in stopping beachgoers from accessing the area, according to Eglin.
Concrete barriers and fencing were then added, and despite numerous conversations between the city of Destin, Okaloosa County, and the previous commander, the barricades and fencing at the East Pass Beach access remained in place.
"We will continue to search for appropriate solutions to improve safety and eliminate unauthorized trespassing on federal property," Geraghty wrote. "As we determine these solutions, we will communicate them with the community to avoid any confusion in the future."
OK, that's all I have for you this morning! I hope you have a great Thursday!
p.s. What did you think of this morning's newsletter? Hit the reply button and let me know!
Published with ♥ by Get The Coast.
Did someone forward you this email? Subscribe here.
124 Eglin Parkway SE Fort Walton Beach, FL 32548