SUMMERTIME
City of Destin to host Kids Summer Day Camp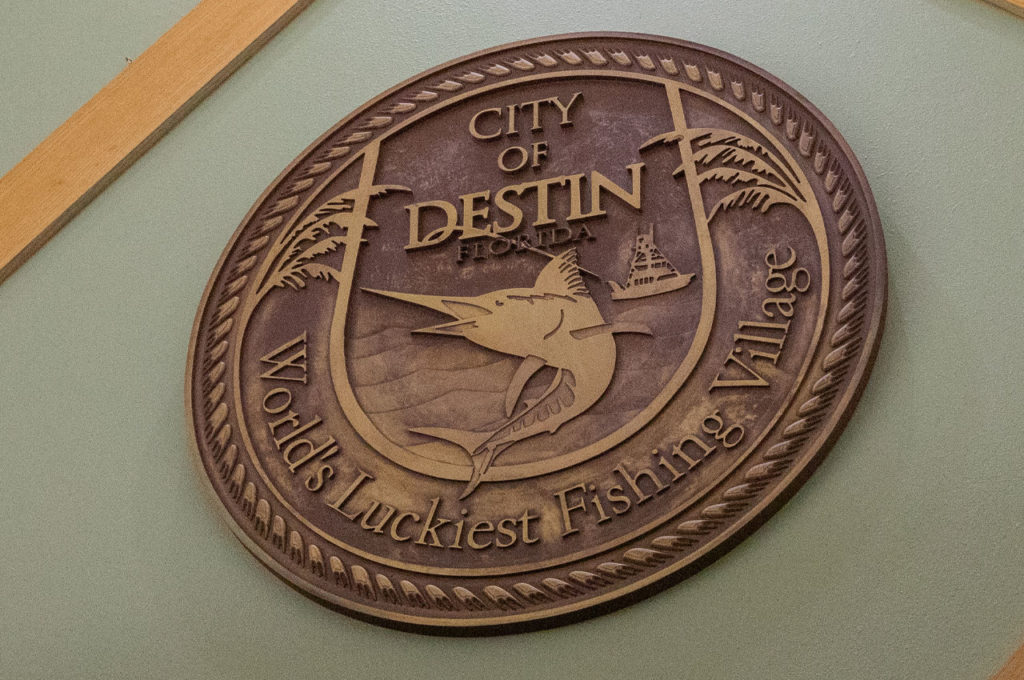 The City of Destin will host a summer day camp from June 6th thru July 29th, 2022, at the Destin Community Center, located at 101 Stahlman Avenue.
The camp will be for children ages 5 to 12.
Camp times are from 9:00am-12:00pm, Monday thru Friday and lunch will be provided from 12:00pm-1:00pm.
The cost of the camp is $65 per week for non-Destin residents and $50 per week for Destin residents (lunch is an extra $15/non-resident & $10/resident).
Camp activities will include games, crafts, swim days (towel and swimsuit required), structured playtime, and snacks.
Camp will be closed the week of July 4th thru July 8th. Pre-registration is required as spaces are limited. Registration can be completed online by clicking here.
Please call 654-5184 for more information.
SPONSORED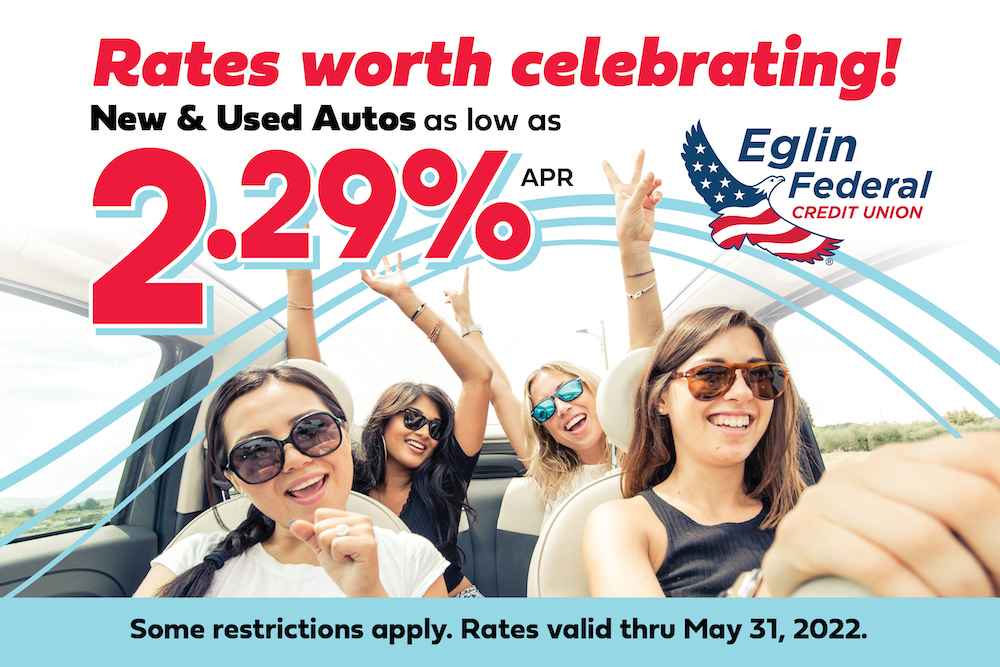 Get a new or used auto loan with rates as low as 2.29% APR for up to 66 months (some restrictions apply).
SCHOOLS
Choctaw High School student arrested after pulling fire alarm as a joke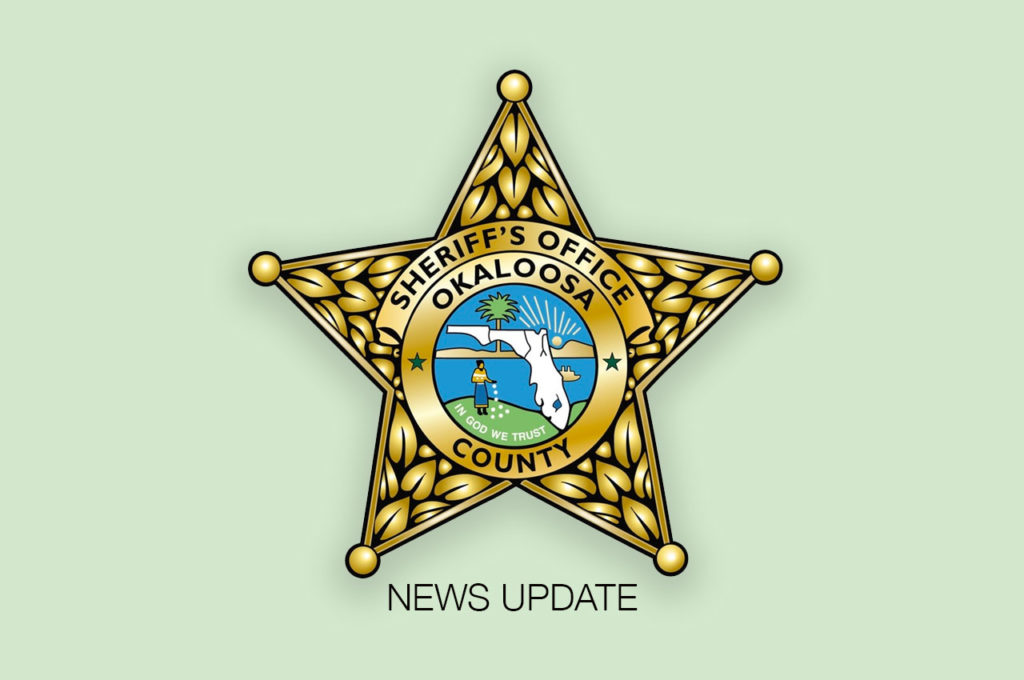 On Tuesday morning, Choctawhatchee High School was placed on a brief lockdown around 8am due to the activation of a fire alarm.
According to the Okaloosa County Sheriff's Office, deputies discovered that an 18-year-old student pulled the fire alarm. The students later told deputies he pulled the alarm as a joke. 
The student was charged with disturbing the peace by interfering with school functions and false alarm of fires.
In response to the morning's events, Choctaw issued the following statement:
"Students are reminded that falsely activating a fire alarm is not a joke or something that is done as a prank. It is criminal, creates unnecessary panic and fear, disrupts school function, and has the potential to divert first responders away from legitimate emergencies."
"Thank you to our outstanding SRO team, the support of the Okaloosa County Sheriff's Office, the administrative team and every Choctaw staff member ensuring the safety of our entire student body," wrote the school in a press realease. "We appreciate the ongoing support by our parents, families and community!"
"There is no place for this in our schools," added Superintendent Marcus Chambers. "The disruption to the school day and the concern this action caused the students and staff was significant. Appropriate disciplinary action will be taken. Thank you to the staff at Choctaw and the School Resource Officer who reacted quickly to the false activation of the alarm and to the students for following established drill procedures."
CALL BEFORE DIGGING
Okaloosa Gas talks the importance of calling 811 before digging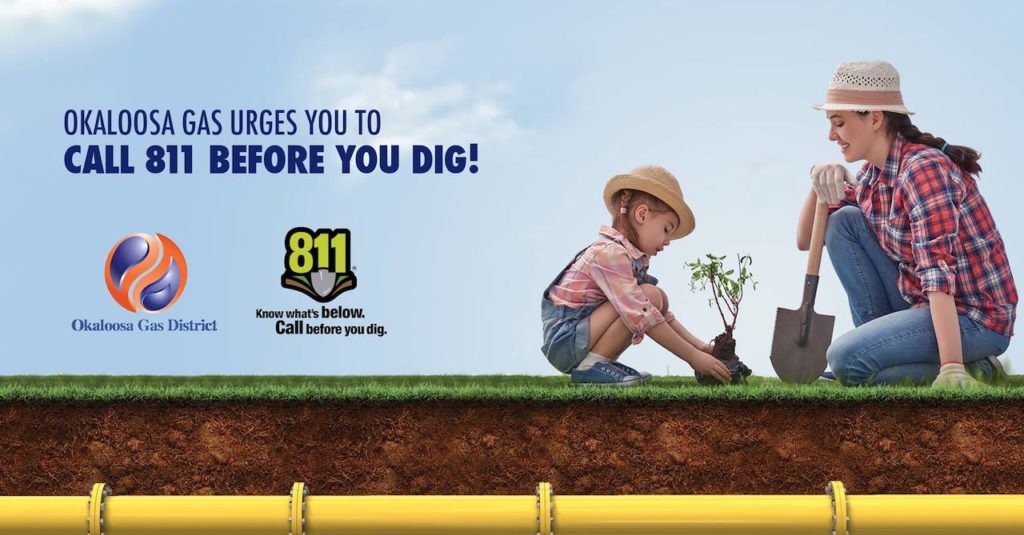 Before beginning a dig at your home or business, it is important that you call 811 as there is always a chance of unintentionally digging into an underground utility line.
Even if you have excavated an area previously, erosion, settling ground, and other factors can change the depth and location of utilities over time.
According to the American Public Gas Association, nearly 2 out of 5 U.S. homeowners will put themselves and their communities at risk this year by digging without calling 811 beforehand.
"Safe digging is everyone's responsibility," said Jenni Brunson, Okaloosa Gas. "But when someone decides to take shortcuts, weekend projects can lead to Internet, cable, power and natural gas outages, injuries and sometimes worse."
According to Brunson, that's why it's so important (actually, it's law) to have buried utilities in your easement, right of way and permitted use areas located and marked before you dig.
Failure to call substantially increases the chance of causing damage to natural gas or utility pipelines, thereby placing you and the public at risk.
Okaloosa Gas District is reminding homeowners to call 811 to have pipelines located and marked by professionals at no cost before any construction or excavation begins – this includes any digging by hand or machinery.
"Even actions as simple as planting a tree or installing a sprinkler system that a homeowner may do himself requires advance line-spotting," says Brent Haywood, VP of Operations for Okaloosa Gas District. "Damage to pipelines from outside forces, mainly unauthorized diggers, is the most common cause of pipeline damage and natural gas leaks."
Haywood says there are hazards associated with not dialing 811 for line spotting 48 hours in advance of digging. Not calling is not only unsafe, but is against the law.
"By everyone — residents, contractors and officials — calling ahead and having natural gas or other utility pipelines located and marked prior to digging, most accidents can be avoided," he said.
OPPORTUNITY
FDOT Construction Career Day hopes to engage the next generation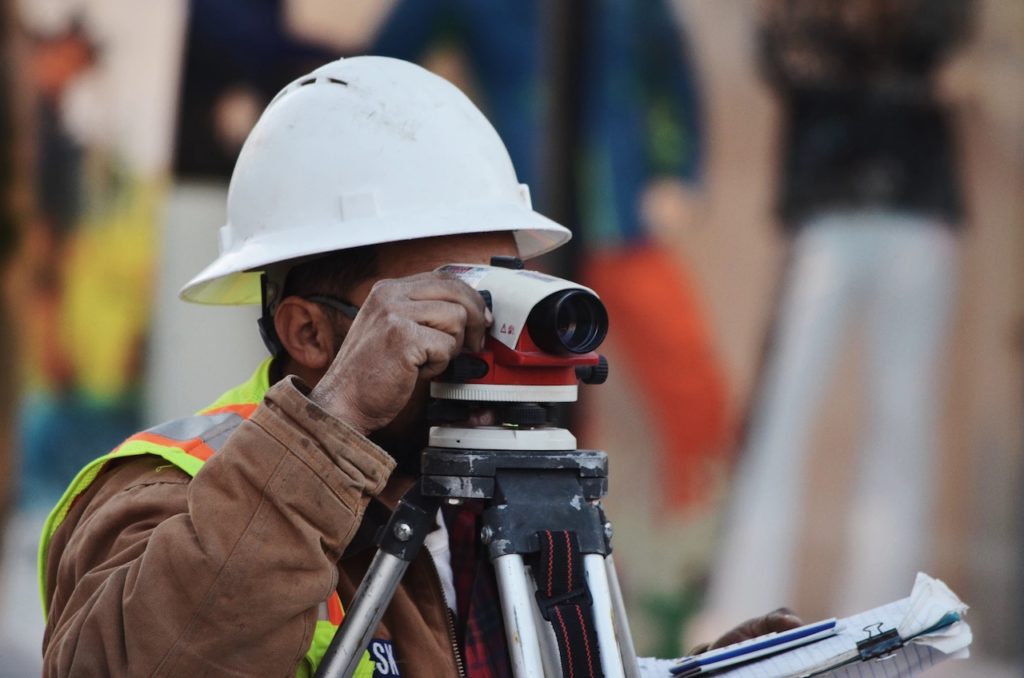 Beginning yesterday, April 26th, and continuing today, April 27th, the 2nd Annual Northwest Florida Construction Career Day will take place at the Santa Rosa County Fairgrounds.
The Construction Career Day is a two-day event where nearly 1,000 high school students from Santa Rosa, Escambia, and Okaloosa Counties will be expected to attend. This will be an all-day event starting at 8am.
The event introduces high school students to critical career paths available in transportation, structural engineering, and building industries in hopes of engaging the next generation in these future careers.
Students will participate in interactive learning labs that include:
Operating heavy equipment
Learning about bridge inspections
Concrete
Paving
Engineering
During the event, students over the age of 18 can fill out applications for companies looking to hire employees in these career fields. This year, $20,000 in scholarship funds is available to students.
These scholarships will be available to all high school graduates whether they plan to:
Attend college
Attend a trade school
Attend a technical school
or directly enter the workforce after graduation
This event is specially designed for high school students to learn more about the Construction workforce that they are going into, with hopes that it will create a pipeline of workforce and economic opportunities for our community.
The Construction Career Day event allows students of all backgrounds and skill levels to have an up-close chance at exploring career opportunities with FDOT and its industry partners.
This event is for participating schools only and is not open to the public.
COASTAL RESOURCES
New concrete reefs coming to Destin-FWB
This coverage is made possible thanks to Caliber Car Wash in Fort Walton Beach! Caliber features top-of-the-line equipment and tons of free detailing tools for use after your wash, including free vacuums, air fresheners, mat cleaners, detailing air, cleaners, and towels.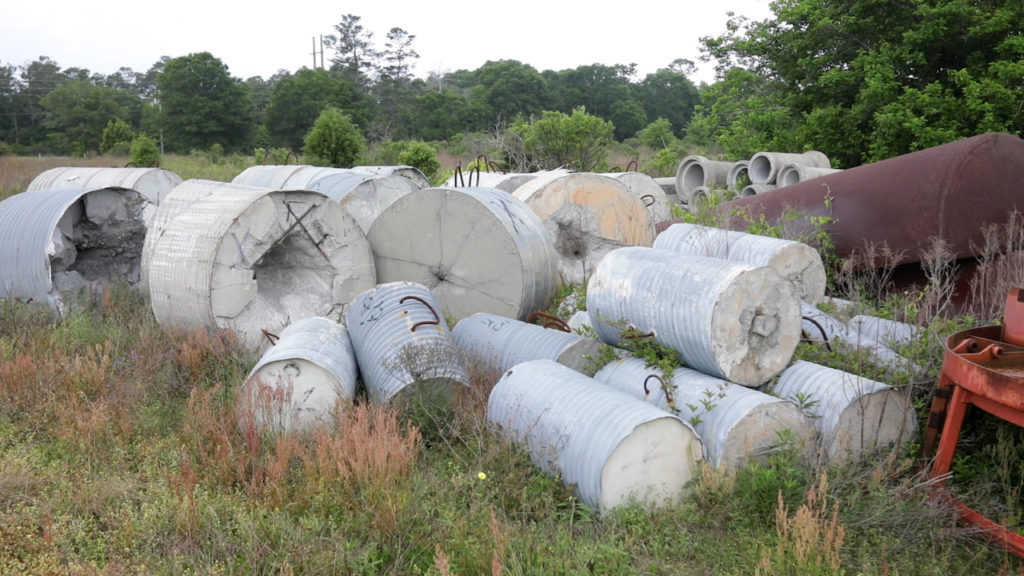 Okaloosa County's Coastal Resource Team is preparing to deploy a bunch of donated material as new artificial reefs off Destin-Fort Walton Beach coast.
You'll remember from a newsletter earlier this week that Eglin Air Force Base partners with the county on donated concrete material. 
More concrete targets will be deployed in the coming month.
"Eglin is constantly testing new weapons and when those targets have exceeded their lifespan, they donate them to us as they make great artificial reef material," said Alex Fogg, Coastal Resource Manager. "We're talking 6,000 to 20,000 pounds in some cases. They don't move around and provide a great base for a lot of the other material that we have here."
Fogg says that the material was donated about a year ago, and he has been collecting additional material to justify filling up a barge for a deployment.
Back in 2015, Okaloosa deployed the first artificial reef using this sort of material. They did it again in 2017. This will be the third project that the Coastal Resource Team is doing to create a 5th artificial reef.
"The first four reefs that were created with the secondary-use material were all deployed in state water, so within 9 miles, in about 60-80 feet of water," added Fogg. "We're going to bring these a little bit farther offshore and put them in about 100 feet of water, about 13-14 miles from the Destin pass."
Destin-Fort Walton Beach doesn't have a lot of rubble sites in Federal waters like they do in state waters. This new reef site will provide additional diversity for fishing and diving.
"With these secondary-use piles that we make out there, you really don't know what it will exactly look like until you start deploying it," he said. "You just keep putting the material on top of each other to create a whole bunch of nooks-and-crannies for fish to hide. It's an awesome place to go fishing and diving."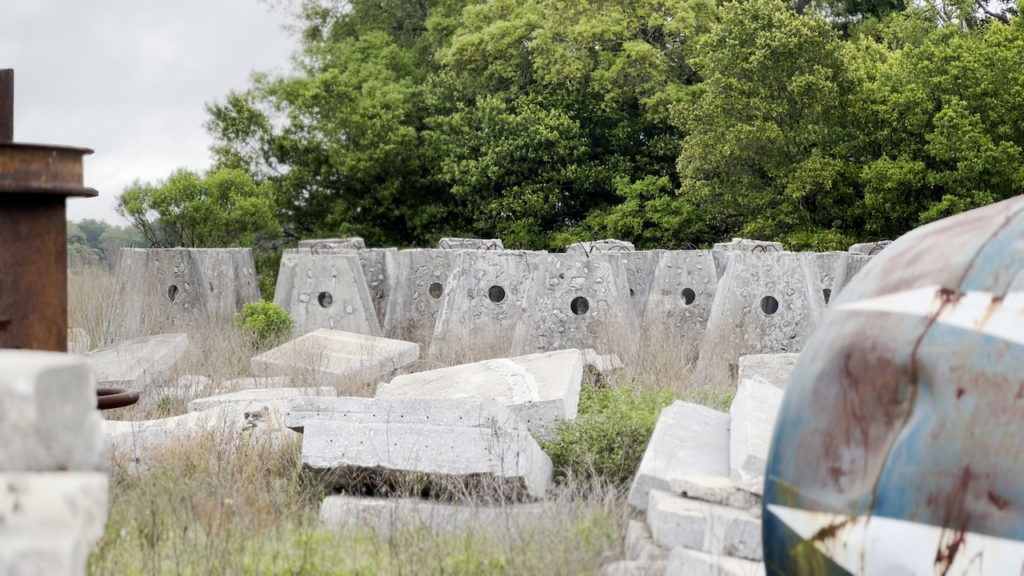 The sites that have been created in years past are performing extremely well and are some of the more popular sites, according to Fogg.
"The contractor is going to be mobilizing in about a week and we expect to have this all in the water by the end of May," said Fogg.
The deployment will include 3 full barge loads totaling 1,000 tons of material ranging from:
Military targets from Eglin AFB
Material donated by Destin Water Users
Concrete modules donated by a local reef group
A bunch of culverts
"It's a great opportunity for people to be able to get rid of some of this material that may have just been sitting on their land, but would make a really good reef offshore," added Fogg.
One of the benefits of using secondary-use concrete is that it is really just concrete. There's no cleaning that needs to be done. In the case of the targets from Eglin Air Force Base, all of the harmful things have been removed to where it is only concrete and metal.
"Nothing needs to be done except for bringing it offshore and deploy it," said Fogg.
Once all of this material has been deployed, you can find the exact location, and all of the locations of other artificial reefs, at destinfwb.com
OK, that's all I have for you this morning! I hope you have a great Wednesday!
p.s. What did you think of this morning's newsletter? Hit the reply button and let me know!
Published with ♥ by Get The Coast.
Did someone forward you this email? Subscribe here.
124 Eglin Parkway SE Fort Walton Beach, FL 32548