May 4, 2023
|
Reading time:
19 mins
TOGETHER WITH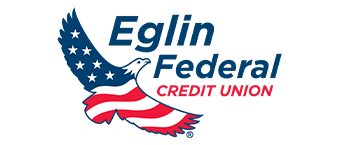 Good morning!
Attention all Star Wars fans! Today, May 4th, is National Star Wars Day and The Boardwalk and Al's Beach Club are joining forces to bring you a celebration you won't want to miss.
So, dust off your light sabers, put on your favorite robe, and get ready to awaken the Force! The event will be packed with free fun and games for all ages, including a costume contest for the young Padawans. So, parents, encourage your little ones to don their best Star Wars outfits, as the younglings who harness the power of the Force will be recognized and presented with a modest award.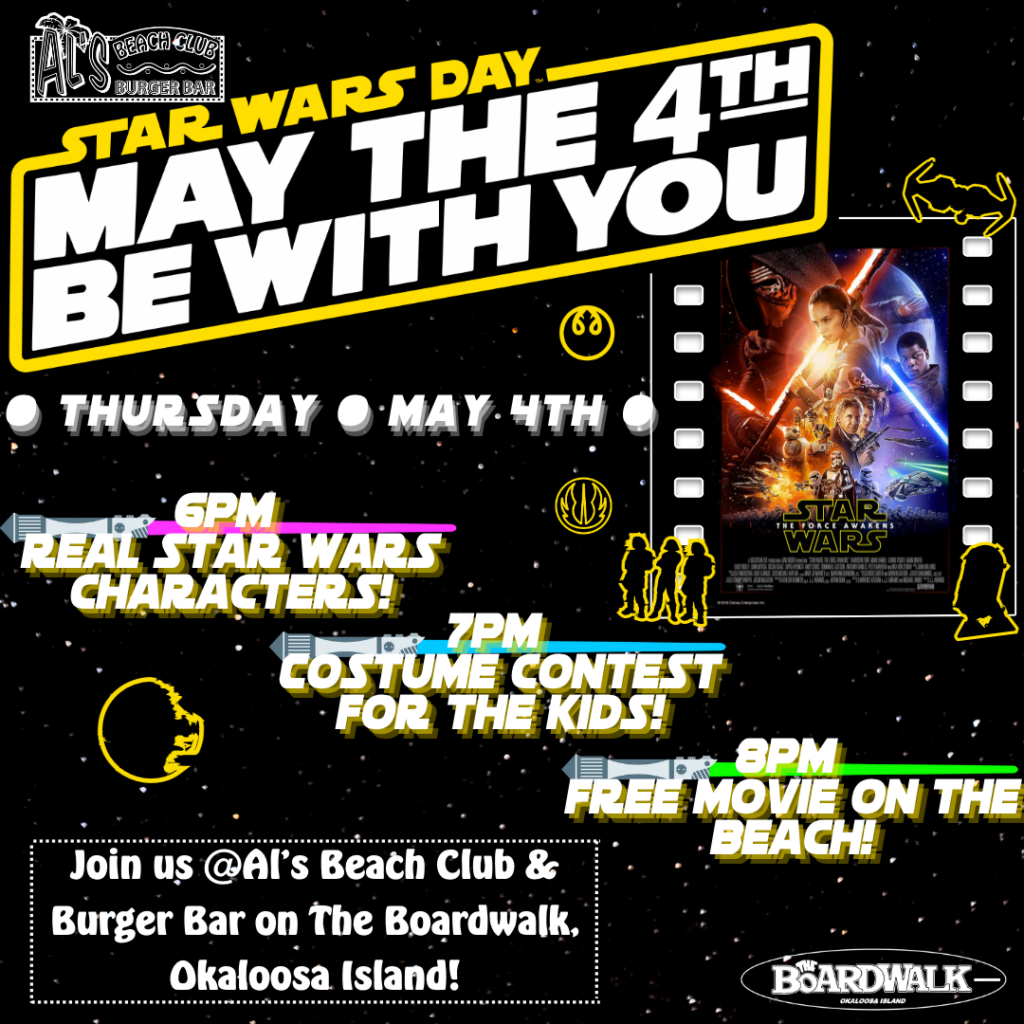 But that's not all! Al's Beach Club and Burger Bar will also be hosting a free movie on the beach. And guess what? The feature presentation for the night is none other than "Star Wars: The Force Awakens."
In this epic film, we follow the story of Rey, a young scavenger, who discovers powers that will change her life and possibly save the galaxy. Meanwhile, a new threat has emerged in the form of the First Order and the villainous Kylo Ren. Will the galaxy be saved from their wrath? You'll have to join us on the beach to find out!
So, grab your friends and family, put on your best Star Wars attire, and head down to The Boardwalk and Al's Beach Club for a celebration of all things Star Wars. The event is happening from 6-10pm.
May the Fourth be with you!
TRAFFIC
TRAFFIC: Seven miles of U.S. Highway 98 to be resurfaced in Okaloosa County, begins in May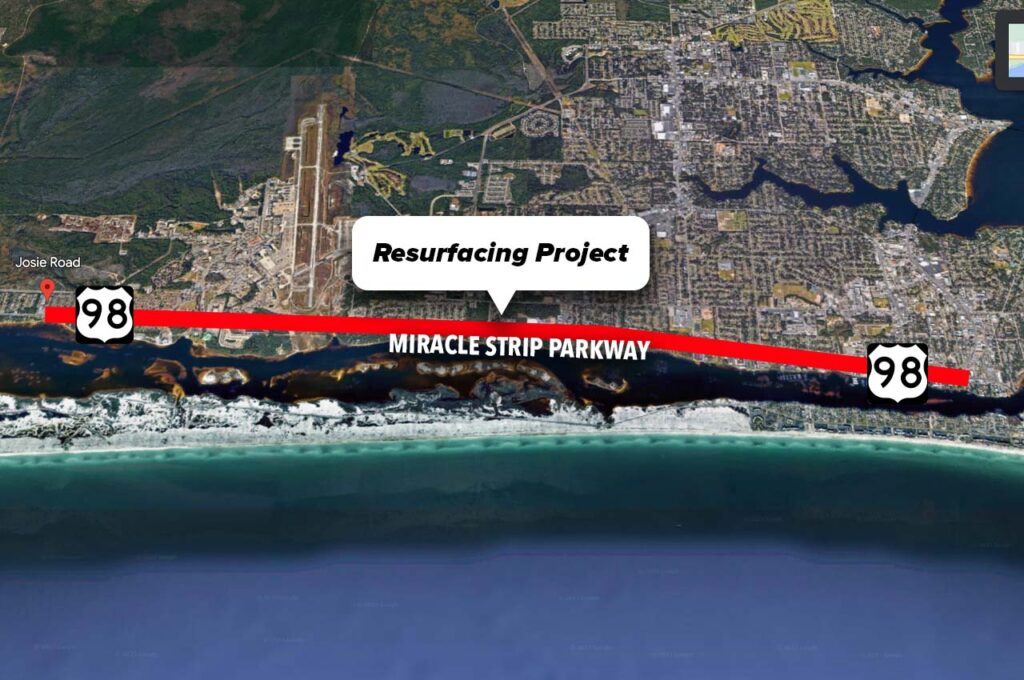 The Florida Department of Transportation (FDOT) will begin work in May on a $14.9 million project to mill and resurface a 6.9-mile segment of U.S. 98 , from Josie Road to west of the Brooks Bridge near Florida Place, in Okaloosa County.
The project also includes:
Minor widening of shoulders and intersections throughout the project limits
Upgrading sidewalks and pedestrian crossings to comply with Americans with Disabilities Act (ADA) requirements
As well as drainage improvements, new signage, and enhanced pavement markings.
During construction, drivers and bicyclists may encounter periodic detours and minor traffic shifts. Lane closures will be limited to 8 p.m. to 5:30 a.m., Sunday through Thursday.
The project is estimated for completion in fall 2024.
All activities are weather dependent and may be delayed or rescheduled in the event of inclement weather. Drivers are reminded to use caution, especially at night, when traveling through a work zone and to watch for construction workers and equipment entering and exiting the roadway.
SPONSORED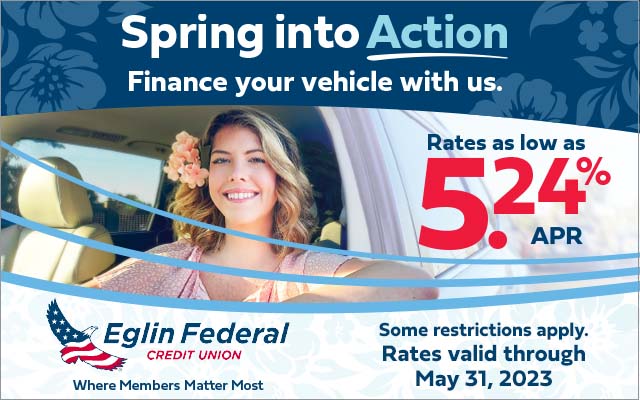 Spring into Action and finance a new or used vehicle with Eglin Federal Credit Union.
With auto loan rates as low as 5.24% APR, make a beeline to drive the car or truck you want. Learn more at eglinfcu.org/auto.
Some restrictions apply. Rates valid through May 31, 2023.
GIVING BACK
13 YEARS: Alayna Brianne Bowman's legacy lives on through Memorial Scholarship and Community Support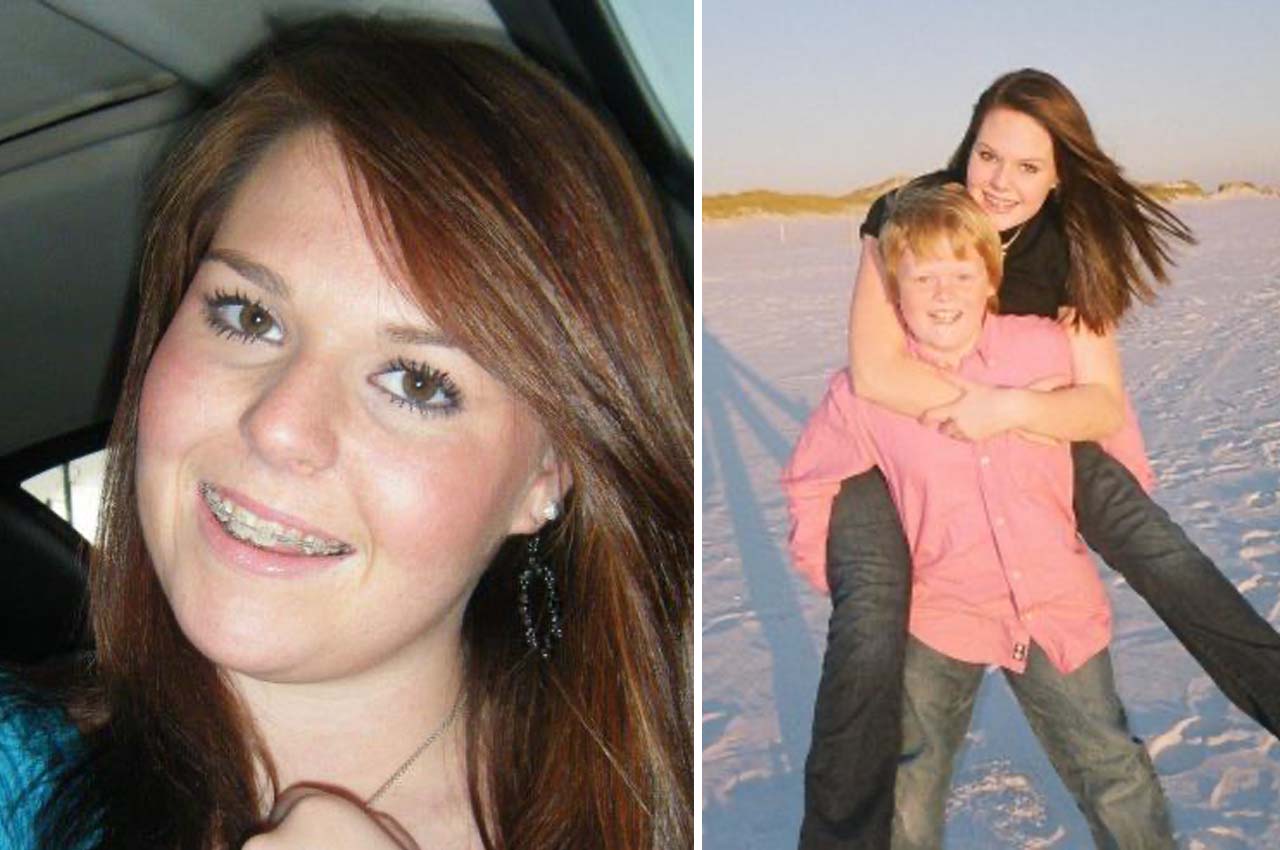 The Alayna Brianne Bowman Memorial Scholarship Foundation has been helping local high school seniors pursue their college education for 13 years now. The foundation will be hosting its 13th Annual Golf Tournament on June 9, 2023, at noon at the Fort Walton Beach Golf Course.
The foundation has already awarded over $85,000.00 in scholarships to deserving students.
The scholarship was established in memory of Alayna Brianne Bowman, a Choctawhatchee High School graduate who tragically died in 2010. She was a promising young woman who had a bright future ahead of her. She was an active participant in many school clubs and organizations and was beloved by her peers and teachers alike. Alayna's tragic death left a deep void in the lives of her family, friends, and community.
Alayna was just 16 when she lost her life to a drunk driver. It was June 23, 2010, and Alayna was driving her younger brother Mack home. They were just turning into their driveway when a repeat offender and drunk driver hit their car. Mack was injured, but Alayna lost her life. Her death was a shock to the community.
Mack, who was just 13 at the time, was determined to keep Alayna's memory alive and make a positive impact. He wanted to create a scholarship foundation in Alayna's name to help students pursue their dreams. With the help of generous donations and hard work, Mack's vision became a reality.
"Even at 13 years old, it just killed me inside that I wasn't going to get to see my big sister go to college, or get married," said Mack Bowman. "I'm not going to get to see my big sister do those things, but I wondered if there was any way that we could make it so that other people would be able to enjoy those kinds of things since she couldn't."
Mack says the ultimate goal was to understand that while Alayna was not going to be able to do these things, her legacy had every right to and that's what helps give his family peace at night. That her legacy is carried on through the lives of these students, past college, even throughout their careers and growing their own families.  
The scholarships are awarded to students representing Choctawhatchee High School who best demonstrates a balance between academics, school spirit, leadership, community service, and Christian faith. The foundation aims to recognize well-rounded individuals who have the perseverance to improve themselves in all aspects of their lives while enjoying God's gifts to the fullest.
The $1,000 scholarships are awarded annually to graduating seniors from Choctawhatchee High School who meet the criteria.
Applicants must submit their applications by June 1, 2023.
Alayna is remembered as a remarkable young woman who had a passion for life, school, and her community. She was the editor of the Smoke Signals Newspaper and an Anchor for the WBGI Tribal News Team. She served as the school mascot "Indian Princess," Senior Class Spirit Coordinator, and Historian for the Inter-Club Council.
She was a member of Wheelette Service Club, Fellowship of Christian Athletes, War Chiefs Spirit Club, Link Crew, and Diamond Dolls. Alayna also served on the Okaloosa County Leadership Council and was a member of the Extreme Etiquette Cotillion Organization. She was a three-time contestant in the Miss CHS Pageant and a true and dedicated Indian.
Alayna's family and community still mourn her loss, but they find comfort in the fact that her legacy lives on through the scholarship foundation. Linde Bowman, Alayna's mother, said, "Life without Alayna has been incredibly difficult, but knowing that her legacy lives on through the leaders of tomorrow brings happiness to all who loved her."
The Alayna Brianne Bowman Memorial Scholarship Foundation has helped countless students pursue their dreams of higher education and has honored Alayna's memory in the most meaningful way possible.
The annual golf tournament is just one of the ways in which the foundation raises funds to support the scholarship. The foundation's continued efforts to support students and promote Alayna's legacy are a testament to the strength of her family and community.
13 years later, Alayna is still very much with her younger brother and he will forever remember the community that stepped up to support him and his family during and after the tragedy.
"My family has been destroyed at times as a whole, as individuals and as a unit," he said. "But there's never been a time that we've turned away from one another by any means. When one of us feels pain, we all do because we just care so deeply for each other. But I credit my parents a lot for the strength that they had to continue on being parents at a time that was very hard. And I credit the community for coming together to support them because I was supported by the community. It's very easy to support a kid going through a tough time. But the way they supported them in supporting me was beautiful."
"Always be brave."
CRIME
Shalimar man faces multiple charges after allegedly firing shots into moving vehicle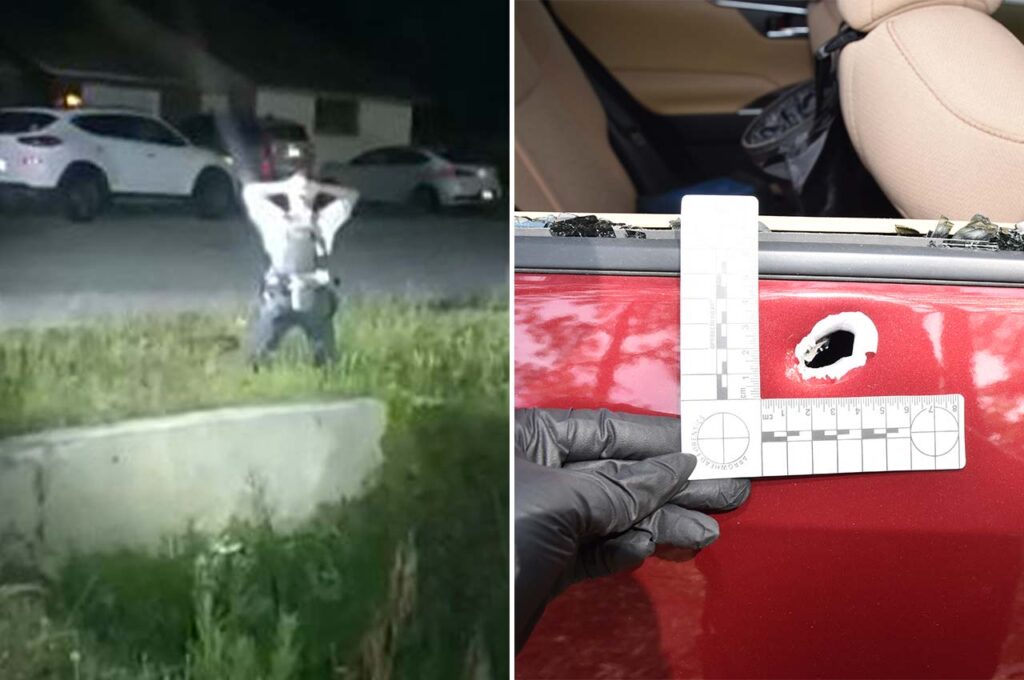 A Shalimar man is facing multiple felony charges after allegedly firing shots at a moving vehicle early this morning, according to the Okaloosa County Sheriff's Office. The incident occurred around 4:30 a.m. near the intersection of Fifth Street and Fifth Avenue.
Deputies were called to the scene after a man reported that someone had fired a shot at his car, shattering a window. No one was injured in the incident.
Upon arriving at the scene, deputies heard gunshots in the area. They quickly began to canvass the area and encountered 26-year old Kyle Chapman. Chapman, who was wearing upper body armor, was carrying a semi-automatic rifle and pistol while illuminating the deputies with a flashlight.
According to the Okaloosa County Sheriff's Office, Chapman reached for his pistol as the deputies approached him. One deputy fired a shot, causing Chapman to take cover behind a vehicle. He ultimately surrendered and was taken into custody without further incident.
Deputies found an AR-15, a semi-automatic pistol, and several spent shell casings near Chapman's vehicle. The magazine with the pistol was missing five rounds. Chapman was also found to be in possession of a bulletproof vest, according to reports.
Chapman is facing multiple felony charges, including aggravated assault on a law enforcement officer, firing into a moving vehicle, possession of a bulletproof vest, and discharging a firearm in public. He is currently being held in the Okaloosa County Jail without bond.
This is an ongoing investigation, and anyone with information is urged to contact the Okaloosa County Sheriff's Office at (850) 651-7400 or Emerald Coast Crime Stoppers at (850) 863-TIPS.
SPORTS
Vikings defeat Indians 4-3 in softball playoffs, heads to District Championship against Gulf Breeze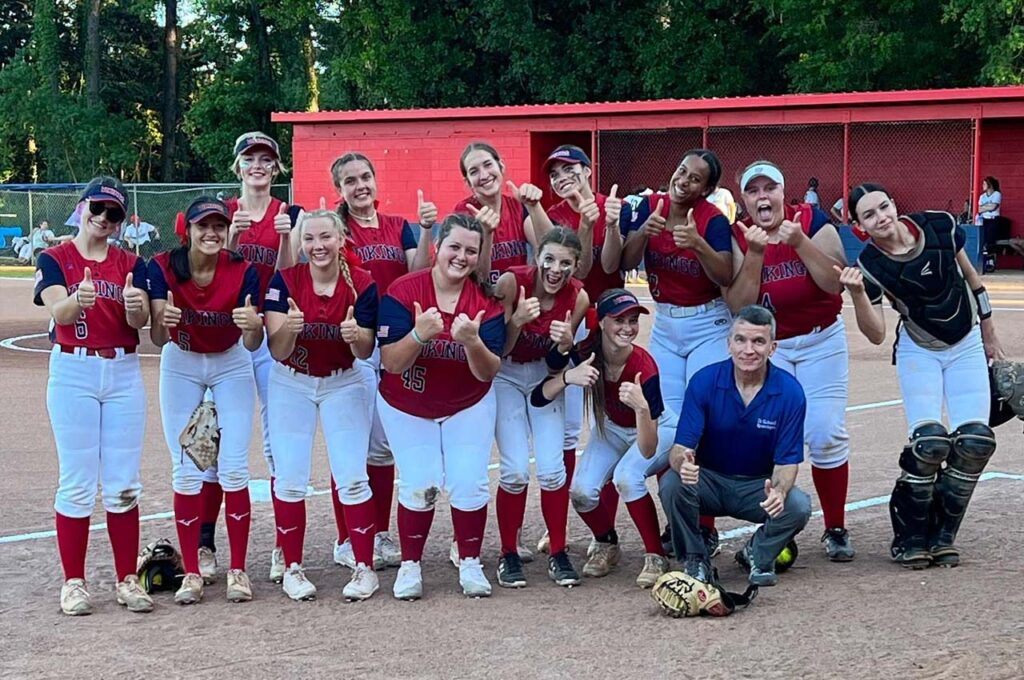 On Tuesday night, May 2, 2023, the Fort Walton Beach High School Vikings secured a narrow 4-3 victory over crosstown rivals, the Choctawhatchee High School Indians, in a home playoff game. The game was part of the "2023 FHSAA Softball District Tournaments – 5A District 1".
The Vikings took an early lead, scoring one run in the first inning. The Indians responded with one run in each of the first two innings, but the Vikings managed to tie the game with a two-run third inning. They then took the lead for good with a single run in the fourth inning.
Top performers for the Vikings included Rilyn Douglas (Fr), who had an impressive batting average of .667 with 2 hits, 1 run, and 1 RBI. She also contributed with a double, showcasing her power at the plate.
Alyx Hall (So) was another standout, boasting a perfect 1.000 batting average with 2 hits and 2 runs scored. Hall also showcased her speed, stealing a base during the game.
Ava Smith (Jr) shined not only at the plate with a perfect 1.000 batting average and 1 RBI, but also on the mound. Smith pitched 7 innings, allowing only 2 hits, 3 runs (2 earned), and striking out 12 batters.
For the Indians, Natalie Edwards (Jr) stood out with her powerful performance. Edwards had a .667 batting average, 2 hits, 2 runs scored, and 2 RBIs. She also hit a home run, providing a significant offensive boost for her team. Gabrielle Barnowsky (So) contributed with a .333 batting average, scoring 1 run for the Indians.
The Vikings are now 17-6 and will face off against the undefeated Gulf Breeze Dolphins for the District Championship on Thursday, May 4 at 6:30pm. The team last played against Gulf Breeze back in March and lost 7-5.
BEACH SAFETY
Lifeguards help rescue lethargic sea turtle in South Walton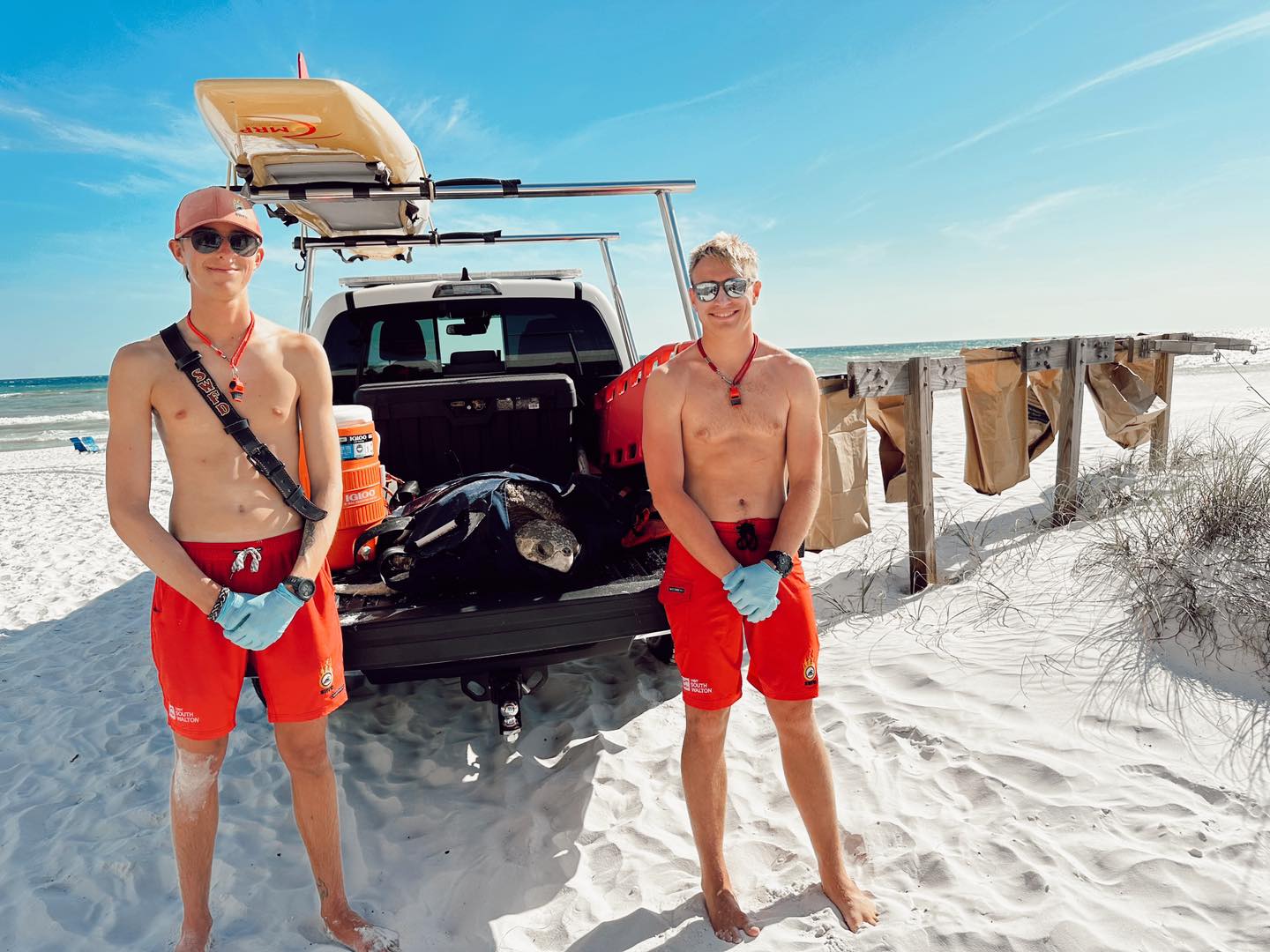 On Tuesday, May 2, 2023, South Walton Turtle Watch and the South Walton Fire District teamed up to rescue a sea turtle in distress.
According to a post from South Walton Turtle Watch, lifeguards from the South Walton Fire District, who had recently undergone stranding assistance training, came to the rescue of a lethargic and debilitated sea turtle struggling in the surf near Eastern Lake.
These "sea turtle superheroes," as they were referred to by the SWTW, followed the direction and supervision of permitted personnel from SWTW, including Permit Holder Lacie Wegner and Area Coordinator Valerie Lofton.
Despite the rough surf conditions, the lifeguards were able to retrieve the turtle and assist in a lift to facilitate its transport to Gulf World Marine Institute. SWTW expressed their deep gratitude to the SWFD team, who played a vital role in saving the animal's life.
It is important to note that sea turtle rescues should only be attempted by individuals who are permitted and trained through FWC or those who are directed and supervised by permitted personnel, such as those from SWTW.
Touching or handling sea turtles without the proper permits is unlawful, according to South Walton Turtle Watch.
After the rescue, SWFD Beach Safety's Collin McManus and Brandon Brown worked under the direction and supervision of SWTW personnel to provide crowd control and interventions to ensure the safety of all involved in the rescue effort.
"During this Sea Turtle Nesting Season, remember to keep our beaches clean, dark, and flat," wrote the South Walton Fire District. "The best course of action to help a stranded or injured turtle is to FIRST call the 24/7 Hotline at 850-865-4503. Once you call the hotline, permitted personnel with guide you through the proper steps to take."
Thanks to the expertise and cooperation of SWTW and SWFD, the rescued sea turtle is now receiving the veterinary care it needs to recover.
PUBLIC SAFETY
Fort Walton Beach traffic stop leads to life-changing opportunity for struggling mother, officer recognized for compassion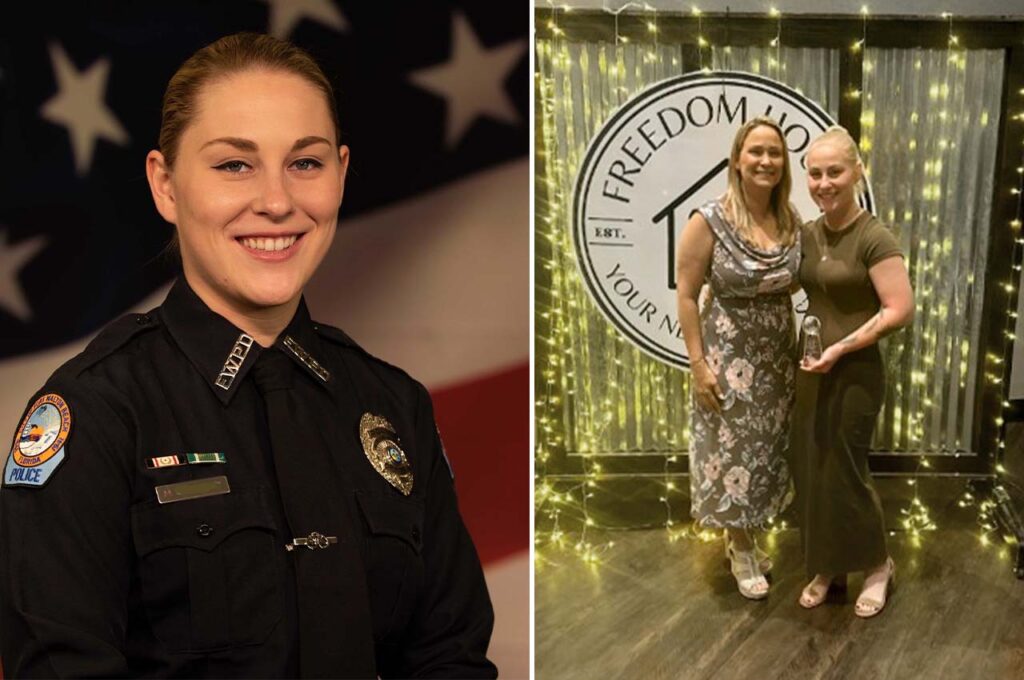 Fort Walton Beach Police Officer Morgan Stirling has been awarded the 2022 World Changer Award for her compassionate actions towards a young mother that helped her turn her life around.
Last October, Officer Stirling made a routine traffic stop on a vehicle with a paper license tag that appeared to be made from a coloring book, according to the FWBPD.
The driver of the vehicle was facing multiple criminal charges, including failure to register a motor vehicle, driving with a suspended license, and having no insurance. Officer Stirling discovered that the driver's 3-year-old daughter was not secured in a child car seat.
Despite the pending charges that could have resulted in a prison sentence for the driver, Officer Stirling decided to investigate further. She learned that the woman was a victim of domestic violence and was struggling with alcohol and narcotics abuse. The woman and her daughter were also living in the vehicle, according to the FWBPD.
Instead of immediately arresting the driver, Officer Stirling contacted Stephanie Wedel with Freedom Life Compass and Freedom House, a local organization that provides a faith-based recovery program for people struggling with drug and alcohol dependence.
Ms. Wedel approved the woman for the program on the spot after meeting with Officer Stirling and the driver.
Officer Stirling allowed the woman to leave with Ms. Wedel to enter the recovery program immediately. Officer Stirling continued to follow the woman's progress through the legal system and recovery program by talking with Ms. Wedel.
Ms. Wedel praised Officer Stirling's compassionate approach and her dedication to finding a way to help the young mother while still holding her accountable for her violations.
"You took a chance, and it is going to transform that family," said Wedel. "She was looking at 15 years (in prison)."
According to Wedel, the woman was sentenced to Saving Grace Women's Home and will have a few years of community control after.
OK, that's all I have for you this morning! I hope you have a great Thursday! Tomorrow we will be dropping our list of upcoming events!
p.s. What did you think of this morning's newsletter? Hit the reply button and let me know!
Published with ♥ by Get The Coast.
Did someone forward you this email? Subscribe here.
124 Eglin Parkway SE Fort Walton Beach, FL 32548