May 8, 2023
|
Reading time:
17 mins
TOGETHER WITH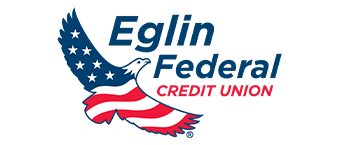 Good morning!
I hope you had a great weekend! The weather was pretty and water was gorgeous. Did you get a chance to get out and do something fun over the weekend?
Let's get to the news this morning…
TRAFFIC
8 car pile up in Fort Walton Beach causes roadblock near Yacht Club Drive
A multi-vehicle accident occurred on May 5, 2023, around 4 p.m. at the intersection of Yacht Club Drive and Eglin Parkway.
According to the Florida Highway Patrol, a white Ford truck was traveling southbound on State Road 85 (Eglin Parkway NE) when it collided with the rear of a silver Dodge sedan. The impact caused a chain reaction involving a total of 8 vehicles, including a parked truck in the adjacent Whataburger parking lot.
The entire roadway was affected, and the roadblock caused a delay in normal traffic flow. The case investigation is still ongoing, and the authorities have not released any further details about the accident.
SPONSORED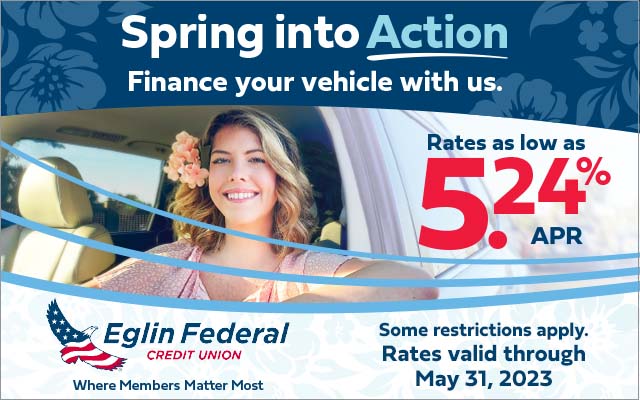 Spring into Action and finance a new or used vehicle with Eglin Federal Credit Union.
With auto loan rates as low as 5.24% APR, make a beeline to drive the car or truck you want. Learn more at eglinfcu.org/auto.
Some restrictions apply. Rates valid through May 31, 2023.
GIVING BACK
Bit-Wizards' Be the Magic Foundation pledges over $45,000 in Support for PAWS in 2023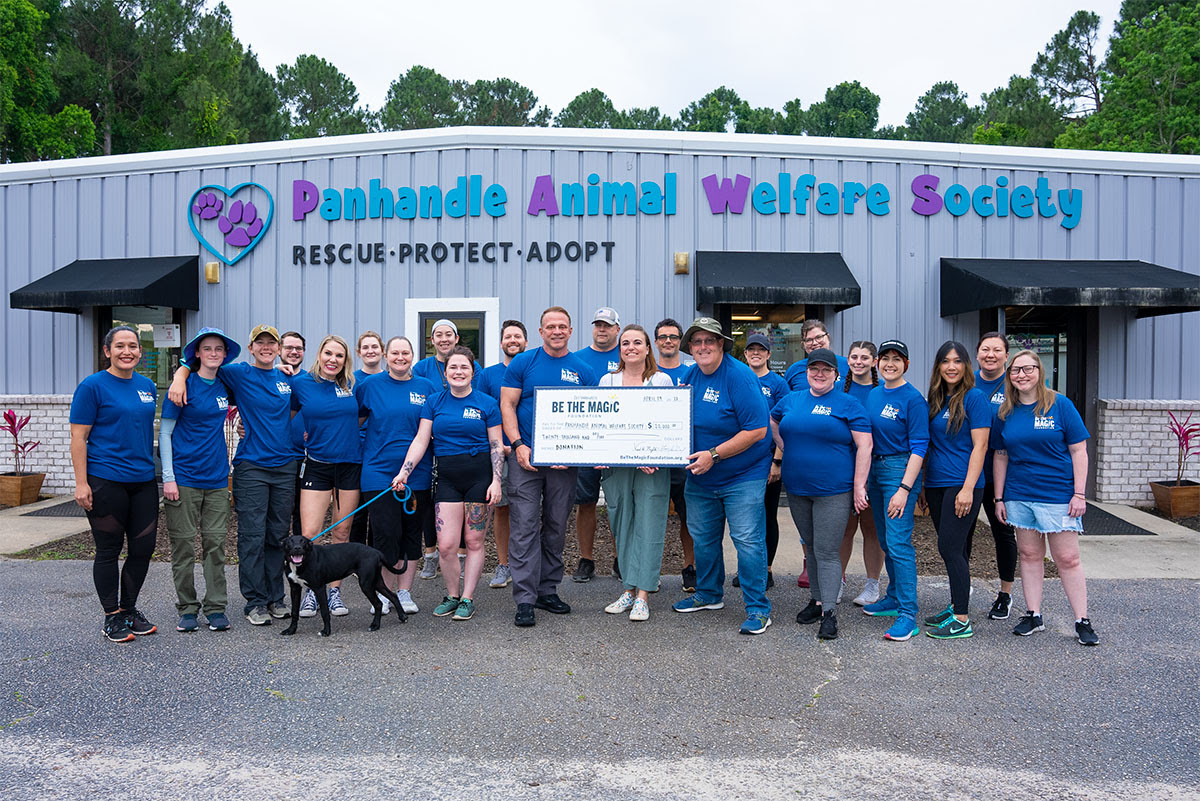 Bit-Wizards' Be the Magic Foundation (BTMF) is once again showing their support for the Panhandle Animal Welfare Society (PAWS) by doubling their contributions this year.
The partnership between the two organizations is now in its third year, and BTMF presented PAWS' Executive Director, Ashley Degraaf, with a check for $20,000 on Saturday, April 29th, to kick off the new year of support.
The generous donation wasn't the only way Be the Magic Foundation helped PAWS on that day, as they also spent the afternoon volunteering onsite. More than 40 hours of volunteer time from the Bit-Wizards team were donated to the animal shelter.
But the support doesn't stop there. PAWS will also receive $20,000 worth of hardware and skill-based services, in addition to the cash donation. The donations will help the shelter continue their mission of providing a safe and loving environment for animals in need.
"Bit Wizards has been a true partner to Panhandle Animal Welfare Society. From supporting our digital infrastructure to volunteering with our animals, PAWS can always count on the Bit Wizard team to show up in a big and meaningful way," said Maggie Tomecek, Community Development Coordinator.
Recently, PAWS launched the Kennels for Canines project, which aims to improve the lives of the pets in their care through a Kennel Rebuild Initiative. As part of this Initiative, Be the Magic Foundation pledged to support the rebuilding of an entire wing for the facility.
Bit-Wizards' Managed IT Services team also donated and installed a new server to assist with PAWS' day-to-day operations.
The Bit-Wizards' Marketing team will also assist in highlighting a monthly adoptable pet. The Pet of the Month program will be featured on Bit-Wizards' Facebook and Instagram pages, starting in May.
TRAFFIC
Okaloosa and Walton County Traffic Advisory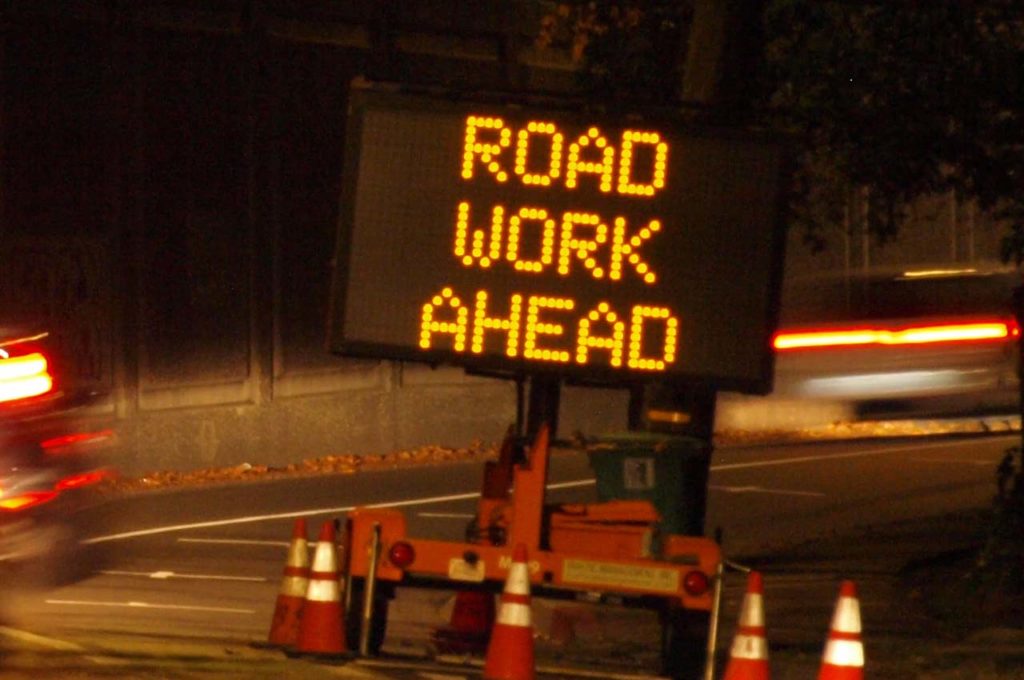 Drivers will encounter traffic disruptions on the following state roads in Okaloosa and Walton counties as crews perform construction and maintenance activities.
Okaloosa County:
State Road (S.R.) 20 (John Sims Parkway) Resurfacing Project Drivers will encounter the following traffic impacts the week of Sunday, May 7:

Intermittent temporary westbound outside daytime lane closures on John Sims Parkway, from Edge Avenue to west of the Rocky Bayou Bridge, Monday, May 8 through Friday, May 12, from 9:30 a.m. to 2:30 p.m. for concrete for sidewalk, curb and gutter construction.
Intermittent east and westbound nighttime lane closures on S.R. 20, from Edge Avenue to west of the Rocky Bayou Bridge, from 9 p.m. to 5 a.m., for median milling, median widening, and sidewalk construction.
Brooks Bridge Replacement Project – Drivers may experience the following traffic impacts Sunday, May 7 through Thursday, May 11, from 9 p.m. to 5:30 a.m. as crews perform utility work:

U.S. 98 east and westbound alternating and intermittent lane closures between Perry Avenue and Pier Road.
Santa Rosa Boulevard east and westbound alternating lane closures from east of Amberjack Drive to Ross Marler Park.
Intermittent shoulder closures on Brooks Street, between Perry Avenue and Florida Blanca Place, and on Business Access Road.
S.R. 85 Improvements from S.R. 123 to Hospital Drive – The week of Sunday, May 7, crews will require temporary, intermittent single-lane closures for soil borings along the Shoal River Bridge, paving operations, maintenance of shoulder drop-offs and to place sod. These lane closures will be limited to the following locations and times:

S.R. 85 northbound single-lane closures, between S.R. 123 and Shoal River Bridge, will only occur between 8 p.m. and 2 p.m.
S.R. 85 southbound single-lane closures, between Shoal River Bridge and S.R. 123, will only occur between 10 a.m. and 8 p.m.
U.S. 98 Bridge Rehabilitation over East Pass Bridge – Drivers may encounter intermittent single-lane closures on U.S. 98 over East Pass (Marler) Bridge, westbound structure (Destin to Fort Walton Beach), Monday, May 8 through Thursday, May 11, between 9 p.m. and 5:30 a.m. The existing 35 mph speed limit will be maintained during construction.
Walton County:
U.S. 98 Resurfacing from Village Road to East of U.S. 331 – Veterans Road will be temporarily closed from 7 a.m. Friday, May 5 through 6 a.m. Monday, May 8, for milling and paving operations. Access to adjacent business properties will be maintained and detour signage will be in place to direct U.S. 98 eastbound drivers to Lynn Drive for access. Additionally, drivers will encounter the following traffic impacts the week of Sunday, May 7:

Intermittent U.S. 98 east and westbound lane closures between 7:30 p.m. and 6 a.m. for paving operations.
Intermittent closures of the U.S. 98 east and westbound outside shoulders and turn lanes may be required as crews construct new sidewalks and widen existing turn lanes between Village Road and U.S. 331.
Temporary intermittent U.S. 98 east and westbound outside lane closures, from Village Road to Mack Bayou Road, from 9:30 a.m. to 2:30 p.m. to deliver concrete for sidewalk, curb and gutter construction.
U.S. 98 Widening from Mack Bayou Road to County Road (C.R.) 30A – Drivers may encounter closures of the U.S. 98 westbound turn lane at West Hewitt Road, from 7:30 p.m. Sunday, May 7 through 5:30 a.m. Tuesday, May 9, for concrete removal and paving.
S.R. 20 Turn Lane Construction at J. W. Hollington Road – Drivers will encounter intermittent lane closures the week of Monday, May 8 for paving operations.
U.S. 331 Routine Utility Maintenance at Clyde B. Wells Bridge – Drivers will encounter intermittent lane closures Monday, May 8 through Thursday, May 11 from 8:30 a.m. to 3 p.m. to inspect water pipelines.
All activities are weather-dependent and may be delayed or rescheduled in the event of inclement weather. Drivers are reminded to use caution, especially at night, when traveling through a work zone and to watch for construction workers and equipment entering and exiting the roadway.
SPORTS
Niceville Eagles overpower Crestview Bulldogs to win 6A District 2 Championship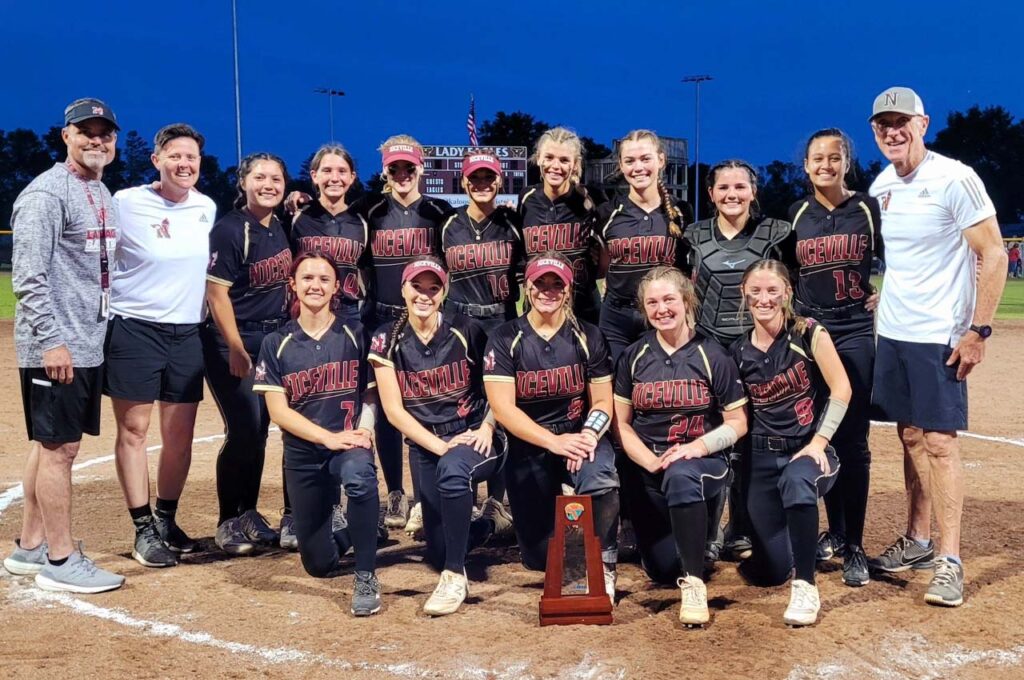 On Thursday, May 4, 2023, the Niceville High School Eagles emerged victorious in the 6A District 2 Championship Game by defeating the Crestview High School Bulldogs with a score of 4-2.
The Eagles took an early lead, scoring one run in the first inning and adding two more in the third. Crestview managed to get on the board in the fourth inning, but the Eagles' solid performance kept them ahead. Niceville added another run in the fourth, while Crestview tried to rally with a run in the seventh, but it wasn't enough to overcome the Eagles' advantage.
Niceville's offense was led by Kamryn Neely, who had two hits and two RBIs in three plate appearances. Anabelle Shackelford and Macy Kidder also contributed to the win, each notching one RBI. Crestview's Riley Bowles scored one run and had one RBI, while Alex Carroll contributed with another RBI.
Sophomore pitcher Emma Sites had an impressive outing for Niceville, pitching a complete game with an ERA of just 1.00. Over seven innings, Sites allowed seven hits, two runs (only one of which was earned), and struck out four batters.
Crestview's freshmen pitchers, Cambell Toolan and Julian Forrest, faced a challenging lineup from Niceville. Toolan pitched 4 innings, allowing 5 hits, 1 earned run, and striking out 3 batters. Julian Forrest pitched for 2 innings, allowing 3 hits and 3 earned runs.
The game featured solid defensive play, with both teams committing only one error each, keeping the game close and tense. Ultimately, the Niceville Eagles demonstrated their prowess on the field, both offensively and defensively, securing the 6A District 2 Championship.
With a strong performance from their sophomore pitcher, Emma Sites, and key offensive contributions from Kamryn Neely and Macy Kidder, the Eagles were able to hold off the Crestview Bulldogs and claim victory.
SPORTS
Indians and Vikings deliver standout performances at Regional Track and Field meet in Jacksonville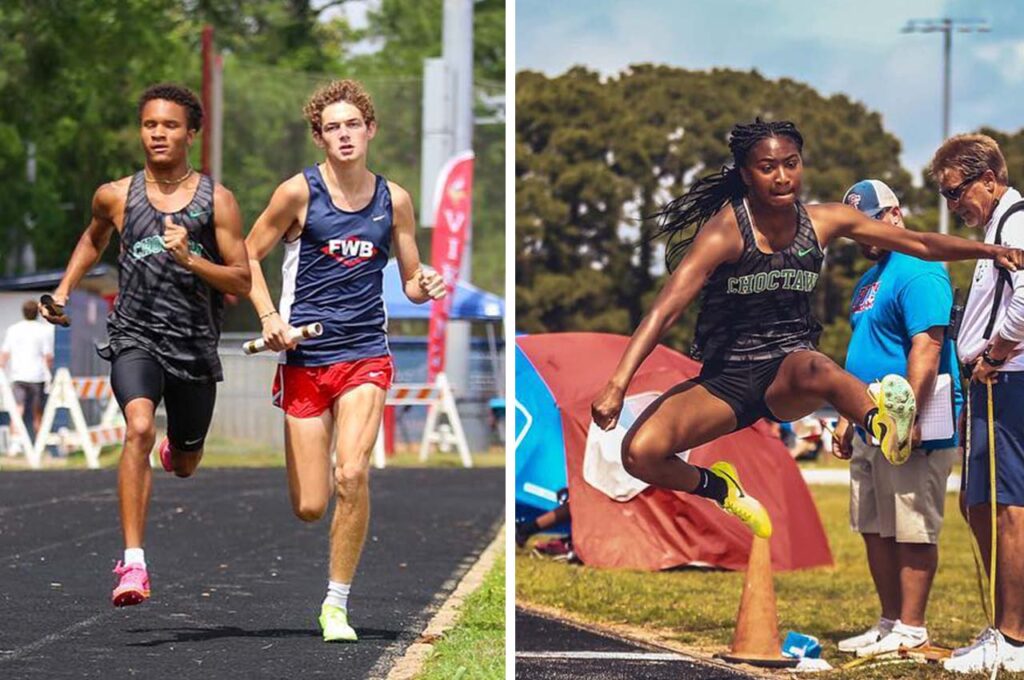 Athletes from Choctawhatchee and Fort Walton Beach High Schoolscompeted in the FHSAA 3A Region 1 Track and Field Competition at Hodges Stadium in Jacksonville, FL on May 4, 2023. Both schools showcased their incredible talent, with several top finishes highlighting the event.
Choctawhatchee's Trevon Tyson was a standout, finishing 3rd in the Boys' 100 Meters (10.80) and 2nd in the Boys' 200 Meters (21.37). In the Boys' Long Jump, Isaiah Johnson (JR, Choctawhatchee) soared to victory, securing 1st place with a distance of 7.03 meters (23-0.75).
Choctawhatchee's relay teams were also a force to be reckoned with. The Boys' 4 x 100 Relay team, consisting of Isaiah Johnson, Cole Tabb, Owen Burks, and Trevon Tyson, claimed 1st place with a time of 41.28 seconds.
The Boys' 4 x 400 Relay team, featuring Justin Whidbee, Kaleb Hollins, Kyler Collins, and Cole Tabb, also captured 1st place, finishing in 3:17.79.
Fort Walton Beach High School's Grace Hebson (SR) was the star of the Girls' 800 Meters, securing 1st place with a time of 2:17.60. Brooke Hawkins (SR, Fort Walton Beach) demonstrated her jumping abilities, earning 2nd place in both the Girls' Long Jump (5.27 meters / 17-3.5) and Girls' Triple Jump (11.98 meters / 39-3.75).
The Girls' 4 x 800 Relay saw impressive performances from both schools.Fort Walton Beach's team, comprised of Reece Knowlton, Martha Rylee Curtis, Belicia O'Grady, and Grace Hebson, finished 2nd with a time of 9:39.33.
Choctawhatchee's team, consisting of Hayley Boyle, Brylie Kilgore, Chi Medina, and Isabel Harter, secured 3rd place with a time of 9:48.55.
Click here to see pictures and more highlights of these local student athletes.
SPORTS
BIG WIN: Niceville High School Track and Field Boys and Girls Teams are the 4A Region 1 Champs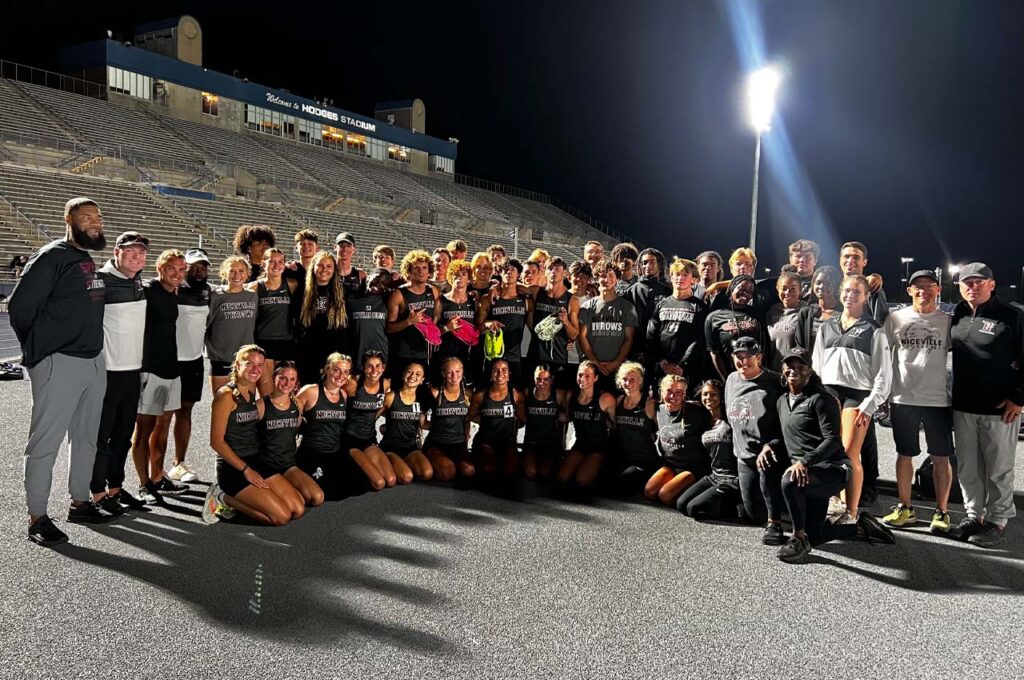 The FHSAA 4A Region 1 2023 Track and Field Competition, held on May 5, 2023, at Hodges Stadium in Jacksonville, Florida, saw athletes from Niceville High School rise to the challenge in one of the toughest regions in the state.
The competition was fierce, as 30 schools vied for victory in the boys' events, and 31 schools battled it out in the girls' events.
Niceville High School's track and field program continued to make history under their current coaching staff, achieving their eighth Regional Championship – the only eight in the school's history. The athletes displayed remarkable progress and determination in breaking school records and securing personal bests during the FHSAA 4A Region 1 competition.
The varsity boys' team captured first place with a staggering 97.50 points, leaving Flagler Palm Coast and Creekside trailing in second and third place with 68 and 55 points, respectively.
The varsity girls' team also delivered an impressive performance, clinching first place with 94 points, narrowly edging out Creekside's 88.50 points and Evans' 56 points.
Standout performances for the boys included Joseph Hanson, who secured first place in the Shot Put Varsity category with a throw of 17.07 meters (56-0). Oli Broutin, who took second place in the High Jump with a 1.92m (6-3.5) leap, and first place in the Triple Jump with a 14.83m (48-8) jump.
He also shattered the school record and secured the Regional Championship in the Triple Jump with an impressive leap of 48′ 8″, placing him at #2 in Florida.
Terrance Powe demonstrated his potential with a massive personal best in the discus, while the boys' 4x100m relay team broke the school record to advance to the State competition. In the Boys' Javelin event, Aidan Broussard emerged victorious with a throw of 60.53m (198-7).
The boys' relay teams also delivered strong performances, with the 4×400 relay team placing third with a time of 3:19.20, while the 4×800 relay team finished fourth with a time of 8:08.20. Eon Morris shone in the 400 Hurdles, securing third place with a time of 54.29 seconds.
Freshman Carson Fayard and Senior Eon Morris qualified for the state meet in the 400 hurdles.
In the Pole Vault, juniors "Big Red" James Marion and Van Carter placed first and second, respectively. Big Red achieved a personal record with a remarkable vault of 14.03 feet, showcasing the depth of talent present in the Niceville track and field program.
The shot put trio, Kevin Downing, Baxter Madison, and Joe Hanson, all qualified for the state competition by throwing over 50 feet, with Joe Hanson earning the Region Title with a throw of 56 feet.
On the girls' side, freshman Kimah Allen displayed incredible skill, earning first place in the Discus with a throw of 40.72m (133-7) and third place in the Shot Put with a throw of 11.79m (38-8.25).
The Girls' 4×800 relay team claimed the top spot with a time of 9:22.01. Trinity Holland secured a second-place finish in the 800 Meters with a time of 2:15.44 and fifth place in the 1600 Meters with a time of 5:14.44.
Mikayla Williams delivered strong results in the field events, taking second place in the Triple Jump with an 11.45m (37-6.75) leap and third place in the Long Jump with a 5.55m (18-2.5) jump. The Girls' 4×400 relay team placed third with a time of 3:58.47.
Yaremi Figueroa achieved a significant personal record in the 400m hurdles, propelling her to the #8 spot in the state.
OK, that's all I have for you this morning! I hope you have a great Monday! 
p.s. What did you think of this morning's newsletter? Hit the reply button and let me know!
Published with ♥ by Get The Coast.
Did someone forward you this email? Subscribe here.
124 Eglin Parkway SE Fort Walton Beach, FL 32548