EVENTS
Local Founder, Mike Arena, to be Honored at Step One Fest as Evan Williams Bourbon "American-Made Hero"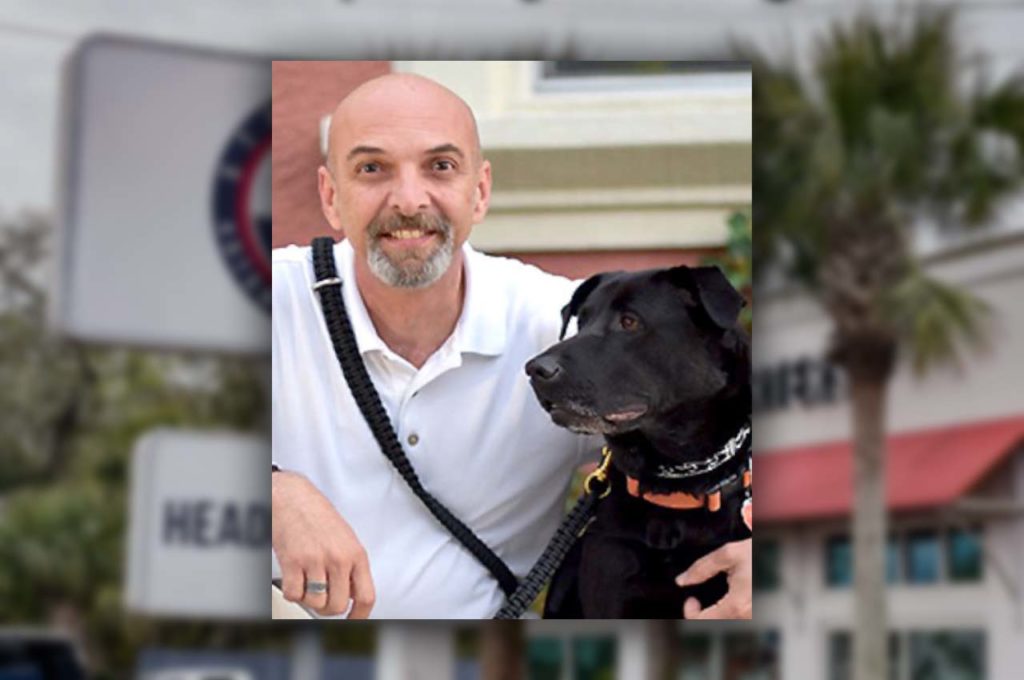 Step One Automotive Group announced the addition of Evan Williams Bourbon and its American-Made Heroes Foundation to the June 12, 2022, Step One Fest celebration.
Arena will join Evan Williams Bourbon on the Step One Fest stage at 1 pm for a special presentation followed by a bourbon bottle signing. Bourbon fans will not want to miss the opportunity to add this unique bottle to their collections. Attendees can learn more by visiting the Healing Paws for Warriors booth.
"We have worked with Mike Arena in the past and know how dedicated he is to helping his fellow veterans," said Maureen Bierman, Director of Marketing, Step One Automotive Group. "We are so excited to host this special ceremony at our 5th-anniversary celebration."
The American-Made Heroes Foundation salutes U.S. military veterans who dedicate their lives to helping others, especially fellow service members. Evan Williams provides a platform for sharing their stories, raising awareness for charitable causes, and supporting nonprofit organizations that serve the veteran community.
To learn more about Step One Fest, click here.
SPONSORED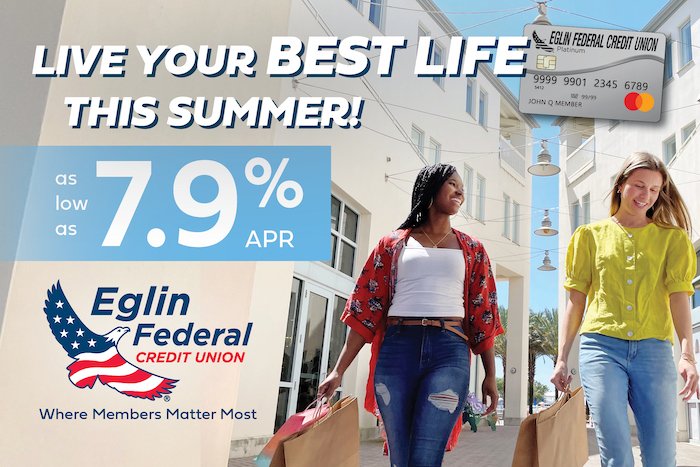 Live your best life this summer with an EFCU Mastercard®!
Get your card today by applying at any of Eglin Federal Credit Union's 9 branches. Stop by, apply, get your card and get shopping!.
*During normal business hours. Subject to membership and credit approval.
TRAFFIC
Okaloosa and Walton County Traffic Advisory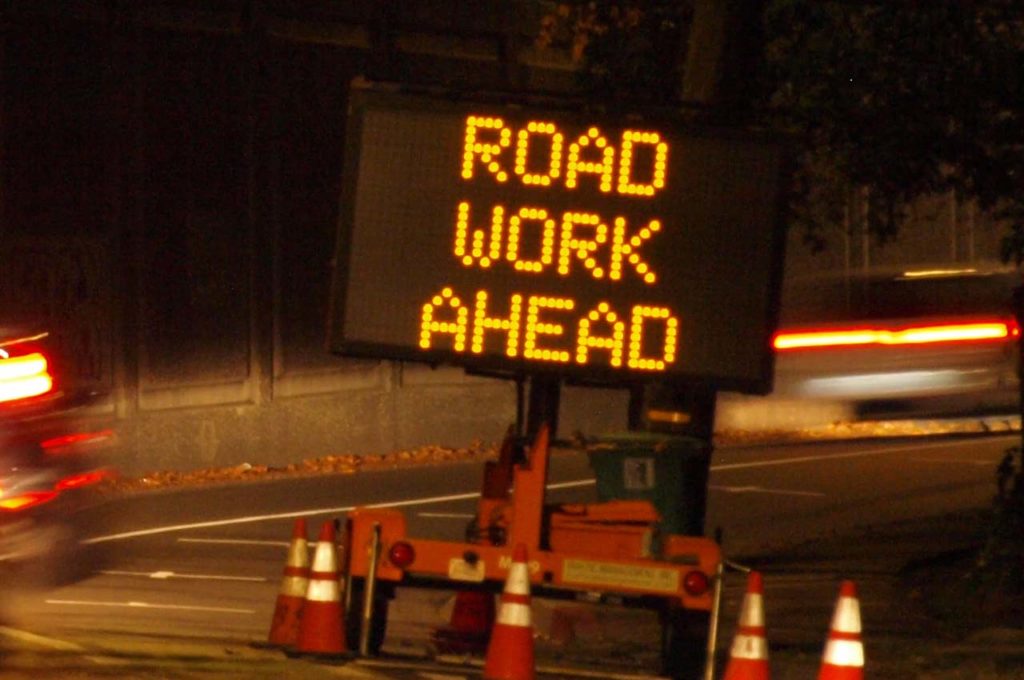 Drivers will encounter traffic disruptions on the following state roads in Okaloosa and Walton counties as crews perform construction and maintenance activities.
Okaloosa County:
State Road (S.R.) 85 Improvements from S.R. 123 to Hospital Drive – Drivers may encounter intermittent, temporary northbound lane closures between S.R. 123 and Shoal River Bridge, Monday, June 6 through Saturday, June 11, for paving operations. S.R. 85 northbound lane closures will not occur between 2 p.m. and 8 p.m. One travel lane will always remain open and access to private property and driveways will be maintained.
S.R. 20 (John Sims Parkway) Resurfacing Project – Drivers may encounter intermittent outside westbound lane closures on S.R. 20, from Edge Avenue to west of the Rocky Bayou Bridge, Monday, June 6 through Thursday, June 9, from 9 p.m. to 6 a.m. The lane closures are required to repair and construct sidewalk along the north side of the roadway.
Interstate 10 Routine Maintenance near Antioch Road Overpass – Motorists will encounter intermittent lane closures, Sunday, June 5 through Tuesday, June 7 from 8 p.m. to 5 a.m. for striping operations.
U.S. 98 Widening from Emerald Bay Drive to Tang-O-Mar Drive – The week of Sunday, June 5, drivers will encounter intermittent U.S. 98 east and westbound single-lane closures between 9 p.m. and 5 a.m. as crews place structural asphalt in the outside travel lane. Additionally, paving work on County Road (C.R.) 2378 (Scenic Gulf Drive) at U.S. 98 will require flagmen to direct drivers through the work zone.
U.S. 98 widening from Mack Bayou Road to C.R. 30A – The week of Monday, June 6, crews will be installing drilled shafts on the south side of U.S. 98 at the C.R. 30A intersection. This work may require intermittent single lane closures on C.R. 30A during the hours of 6:30 p.m. and 5:30 a.m.
All activities are weather-dependent and may be delayed or rescheduled in the event of inclement weather. Drivers are reminded to use caution, especially at night, when traveling through a work zone and to watch for construction workers and equipment entering and exiting the roadway.
POLITICS
Dr. Diane Kelley has a "change of heart" and will now seek re-election to Okaloosa School Board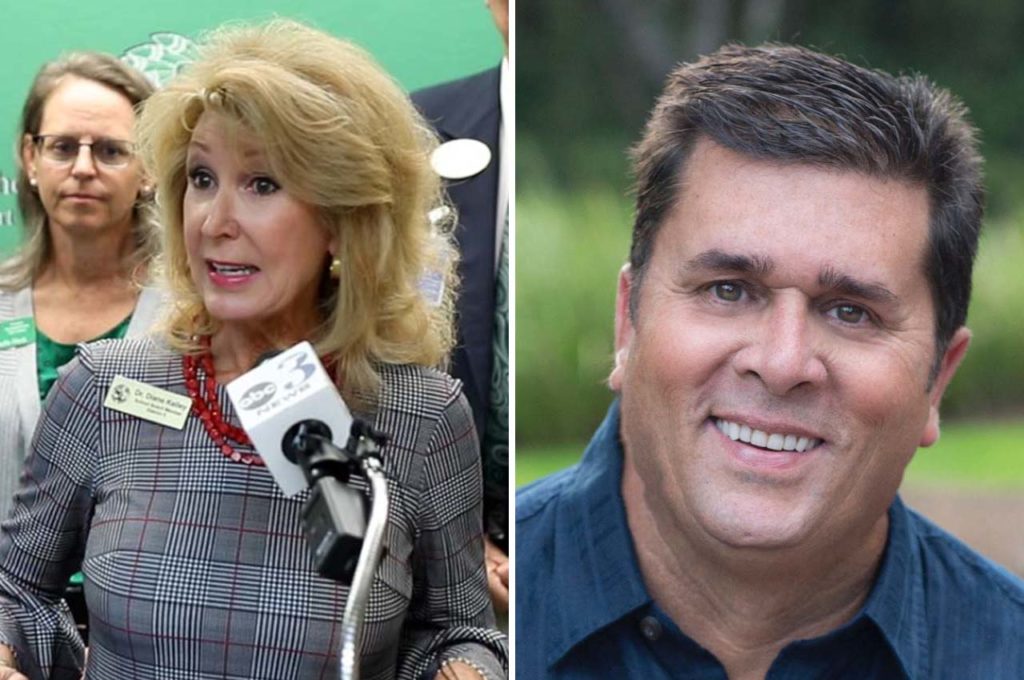 On Monday, in a surprise twist, Dr. Diane Kelley announced that she WILL seek re-election to the Okaloosa County School Board saying that she has had a "change of heart."
"After hundreds of citizens all across this great school district have reached out to me, I'm getting back in the race to retain my seat on our school board," she said. "I've loved serving you, and I hope I've earned your support!"
Previously, Dr. Kelley said she would not run again in the upcoming election as she was offered an opportunity to work for HOPE Squad, an organization that she has volunteered with for nearly 3 years. Joe Fagundes quickly popped up as a candidate to snag her seat.
Now, just one week into his election campaign, Fagundes has dropped out of the race following Kelley's decision to see re-election.
"It was never my attention to supplant her on this board," said Fagundes. "Dr. Kelley and I have been on the same page for years and our school board needs her. I was willing to follow her and now that she has made the best decision for our School District, I will gladly step aside."
Go deeper: Kelley does have an opponent for the District 5 seat. Cara Kos Marion announced her campaign for the District over the weekend. If that name sounds familiar, that's because she spoke to the school board back in September regarding what she described as a "very inappropriate" movie that was shown in her daughter's classical studies class at Niceville High School.
According to Marion, the movie was Alexander (2004), starring Colin Farrell, Angelina Jolie and Val Kilmer.
POLITICS
Senator George Gainer announces retirement, will not seek re-election for District 2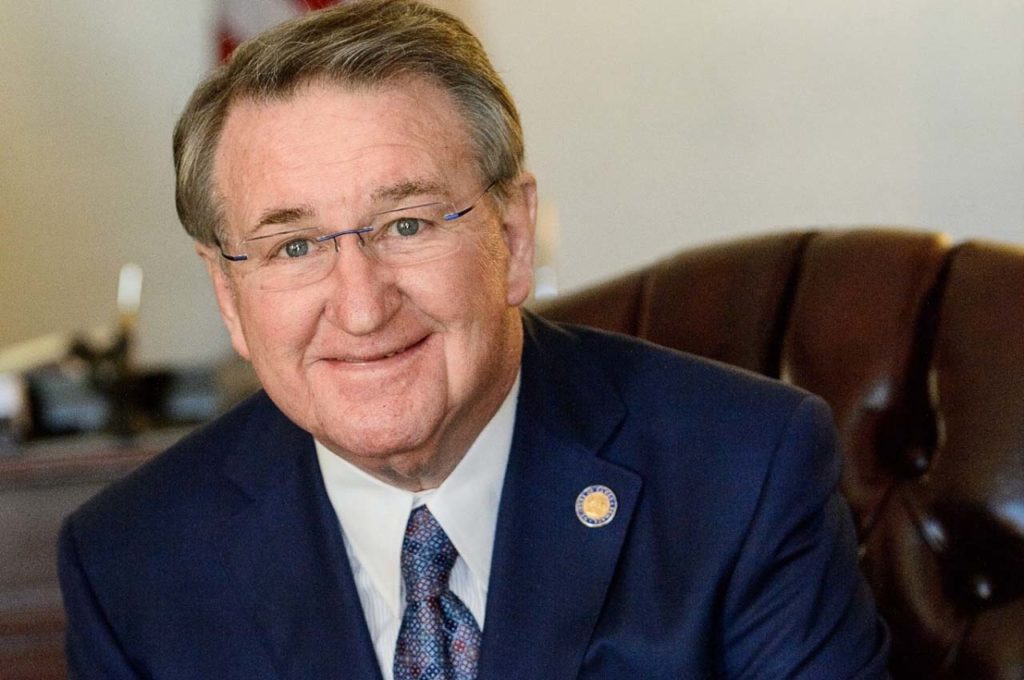 On Monday, June 6, 2022, Senator George Gainer announced that he would not seek re-election this November for the District 2 seat.
District 2 includes Bay, Holmes, Jackson, Walton, Washington, and part of Okaloosa Counties.
Senator Gainer ran unopposed in 2016 after the seat was vacated by Don Gaetz, having been termed-out.
Gainer made his announcement in an interview with WMBB in Panama City. During his interview he said, "I've prayed on it, I've talked about it and I talked to my friends and my family and I have decided the best thing to do is not run for re-election."
Gainer said "it's time," as he wants to spend a little more time with his family and friends.
HOUSING
City of Fort Walton Beach approves $1,500,000 workforce housing incentive fund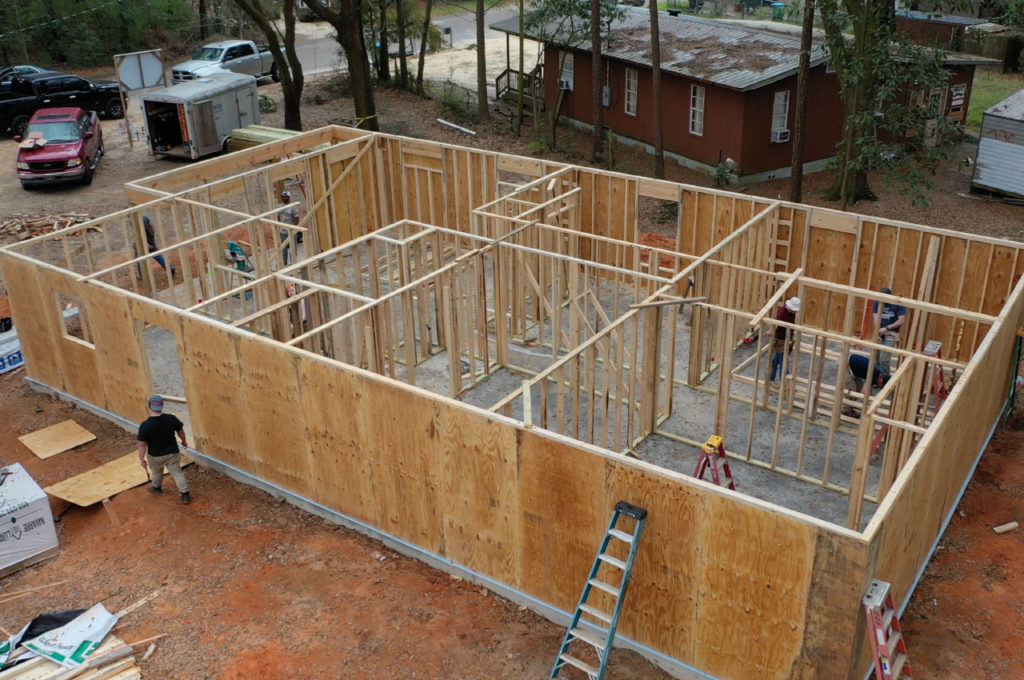 On Tuesday, May 24, 2022, the Fort Walton Beach City Council unanimously approved by a $1.5 million workforce housing incentive fund.
This workforce housing incentive fund allows developers with plans for housing projects to potentially gain financial incentives from the City of Fort Walton Beach if the project meets the required number of units for workforce housing.
The financial incentives include the waiving of development fees, inspections, impact fees from water and sewer, and even potential purchases on certain pieces of property.
According to City Manager Michael Beedie, the main goal of the project is to increase housing units available to the city at a more affordable cost to the buyer.
"Any costs we can take out on the initial development will help to reduce the cost to the actual renter or purchaser," said Beedie.
The $1,500,000 budget will stay in place for use of applicable development agreements and each year it will be discussed as whether or not to replenish, reduce, or remove it. City Manager Michael Beedie says it will all depend on how the funding is being used.
"I think this is a great step in the right direction," he added. "We are working with the FWB Chamber, the county and other partners to develop a plan county-wide, but we didn't want to wait, we wanted to go ahead and get this in place."
Beedie acknowledged that with current property prices in Fort Walton Beach, the fund wouldn't last long if the City were to begin outright purchasing properties. However, he says they can really stretch fund through waiving fees.
Each fund request will be submitted to the City Council through the form of a Development Agreement for review and approval.
SCHOOLS
Okaloosa students put classroom skills to work and help save lives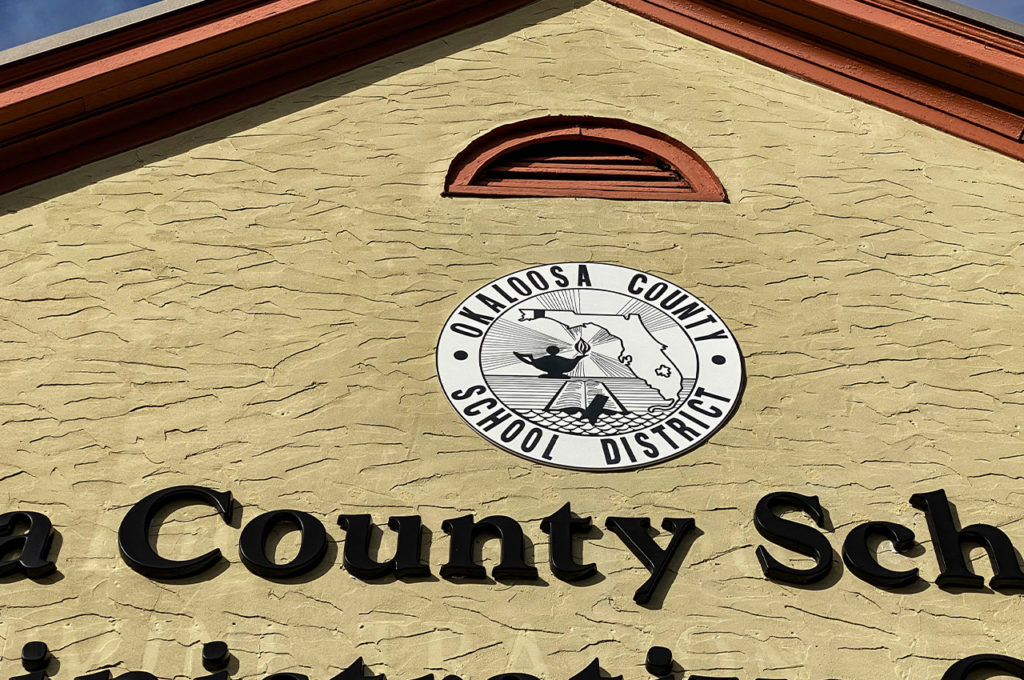 Okaloosa County School District offers multiple Career and Technical Education courses in the medical field, including Emergency Medical Responder (EMR), Biomedical Science, and Practical Nursing.
The students in these courses not only learn how to provide initial care to sick or injured persons but they also become certified in CPR.
Four Okaloosa School District students have put their skills to work this year and helped save lives. Two of the most recent students were recognized by the school board for their valiant efforts.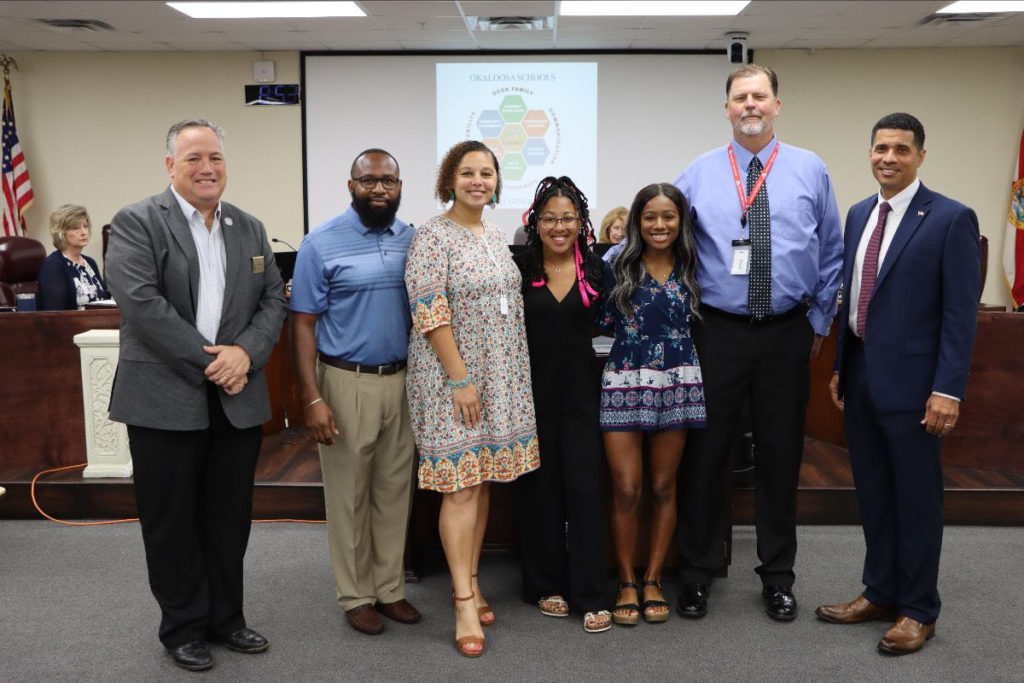 Olivia Keith, an EMR student at Crestview High School, was checked out of school early one day. While exiting the school, she passed a restroom and noticed two adults rushing in. She stepped in to see what she could do to help.
A female student was locked in the restroom stall and unresponsive. Olivia crawled under the stall door to unlock it and assessed the student's state, realizing that the student did not have a pulse.
She immediately began administering CPR and continued to do so until the School Resource Officer relieved her four minutes later.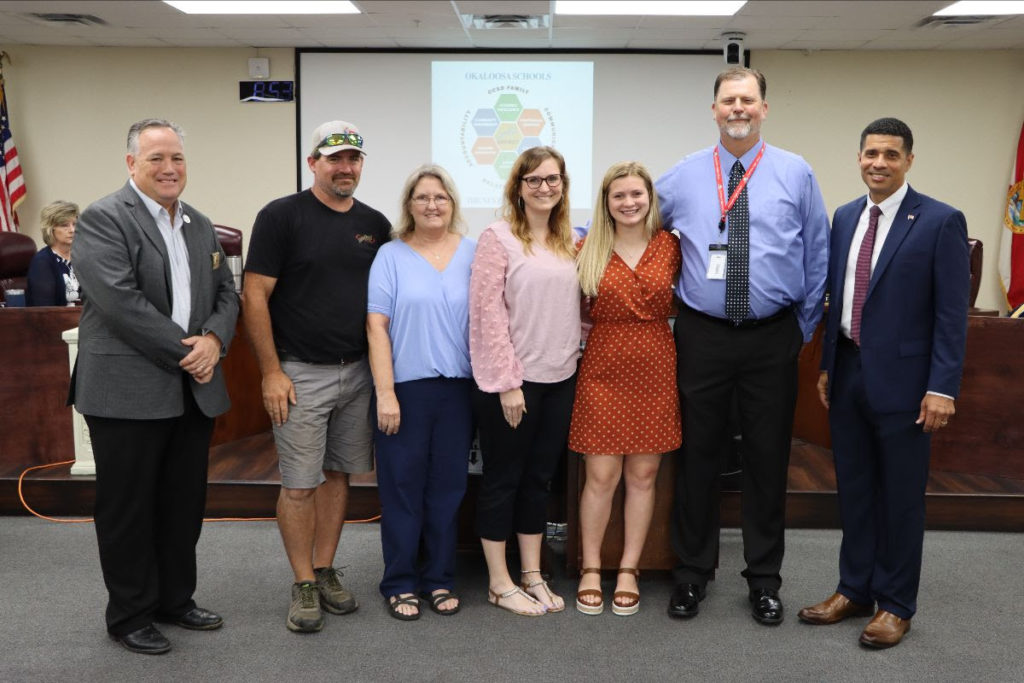 Bethany Touchton, also an EMR student at Crestview High School, was working a check-out line at Winn Dixie when she noticed a customer who seemed confused. After speaking with her for a short period of time, the customer began seizing.
Bethany ran around to the aisle to assist and called 911 while checking the customer's pulse and ensuring her safety until the paramedics arrived.
"One of the things that we take seriously in our school district is that we want to have strong Career and Technical Education programs in which students learn life-long skills," said Superintendent Marcus Chambers. "The Emergency Medical Responder program at Crestview High School is starting to have a history of saving lives. In this case, we have two students transferring skills to save a life, and there is nothing more impressive. It's one thing to get trained in this, it's another thing to have the courage to act, and I could not be more proud."
OK, that's all I have for you this morning! I hope you have a great Tuesday!
p.s. What did you think of this morning's newsletter? Hit the reply button and let me know!
Published with ♥ by Get The Coast.
Did someone forward you this email? Subscribe here.
124 Eglin Parkway SE Fort Walton Beach, FL 32548