Imagine taking ice cream to the next level using handcrafted recipes, locally-sourced ingredients, and homemade mix-ins.
That is exactly what Tarra Wixom Destin did when she and her husband, Parker, created Pink Coyote Dessert Company, an ice cream and sweets shop in Destin, Florida.
Pink Coyote is located where Dewey's Snoballs is, next to Dewey Destin's Seafood Restaurant on the Choctawhatchee Bay.
The whole operation came with the idea of growth.
"We knew we were going to expand from just snoballs," explains Destin. "Snoballs are delicious and wonderful and amazing, but they're a seasonal treat. Usually in November and December, you're not wanting to devour a snoball."
Destin started making ice cream over 15-years-ago at her first job in high school where she was in charge of ice cream production at a tourist destination in Colorado.  That's part of how she came up with the name Pink Coyote. 
"I'm from back west, from Colorado," she added. "To me, it is an homage of where I came from and it's also whimsical and fun."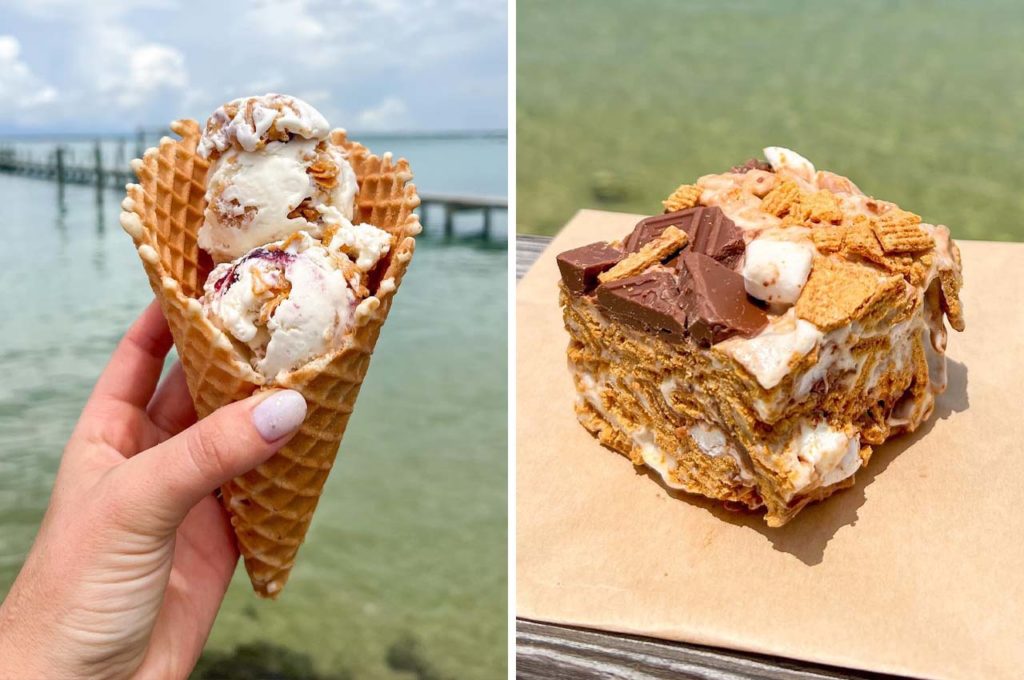 With the exception of a few items that are obviously store-bought (think Oreos), everything at Pink Coyote is homemade from recipes that Destin created herself.  She makes all the baked goods, pastries, frostings, and swirls that go into the ice cream. 
"I prepare the jamberry swirl from whole berries," she explained. "It takes a day of macerating fruit and sugar, and then I puree it. Even the milk is locally sourced. We buy our milk from Florida dairy farming families that don't use hormones."
What doesn't go into the ice cream are the extra stabilizers and preservatives that you get with more widely-distributed industrial ice cream.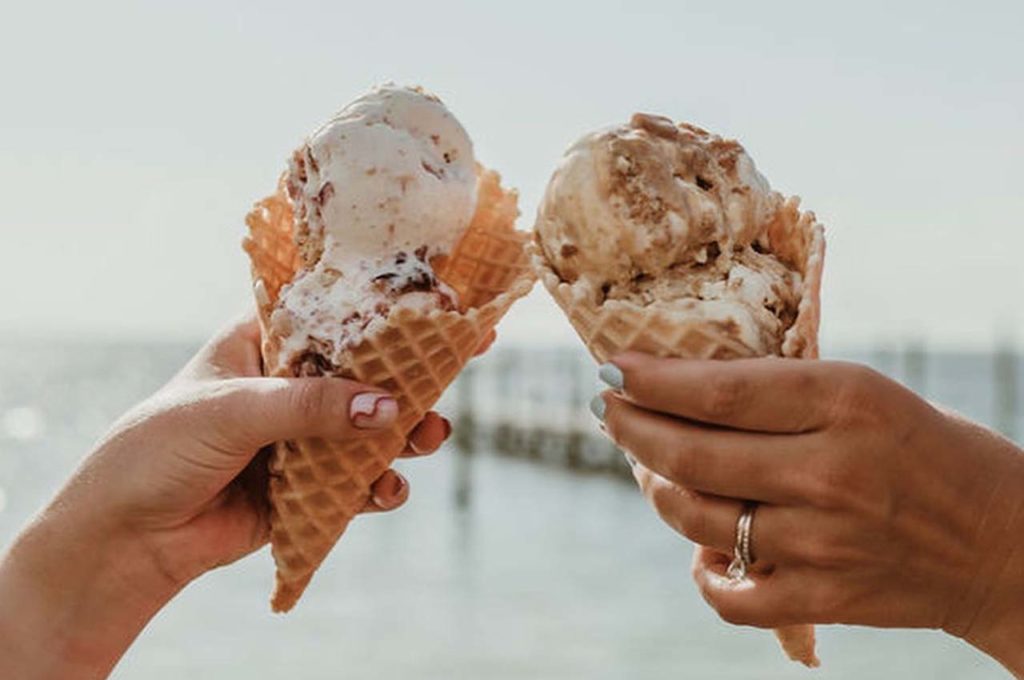 Non-dairy ice cream is also on the menu. 
"I always have at least one flavor made from an alternative milk such as coconut or oat milk," she said. "I try to avoid the nut milks and sometimes it'll be a sorbet which is just fruit, sugar, and water."
In addition to the flavors always available – Chocolate, Very Vanilla, Cookie Monster, and Berry Cobbler – there will soon be seasonal flavors for the fall.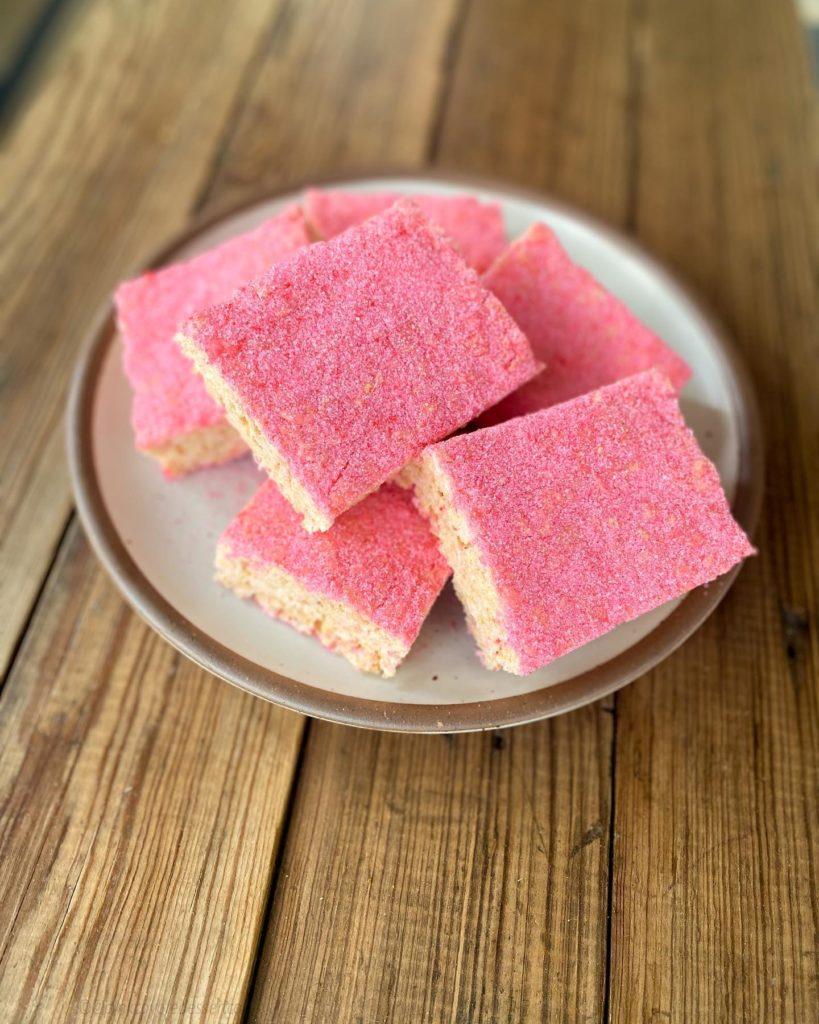 Pink Coyote offers a line of baked goods.  They carry pastries, bars, and giant cookies. "They aren't precision-decorated," she explains.  "They're more rustic and toothsome, really just decadent and delicious."
This winter, as things slow down, the snoball stand will close, but there will be ice cream in the form of pint drops and Scoop Saturdays, as long as the weather cooperates.
Pink Coyote Dessert Co. will release a holiday pint drop around Christmastime that you can order and pick up at the stand. Destin says they will have some really fun holiday flavors to get you through next spring when they reopen daily.
They will also take a limited number of baked goods orders this winter such as the popular cookie box.  As they reach capacity, they will stop taking custom orders, but there will be an expanded selection on Scoop Saturdays.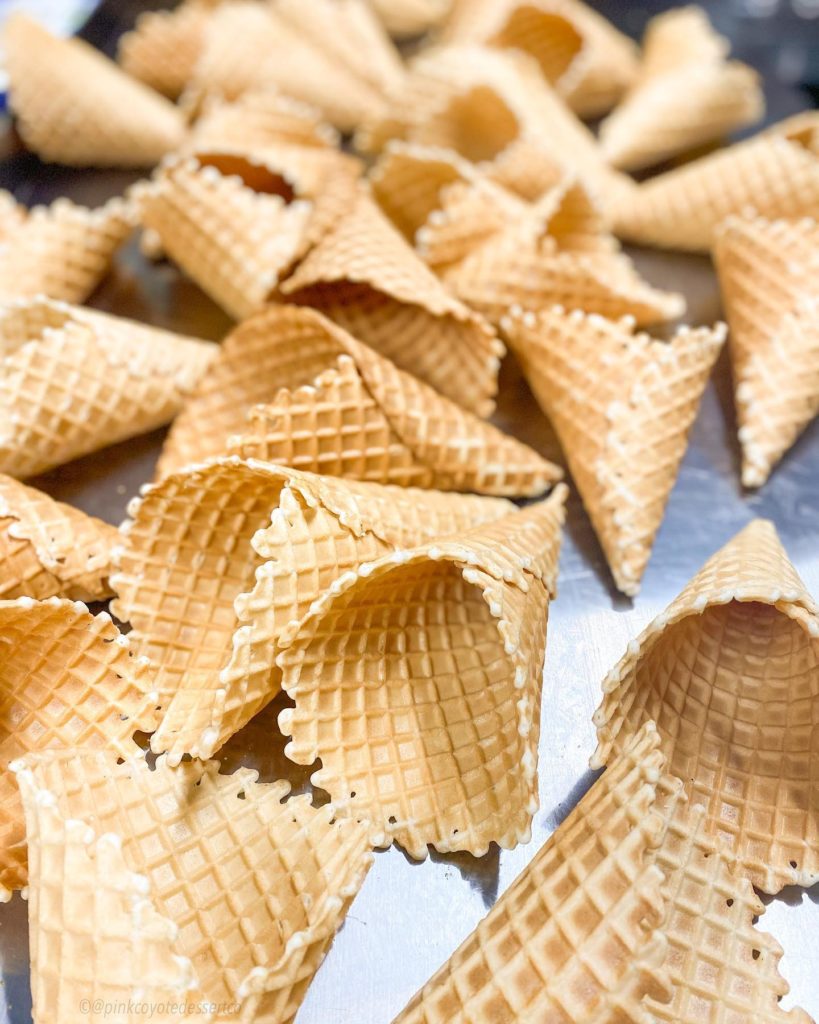 Destin laughed as she recalled one of her favorite reviews from a recent customer.
"The person said that everything was as if a 100-year-old grandma in Italy had made it at home and then tried to do her own version of Ben and Jerry's," Destin said. "That's what I'm going for. It is made by hand; it's something you're familiar with, but improved. It's a taste that throws you back to your childhood and those awesome memories of going to get ice cream with your grandparents or your parents, people that you love."
Destin says it's more than dessert, though – it's an experience.
"I always think about people and what they are going to sit and talk about when they're enjoying this ice cream without a worry in the world," she added.
Pink Coyote Dessert Company (9 Calhoun Avenue – Destin FL) is currently open 7 days a week, 12-8:00pm, until the end of October. 
After that, holiday hours will be based on weather.
Check social media channels for announcements on flavors and hours.