On Wednesday, the Florida Department of Health in Okaloosa County (DOH-Okaloosa) issued a notice of a red tide bloom near James Lee Park in Destin. Now, Okaloosa County has identified 5 additional locations.
Okaloosa Island Beach Access 7
Okaloosa Island Beach Access 3
Okaloosa Island Beasley Park
Destin – Jetty East
Destin – Shirah Beach Access
The Okaloosa Coastal Resource Team collected 6 water samples on Thursday (Sept 23, 2021) across Okaloosa County to provide to FWCs Red Tide Monitoring team. 
The overall agency that handles all of the red tide sample organization, and most of the monitoring statewide, is the Florida Fish and Wildlife Conservation Commission. However, Okaloosa County has been doing regular monitoring of red tide since 2018.
"Back in 2018, when we had our last red tide bloom, I reached out to FWC to see if there was a way for us to have more of a real-time monitoring station set up here in the Destin-Fort Walton Beach area," said Alex Fogg, Coastal Resource Manager for Okaloosa County.
Based on their discussions, it was determined that it would be best to collect samples opportunistically with equipment that FWC sent on a weekly (or even monthly) basis.
Fogg and his team then send the samples down to FWC in St. Petersburg, Florida, where they're headquartered at the Fish and Wildlife Research Institute.
"We do a lot of offshore work and a lot of times, red tide forms offshore and is pushed in with the south wind," explained Fogg. "If we're able to get out there while we're doing our regular diving, reef monitoring, or lionfish collection, and collect water samples to detect red tide offshore, that gives us a little bit of an early warning that there may be some red tide nearshore in the coming days."
Right now, the plan for the Coastal Resource Team is to keep an eye on the situation that is unfolding here in Destin-Fort Walton Beach at the moment.
And as the reports of red tide continue to come in, Fogg says there are a few things to keep in mind:
"Beachgoers can still be on the beach and can still swim in the water with red tide," he said. "They just need to be aware that if they have respiratory issues, like severe asthma or some other underlying condition, they need to take caution. If they do end up swimming in red tide and there is any sort of skin irritation, we need to make sure that they rinse off thoroughly afterwards."
"If anyone has an adverse reaction to the water or to the air that they're breathing, they need to go ahead and remove themselves from the beach and potentially seek medical attention if it gets bad," continued Fogg. "But that's a pretty rare situation."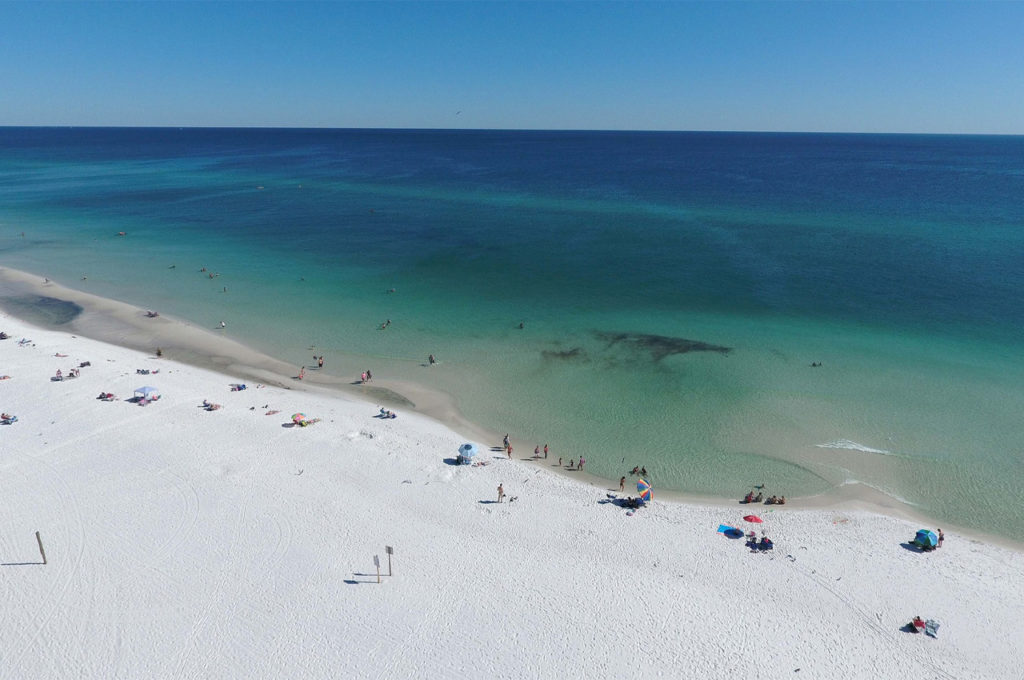 What is red tide?
Red tide is actually an algae that comes from Karenia brevis. It's considered a harmful algae and has a brevis toxin that can be toxic to a lot of Marine life. And while it is naturally occurring in the system, it becomes a problem when we have these blooms.
The blooms can be a result of excess nutrients in the water, warm water temperatures, and just ideal conditions for one of these blooms to happen.
According to Fogg, the blooms can persist for week in some cases, if the weather allows for it.
"Fortunately, we have a cold front that's coming through the area and is providing us with some winds coming from the north and some cooler temperatures that will potentially blow this red tide offshore and allow it to persist away from the shoreline," said Fogg. "These colder temperatures are certainly not conducive to allowing this bloom to persist."
Since 2018, Okaloosa has not had any tests come back with a positive result for red tide.
Red tide symptoms
Some people may have mild and short-lived respiratory symptoms such as eye, nose and throat irritation similar to cold symptoms. Some individuals with breathing problems such as asthma might experience more severe symptoms.
According to the Department of Health, symptoms usually go away when a person leaves the area or goes indoors.
Health officials recommend that people experiencing these symptoms stay away from beach areas or go into an air-conditioned space. If symptoms do not subside, please contact your health care provider for evaluation.
The DOH recommends that you:
Do not swim around dead fish at any identified location.  
If you have chronic respiratory problems, be careful and consider staying away from identified locations as red tide can affect your breathing.  
Do not harvest or eat molluscan shellfish and distressed or dead fish from any red tide location. If fish are healthy, rinse fillets with tap or bottled water and throw out the guts.  
Keep pets and livestock away from water, sea foam and dead sea life.  
Residents living in beach areas are advised to close windows and run the air conditioner (making sure that the A/C filter is maintained according to manufacturer's specifications).   
If outdoors, residents may choose to wear paper filter masks, especially if onshore winds are blowing.