UPDATE 11AM: I-10 and Highway 90 are shut down at exit 70 in Mossy Head west into Okaloosa County due to expected flooding of the Shoal River, according to Walton County Sheriff's Office.
Traffic is being rerouted down Highway 285 at this time. Please see below detour map provided by Florida Department of Transportation.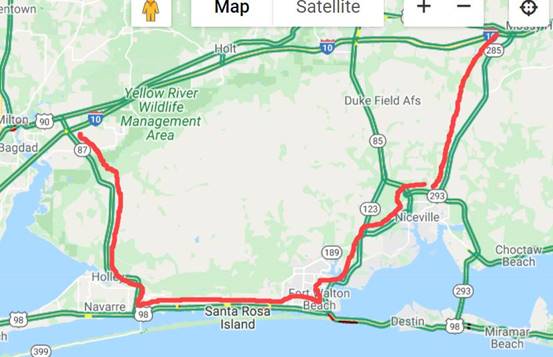 UPDATE 10am: Per Okaloosa County, ONLY the bridge at US 90 has been shut down at this time. The other two are being closely monitored.
---
ORIGINAL
At 9:25am on Thursday morning, the Florida Department of Transportation announced that the Shoal River Bridges on I-10, US 90 & SR 85 have been closed due to flooding.
"We have just been notified the Florida Highway Patrol is shutting down the Shoal River Bridges," said the Okaloosa County Sheriff's Office.
As of 3am this morning, the Flood Warning went into effect for Shoal River in Crestview, and will remain until late Monday morning.
The river is then expected to rise to 25 feet by Friday morning.
"Residents are asked to remain vigilant as protective actions will need to be taken," said the city in a press release. "Those needing to evacuate are urged to seek accommodations with friends, or family members, in locations away from flood zones."
Blackwater River: Moderate flooding is occurring and major flooding is forecast between now and early Saturday morning.
Yellow River at Milligan: The Flood Warning is now in effect until Sunday evening.