TOGETHER WITH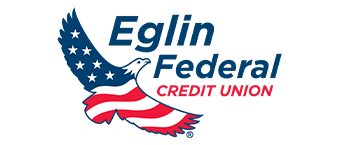 Good morning!
On Monday, Hurlburt Field announced that face coverings would be required once again.
"In an effort to mitigate mission impact and in compliance with DoD policy, effective January 4 2022, face coverings are mandatory for everyone on base, regardless of vaccination status," said 1st Special Operations Wing Commander. "I appreciate everyone's patience and diligence as we navigate this together."
Let's get to more news…
EMPLOYEE OF THE YEAR
City of Destin selects Employee of the Year for 2021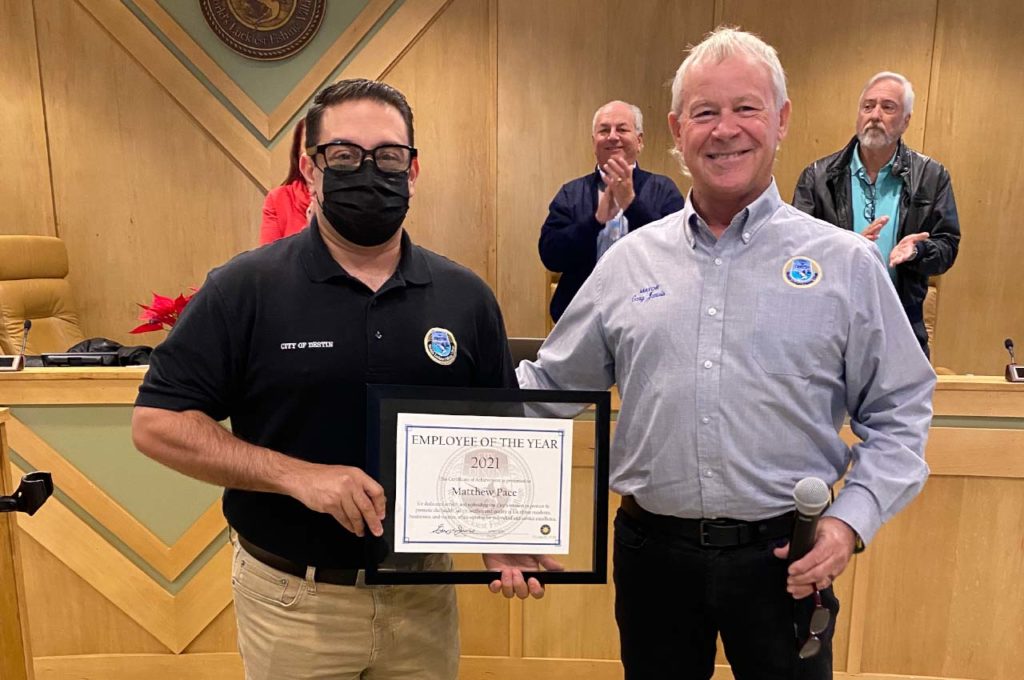 Each year, a City of Destin employee is nominated and selected by co-workers to celebrate the qualities that inspire us to achieve the City's mission:
"We are an organization that strives to provide a healthy, safe quality of life, balancing the needs of our residents with the expectations of our visitors, and providing open, clear, accurate communication."
Destin City Manager Lance Johnson stated, "It is a pleasure to honor Matthew Pace of the City Manager's department as the 2021 Employee of the Year."
Matthew began working for the city in August of 2019 and has been transformative in the IT Department. His accomplishments and responsibilities recently awarded him the upgraded position of IT Director.
City co-workers wrote the following things about Mr. Pace:
Has a desire for success for his department and the city as a whole.
Highly educated yet humble.
Works 24/7 always maintaining a spirit of teamwork.
Spearheaded COMPASS project making the city more efficient and transparent.
The recipient of the Employee of the Year award receives a cash certificate, an etched plaque, and a reserved parking space for the year ahead.
SPONSORED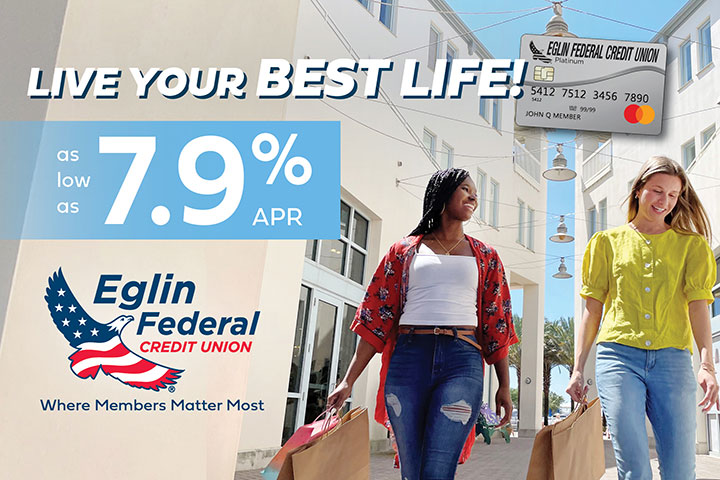 EVENTS
Defuniak Springs expands concert series, food trucks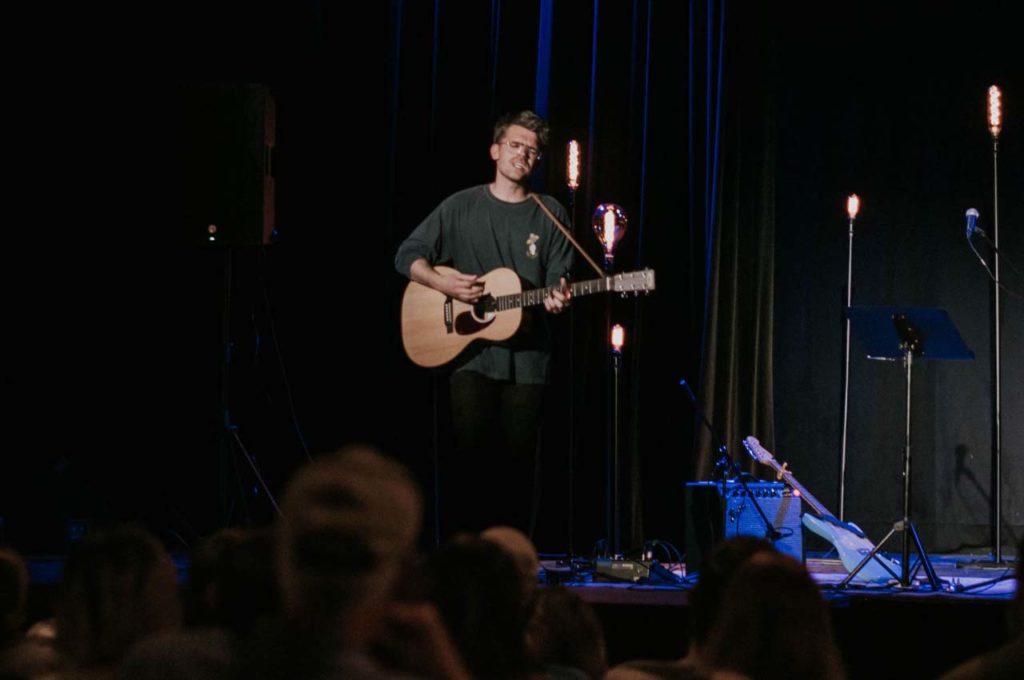 Main Street DeFuniak Springs announced their 2022 Music on Main concert series, taking place at the Florida Chautauqua Theatre.
The events, taking place on the second Friday of each month, will showcase different genres played by regional and local musicians ranging in size from duos to five-piece bands.
Along with the concert experience, guests can enjoy dinner from area food trucks, as the event takes place alongside Main Street's Food Truck Friday.
Doors open at 6:00 p.m.
Concerts begin at 6:30 p.m.
Includes two 45-minute sets with a brief intermission.
Tickets purchased in advance are $15 for adults, $5 for children under 12, and are available at http://mainstreetdfs.org. Ticket prices increase $5 on the day of the show.
What started as a listening room experience in February of 2021 and continued in May 2021, the series has evolved into something the organization hopes will appeal to a variety of audiences.
"We started Music on Main in hopes of offering locals and regional visitors an experience they haven't had before in Downtown DeFuniak Springs," said Main Street DeFuniak Springs Executive Director, Chelsea Blaich. "Pivoting off the 2021 success, the 2022 series is not only more frequent, but the lineup is more diverse in an effort to appeal to a wider audience."
The lineup includes:
January 14: Anthony Peebles Band
February 11: Will Thompson Music
March 11: Gilleran's Island Band
April 08: Shane Owens
May 13: Catalyst
June 10: Cadillac Willy
July 08: Boukou Groove
August 12: Levee Road
September 9: Dion Jones & The Neon Tears
October 14: Logan Pilcher Music
November 11: Cosmic Rascals
December 09: Daniel Pratt Trio
Taking place alongside Music on Main, Main Street DeFuniak Springs will host Food Truck Friday on the second Friday of each month. Local and regional food trucks and trailers will be lined along Baldwin Avenue offering a variety of culinary options from 5:00 p.m. – 8:00 p.m.
The lineup of food trucks will be announced soon.
FOR THE KIDS
Winter movie series returns to the Destin Library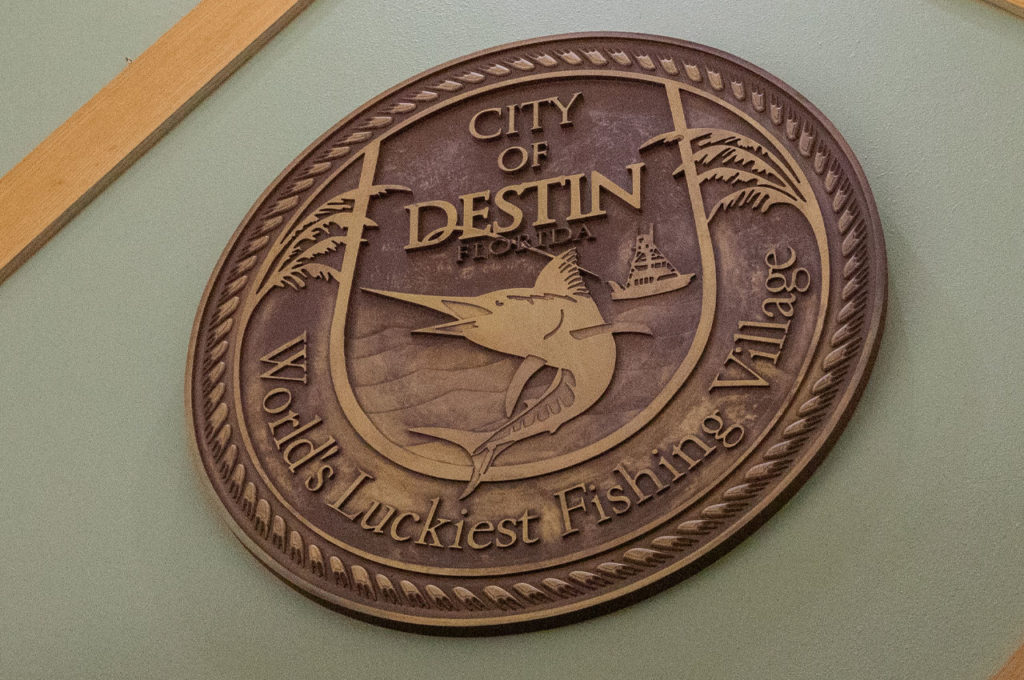 The Wednesday Winter Movies are back at the Destin Library.
Every Wednesday at 1:30 p.m., beginning January 5, 2022, and running through March 9, head to the library for a free movie and complementary popcorn.
Film fans are welcome to bring their own movie-friendly snacks and beverages with tight lids. Seats fill up fast, so arrive early.
Here is the line-up for January, however movies are subject to change based on availability at the time of the showing:
January 5 – Murder on the Orient Express (2017)
January 12 – News of the World (2020)
January 19 – Victoria & Abdul (2017)
January 26 – Percy Vs Goliath (2020)
If you would like any further information, please feel free to contact the library at 850-837-8572 or library@cityofdestin.com.
FISHING
Two FADs break loose in the Gulf, Okaloosa asking to not 'tie up'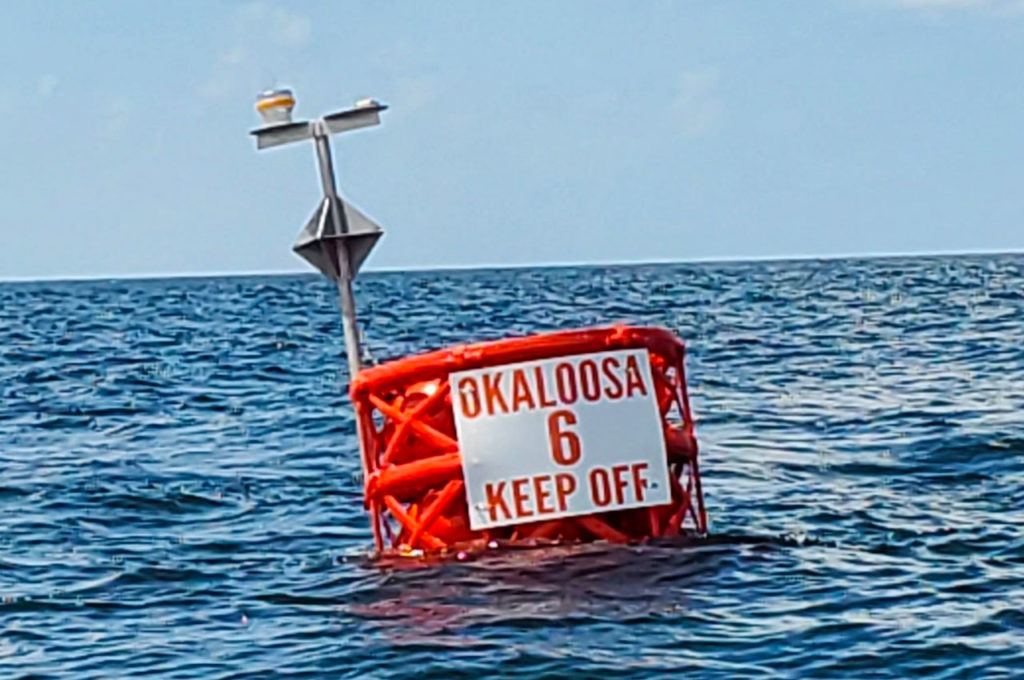 The tourism department of Okaloosa County deployed the first four Fish Aggregating Device (FAD) buoys on August 11, 2020. The deployment took place at four locations found 60-80 miles off the Destin-Fort Walton Beach shore and was the first FAD buoy deployment in the continental United States.
The first four buoys proved to be a success very early on. There were reports that a variety of pelagic fish species such as tuna, marlin, and mahi mahi were caught at the FAD sites shortly after deployment.
Since then, however, two of the buoys have broken loose and had to be recovered.
"Each of the eight fads has a GPS beacon on it, where every 12 hours it sends out a location and we're able to make sure that the FAD is on station, where we deployed it, or if it breaks loose, it allows us to track it and recover it," said Alex Fogg, Coastal Resource Manager for Visit Destin-Fort Walton Beach.
According to Fogg, notifications are sent out if the FAD drifts more than a mile from its deployment location. On October 4, 2021, he started receiving a notification that FAD No. 6 was no longer on station.
Walter Marine out of Orange Beach, Alabama was tasked with recovering the rogue FAD. This is the same contractor who deployed the FADs and many of the artificial reefs offshore Destin-Fort Walton Beach.
"The FAD had about 900 feet of line still attached to it, but this buoy was deployed in 1,700 feet or so of water," explained Fogg. "It snapped somewhere in the middle."
Fogg says that the line could have been compromised by a trawl vessel or some other man-made object that compromised the line.
"We pulled AIS information to see if there were any commercial fishing vessels in the vicinity of the FAD during the time of the FAD breaking loose and there was nothing that had passed close by within at least a week," continued Fogg. "So odds are one of these trawlers, or some other object impacted the FAD, compromised it, and then likely was finished off when vessels were tied off to it."
Tying off to the FADs
It may seem harmless, but tying off to the FADs is a big thing the Coastal Resource Team does not want people to do, as they are not meant to be mooring buoys.
"In the case of this FAD, it was already compromised so it really didn't take much more to finish it off," said Fogg.
Fogg and his team are in the process of getting a new anchor and line to redeploy it.
But just as they get a handle on one buoy, FAD No. 5 started reporting that it was off station, and Fogg had to go through the same process of recovering it.
FAD No. 5's design is a bit different from the previous buoy. This buoy has about 100 feet of chain that connects to the buoy, that then connects to some of the same line down to the anchor.
"We haven't done a full investigation yet, but it looks like the line actually severed where it meets the chain," explained Fogg. "We don't know what may have caused this, however, we don't suspect that it was a vessel strike this time. We suspect it may be some other mechanism, but we won't know until we do a full investigation."
As for redeployments, Fogg is still waiting to get the new line. With COVID shortages and shipping issues, the line needed for deployment has been very difficult to source and have delivered.
Fogg is hopeful that once the new lines for both of the FADs are delivered, he can have them redeployed in the next few months.
The lifespan of these FADs is supposed to be five years or more before maintenance and other things have to happen. Fogg says that he and his team will learn from these issues, but also asks that vessel operators learn as well.
"We really want to encourage folks to not tie up to these FADs," explained Fogg. "Regardless of whether you think they are able to hold your boat, it's unneeded stress on these buoys and it can ruin it for everybody."
As you can imagine, the recovery and redeployment process is costly on the county.
"It's not a cheap process," added Fogg. "Regardless of the cause of failure, we need to do everything that we can to prevent unneeded stress on these buoys. Tying off is definitely an unneeded stress."
Fogg says that he and his team go out to inspect the buoys once per quarter, and when they pull up to the buoys, they're covered in anchor lines and dock lines, along with other things that people are using to tie off to them.
"We have this awesome resource out there that is being negatively impacted by those who maybe aren't considering that what they're doing is not so good for those buoys," he added.
Cost isn't the only thing to worry about
Aside from recovery and redeployment costs, there is another thing to keep in mind: The county has active permits right now for the FADs. But when those permits expire, there's no guarantee that they will be able to renew those permits.
"There's been a lot of changes in some of the endangered species that are out there and where their essential habitat is located. That essential habitat now encompasses the FADs," he said. "Redeploying within that area may be very difficult once our permit has expired."
If the county is unable to renew the permits, the existing FADs within the network would be allowed to stay in perpetuity. However, if one FAD broke loose again, the county would not be able to redeploy the FAD.
A success, nonetheless.
The FAD network was named after Captain Kelly Windes (former County Commissioner) who conceived this project nearly 7 years ago.
As far as Fogg is concerned, it has been a huge success.
"Over the last year, I've seen pretty much every pelagic species of fish," he said. "All of your tuna species, your Marlins, your Mahi Mahi, and your wahoo. They are pretty much hanging around the buoys and getting caught."
Fogg added that there have been a lot of fishermen from Louisiana all the way over to Panama City Beach, and even Apalachicola.
"Believe it or not, the winning mahi for one of the Big Billfish Tournaments this past year actually came from the FADS," said Fogg. "It was from a boat that was fishing out of Louisiana."
WEATHER
Snow captured on camera in Fort Walton Beach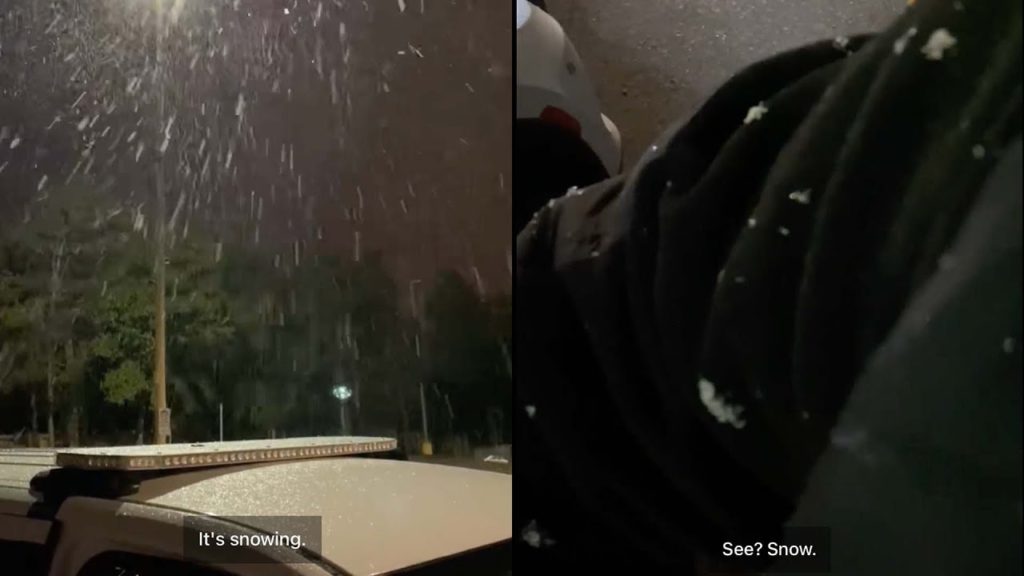 About 5 minutes after I sent out yesterday's newsletter, the Okaloosa County Sheriff's Office shared this really cool video of snow captured by a Deputy.
The footage was captured around 3am near the Lowe's parking lot in Fort Walton Beach.
In Walton County, MyPanhandle.com wrote that light snow was reported as far north as Paxton and as far south as Freeport.
"Any frozen precipitation that did fall did not stick to the ground as temperatures at the surface were running above 32 degrees," wrote MyPanhandle.com.
Click here to watch the snow footage in Okaloosa.
As for this Tuesday morning, it is still a pretty cold and frosty start for many early risers. Temperatures at 6am were ranging between 28°-37° across most locations around our area.
Dress warm!
OK, that's all I have for you this morning! I hope you have a great Tuesday.
p.s. What did you think of this morning's newsletter? Hit the reply button and let me know!
Published with ♥ by Get The Coast.
Did someone forward you this email? Subscribe here.
124 Eglin Parkway SE Fort Walton Beach, FL 32548