On Friday, September 4th, John Dean and Mike Lance planned to get their Labor Day weekend started early with a trip from Perdido Key to the new FADs recently deployed by Okaloosa County.
The trip originally included a crew of more than just John and Mike, but after a couple cancellations, the pair made the 60 mile the run in John's 33′ Invincible center console in hopes of catching Yellowfin tuna.
"I had not really been following the FAD deployment," said John on Saturday morning. "I just heard rumors about it for the past year that there were some guys thinking about putting some FADs out there and it sounded like a really good idea to me. I saw on Facebook that they had been deployed so I said that when it was 1ft or less, we need to go check these things out"
2 Hours later, they arrived at FAD #2.
"We were originally targeting yellowfin tuna," said John. "Mike moved down here from Illinois 6-7 years ago and he's never caught yellowfin. Someone had mentioned yellowfin already being there. So we went out there with some smaller stuff, you know, some ballyhoos and islanders trying to catch Yellowfin."
But after roughly 2 hours of no action, they ran to FAD #6.
"As we pulled up to #6, there were a couple of other boats out there and they had been catching Mahi," continued John. "And that's when the reel went off."
"And that's when the reel went off!"
"We could tell that it was a little Mahi so we didn't clear any of the other lines. I just handed the rod to Mike once I knew it was hooked really well. Mike was reeling in the Mahi that was roughly 10 yards behind the boat. He was just skipping across the top of the water when that Blue Marlin came completely out of the water and just inhaled the Mahi. I've never seen one come that far out of the water with its mouth wide open."
"We've got the Marlin hooked and now I'm just waiting for him get off," said John. "I'm like, this is going to last five minutes and it's going to be over with. I get Mike in a harness and we go from there!"
Not planning on hooking a Marlin, the guys didn't have the right setup.
"I just had a regular gut bucket," laughed John. "Cause 9 out of 10 fish you catch out there on the center console, you know, we're just catching 50-pound wahoo, maybe even 100-pounds. But you just don't really get those long fights."
After a nearly 3 hour fight, the Marlin felt like it was "hooked to the bottom of the ocean."
"That's what it felt like. There was just so much pressure on the rod and the fish wasn't running or anything. I've never been in this situation and we were both just extremely exhausted."
By chance, Alex Fogg, Coastal Resource Manager for Okaloosa County who was in charge of the FAD deployment, was nearby.
"We had some favorable weather this week," said Fogg, "so we made the run out there to see how the FADs were doing and do some fishing."
John says that he got on the radio and told Fogg was was going on.
"They said, 'I think the fish is tail wrapped and it's probably dead down there', and I agreed," continued John. "So they recommended trying to put the boat in gear and pulling it up. You know, back down on it. So that's what we started to do."
Fogg, along with Captain Kyle Howard of The Poopdeck, arrived to help get the Marlin to the surface.
"We got it to the surface," said John. "It came up between the two boats, you know, and it's just brown. Just these two fins and it's just lying there. The fish is dead."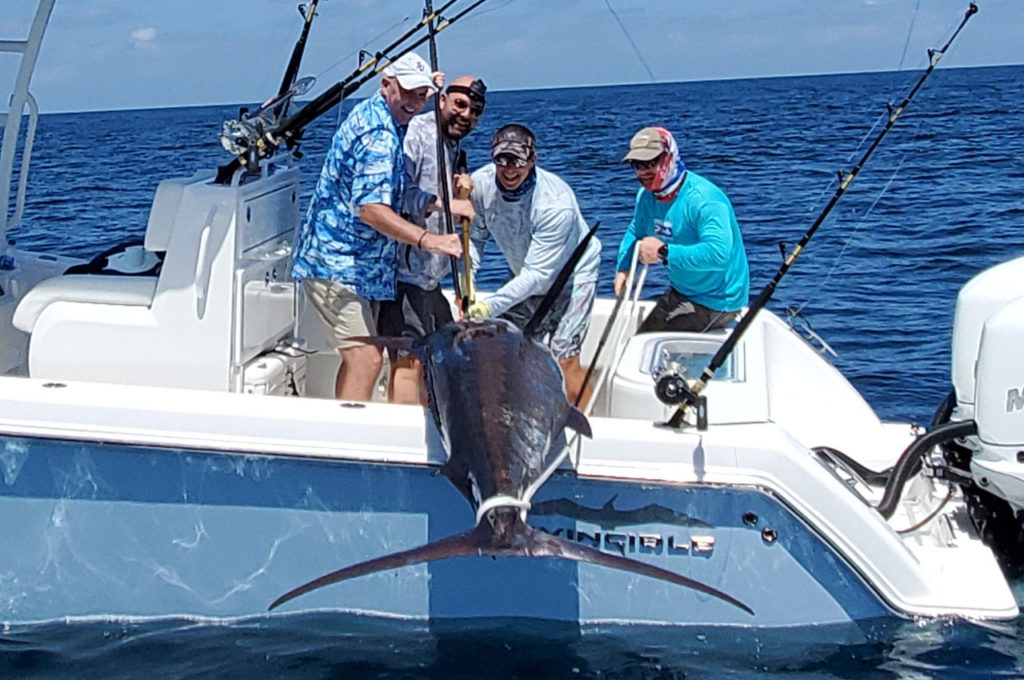 That's when Fogg suggested that they bring the fish into the boat to get measurements.
"They didn't have the space or ice to bring the fish back in," said Captain Howard. "So we stuffed it in the box the best we could and turned toward the hill."
As it turns out, the line was wrapped out the tail and was actually hooked in the tail too.
"You never want to see a billfish die during the fight," continued Howard. "When we realized that it was the case, we wanted to make sure none of it went to waste."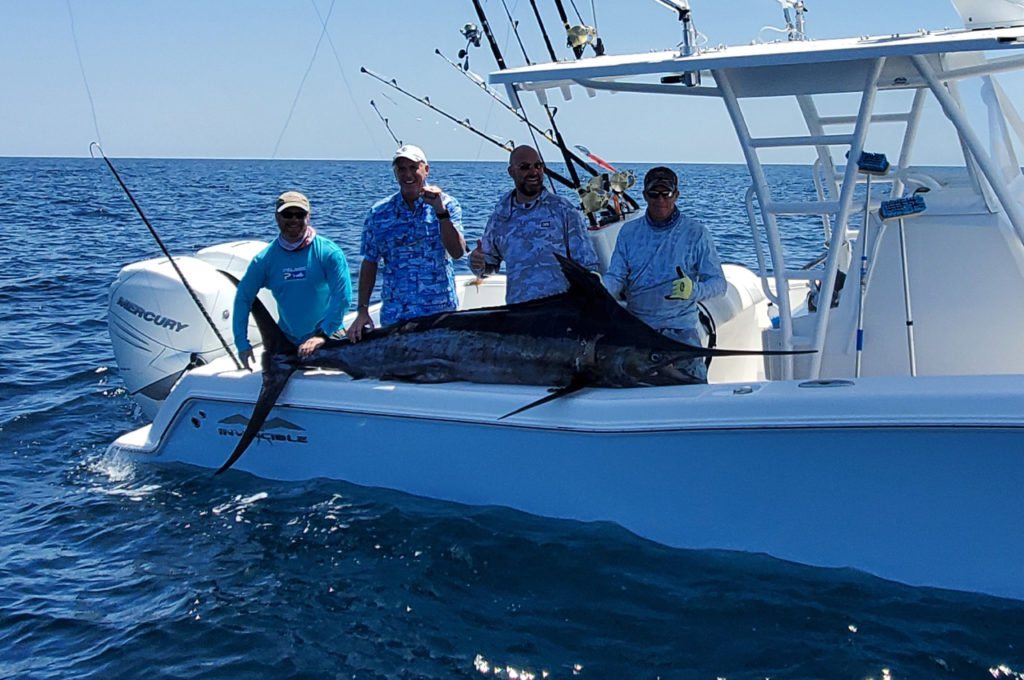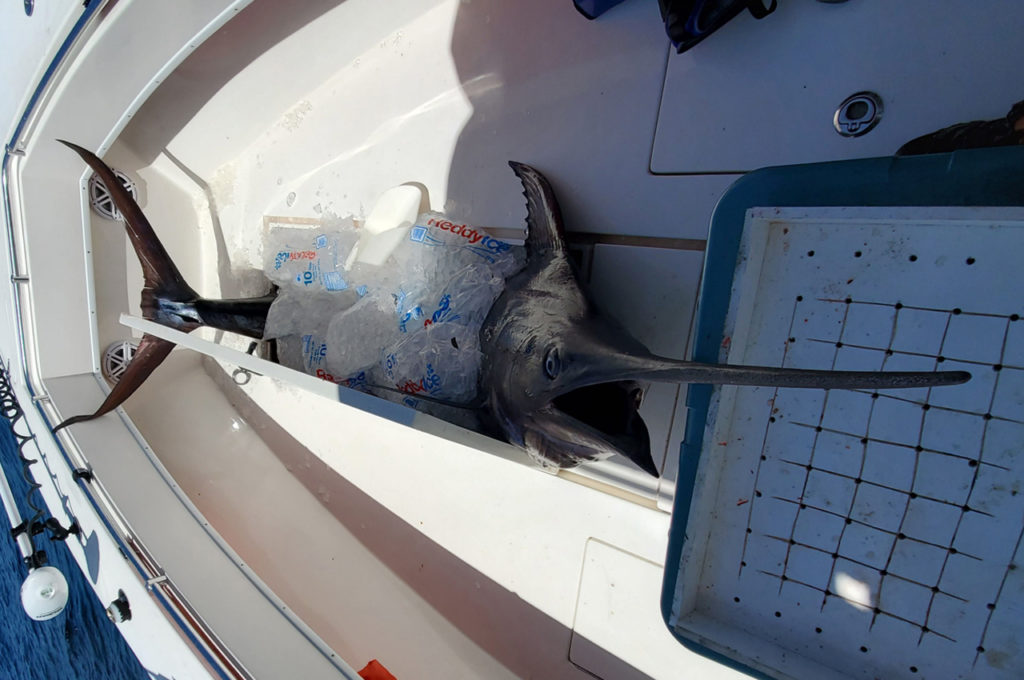 But that's not the wildest part of the story.
As Captain Howard tells it, "Upon cleaning the Marlin we found a little swordfish partially digested in its belly, around 30″ body length."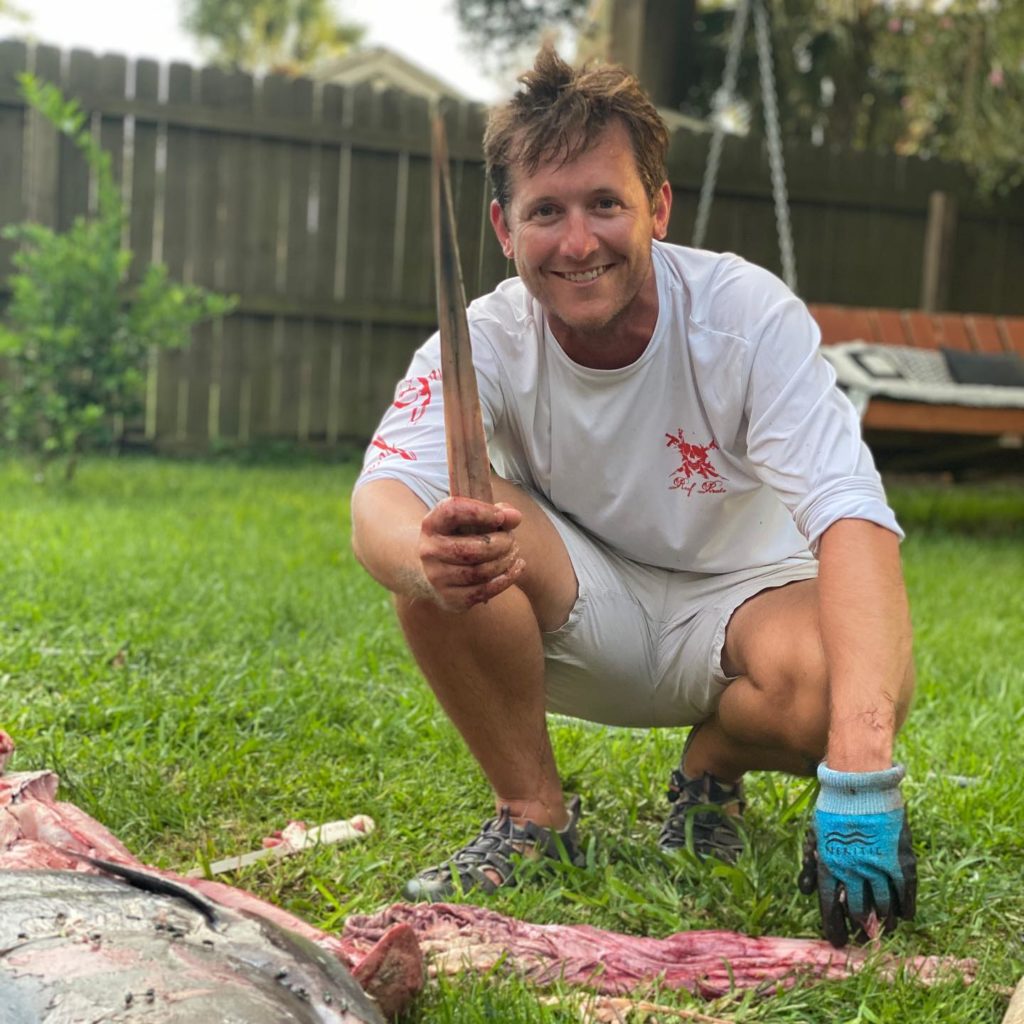 "I hate that the Blue Marlin died," said John, "because you don't like to see that happen. But seeing that right there on the little center console, I mean, that might be the best memory I'll ever have from fishing."
Captain Howard and The Poopdeck were part of the deployment of the FADs back in August. On Friday, this was his chance to get back out there.
"We weren't sure what to expect going back to the FADs just a month after they were deployed but we had high hopes after hearing recent reports of mahi and tuna. That's pelagic fishing though, here one day and gone the next."
"We did hear of a number of other billfish being caught over the weekend," said Fogg. "A couple sailfish, a few White Marlin. But from what I understand, the Blue Marlin that John caught was the first a blue to be caught at the FADs."
To commemorate the first Blue Marlin to be caught at the FADs, Harley Van Hyning of Gnarly Fish Prints was there to get it painted and printed.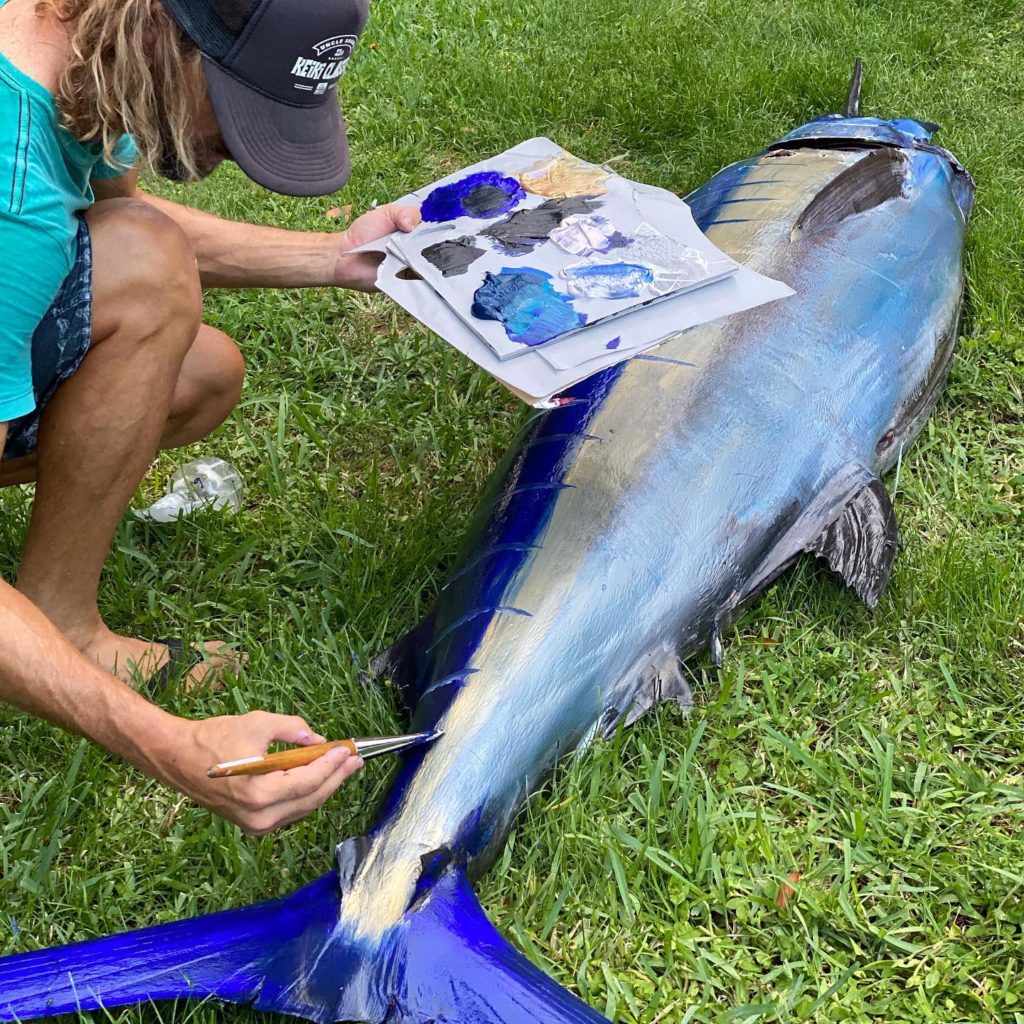 These are just 4 of the planned 8 FADs to be deployed
The next day there was another Marlin reportedly caught and was released. It was estimated between 400-500lbs.
"We were expecting some mahi and maybe something else as a bonus," said Howard. "But to personally see 2 billfish caught and hear about others nearby was totally unexpected."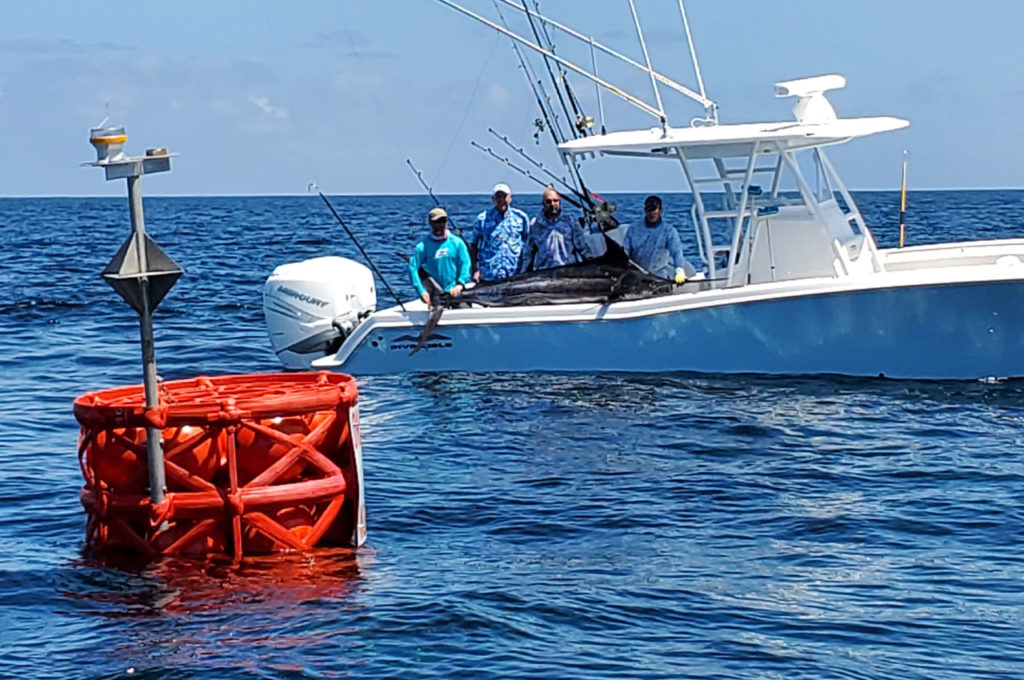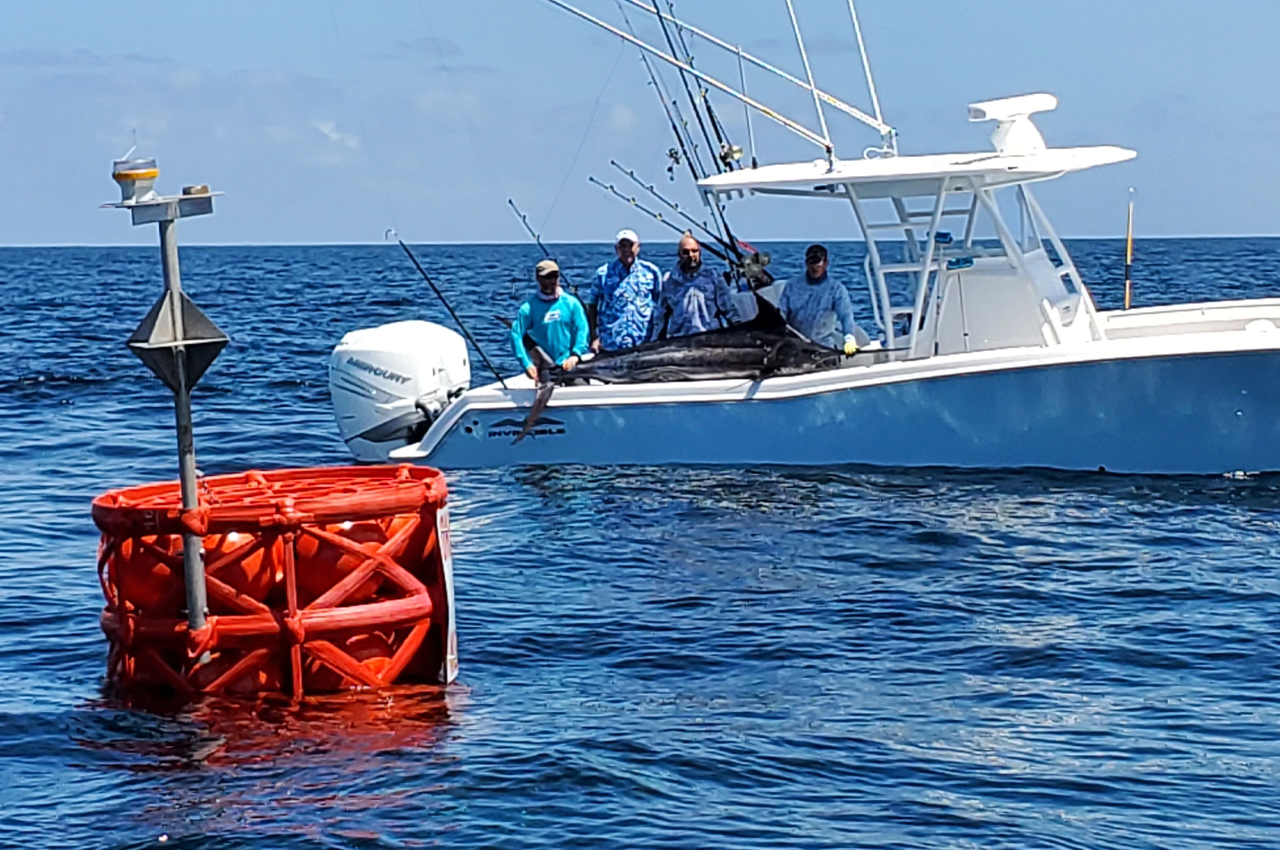 "This is a project that was in the works for a really long time and to see it finally in the water and doing really well," sad Fogg. "Seeing a lot of people using these FADs, or fishing around these fads is, is really encouraging."
| FAD Buoy Number | Latitude | Longitude | Charted Depth (ft) |
| --- | --- | --- | --- |
| 2 | 29° 27.342 | -87° 07.036 | 1,610 |
| 3 | 29° 23.353 | -87° 11.166 | 1,822 |
| 6 | 29° 20.887 | -86° 52.748 | 1,715 |
| 7 | 29° 14.914 | -86° 52.815 | 1,830 |
The exact location may vary by ~500ft due to buoy movement around the anchor.