March 7, 2023
|
Reading time:
14 mins
TOGETHER WITH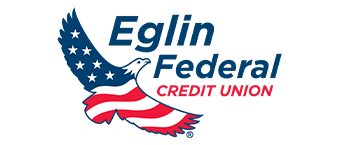 Good morning!
Early Voting for the 2023 Municipal Elections is now open! If you live in the city of Laurel Hill or Fort Walton Beach, you can early vote at either of the Okaloosa Supervisor of Elections office locations.
Early Voting will be open March 6-10, 2023, 8:30 am – 4:30 pm.
POLITICS
Destin City Council says no to new 253ft dock at Gilligan's
During last night's Destin City Council meeting, the council discussed the construction of a new commercial dock at Gilligan's on the Destin Harbor.
MRD Associates, on behalf of Mike Abadie of ABC Amusement Co, submitted an application for the construction of a 4,353 square foot, 253′ long, 17-slip wooden dock to the east of the existing 20-slip Gilligan's docking facility at 530 Harbor Boulevard.
The dock would be designed to accommodate charter boats, and according to Michael Dombrowski of MRD Associates, 15 of the 17 boat slips have already been contacted by charter boat companies.
However, the proposal was met with resistance. Many residents wanted the council to wait until the Harbor Capacity study was complete before approving the dock. Councilman Jim Bagby made a motion to not approve the new dock, citing concerns that it would negatively impact the riparian rights of others in the Destin Harbor.
Riparian rights refer to the rights of waterfront property owners to access and use the water adjoining their property.
Staff was unable to clarify whether or not this would be the case.
There were also no restrictions as to what types of vessels could operate at the dock, according to the city. When asked if he would be willing to add restrictions to the proposed dock, Mike Abadie (owner of Gilligan's) said that while he is not interested in renting slips to livery vessels, he opted to not have it included as part of the plan.
Dombrowski argued that the marina would not impede on riparian rights, as the existing Gilligan's dock is in-between the proposed site and Destin Harbor Place and the other riparian rights line is at Harbor Docks, which Dombrowski says have not expressed any opposition to the dock.
Additionally, the dock met the 20% rule for the city of Destin, as well as for the Department of Environmental Protection and the Army Corps of Engineers, according to the applicant.
The permits for the marina are currently under review by both agencies and are expected to be received within the next three months, according to Dombrowski.
The council ultimately voted 3-2 to not allow the dock to move forward.
SPONSORED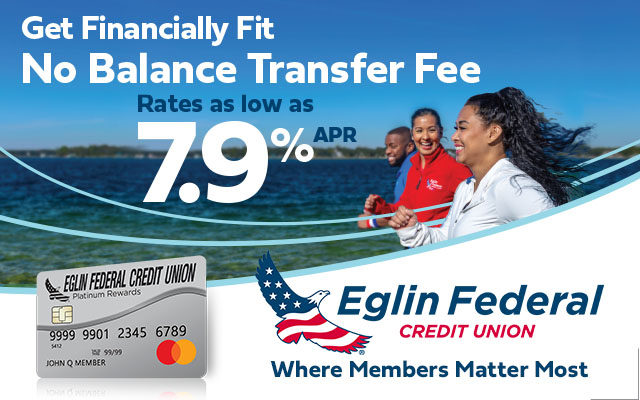 Lose the high interest credit card rate and transfer your balance to an Eglin Federal Credit Union Mastercard! There's no balance transfer fee, no annual fee, no cash advance fee, AND no international transaction fee. Interest rates are as low as 7.9% APR.
Get your finances in shape, and apply in person or online at eglinfcu.org/mastercard.
REAL ESTATE
ERA American Real Estate to host "Super Open House" Weekend featuring 50 homes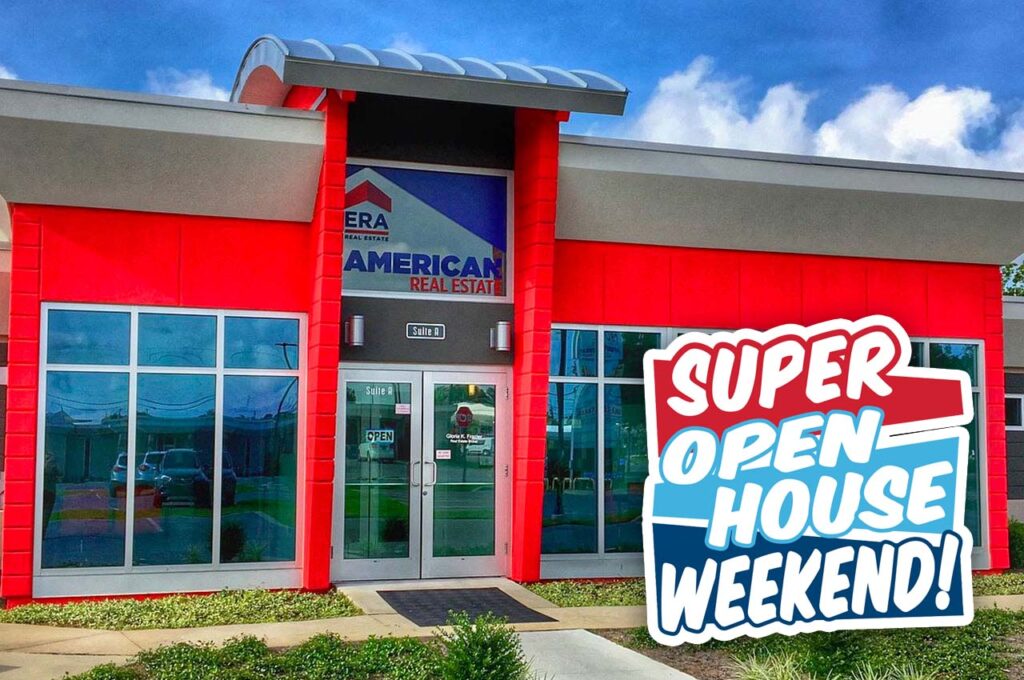 Get ready to find your dream home as ERA American Real Estate is hosting its highly anticipated "Super Open House" event from Friday, March 10 through Sunday, March 12, 2023.
The event is aimed at generating excitement around the housing market and showcasing ERA American Real Estate's footprint along the Emerald Coast and beyond.
According to ERA American Realtor Catherine Gauthier, the event will feature over 50 ERA American listings available for viewing throughout the weekend. Homes will be available in every area where ERA American operates, from Pensacola to 30A, and as north as DeFuniak, Crestview, and Milton.
"We want to invite our community out to see what's available on the market where they live," said Gauthier.
To help visitors navigate the event with ease, ERA American Real Estate has created a map available at erareal.com/super. The map outlines each home that is part of this year's Super Open House, making it easy to quickly map out your weekend.
"The map includes the agent that's going to be at the home, along with the times that it'll be open," explained Gauthier. "So it gives people an idea of where things are located and the times that the homes are going to be open so that they can plan out the routes accordingly."
One of the best things about this event is that visitors do not need to make an appointment. They can simply show up during the open times, which are also listed on the map. This provides visitors with a hassle-free way to explore a wide range of properties on their own schedule.
Gauthier added, "We do Super Open House events a few times a year, and this one is going to be especially exciting. We're hoping that people will come out to see the beautiful homes we have available and find their dream home along the Emerald Coast."
Whether you're looking for a beachfront property, a cozy cottage, or a spacious family home, the Super Open House event has something for everyone. So mark your calendar, bookmark the map, and get ready to discover your dream home during ERA American Real Estate's Super Open House weekend from March 10th through March 12th, 2023.
PARKING
Downtown Fort Walton Beach parking lot improvements have started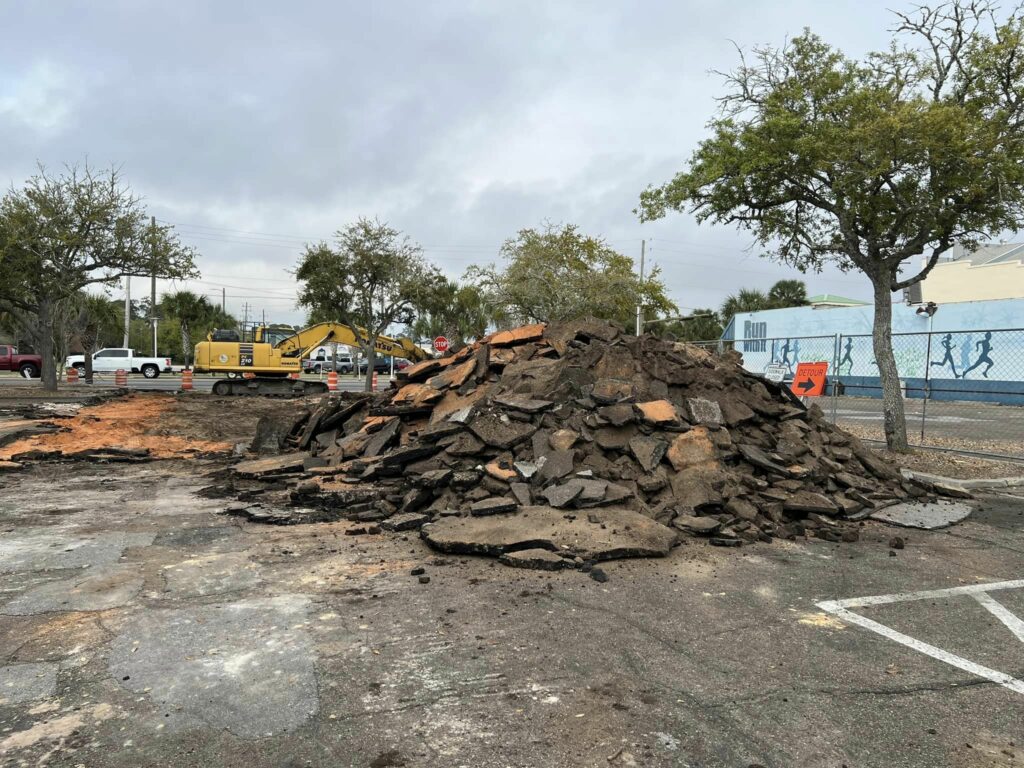 On January 24, 2022, the Fort Walton Beach City Council unanimously approved the repaving of the public parking lot located at 164 and 166 Miracle Strip Parkway Southeast.
The parking lot, which sits in between BOTE Boards and the existing Run With It building, is half-owned by the City and half by BLN, LLC.
The portion of the parking lot owned by BLN, LLC. is leased to the City for the purpose of public parking for the downtown Fort Walton Beach area.
Now, the actual improvements have begun and the parking lot will be closed for the next 90 days, approximately. To help with parking issues, the City created a map identifying other available City parking areas.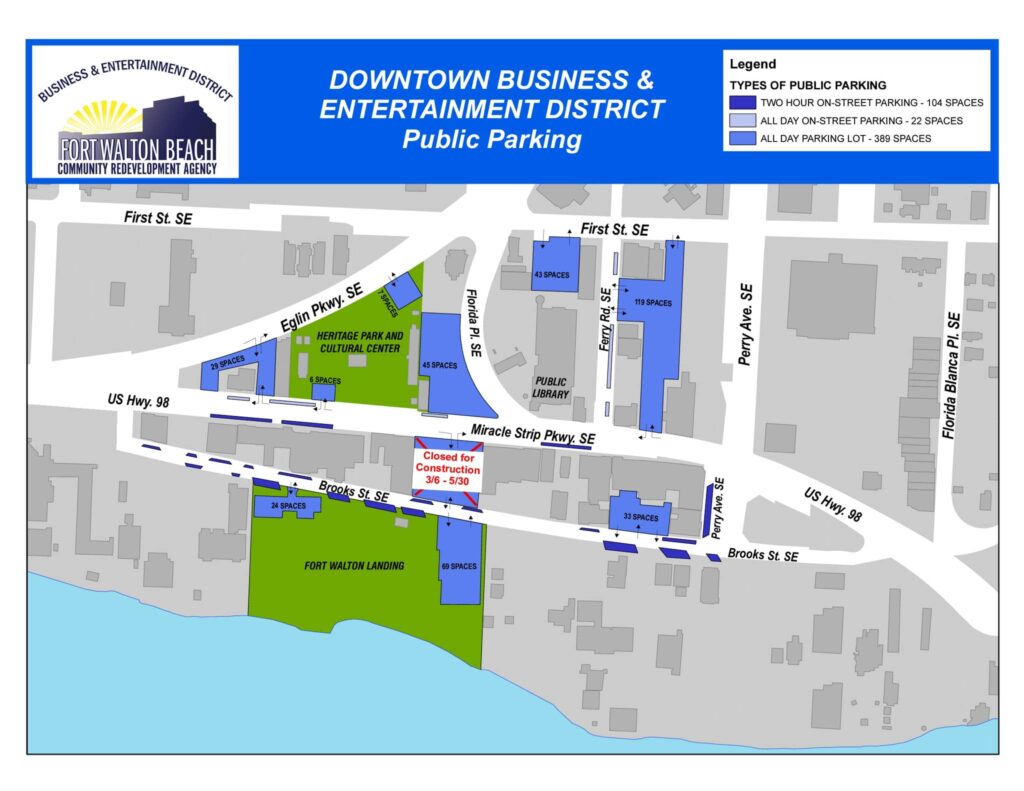 As part of the lease, the City is required to perform improvements relating to paving and stormwater during the initial term of the lease. The first lease term expires on September 30, 2024.
According to the city, funding for this project is included in the 2021-22 Community Redevelopment Area (CRA) Budget in the amount of $200,000. The remaining balance of $127,840.81 will come from the CRA Fund balance.
THINGS TO DO
Emerald Coast Theatre Company presents 'You and Me Under the Sea'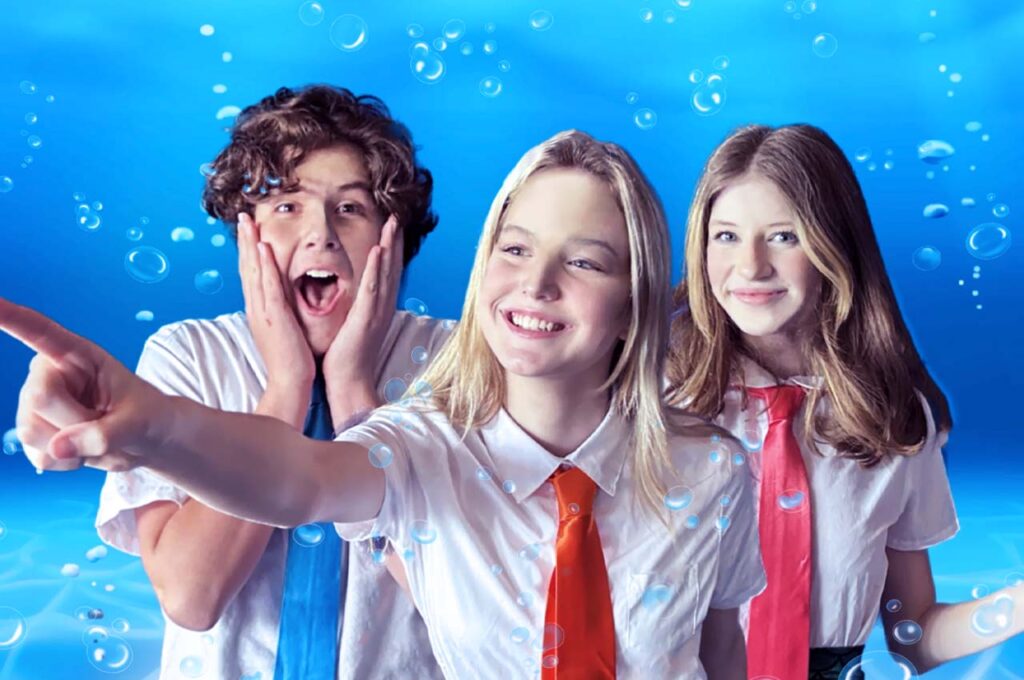 Excitement is building for the upcoming play "You and Me Under the Sea" by the Emerald Coast Theatre Company.
The interactive live show is designed with the youngest of audience members in mind, from 6 months to 5 years old, and promises to be a magical experience for all who attend.
Performances will take place on Saturday, April 1 and April 8, 2023 at 9:30 a.m., and have already sold out for Friday school field trip performances. The play, a new work created by the Junior Company teen players in collaboration with writer Phillip Padgett and ECTC staff, invites children to flap their flippers, swish their tails, and explore underwater worlds.
"Our Theatre for the Very Young is very special in two ways. One way is to watch the eyes of little ones from 6 months old to five years old light up with the live action and colorful nature of the shows. It is a pretty great experience," said ECTC co-founder Nathanael Fisher. "Add to that the fact that our Jr Company High School Players wrote and collaborated with ECTC staff to create the show is pretty great too. It's a very creative experience for both the audience and the actors."
The show will feature a talented cast, including Lainey Whitten as Miss Angel and a school of fish played by Kate Sprenkle, Selah Metzger, Caylen Curle, Caleb Vantassel, Alexa Whitten, Lily Howland, Aubrie Porter, and Will Mustain.
The production team includes director Phillip Padgett, managing director Trenton Bainbridge, set and lighting designer Rebeca Lake, costume designer Tara Padgett, stage manager Allison Hoge, properties specialist Clara Taylor, and sound designer Rebeca Lake.
"You and Me Under the Sea" promises to be a memorable experience for both children and their families. Tickets are available now, priced between $10 and $15, and can be purchased online at emeraldcoasttheatre.org. Don't miss this chance to explore the wonders of the ocean with the Emerald Coast Theatre Company!
SPORTS
Choctawhatchee High School Boys' 4×4 Relay Team sets new school record, highlights from the weekend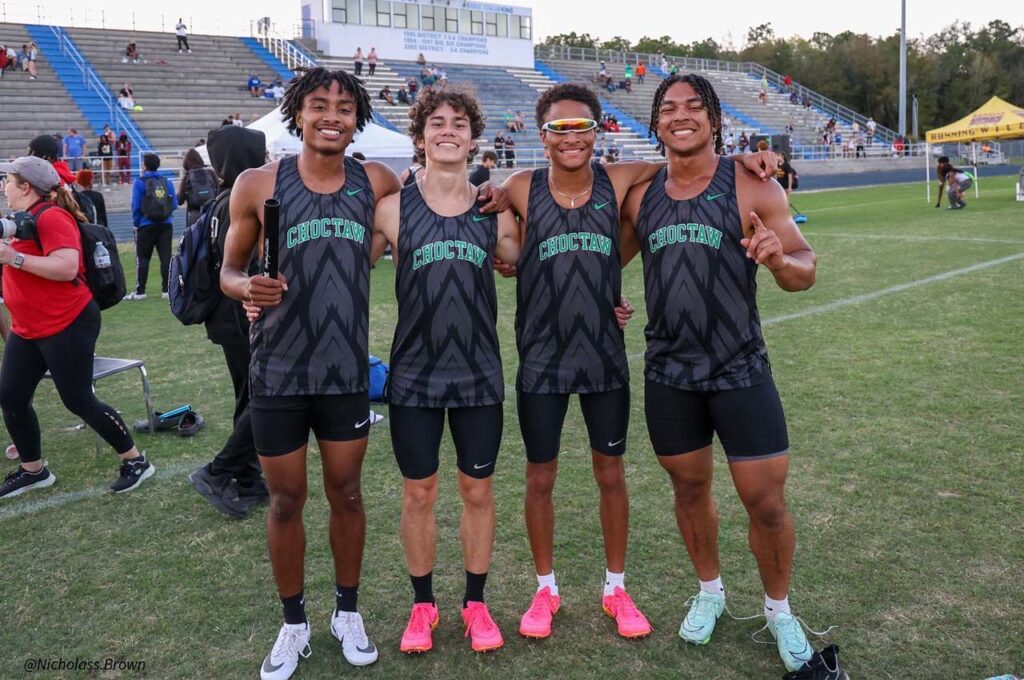 Choctawhatchee High School's track and field team put on an impressive performance on Saturday, March 4th, at the 10th Annual Steve Garst Wildcat Invitational in Pensacola. 
The boys' team finished in second place overall, while the girls' team secured fifth place.
"Overall, I am very happy with our performance," said Head Coach Courtland Fuller. "Multiple athletes had season best and personal record performances."
One of the standout performances came from the boys' 4×4 team, consisting of Justin Whidbee, Kaleb Hollins, Zachary Brainerd, and Cole Tabb, who broke the school record with a time of 3:22.09.
Coach Fuller was thrilled with their accomplishment, adding, "They are currently ranked 9th overall in Florida and Top 50 in the US."
Hayley Boyle also delivered an outstanding performance, clocking in a new personal record of 2:21.60 in the 800m race. Coach Fuller praised her effort, stating, "Hayley's time is a new personal record, and she is ranked in the Top 25 in Florida."
Moving on to other notable performances, Trevon Tyson secured third place in the Boys' 200 Meters with a time of 21.88 seconds. Kaleb Hollins took first place in the Boys' 3200 Meters, finishing with a time of 9:46.33. Ryan Seaton placed third in both Boys' 110 Hurdles (15.71 seconds) and 400 Hurdles (59.07 seconds).
The Boys' 4×800 Relay team, comprising Zachary Brainerd, Kaleb Hollins, Zachary Smith, and Nicholas Brown, clinched the first-place title with a time of 8:33.21.
Chad Russell secured second place in the Boys' High Jump event, clearing the 1.83m mark (6′ 0″). Meanwhile, Isaiah Johnson took home first place in the Boys' Long Jump with a leap of 6.68m (21′ 11″).
In the Boys' Triple Jump event, Ryan Seaton soared to victory with a mark of 13.27m (43′ 6.5″), while Jacob Muse landed in third place with a jump of 13.14m (43′ 1.5″).
Finally, in the Boys' Discus competition, Ben Darnell secured second place with a strong throw of 37.91m (124′ 4″).
On the girls' side, Brylie Kilgore secured third place in the Girls' 3200 Meters with a time of 12:18.06. The Girls' 4×100 Relay team, consisting of Adriana Lampon, Saniy Lindsey, Khamauri Hardy, and Wynter Downs, clinched third place with a time of 50.52.
The Girls' 4×800 Relay team, comprising Hayley Boyle, Isabel Harter, Brylie Kilgore, and Chi Medina, also secured third place with a time of 10:08.36.
Mia McSwain delivered an outstanding performance, finishing second in Girls' Shot Put with a mark of 34′ 7″ (10.54m) and securing third place in Girls' Discus with a mark of 30.49m (100′ 0″). Saniy Lindsey also secured third place in the Girls' 100 Meters, clocking in at 12.87 seconds.
Coach Fuller summed up the team's performance by saying, "I am extremely proud of how our kids perform on Saturday. It's still early in the season, but we are making strong progress."
The team's next meets will be at Crestview High School on Tuesday, March 7th and Enterprise High School on Friday, March 10.
OK, that's all I have for you this morning! I hope you have a great Tuesday!
p.s. What did you think of this morning's newsletter? Hit the reply button and let me know!
Published with ♥ by Get The Coast.
Did someone forward you this email? Subscribe here.
124 Eglin Parkway SE Fort Walton Beach, FL 32548