This local high school band coverage is made possible thanks to Realtor Lisa A. Norton! Support those who support our local news coverage!
There is no doubt that school programs across the country have faced significant changes this school year. As new guidelines were put into place over the summer, sports and band programs were anxious to see how they would be impacted as the fall season approached.
"COVID had a significant impact and drastically changed the way we performed, rehearsed, and even transitioned during this year's marching band season," said Brad Parks, Band Director at Choctawhatchee High School.
"We were limited to very small groups rehearsing together at a time, six feet apart, and no more than 9 students inside at a time," said Parks. "As the summer progressed, these policies allowed us to rehearse with a larger group outside, still socially distanced, but the challenge of marching and creating our regular halftime show was insurmountable while working to keep everyone safe and healthy."
Those challenges ultimately led to a dramatic change when it came to performing a traditional halftime show. Every high school band across the county decided that a stand-still show would be performed on field during halftime of home football games.
Additionally, the bands were also limited to only attending home football games. There were no away games and no competitions.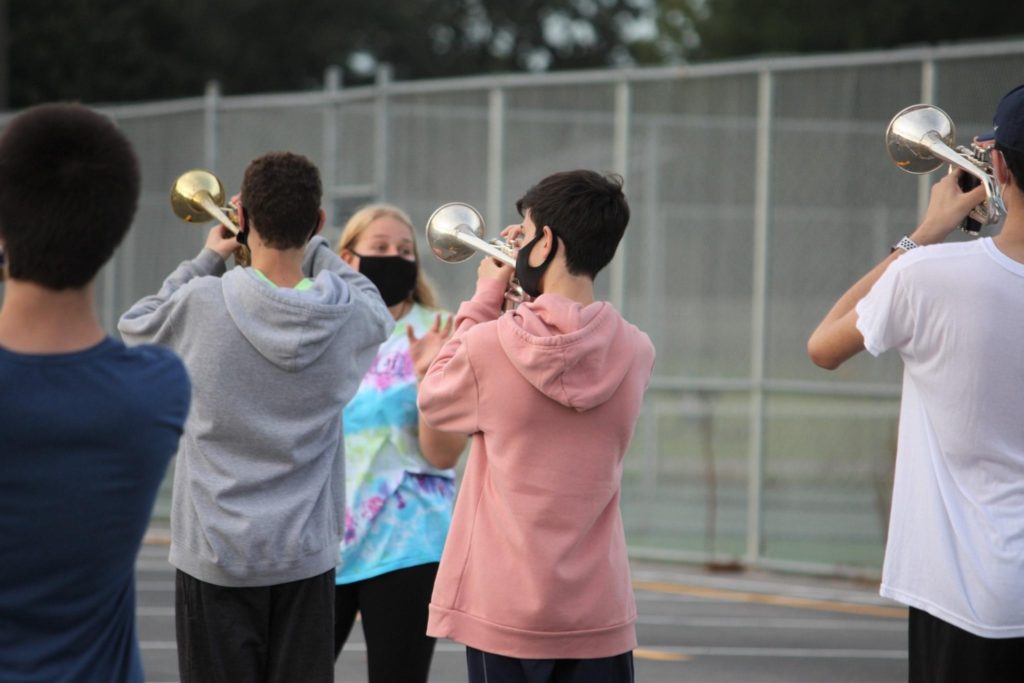 "Our in-stands performance was very similar to previous years," continued Parks. "Our most notable change in the stands was spreading out with six feet between each band member."
As for the on-field performance, it was very different in that all of the band's drill, choreography, and general show design was scaled down to a stand-still performance of eight minutes. This was also while keeping band members six feet apart.
"The students were willing to adapt to every situation thrown our way," continued Parks. "Whether it was wearing masks to (and during) rehearsals, spacing out six-feet, or adjusting to students on quarantine, the students continued to show up to make the best of the situation we were in."
The band directors weren't the only ones having to overcome students on quarantine.
"The most challenging part of band this year has been the forced absences with quarantine and trying to put together our parts with limited people at practices and in class," said Percussion Captain Hayden Jones, Senior at Choctaw.
Others, like Choctaw Color Guard Captain Hallie Duhon, struggled to stay motivated.
"The most challenging part of band this year is staying motivated when everything becomes very repetitive due to the nature of how we're performing at halftime this year," said Duhon. "We're trying to see the best in something that's different from what we're used to, but we still struggle to stay fully motivated."
"High morale has been tough to come by, as is the theme for all of 2020."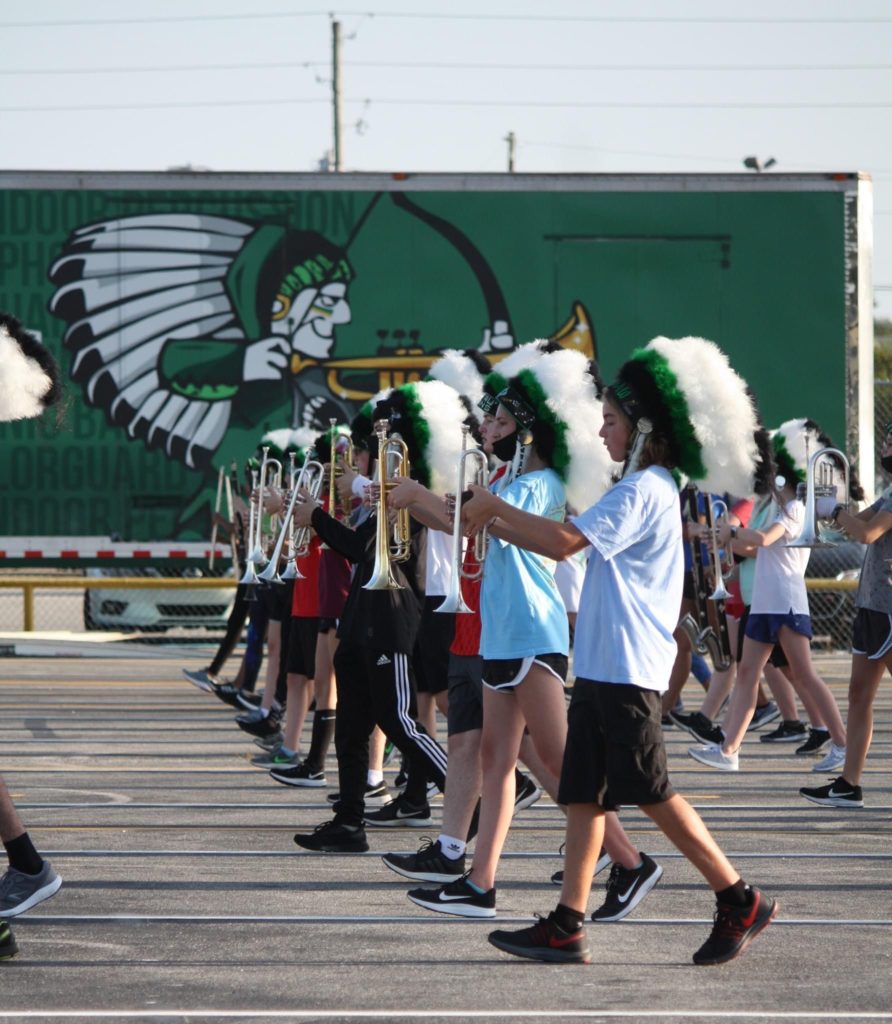 Director Parks tells Get The Coast that some of his students use band as their escape from the rest of life's challenges, while others desperately want the band to be back to normal.
"Day in and day out, it's tough to find the silver lining in everything we're experiencing but I'm glad these students are sticking with it and not giving up or giving in," he said.
Clarinet Section Leader Delaney Du Lac, echoed that sentiment.
"Since the 6th grade I've been playing the clarinet and I'm determined to not give up everything I've worked towards over the past seven years," she said. "COVID-19 has taken its toll on band but it can't stop me from being a part of the band and contributing all that I have."
For Parks, and his program at Choctawhatchee High School, he feels fortunate and proud of his students.
"I'm proud of the students' willingness to forge ahead with the hand we were dealt," he said. "We recognize there are other parts of the country where marching band was completely obsolete this year. We do feel fortunate that we could see something happen while others were stuck with nothing."
As for the rest of 2020, the Style Marchers are in full-on Holiday mode!
They are participating in the annual Fort Walton Beach Christmas Parade on Monday, December 7th and then right into their Band Christmas Concert (limited to band families only this year).
This local high school band coverage is made possible thanks to Realtor Lisa A. Norton! Support those who support our local news coverage!