Choctawhatchee High School Senior Kaleb Hollins stood on the podium multiple times last week at the National Junior Olympic Track & Field Championships in Greensboro, North Carolina.
Hollins placed 3rd overall in the 1500-meter race for the 17-18 age bracket.
And 6th place in the 800-meter for the 17-18 age bracket.
Hollins was also able to bring home the title of All-American, along with personal bests in both races.
"I was going into the competition knowing that this is something that I've never done before, but knew I was still going to do what I needed to do," said Hollins to Get The Coast after his final race.
Hollins decided to pursue the Junior Olympics competition with the encouragement of his parents and former high school coach, Jamie Lafollette ("Coach L").
"I asked Coach L about Junior Olympics, and he said he was coaching one of the track clubs in the area.  So I decided to join that track club and get some coaching and training from him while I could."
Hollins admits his strengths are rooted in his long-range running abilities, which he's proved at a local and regional level with his impressive 1st place wins in the 1500-meters races. Feeling the need to compete against others at a higher level, he set his eyes on the Junior Olympics.
Over the summer break, he worked hard on middle-distance running in preparation for the 800 in North Carolina.
"When we got to the Junior Olympics, it was a different feeling and most of the runners were pretty fast," he says. "I was racing people from different states that I've never raced against before."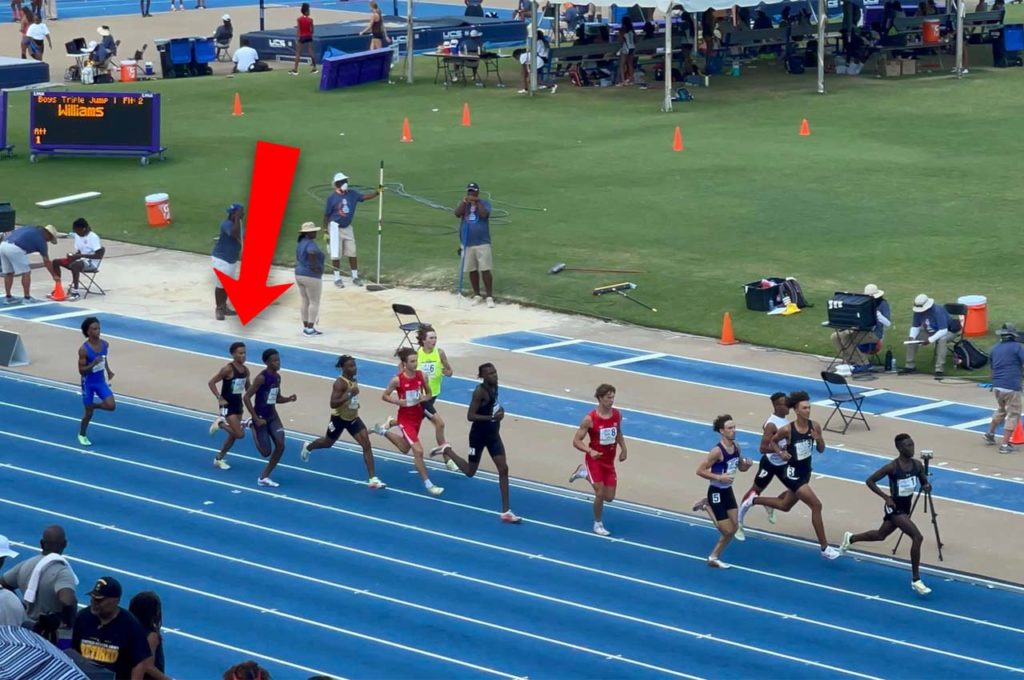 He says that while the race itself wasn't a struggle, there was a lot of mental toughness that he had to work through because the 800-meter race is one of the most mentally challenging races in track and field. Off the track, he says it was nerve-wracking due to the amount of people at the event and because it was hard to hear what events they were calling next.
"I walked to the check-in tent and asked if they had called my age group for the 800, and they said they were already in the tent," he said. "I threw my stuff on and ran up there. I had no warm-up, and no time to stretch before we got onto the field."
After a brief moment to stretch while taking his place on the track, it was time to run. Hollins says the first lap was mainly a blur for him because they were all running so fast that he was trying to focus on keeping his composure. By the second lap, he was already tired.  As they reached the 200-meter mark for the last 200, he told himself, "Okay, you gotta give all you got right here."
"And so I pushed a little bit – nothing happened," Kaleb recounts. "And I think, this is not the best situation right now.  We get to that last 100-meter stretch, it's all or nothing right here.  I realized people were slowing down in front of me, and I had to give it just a little bit more push. And then I went from 11th place to sixth place and I finished with my best ever time for the 800, which was 1:54."
As for the 1500-meter race, Hollins placed third with a time of 4:02.
"I PR'ed by 15 seconds because it was bigger competition and faster people," he said. "I was pretty excited about that and converting it to all my other races. It showed me how fast I can really go."
A win for his family, supporters, and community
Following his final race, Kaleb says he couldn't wait to see his family.
"The way he represented himself this week is like nothing I've ever seen," said mother Marlayna Goosby. "The way he has represented Okaloosa County is something to truly be admired. He's unlocked all new potential and competing at this level showed him who he truly is."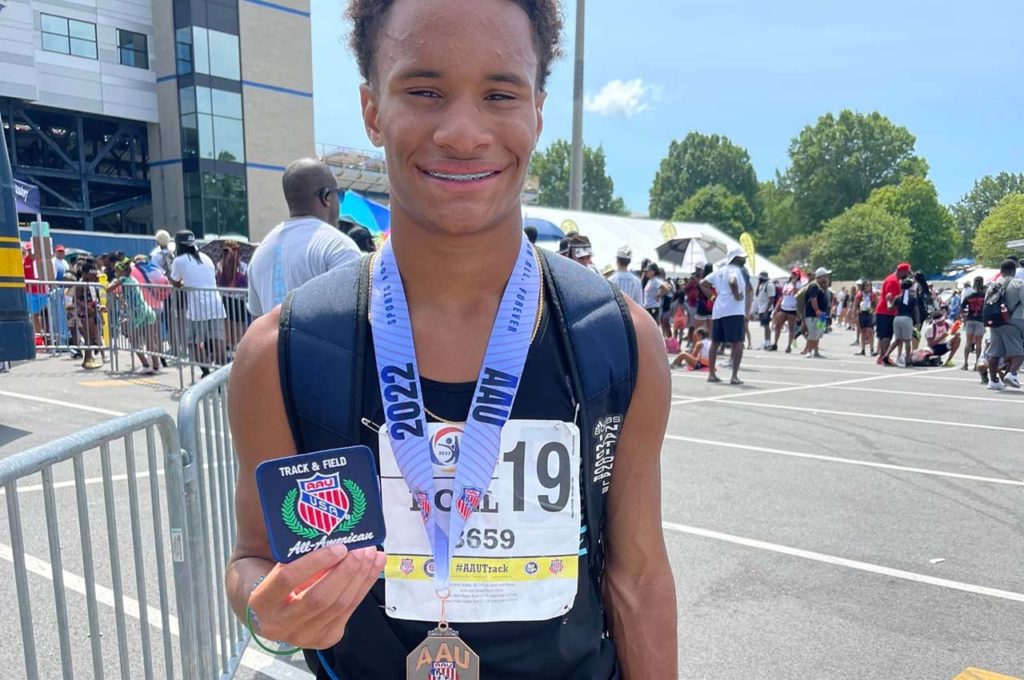 Kaleb thanks his parents for helping him with all of the traveling to meets and also for their unwavering support. He also thanked his sister, Kilaya Hollins, for being his #1 Hype Man.
Lastly, he thanked Coach James Lafollette and Coach Brian Dwyer.
"Coach L has only been coaching me for two years, but he is one of the best coaches I've had." added Hollins. "Coach Dwyer is the person who made me love running. I played football for a long time and I wondered what cross country was, and Coach Dwyer showed me the way. He made it fun and took us everywhere."
Reflecting on his time getting to the Junior Olympics, Hollins says he feels really good about what he's accomplished.
"Not too many people get to do that," he said. "Most people stay in their state and race the same people over and over again. This opens up the range for me."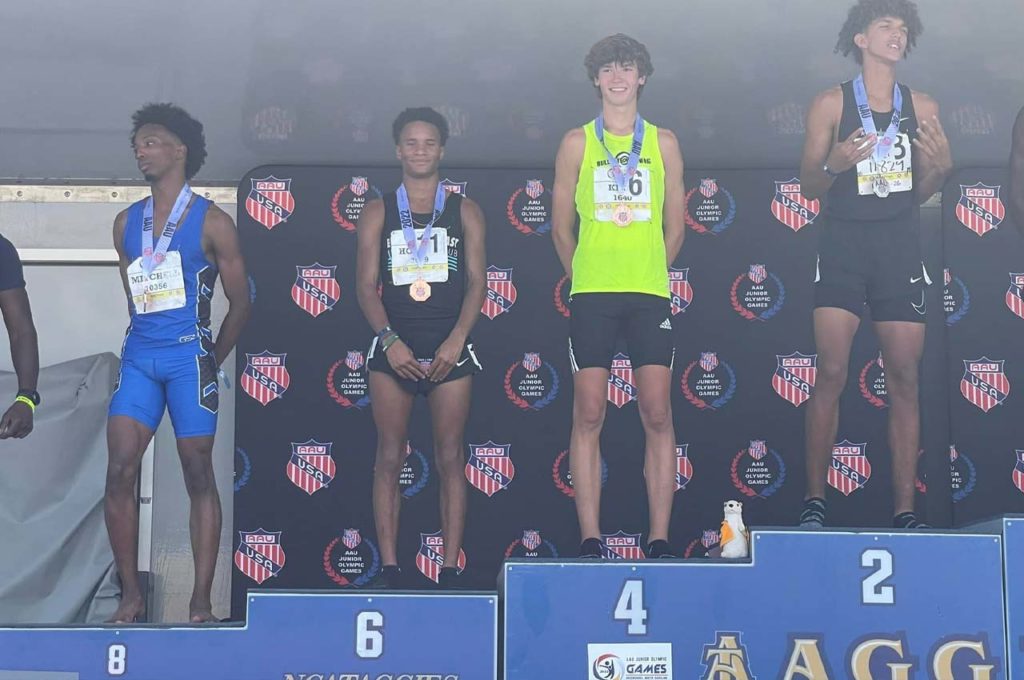 This year, Kaleb is a senior at Choctawhatchee High School and is looking forward to exceeding his expectations for running.  To improve his craft, he says plans to work on his endurance training. 
"I hope I can get on the podium for state and then get as many offers as I can for college, on both the academic and athletic side," he said. "And also just have an outstanding senior year overall."