At the Destin City Council meeting on Monday, September 18, 2023, Councilmember Kevin Schmidt presented his vision for the vacant 1 Harbor Boulevard parcel that the city agreed purchased in July.
Schmidt's idea centers around creating an outdoor amphitheater and community space that highlights Destin's culture, brings people together, and conserves nature.
The sloped vacant lot next to the Marler Bridge provides a natural landscape to shape into tiered grass seating facing a stage overlooking the water, Schmidt explained. Existing features like a large magnolia tree could also be incorporated into the design.
"One of the cool things about this is that it takes what is naturally there and uses that as our resources," Schmidt said. "Not worrying about bringing in bleachers or seats."
The stage would host community bands, shows, and other entertainment. Schmidt noted the angle projects sound towards the Emerald Grande condominiums and the Destin Harbor rather than nearby residences.
Beside the stage, Schmidt proposes an educational installation highlighting Destin and the Choctawhatchee Bay's history and maritime culture. Near the top of the slope by the road would offer space for food trucks to provide dining options for visitors.
Throughout the park, boardwalks, grass tiers, and sandy areas would invite people to gather for picnics, hangouts, and recreation. The docks could accommodate transient vessels as well as a potential future ferry service.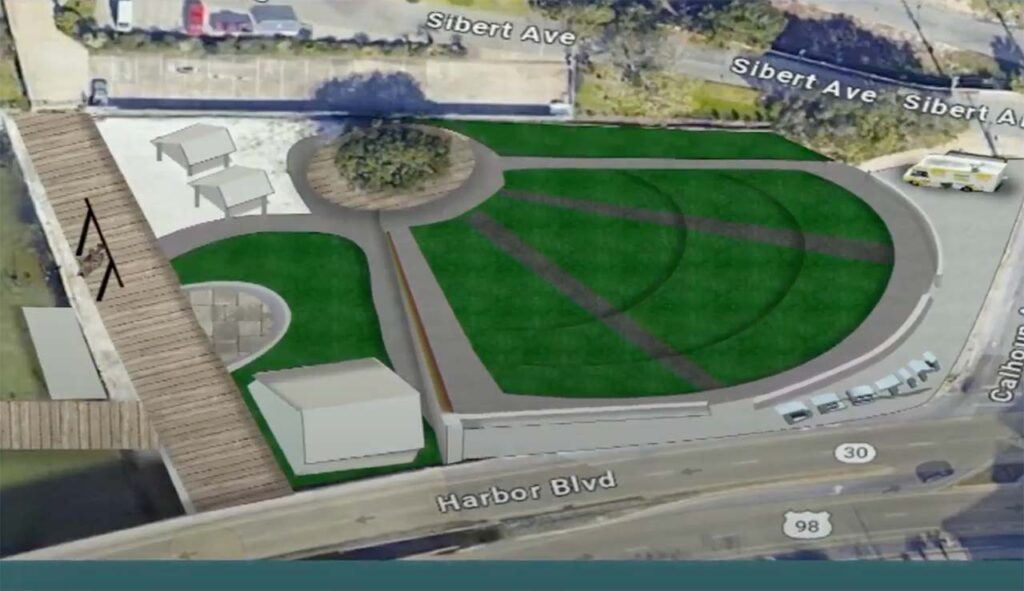 John Stephens, owner of Luther's in Destin, along with his wife, Allie, worked with Schmidt on the overall idea and design. Speaking before the council, Stephens focused on the opportunity for a mooring harbor and oyster farming.
"Right now, in the whole Panhandle, there is no mooring harbor. So we're missing out on the Loopers," Stephens said, referring to boaters who travel The Great Loop.
He proposed placing a harbormaster's office, welcome center, restrooms, showers, and dinghy dock at the parcel to serve these transient boaters. This could also provide revenue through mooring and slip fees, according to Stephens.
Stephens also advocated collaborating with the Choctawhatchee Basin Alliance on oyster farming at the site as an environmental project, not a commercial oyster harvest.
"When I say oyster farming, it's not to eat, but it's to actually use the oysters to create more living shores in our area," Stevens explained.
Council-member Schmidt framed the proposal as a starting point to gather feedback and other ideas from the community but emphasized designing the space for public use and enjoyment.
"It speaks loud about public use for our citizens," Schmidt said referring to the design concept.
The City voted to purchase the 1 Harbor Boulevard property in July for $9 million. Officials cited expanding public access and activating the waterfront as goals for the acquisition.
Moving forward: The city will continue to explore options and host workshops to hear other ideas for the vacant parcel overlooking Crab Island.