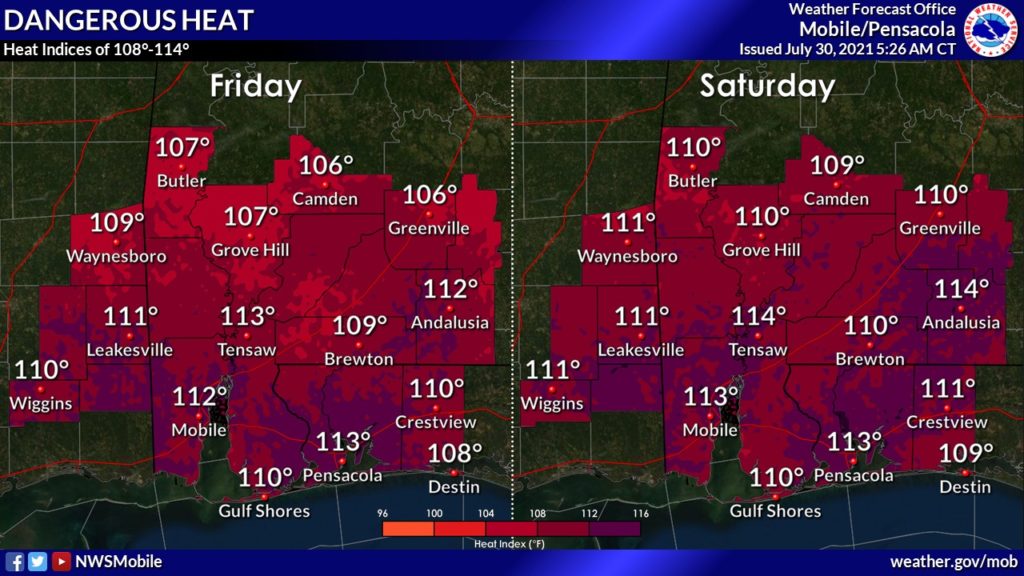 It has been ridiculously hot this week as our area continues to be under an excessive heat warning and heat advisory.
"Hot and humid conditions will remain in place across the forecast area through the weekend," said Patrick Maddox, Okaloosa Public Safety Director. "This will result in dangerous heat indices across much of the region, to extremely dangerous heat along coastal areas."
The excessive heat may extend into Sunday.
According to Maddox, high temperatures will rise into the middle to upper 90s each day through the weekend.
These hot temperatures will combine with dew-points well into the 70s to result in afternoon.
Early evening heat index values between 113 and 115 degrees across the Excessive Heat Warning area, and 108 to 112 degrees over the Heat Advisory area.
In addition, overnight low temperatures will remain very warm in the middle to upper 70s, with oppressive humidity levels, which will offer little in the way of relief during the overnight periods.
"These very hot temperatures and heat index values will create an extremely dangerous situation, especially for those participating in strenuous outdoor activities or individuals with underlying health conditions," Maddox continued. "Prolonged outdoor activities should be postponed during this period of very dangerous heat conditions."
Maddox reminds residents to check on those without air conditioning and also remember to care for outdoor pets.
Stay safe out there this weekend!