On Tuesday, May 9, 2023, Florida Governor Ron DeSantis signed a series of education-related bills that aim to empower teachers, implement new regulations on unions and school boards, and manage social media usage in schools.
The Governor also announced that he will approve more than $1 billion for teacher pay in this year's budget, which is a $252 million increase over the current record.
In the past five years, Florida has invested over $3.3 billion in teacher salary increases and bonuses.
"We have delivered another record boost to teacher pay and we have coupled salary increases with positive reforms," said Governor Ron DeSantis. For far too long, unions and rogue school boards have pushed around our teachers, misused government funds for political purposes, taken money from teachers' pockets to steer it for purposes other than representation of teachers, and sheltered their true political goals from the educators they purport to represent.
Among the signed bills are House Bill (HB) 379 and HB 477. HB 379 addresses social media usage in schools by giving teachers the authority to establish classroom rules on cell phone use during instructional times and allowing them to withhold a student's phone if it causes a disruption.
It also requires district school boards to implement website filtering to prevent students from connecting to social media sites while using a district-owned computer or server, and it prohibits the use of TikTok on district-owned devices.
The bill mandates that schools provide instruction on the harmful effects of social media.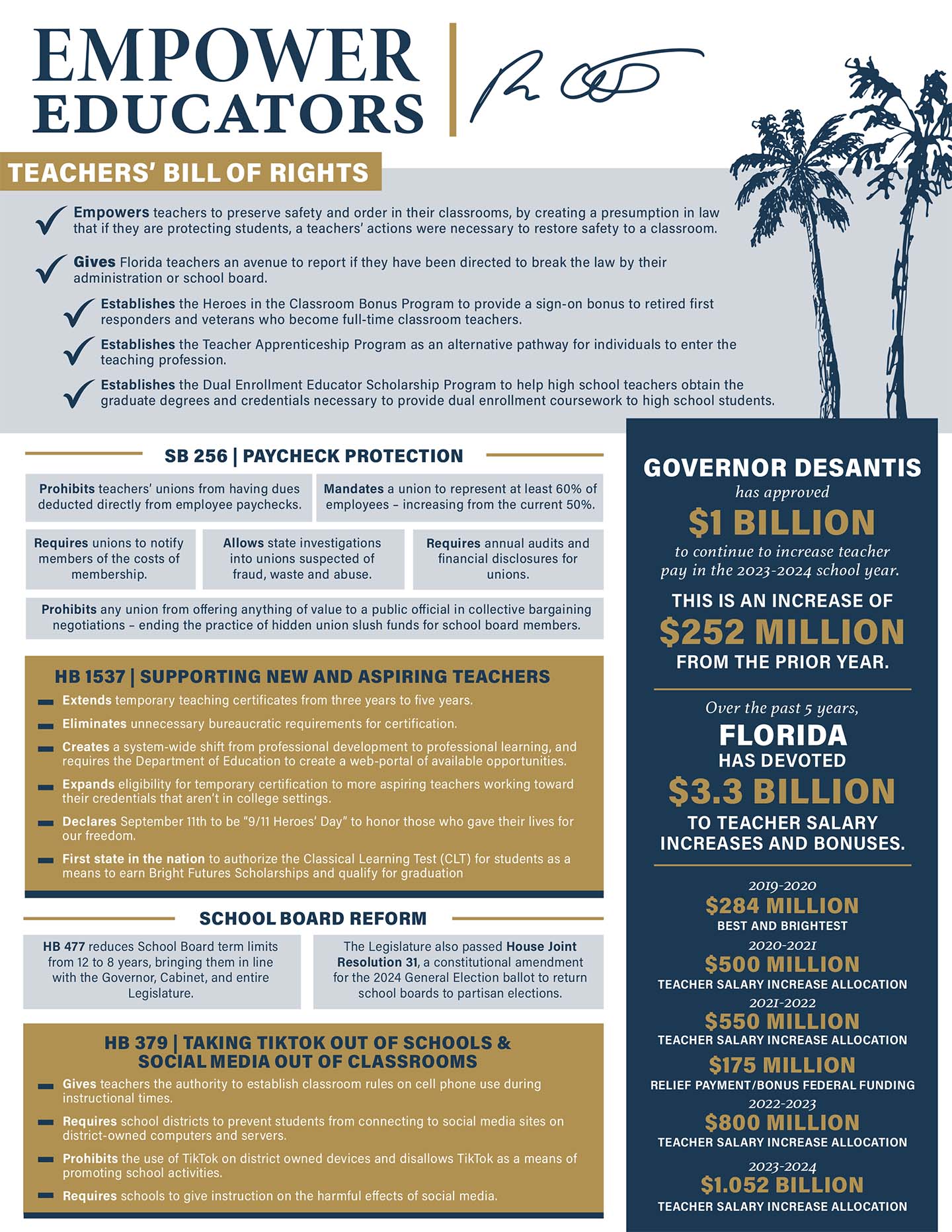 HB 477, on the other hand, reduces term limits for school board members from 12 to 8 years, aligning them with the term limits for the Governor, Cabinet, and Legislature. In addition, the Legislature passed Joint Resolution 31, which will be on the November 2024 General Election ballot, proposing to return school board elections to transparent, partisan elections.
Other notable bills in this comprehensive package include SB 256, which focuses on union regulations, and HB 1035, which establishes the "Teachers' Bill of Rights."
These bills, along with HB 1537, represent significant policy changes in Florida's education system, aiming to support and empower teachers, increase accountability, and improve overall educational quality in the state.
"Today, I want to thank our legislative leaders and the many bill sponsors for working with us to empower our teachers and ushering in a new era of accountability to the people," added DeSantis. "No longer will politically motivated school boards and special interests wield their power over Florida's teachers."