On Wednesday, December 21, 2022, Okaloosa Public Safety Director Patrick Maddox sent out an update regarding the incoming arctic air that is moving toward the northern Gulf Coast.
Overall, the forecast has had little change, with the exception of a HARD FREEZE WATCH now coming into the picture.
According to Maddox, a powerful arctic cold front will move across our area late Thursday into early Friday morning. Temperatures by Friday morning are forecast to be in the teens and 20s. Strong northwest winds are expected to follow in the wake of the front with winds currently forecast to gust frequently to 30mph or more by Friday morning and remaining somewhat elevated on Friday night.
"Given these gusty northwest winds, it will feel much colder with wind chill temperatures forecast to be in the single digits over almost the entire area on Friday morning, with below zero values possible across far inland areas," he wrote. "With winds remaining somewhat elevated on Friday night, expect similar wind chill values Friday night into Saturday morning."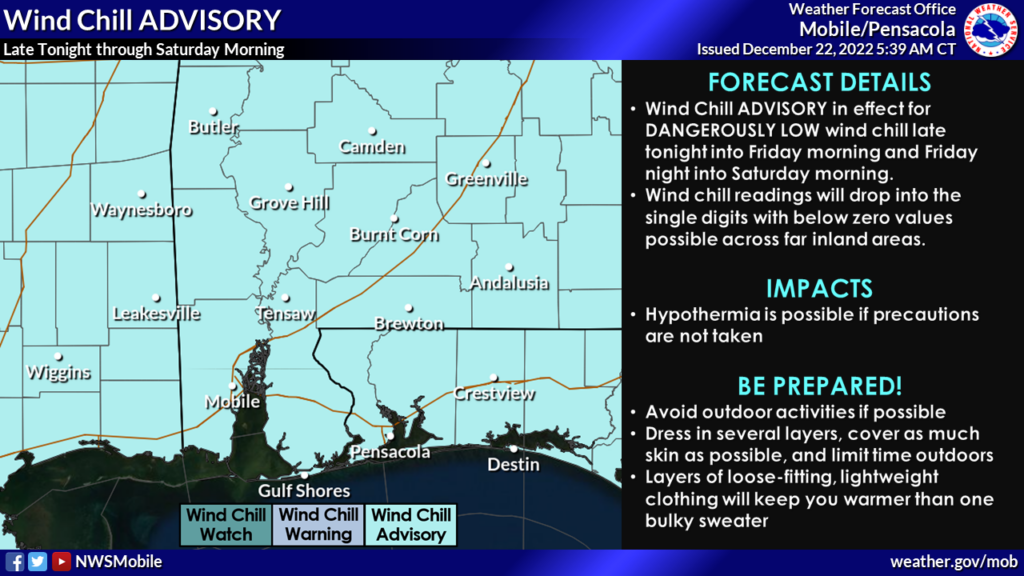 He says that Friday high temperatures will struggle to climb above freezing over much of the area and may stay in the 20s over far inland areas. Even the immediate coast will only warm to the mid/upper 30s.
Friday and Saturday nights will see lows drop into the teens over much of the area with low/mid 20s across the beach areas.
Highs on Christmas Eve will still struggle to climb out of the 30s and may still not climb above freezing in some inland areas.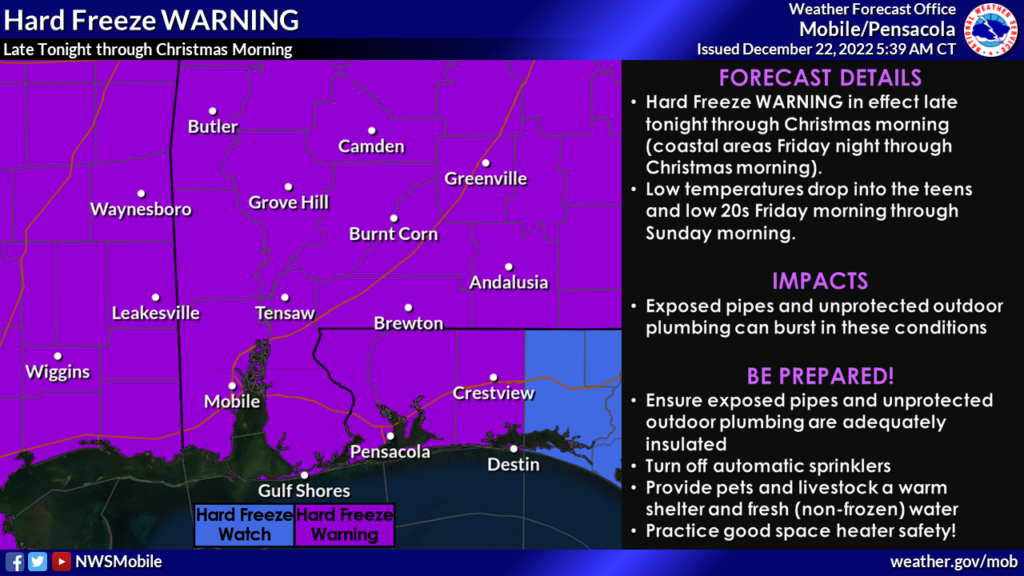 Maddox added that it is possible that once some areas north of Highway 84 drop below freezing late Thursday night/Friday morning that temperatures may not rise back above freezing until Sunday afternoon.
"A HARD FREEZE WATCH is now in effect for all areas along and northwest of the I-65 corridor beginning late Thursday night," he added. "Friday night through Christmas morning, a hard freeze watch is in effect for the entire region. Expect all areas currently in a hard freeze watch to be upgraded to a hard freeze warning as the event gets closer."
According to the National Weather Service, as it stands now, daily highs on Christmas Eve will rank in the Top 5 coldest days since records began.
Christmas morning, as lows plunge into the teens for much of the area, it will rank in the Top 5 Coldest Christmas Mornings on record.
Cold Weather Shelters will be open:
South County: Friday, Saturday, Sunday, Monday morning
One Hopeful Place Opens at 4:00 PM.
850-586-7879
1564 Percy L Coleman Rd
Fort Walton Beach, FL 32547
Website: https://onehopefulplace.org
Pickup location is Bridgeway Center, 205 Shell Ave, Fort Walton Beach. Shuttle service starts at 3:30 and 4:00PM
North County: Thursday, Friday, Saturday, Sunday
Crestview Area Shelter for the Homeless.
Opens at 6:00pm
850-398-5670
120 Duggan Ave,
Crestview, FL
Website: https://crestview.org