The city of Fort Walton Beach held a celebratory groundbreaking ceremony on Wednesday afternoon for a new addition to the popular Indian Temple Mound Museum located at Heritage Park and Cultural Center.
The new two-story, 4,800 square foot building will front U.S. Highway 98 and provide much-needed space for a new museum gift shop, administrative offices, storage, and programming areas.  
"This was a long time coming," said Museum Manager Gail Meyer during the event. "Chris Gibson, a former dedicated Friend of the Museum and previous owner of the property where the former Blue Water Zoo resided, generously gifted the adjacent land to the Museum after her passing in 2017. She had two visions for the future of the property: the Museum having a significant presence and entrance along busy Highway 98 to increase visibility and generate greater revenue."
The $800,000 project cost will be funded by $390,000 from the Okaloosa County Tourist Development Council and the remaining $410,000 from the city's Community Redevelopment Agency budget. The building addition will have a storefront on the bottom floor facing Highway 98 and the second story will house the needed office space and storage areas.
"I just want to welcome everybody here for this great groundbreaking. It's been a long time coming. Museum staff is excited. City staff is excited. Our contractors are absolutely excited, and Friends of the Museum, thank you all for being here. We truly are excited to get this underway and break ground today," shared Mayor Dick Rynearson during the ceremony.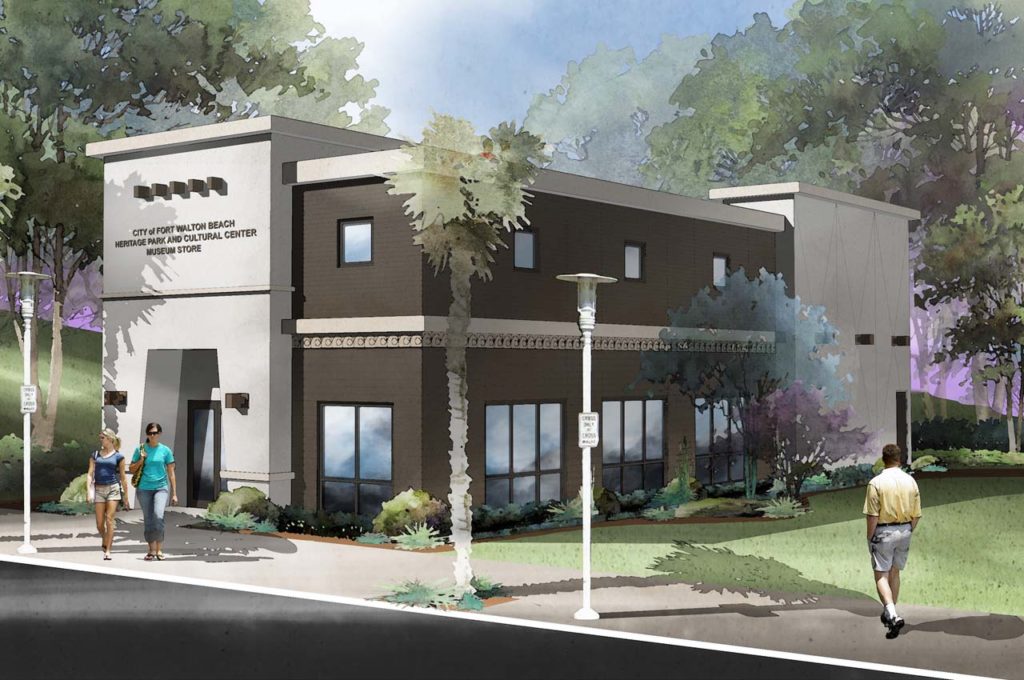 City Manager Jeff Peters expressed gratitude to the architect (Jason Floyd with JDF Architecture), contractor, and Tourist Development Council for helping make the vision a reality, along with the Gibson Family.
"This is an exciting day for us. This is a project that the museum has dreamed about for a while. This addition will give the museum an anchor spot on Highway 98 and increase visibility," he remarked.
Museum Director Gail Meyer shared the rich history of the museum and the decades-long vision to ultimately expand the gallery and programming areas.
"Chris Gibson saw the potential for our little museum to grow, but also recognized its space limitations. Her generous gift of the property and willingness of her family to work with the city has finally brought us to where we proudly stand today," Meyer explained. 
The existing Indian Temple Mound Museum will remain fully open and operational during the anticipated one year construction project. 
The Heritage Park and Cultural Center currently houses four unique museums including the Indian Temple Mound Museum, Camp Walton Schoolhouse, Garnier Post Office, and Civil War Exhibits. It is located at 139 Miracle Strip Parkway SE in the heart of downtown Fort Walton Beach.