UPDATE: The funeral service for Demetrius Thomas will take place on Monday, August 28, 2023 at 6pm at Trinity United Methodist Church at 403 Racetrack Road NW in Fort Walton Beach.
All are welcome to attend.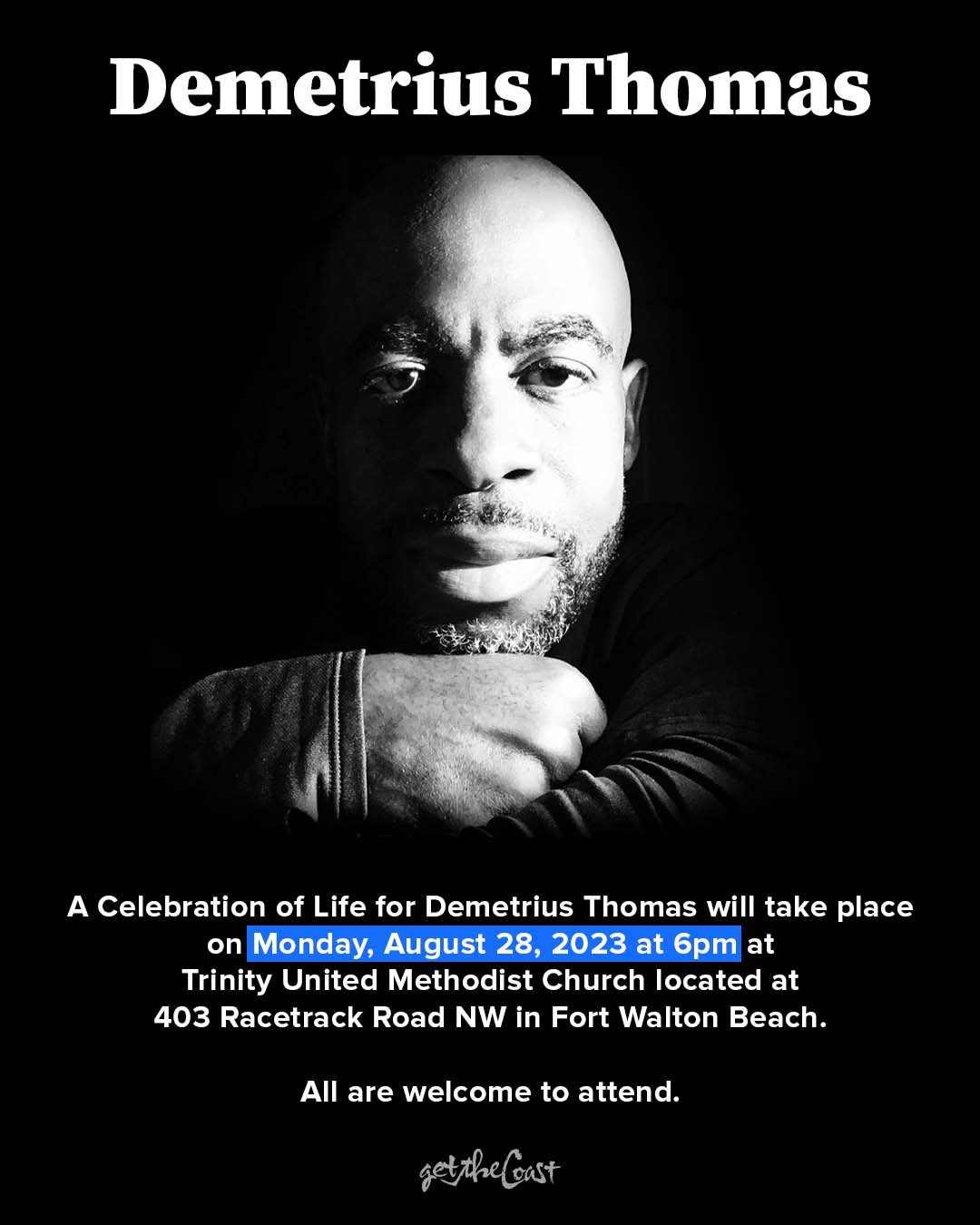 ——
On August 22, 2023, at approximately 8:59pm, the Fort Walton Beach Police Department responded to a vehicle crash with injuries at the intersection of Wright Parkway NW/Holmes Blvd NW.
According to the FWBPD, a gray Ford pickup truck operated by 48-year-old Benjamin Raser of Fort Walton Beach was traveling north on Wright Parkway when it collided with a white Acura sedan. The sedan was operated by 52-year-old Demetrius Thomas of Fort Walton Beach as he was traveling East on Holmes Blvd NW.
Lifesaving efforts were attempted by Officers and FD/EMS, but Thomas was pronounced deceased on scene.
The passenger of the gray pickup truck was transported to HCA Fort Walton-Destin Hospital where he was listed in critical condition.
Benjamin Raser was transported to HCA Fort Walton-Destin Hospital and was medically cleared. However, after further investigation, he was arrested on charges of DUI Manslaughter and DUI Serious Bodily Injury, according to the report.
Beloved lab-tech at Magnolia Medial Clinic
Demetrius Thomas worked as a lab-tech at Magnolia Medical Clinic in Fort Walton Beach. This morning, as the news broke of the crash, Magnolia closed their office and made time to come together as a staff and mourn the loss of their beloved co-worker.
"Magnolia lost our friend and brother, Demetrius Thomas, last night and words are inadequate at this time to capture that loss," said Dr. Chris Pappas, Senior Physician at Magnolia. "We spoke to his mother, Joanne Thomas, this morning, and she told us "he loved the Magnolia Clinic, the staff, and the patients."
Dr. Pappas told Get The Coast that during a staff gathering this morning that two quotes stood out to him:
"Each day is a gift from God."
"Everyone needs a Demetrius in their life."
He concluded by saying, "We are diminished. He was a key family member of Magnolia and what made us special."
The Fort Walton Beach Police Department Traffic Homicide Unit is investigating this case, according to FWBPD.
If you have any information pertaining to this incident, please contact MPO M. Montgomery or Detective M. Stirling at 850-833-9546.