On the morning of Monday, May 9th, Salt Water Vacations, the Okaloosa Sheriff's Office, as well as members of the City of Destin, assisted "Make a Wish Georgia" with a big wish from Mason Burnette.
Mason is a 6-year-old boy struggling with Leukemia. 
For his birthday, he wished to visit Destin, Florida. 
Mason loves Power Rangers, ninjas, marine life, the color red, Chick-Fil-A, and his favorite book is Green Eggs and Ham.
Mason's wish was made a reality when he was given the wonderful experience of staying in Destin and doing all of the activities that the locals love best. He was joined by his parents, Makayla Hall and Dustin Burnette.
On Monday morning, Mason was able to visit James Lee Park in Destin, where Sheriff Aden, members of the Okaloosa County Sheriff's Office, a few city officials, and representatives from Salt Water Vacations greeted him.
Not only that, but the community came through BIG TIME to make Mason's vacation in Destin the best that it could be!
Mason and his family were gifted:
Free tickets to visit the Gulfairum
Free pontoon rental services from Xtreme H20
Free meals from Boshamps, Harbor Docks, Brotulas, Soleil, Crab Shack, and Chick-Fil-A.
Smoothies from Tropical Smoothie
Free access to the Fort Walton Beach Science Center
Smile and Wave dolphin boat ride from by Capt. Pam
And more!
Mason also met and received a city challenge coin from Mayor Gary Jarvis, along with a goodie bag that included a brand new copy of Green Eggs & Ham from the Destin Library.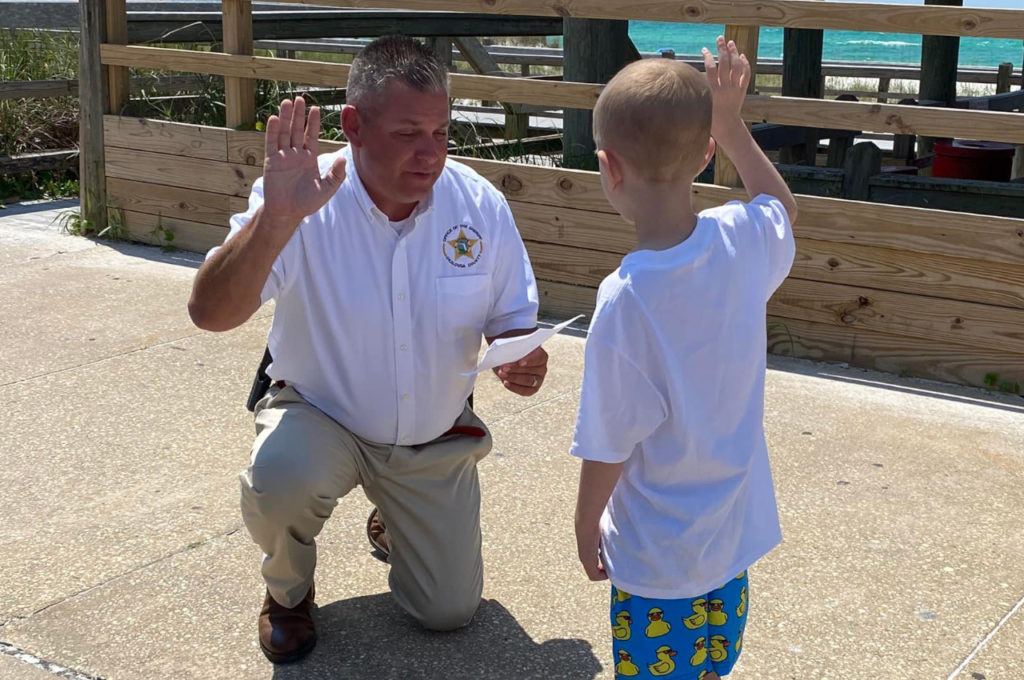 He was then sworn in as a Junior Deputy by Sheriff Eric Aden, who present him with a Junior Deputy Badge, blanket, and a goodie bag. K9 Deputy Tim Patterson introduced Mason to K9 Beau, followed by a ride on the beach in an ATV.
Okaloosa County Commissioner, and Chairman, Mel Ponder was also in attendance where he received even more goodies!
"I cannot express how grateful we are at Salt Water Vacations for all the hard work from OCSO, the City of Destin, the Mayor, Mr. Ponder, and countless others who showed up and showed out today for Mason," said Shantel Simpson, Guest Relations Manager for Salt Water Vacations. "His mom said he will not stop talking about his VIP Day and that he is now a Sheriff here in Destin!"