On Monday, Saltwater Restaurants Inc. celebrated the release of a rehabilitated blue heron named "Bob" in partnership with the Emerald Coast Wildlife Refuge. The event took place at Al's Beach Club and Burger Bar at The Boardwalk on Okaloosa Island.
"Bob" was named in honor of Robert "Bob" Bonezzi, founder of Saltwater Restaurants, Inc.
"Bob" was found entangled and injured by a local resident earlier this summer. Upon arrival, staff at the Emerald Coast Wildlife Refuge were able to X-ray the heron and noticed more entanglement internally as well as two fishing hooks. 
The Emerald Coast Wildlife Refuge provided medical care and rehabilitation for the bird, which they say is representative of the over 2,000 native Florida wildlife the refuge cares for each year. "Bob" is patient number 1,021.
The release marks a continuing collaboration between Saltwater Restaurants and the wildlife refuge. As part of their S.E.A. Initiative (Safety, Environment, Activities), Saltwater Restaurants donated $10,000 to support the refuge's conservation efforts.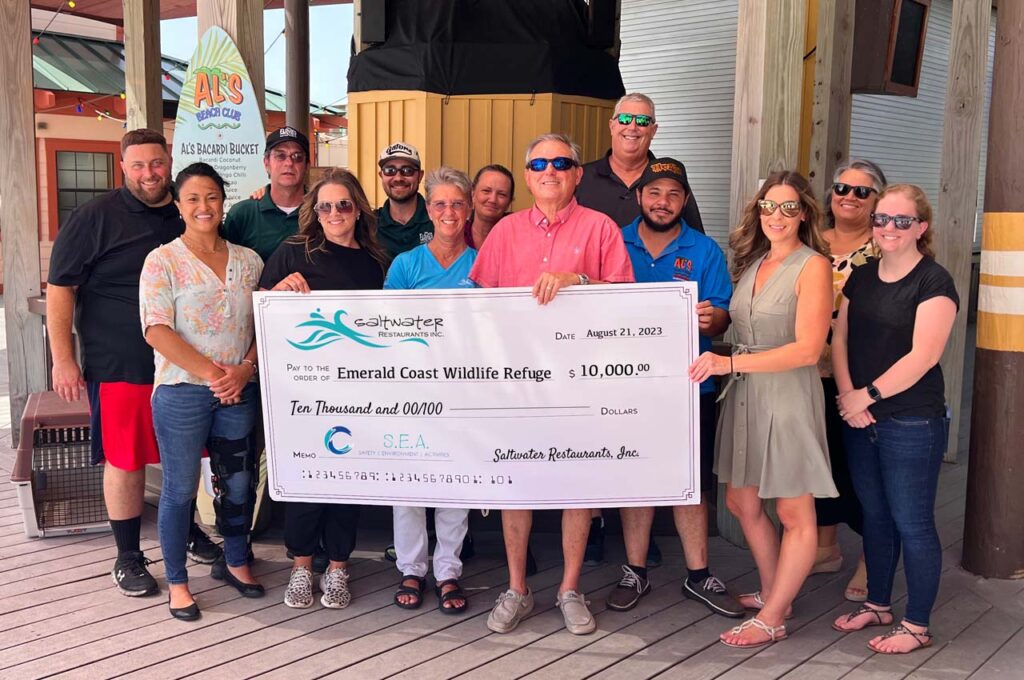 "Herons are very important to our area because they are indicators of ecological health," said Pascal Robin, Executive Director of the Emerald Coast Wildlife Refuge. "Without partnerships like S.E.A, ECWR would not be able to afford to provide the care our shorebirds and marine mammals require."
The S.E.A. Initiative aligns with Saltwater Restaurant's goals of serving their local community while protecting the environment, according to CEO Nick Sarra.
"The S.E.A. Initiative is at the heart of what we believe in," said Sarra. "We are not just about serving great food but also about safeguarding our environment and fostering community activities that families can cherish."
Saltwater Restaurants will continue supporting the refuge by selling a special "Blue Heron Cocktail" at participating locations. A portion of proceeds from each cocktail will go directly to the Emerald Coast Wildlife Refuge.
For more information about the Saltwater Restaurants Inc. S.E.A. Initiative visit https://www.saltwaterrestaurants.com/sea