The Destin History and Fishing Museum has announced an exciting new event coming to our area this fall. On September 30th, the museum will host the First Annual Destin 5K Mullet Run & Walk.
This family-friendly event hopes to bring the community together for some fitness, fun, and fundraising.
The 5K run and walk will kick off at 4pm at the Beach Camp Brew Pub, and wind through the streets of Destin, following the popular old Hogs Breath route.
After the race, participants can enjoy food, refreshments and an awards ceremony. T-shirts will be given to the first 250 registrants. As a nod to Destin's fishing heritage, there will also be a special "Mullet Toss" challenge and awards for best mullet-themed costumes.
"It is a fun play on words. We're going to give out prizes for a 'mullet' look hairstyle, or even if somebody comes dressed as an actual mullet, we will take that into consideration as well," said a museum Executive Director Vivienne Williams. "Mullets are back in style and we've had a lot of kids come through the museum with mullets, so we're very excited to see what everybody shows up ."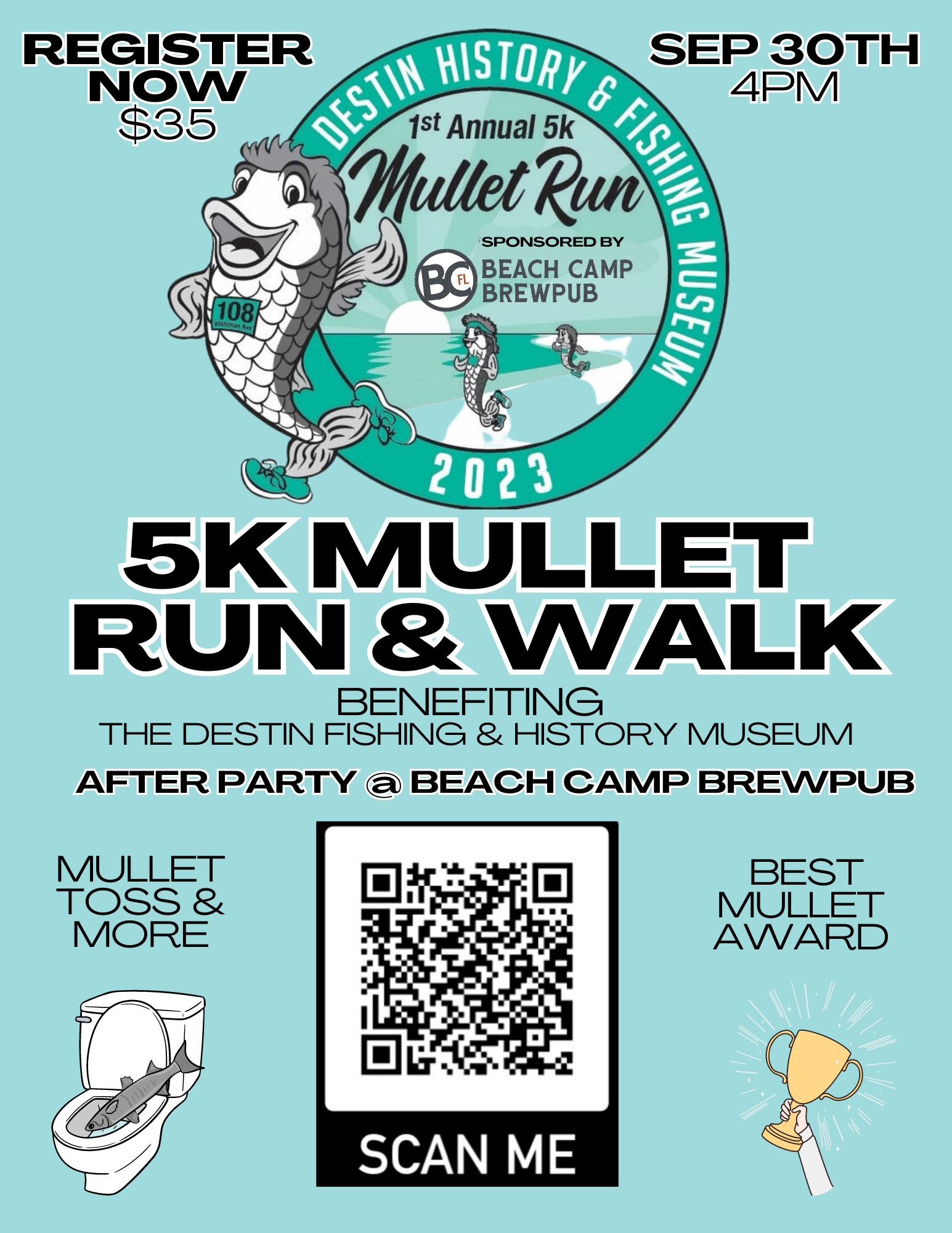 Proceeds from the event will go towards supporting the Destin History and Fishing Museum. The museum does have several new exhibits coming in and they have a new Captain's Wall, as well.
"We have one large exhibit coming in as well that's done by a private donor and some of these proceeds will help supplement that," added Williams. "We're redoing our outside exhibits, both in signage and in paint and repairs, so we have a lot of new exhibits in the future that this money is going towards." 
Williams explained how fundraising initiatives like this new mullet-themed 5K Run/Walk are important to the museum, and how the community's continued support helps them achieve their goals.
"I'm a firm believer that museums should be a part of their communities and not just share the zip code," she said. "We love this community and love to be a part of it. So it's very important for us that the community can have a good time with us. We encourage everyone to come out and participate in what's sure to be a fun community event."
For more information or to register for the race, visit destinhistoryandfishingmuseum.org or call 850-837-6611.