May 24, 2023
|
Reading time:
19 mins
TOGETHER WITH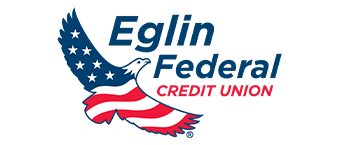 Good morning!
Today is the last day to submit your pictures for the Heron Hunt contest sponsored by Fort Walton Beach Chiropractic.
The herons were designed by 20 local artists, who were chosen from a pool of entries through a thorough review process. In February, the herons were unveiled and scattered throughout southern Okaloosa County.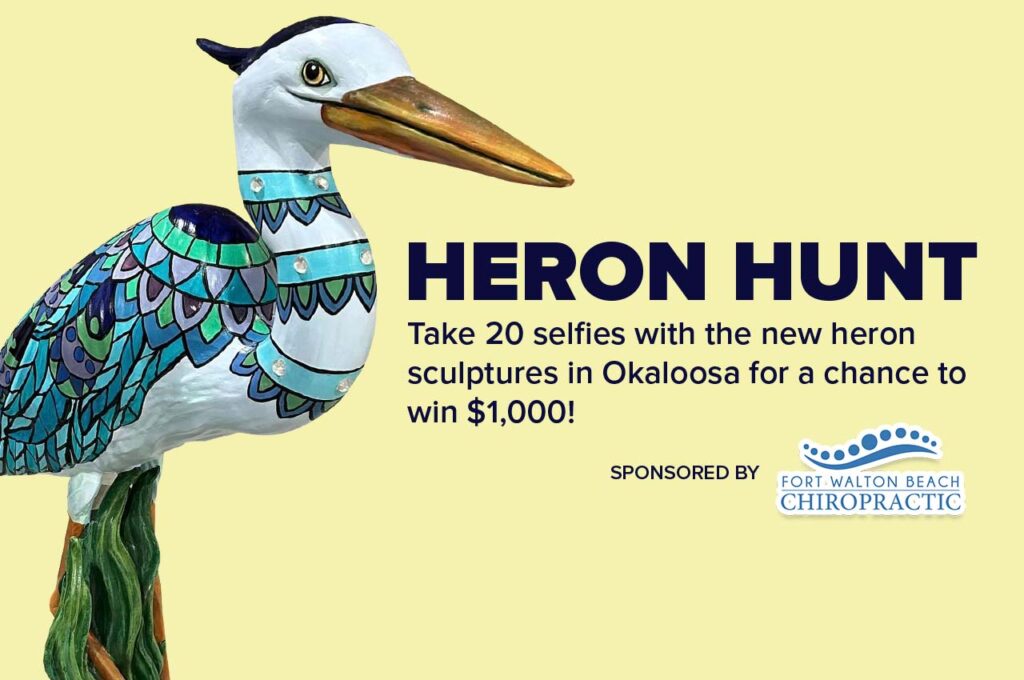 Dr. Scott Smith wants to raise more awareness throughout the community about the herons and encourage residents to get out and go see them.
To help with this, Fort Walton Beach Chiropractic is hosting the "Heron Hunt" where one lucky participant will win $1,000. Participants have to take a selfie with each of the 20 Herons and then upload the photos to getthecoast.com/heronhunt.
Get those pictures submitted by today!
SCHOOL
Second graders at Mary Esther Elementary dive into research with fun 'Ocean Biome' project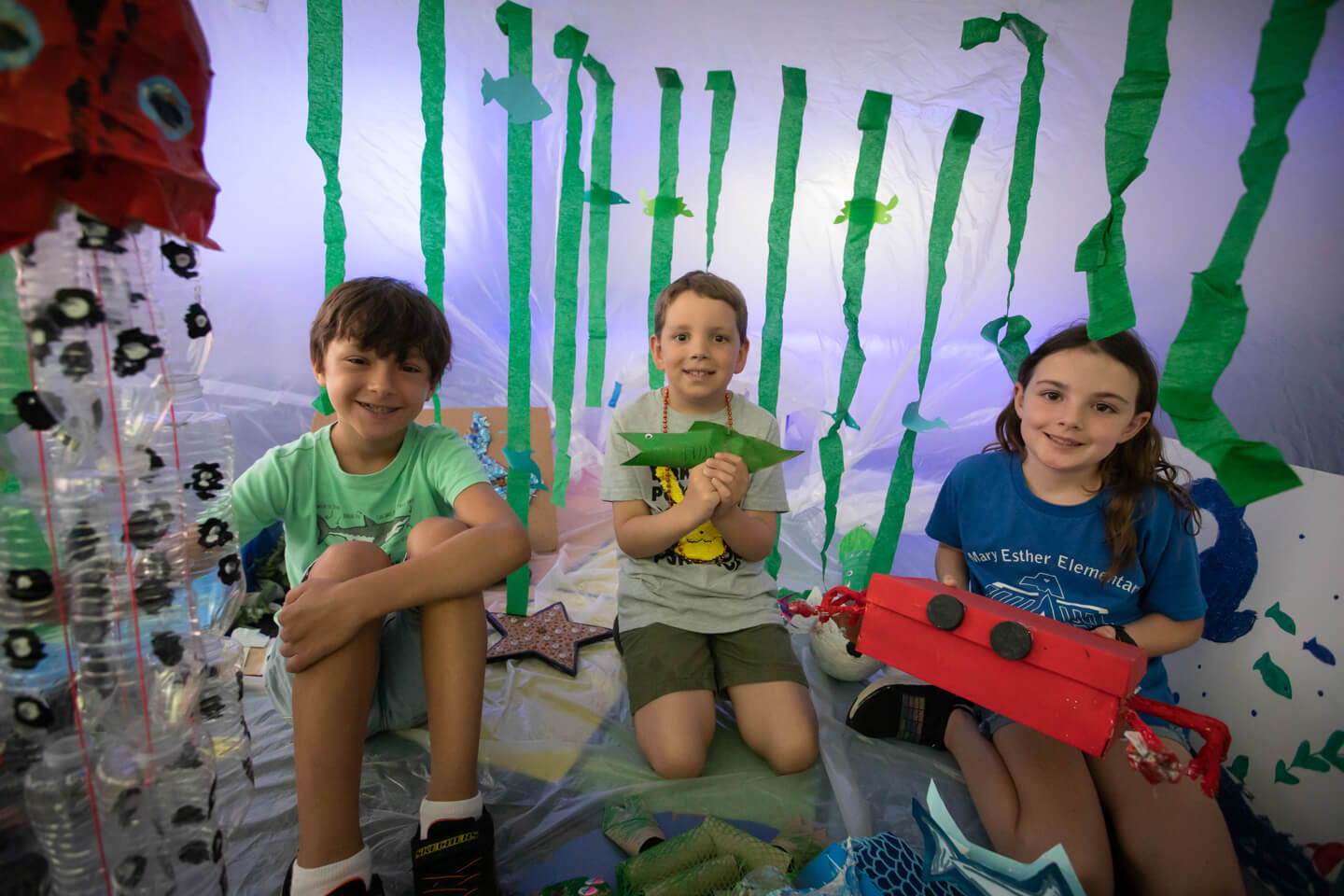 With the final week of school upon us, second graders at Mary Esther Elementary School are diving deep into a world of marine exploration.
Guided by their teachers Mrs. Lindsey Rodrigue and Ms. Janice Fendrick, the students have been fully immersed in their year-end "Ocean Biome" project, a dynamic, hands-on experience that brings together research, creativity, and a touch of magic.
The idea behind the project is simple yet profound. It's all about introducing the students to the beginning stages of research, a crucial skill in their academic journey, and culminating with an "underwater" experience.
As Mrs. Rodrigue shares, "We wait until the end of the year and do a huge unit." With a sense of excitement building, the students look forward to shark week followed by a week devoted to diverse sea creatures.
Taking a no-cost approach, the students use recycled materials to create their chosen sea creature at home, simultaneously teaching them the importance of sustainability. They then embark on a research adventure, using Google search on their iPads at school to discover and document fascinating details about their marine animal.
An inflatable ocean biome takes the center stage in this learning journey. Upon entering this underwater world, the students see the creatures they crafted, fostering a real sense of accomplishment and making learning truly memorable.
In a beautiful blend of subjects, Ms. Fendrick, who teaches the math portion, has cleverly integrated numeracy into the project. Students "go fishing for a shark" and use their catches to construct addition problems. She also ties in reading, focusing on the Plant and Animal Life Cycle.
One of the project's many highlights is the moment when students get to "read under the sea." With the lights off, the children take turns in small groups reading inside the blown-up ocean biome, creating a serene and captivating environment that encourages a love for literacy.
For the second year running, the "Ocean Biome" project has captivated not just the students but also the rest of the school. Its popularity has even inspired plans to enhance the project next year with a greater focus on 3D animals.
But amidst all the success and positive feedback, Mrs. Rodrigue and Ms. Fendrick are quick to credit their predecessor, Ms. Barbie Stricklin. Stricklin, who is now retired from teaching, originally created the ocean biome concept. Now, her legacy lives on, inspiring curiosity and a love for learning in some of Mary Esther's youngest students.
As the school year draws to a close, the students are not only developing essential skills but also learning more about the sea creatures that are in our backyard. This year's Ocean Biome project has once again proved that learning can be a fascinating journey, filled with discoveries, creativity, and a sprinkling of magic.
SPONSORED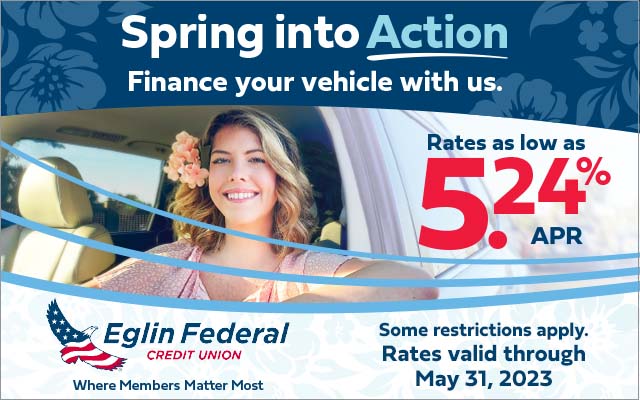 Spring into Action and finance a new or used vehicle with Eglin Federal Credit Union.
With auto loan rates as low as 5.24% APR, make a beeline to drive the car or truck you want. Learn more at eglinfcu.org/auto.
Some restrictions apply. Rates valid through May 31, 2023.
MUSIC
Sinfonia's Youth Orchestra gearing up for Beginning Strings Summer Camp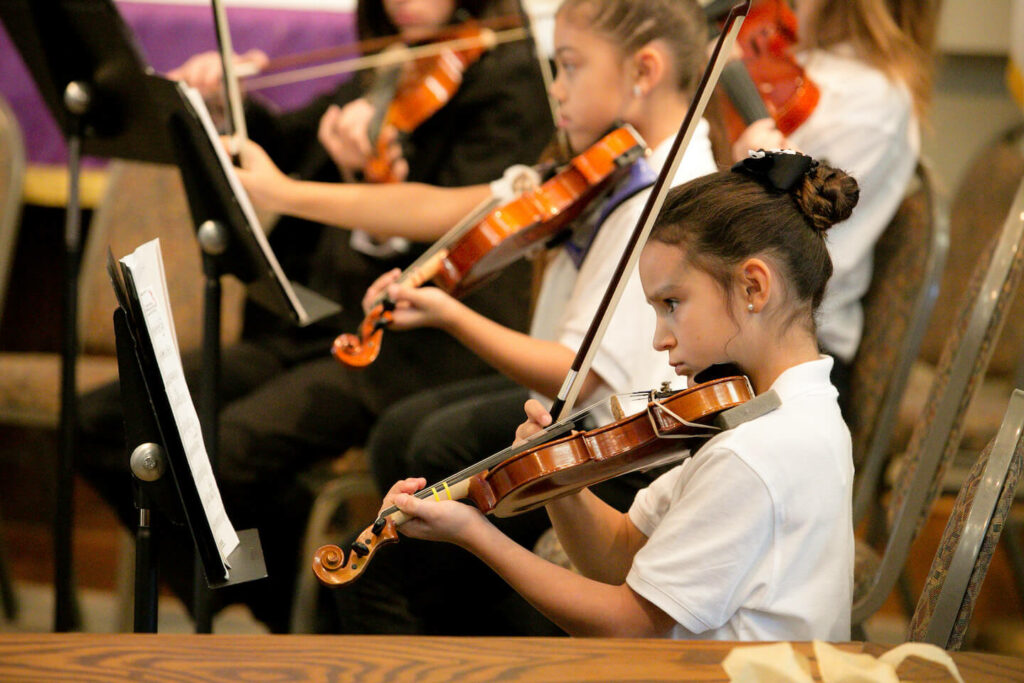 Calling all young string musicians to Destin.
Sinfonia Gulf Coast Youth Orchestra has announced the Sinfonia Beginning Strings Summer Camp, a fun-filled five-day program designed to introduce children ages 7-11 to the world of string instruments. The camp will take place from June 12-16, 2023, from 9 a.m. to 11:30 a.m. at Destin High School.
This beginner strings summer camp is open to all children, regardless of prior musical experience. Participants will have the opportunity to choose between violin, viola, cello, or bass and learn the fundamentals of music theory, music history, and how to play their chosen instrument.
Throughout the week, dedicated instructors will provide comprehensive instruction, ensuring a supportive and engaging learning environment for all participants.
To enhance the learning experience, each student will receive a rental instrument for the duration of the camp, along with all the necessary accessories. The tuition fee for the camp is $125 per student, which covers instruction, instrument rental, and all required accessories.
The camp is limited to 25 students, and registration will be accepted on a first come, first serve basis.
The highlight of the camp will be a final presentation where students will showcase their newfound skills to their parents and families on the last day of class. It will be an excellent opportunity for the young musicians to demonstrate their progress and celebrate their accomplishments.
"Education is the centerpiece of Sinfonia. It was founded in 2005 not only for its entertainment value, but for the fact that Northwest Florida needed an organization that could be the proponent for arts education in schools, specifically music education," said Sinfonia Gulf Coast Music & Artistic Director Demetrius Fuller. "Beginning Strings Summer Camp is a wonderful way for local young musicians to experience a new music adventure and have fun doing it."
To register for Sinfonia's Beginning Strings Summer Camp, interested individuals can visit the following link: https://app.arts-people.com/index.php?class=sgc.
SPORTS
Niceville Boys win third straight State Championship, Girls show force in FHSAA Track and Field Competition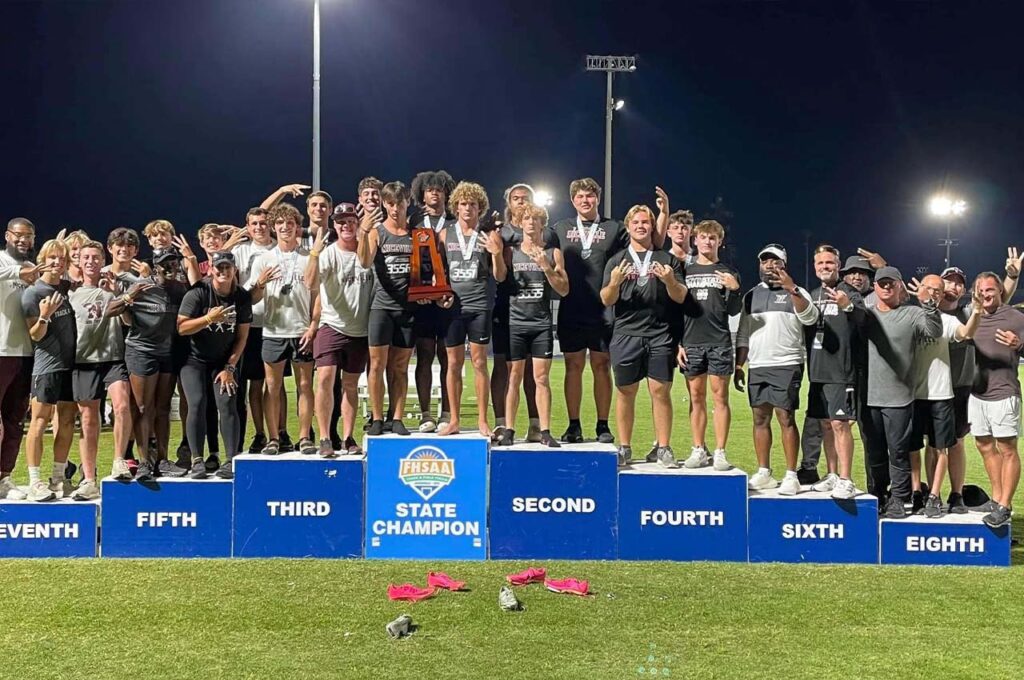 In a show of force, Niceville High School left its mark at the Florida High School Athletic Association (FHSAA) Outdoor State Finals 2023 Track and Field Competition.
The event, held from May 17-20 at Hodges Stadium in Jacksonville, FL, witnessed the Niceville athletes rise to the occasion in the 4A Championship meet, delivering commendable performances across numerous events.
The girls' 4×800 relay team, consisting of Lexi Roberts, Yaremi Figueroa, Kate Tomaschko, and Trinity Holland, not only took gold but also shattered the school record, making it a double cause for celebration.
Mikayla Williams was a standout in the field events, finishing third in both the Long Jump and Triple Jump, with marks of 5.69m and 11.79m, respectively.
Equally impressive were the boys' events. Aidan Broussard, a first-year track athlete and javelin thrower, made a throw that not only broke the school record but also set a new state record.
Another moment of glory came when Raiden Lafortune, who had recovered from several injuries, clinched the second place in javelin throw.
Oli Broutin exhibited his athletic prowess, placing in the top five in the high jump and clinching third place in the triple jump.
The first place in Boys' Discus was secured by Terrance Powe with a throw of 51.33m.
"We have the best staff in the state of Florida," said Head Coach Todd Brigman. "The way we have proven to win is through the technical events. These athletes learn their technical specialties from this coaching staff. I have the privilege of working beside them."
Overall, Niceville High School exhibited exceptional performances across the board in the FHSAA Outdoor State Finals 2023 Track and Field Competition. Congrats to the Niceville Boys' team for securing their third consecutive state title.
Click here to read the full story on many more Niceville Athletes!
EVENT
Fort Walton Beach prepares for Annual Memorial Day Ceremony at Beal Memorial Cemetery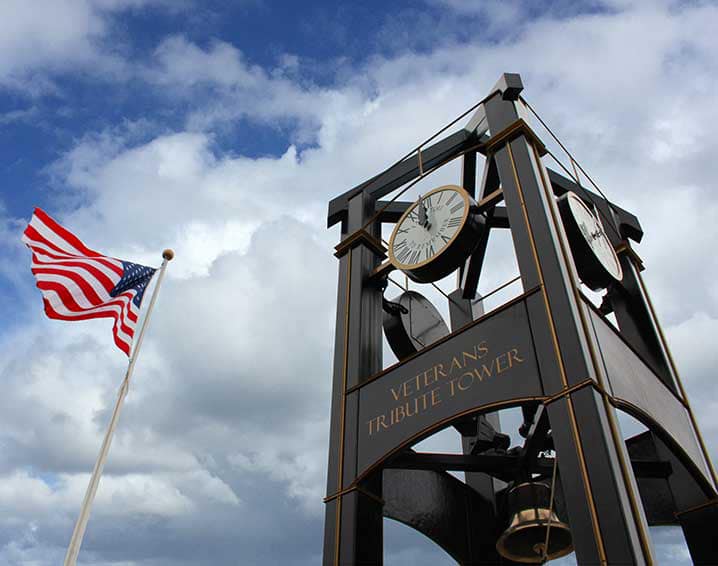 In a tradition of remembrance and tribute, Fort Walton Beach is once again gearing up for its annual Memorial Day Ceremony, scheduled for Monday, May 29th, 2023.
The Veterans Tribute Tower Committee is at the helm, hosting this cherished event at the Beal Memorial Cemetery, home to the Beal Memorial Veterans Tribute Tower.
This year's gathering will kick off at 10:00 a.m. with a noteworthy guest speaker: Brig. Gen. Jeffrey T. Geraghty, Commander of the 96th Test Wing Air Force Materiel Command at Eglin Air Force Base.
In a solemn testament to the sacrifices made by our servicemen and women, the names of the recently fallen will be recited at the event. This gesture serves to remember and honor the over 1,800 veterans interred at the Beal Memorial Cemetery. The community is encouraged to bring small bouquets to place in the Community Wreath, a shared symbol of collective remembrance for military members who have passed away since the last Memorial Day.
Contributing to the reading of the names will be a cross-section of local leaders and community members. This includes Florida State Representative Patt Maney, Fort Walton Beach Mayor Dick Rynearson, Cinco Bayou Mayor Jean Hood, and Shalimar Town Mayor Mark Franks. Colonel Kevin Trujillo, the 7th Special Forces Group Florida Group Commander, will also join the ceremony, along with ceremony leaders and citizens from our community.
Adding a spiritual dimension to the ceremony will be Reverend Cecil Williams of the Gregg Chapel AME Church, and Chaplain (Captain) Brent Sadler of the 2nd Battalion, 7th SFC (Airborne). They will be accompanied by diverse contributors including Lt. Col. (Retired) Frank Roberts, students from Liza Jackson Preparatory School, cadets from the Fort Walton Beach High School Air Force Junior ROTC, and the esteemed Okaloosa County Sheriff's Office Honor Guard.
Mr. Reid Soria from Autism Sings will also participate, bridging communities in a shared cause of remembrance.
In the event of inclement weather, the ceremony will be relocated to the American Legion Post 235, conveniently located at 105 Hollywood Boulevard NW.
To ensure that the names of recently passed veterans are included in the remembrance, or for any additional information, please contact Tom Rice, event chair and operator of the local Magnolia Grill, at 850-302-0266.
BEACH SAFETY
Okaloosa County calls on Junior Lifeguards for exciting summer program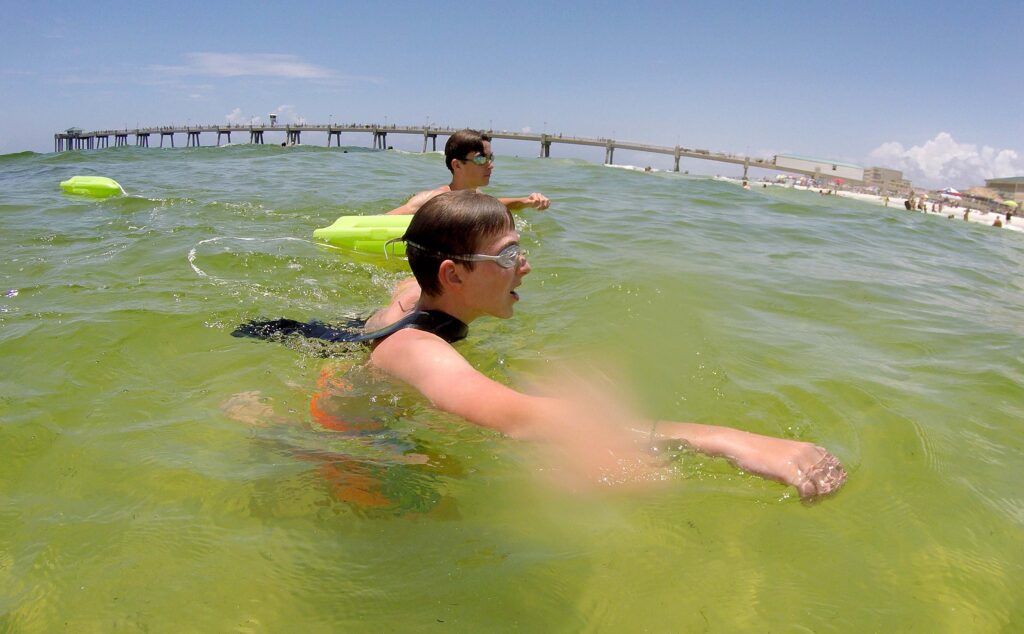 Okaloosa County is calling all Junior Lifeguards ages 9-17!
Whether you have a keen interest in lifeguarding, or simply looking for a fun way to spend part of your summer, the Junior Lifeguard Program promises an enriching experience filled with important skills to learn.
The buzz around this year's program is particularly high, with a new feature being added. If the prospect of becoming a junior lifeguard wasn't exciting enough, participants this year will also have the unique chance to compete against fellow junior lifeguards in Destin and South Walton.
More details about this competition will be provided by the county as it gets closer to the event date, which is slated for the end of July.
The aim of Okaloosa County's Junior Lifeguard Program is much more than just a fun summer activity. It serves a greater purpose – to educate our community, particularly our younger members, about beach safety. Juniors will learn essential skills such as water rescues, self-rescues, and rip current anatomy, as well as hands-only CPR.
But the fun doesn't stop there! As part of the program, junior lifeguards will also enjoy trips to the Okaloosa Island Fire Department, EMS, and even receive tours of Gulf Flight Helicopters.
Mark your calendars for July 10th to July 21st, from 9 AM to 4 PM, for an unforgettable session. The cost to participate is $300. Don't forget to bring your application and a check made out to ECLA.
Questions? Lt. Levi Hanks is just a phone call (850-259-3999) or an email away (okaloosajuniors@gmail.com).
FISHING
New Red Snapper Fishing Tournament to benefit Okaloosa County's Artificial Reef Program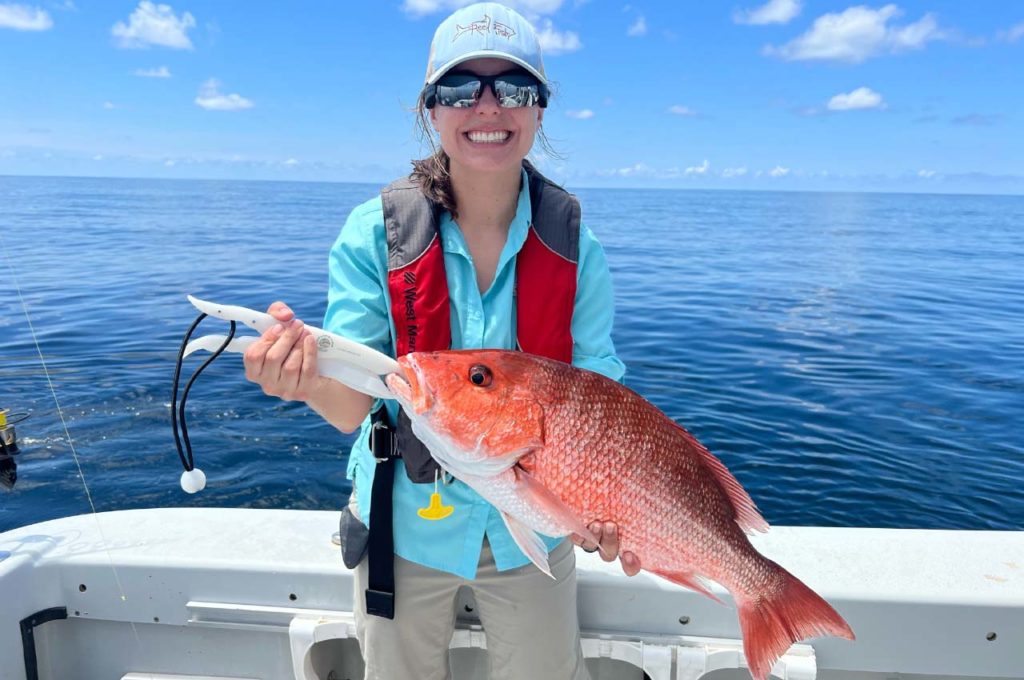 The inaugural 'Livin' Right Red Snapper Rodeo,' a community-oriented fishing tournament, is set to take place in Destin-Fort Walton Beach from June 16-18, 2023.
The tournament, the first of its kind, is the brainchild of Livin' Right Real Estate in Fort Walton Beach that will benefit the Okaloosa County Artificial Reef Program.
"It's the first year of Livin' Right Real Estate putting on the tournament and we hope it catches on with the wider community so we can build more support as time goes on," said Matt McGee, the owner of Livin' Right Real Estate. He added that the timing of the event, at the beginning of the snapper season, would allow even recreational anglers to participate and show their support for local conservation efforts.
"We're going snapper fishing anyways, so we might as well join this tournament which will help put out more reefs so that we can fish for more snapper," McGee added.
The Okaloosa County Artificial Reef Program, funded by grants, private funds and tourist tax dollars, is an essential part of maintaining the rich marine biodiversity of the region and supporting the local fishing industry. However, the program also relies on community buy-in and private partner collaboration, as we saw with the recent deployment of 38 prefabricated artificial reefs.
The tournament will rely on community sponsorships to help make it a success. The Emerald Coast Reef Association was recently reestablished and will be the recipient of the proceeds for a future Okaloosa County Artificial Reef project.
To incentivize sponsorship, the tournament will offer various benefits to sponsors and participants, including the unique opportunity to have their own private artificial reefs deployed as part of the program.
Sponsors can choose from several sponsorship levels, ranging from the 'Ambassador' level at $100, up to the 'Grand Snapper' level at $5,000. The higher-level sponsorships, including the 'Grand Snapper,' 'Emerald,' and 'Gold,' will offer private artificial reefs with varying degrees of exclusivity.
The tournament will also offer participants the opportunity to compete in the Red Snapper Rodeo for a $300 entry fee, which includes a Captain Swag Bag, two tournament t-shirts, and two tickets to a fish fry at the awards ceremony.
Combination entries are available for those wishing to contribute more to the Artificial Reef Program. The 'Gulf Reef Habitat Livin Right Benefactor' package, priced at $4,500, offers the highest level of contribution, including a private Red Snapper Reef deployed in the Gulf of Mexico, and a Livin Right Habitat Dock Reef installed at a local dock of choice.
The 'Livin' Right Red Snapper Rodeo' represents a significant opportunity for the local community to engage in a fun-filled fishing tournament while supporting an essential conservation initiative. McGee stated, "Our tournament is designed for both the sponsorships and the participants to be able to get both private reefs deployed as well as contribute to the County's larger reef projects such as the sinking of large vessels off our coast."
"We're truly grateful to Livin' Right Real Estate for this innovative Red Snapper Rodeo," said Alex Fogg, Okaloosa Coastal Resource Manager. "It's encouraging to see local organizations actively investing in our mission to build a robust artificial reef system that serves both marine life and our local community."
More information on the tournament and sponsorship opportunities can be found at www.redsnapperrodeo.com.
OK, that's all I have for you this morning! I hope you have a great Tuesday! And remember…the Heron Hunt is still going on and you could win $1,000. The contest ends on May 24, 2023.
p.s. What did you think of this morning's newsletter? Hit the reply button and let me know!
Published with ♥ by Get The Coast.
Did someone forward you this email? Subscribe here.
124 Eglin Parkway SE Fort Walton Beach, FL 32548