In a show of force, Niceville High School left its mark at the Florida High School Athletic Association (FHSAA) Outdoor State Finals 2023 Track and Field Competition.
The event, held from May 17-20 at Hodges Stadium in Jacksonville, FL, witnessed the Niceville athletes rise to the occasion in the 4A Championship meet, delivering commendable performances across numerous events.
Dawson Isbell, the junior athlete, clinched the fifth position in the Boys 800m Run, clocking in a time of 1:54.78. He was also a vital part of the Boys' 4 x 400 and 4 x 800 Relay teams, which finished at 10th and 12th places respectively.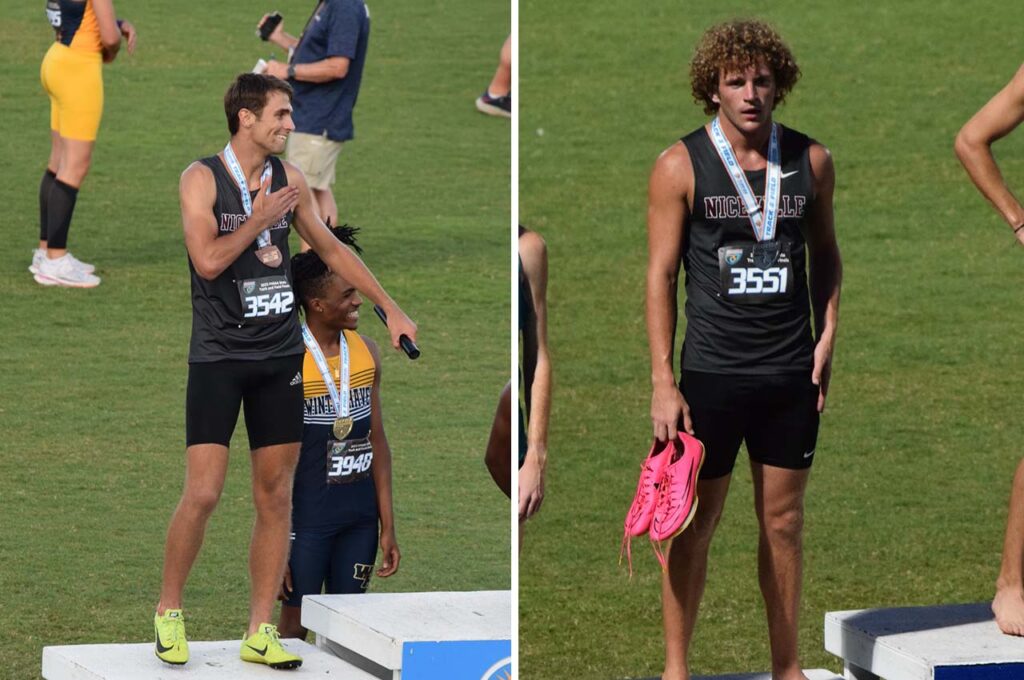 The Boys' 400 Hurdles saw an impressive display from Eon Morris, who secured third place with a time of 53.10. His performance was particularly notable, with one coach praising Morris for his attacking approach to the hurdles. "He wasn't even worried about the school record. He just wanted the podium," Coach Zee White remarked. Despite a minor stumble on the last hurdle, Morris set a new personal record and a school record.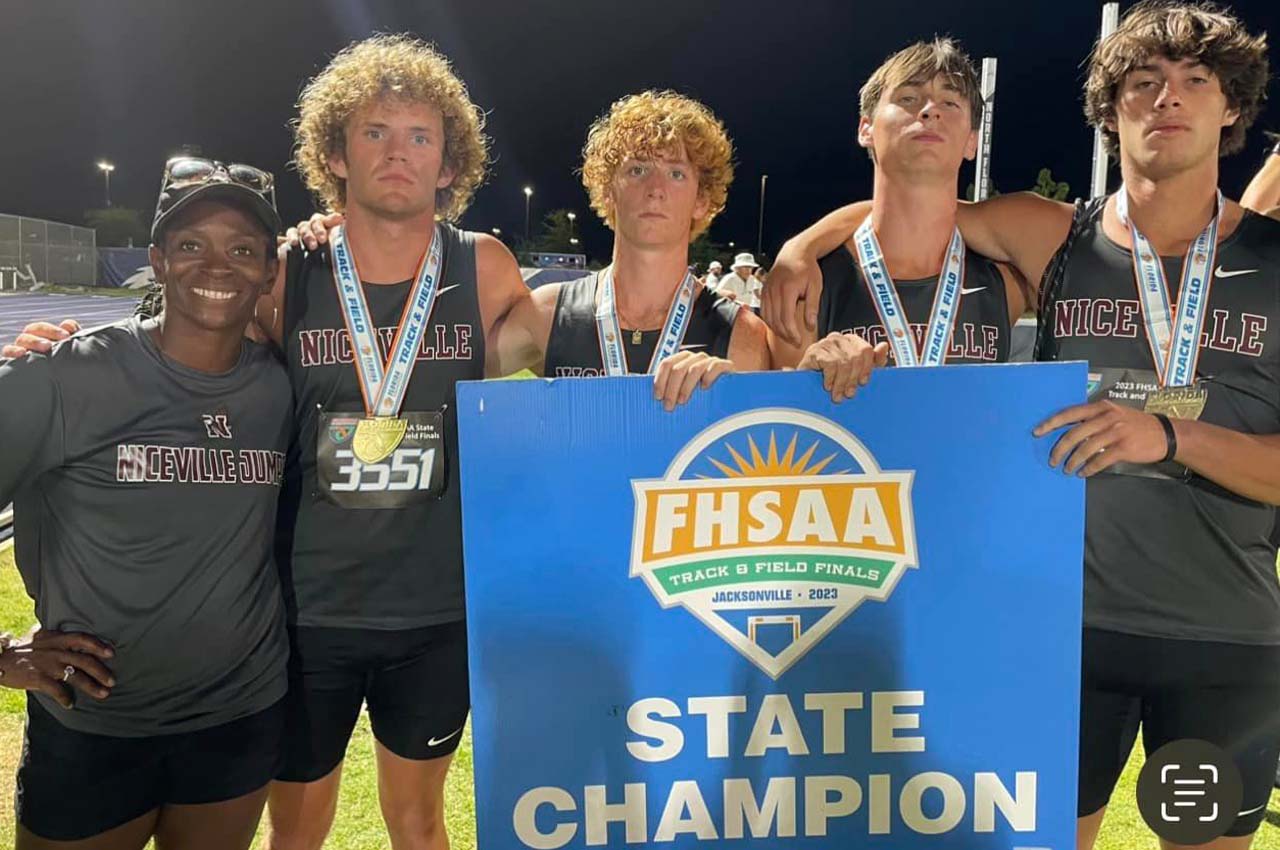 Oli Broutin, a senior, demonstrated exceptional skills in the Boys' High Jump and Triple Jump. In the High Jump, Broutin achieved a mark of 1.97m, tying for fifth place. He then catapulted himself to the third position in the Triple Jump, landing a mark of 14.42m. Coach Zee praised Broutin's resilience, recalling that he had been seated 13th before surging to his podium finish.
In the Boys' Pole Vault, Van Carter secured the second position with a remarkable jump of 4.65m, despite facing hip-related issues. James Marion secured 11th place with a mark of 3.90m.
Niceville's Shot Put team also boasted standout performers. Senior Joseph Hanson secured second place with a throw of 17.26m, and Baxter Madison followed closely behind at the seventh spot with a throw of 15.57m. Kevin Downing, who is new to the sport, managed to score 10th place with a throw of 15.22m.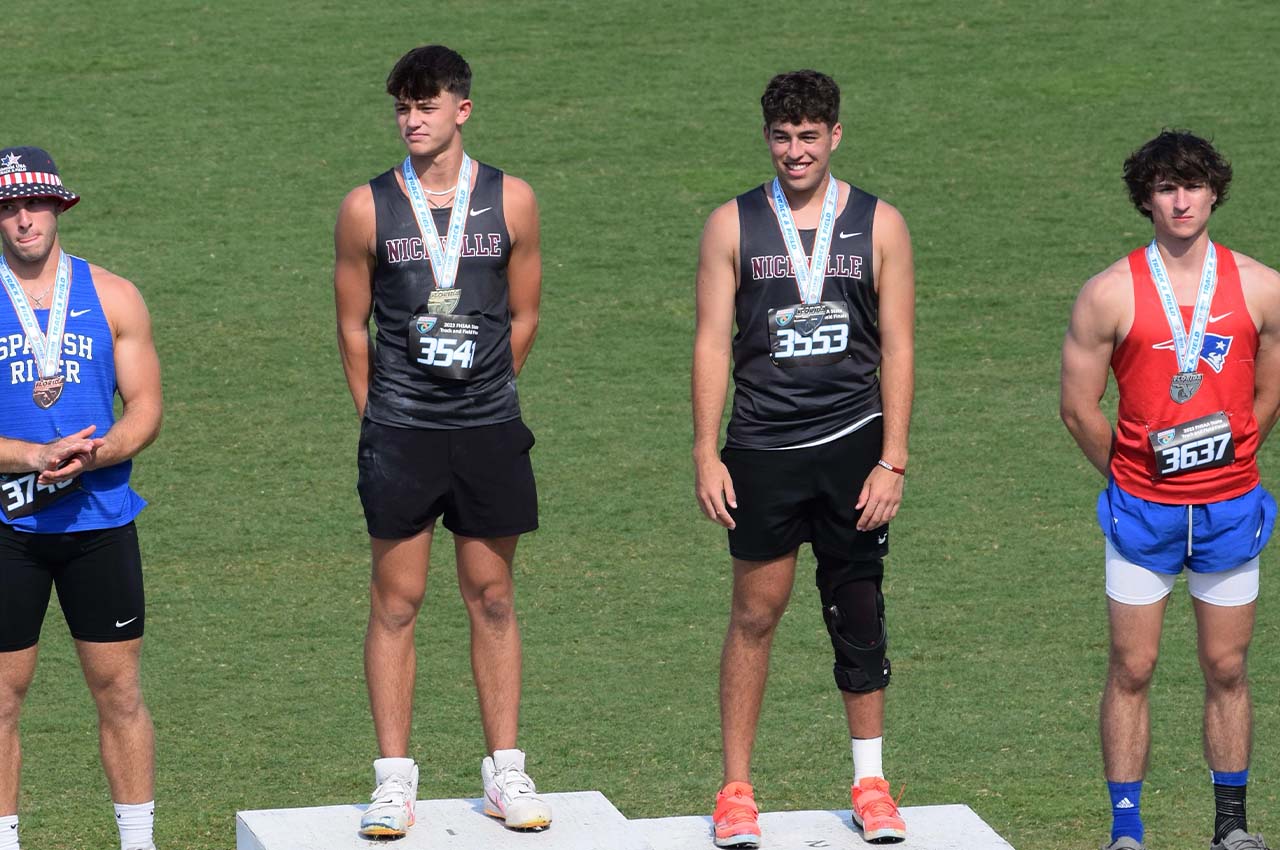 Niceville demonstrated exceptional skill in the javelin throw, with junior Aidan Broussard and senior Raiden Lafortune seizing first and second place, respectively. Broussard, a first-year track athlete and javelin thrower, displayed an outstanding performance that will be remembered in the school's history. He continually broke the school record and ultimately shattered the state record with his remarkable throw of 62.37 meters.
In a story of resilience and determination, Lafortune, who has overcome a series of injuries and only recently attained full recovery, landed a second-place finish. Despite the challenges he faced leading up to the competition, Lafortune delivered a strong performance, throwing an impressive 54.85 meters.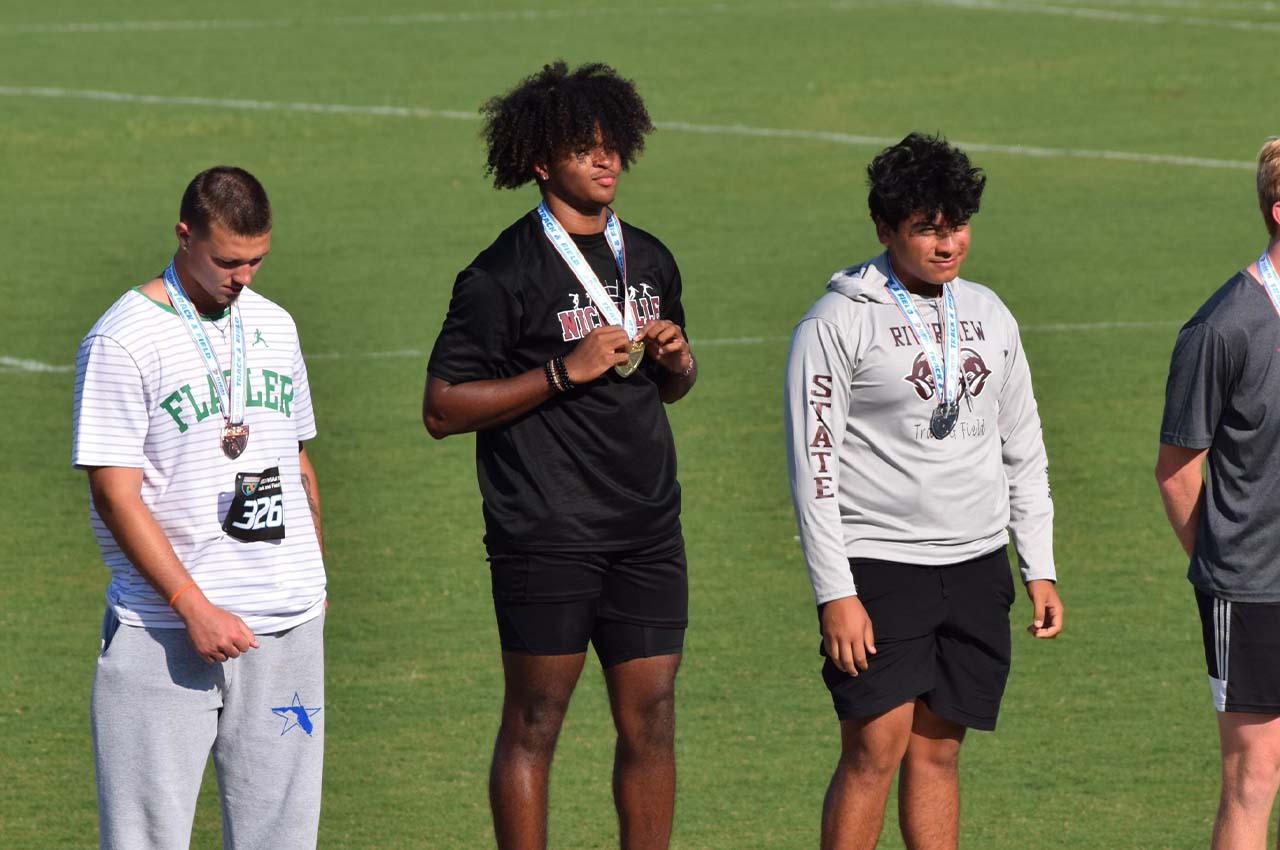 The first place in Boys' Discus was secured by Terrance Powe with a throw of 51.33m. In addition, Aidan Broussard broke both school and state records in the Javelin Throw, hurling the javelin to a distance of 62.37m and securing the first position. He was followed by Raiden Lafortune, who achieved second place with a throw of 54.85m.
On the girls' side, the 4 x 800 Relay saw an incredible performance from the team of Lexi Roberts, Yaremi Figueroa, Kate Tomaschko, and Trinity Holland. The team not only won gold but also shattered the school record with their time of 9:17.19.
At one point they were seven seconds behind, but a tenacious run by Tomaschko turned the tables, placing them three seconds ahead. Their combined effort not only resulted in a gold medal but also shattered the school record.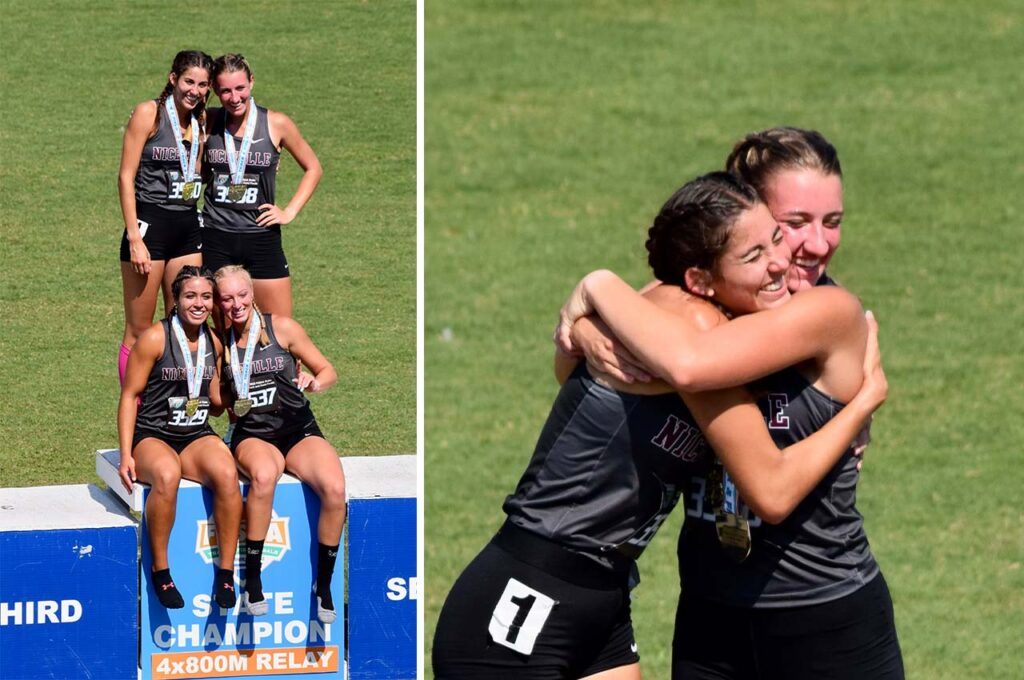 Mikayla Williams was a standout in the field events, finishing third in both the Long Jump and Triple Jump, with marks of 5.69m and 11.79m, respectively. In the Shot Put and Discus events, Kimah Allen and Bailey Carter showed great promise, with Allen placing seventh in Shot Put and fifth in Discus, and Carter securing eighth place in Discus.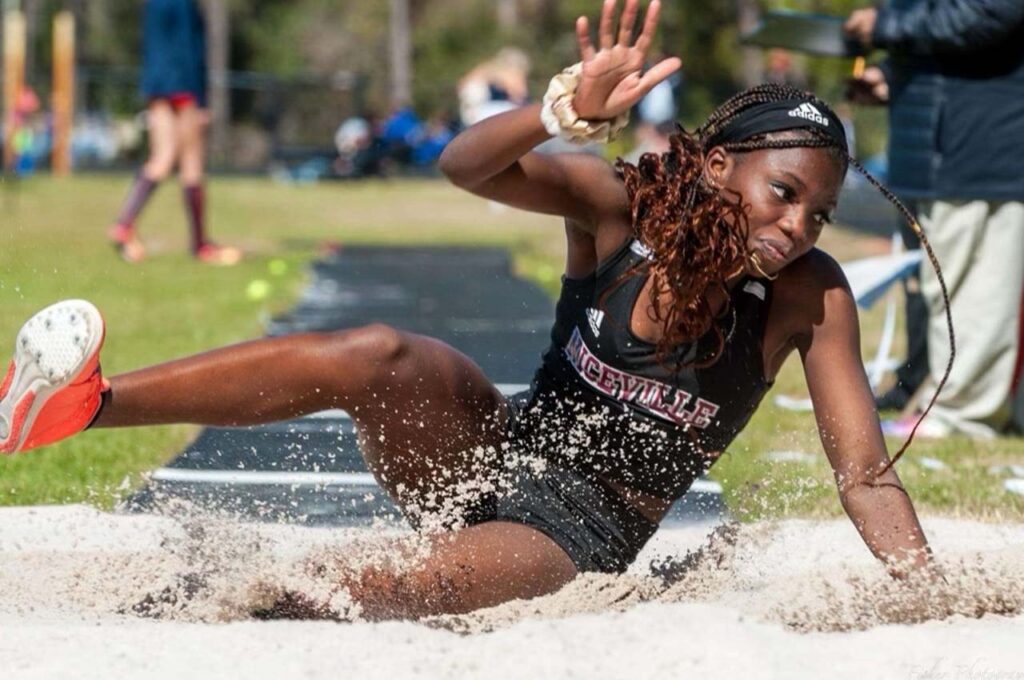 Trinity Holland also stood out in the Girls 800m Run, claiming fourth place with a time of 2:16.39.
Freshman Elaina Perkins also made her mark in the Girls' Javelin Throw event. For a first-year competitor, her performance was commendable, as she claimed the third spot with a solid throw of 39.62m, showing that Niceville's future in the event is in good hands.
Another stand-out performance was that of Yaremi Figueroa, who put on an exceptional show in the Girls' 400 Hurdles, running a time of 1:04.04.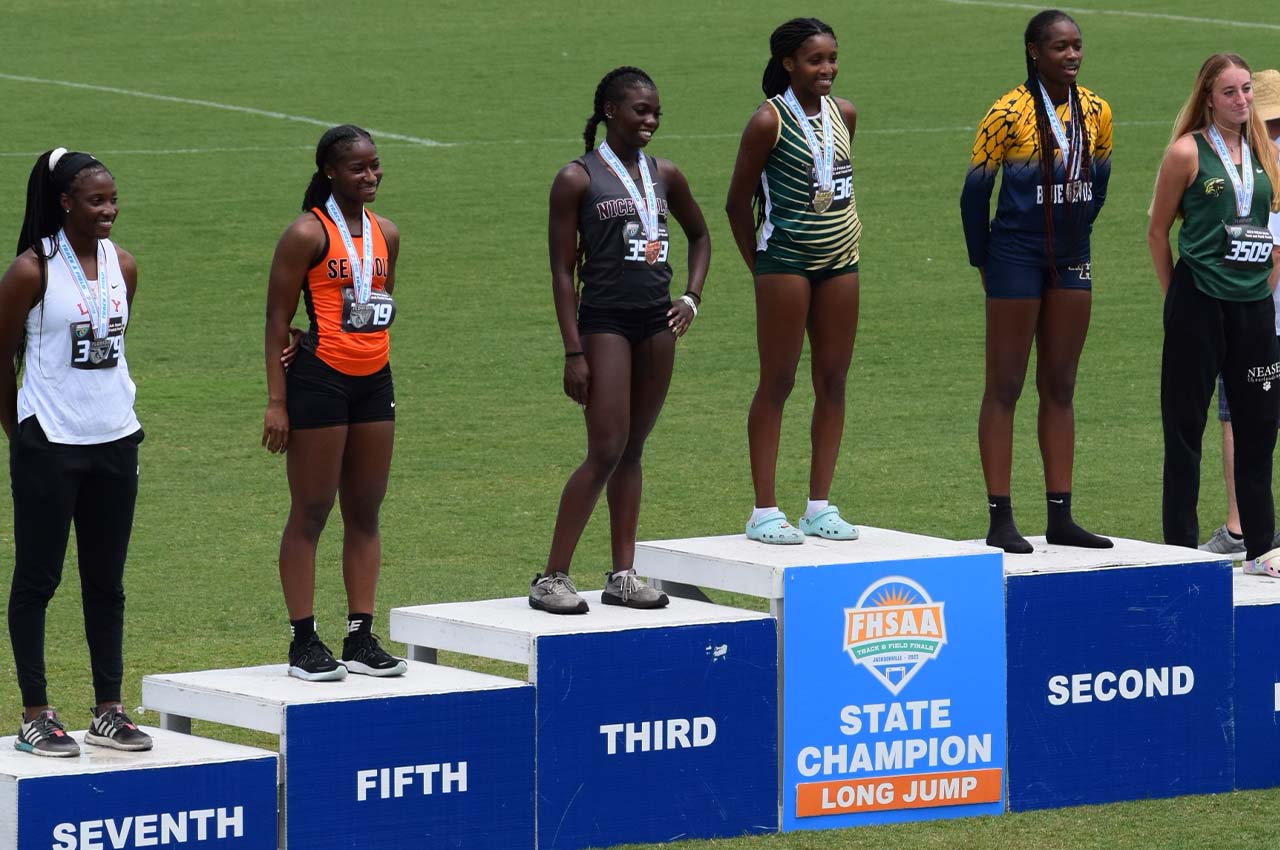 When we look at the field events, Niceville continued its stellar performance. The Girls' Long Jump saw senior Mikayla Williams secure the third position with a jump of 5.69m. Williams went above and beyond, scoring significant points for the team and achieving personal records in both her events.
Meanwhile, in the Girls' Triple Jump, Mikayla Williams again made her presence felt, finishing third with a distance of 11.79m, contributing significant points to the team's tally.
In the Girls' Shot Put, freshman Kimah Allen and senior Bailey Carter managed to secure the seventh and seventeenth place respectively, with Allen achieving a distance of 11.82m and Carter 10.47m. Allen's commendable performance in her freshman year gives her a strong foundation to build on for her future years at Niceville.
In the Girls' Discus, Kimah Allen and Bailey Carter once again showcased their talents. Allen achieved fifth place with a throw of 39.04m, and Carter secured the eighth spot with a throw of 37.97m. 
"We have the best staff in the state of Florida," said Head Coach Todd Brigman. "The way we have proven to win is through the technical events. These athletes learn their technical specialties from this coaching staff. I have the privilege of working beside them."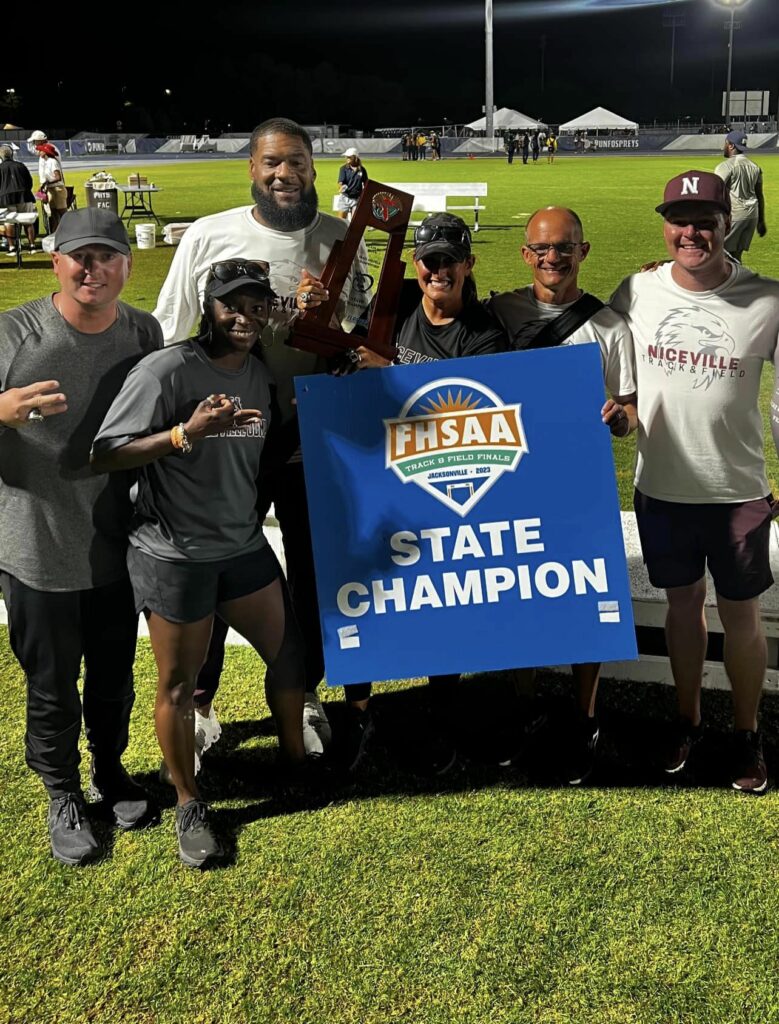 Overall, Niceville High School exhibited exceptional performances across the board in the FHSAA Outdoor State Finals 2023 Track and Field Competition. Congrats to the Niceville Boys' team for securing their third consecutive state title.