A tornado touched down on Choctawhatchee Bay just west of the Sandestin Resort on Monday, June 19, causing damage along its 1.65 mile path. The National Weather Service has assessed the tornado as an EF1 with an estimated peak wind speed of 105 mph. Fortunately, no fatalities or injuries have been reported.
The tornado began its journey at approximately 11:16 AM on Monday near Sandestin. Initial reports indicate that a storm shutter on a bay-facing condo in the area suffered damage, while scattered snapped and toppled trees were observed between the Bay and Baytowne Avenue West. These damages align with the lower-end EF0 rating.
As the tornado moved eastward, the intensity increased. Turnberry Court, located east of Baytowne Avenue, experienced the full force of the storm. Several hardwood trees were uprooted, pointing in various directions, indicative of the EF1 rating, according to the NWS. The tornado then proceeded across a golf course and an unpopulated area, causing minimal impact.
However, the most significant concentration of damage occurred along Laurel Way and Ravens Run. NWS reports that multiple trees were snapped and uprooted, with minor roof damage reported in a few homes.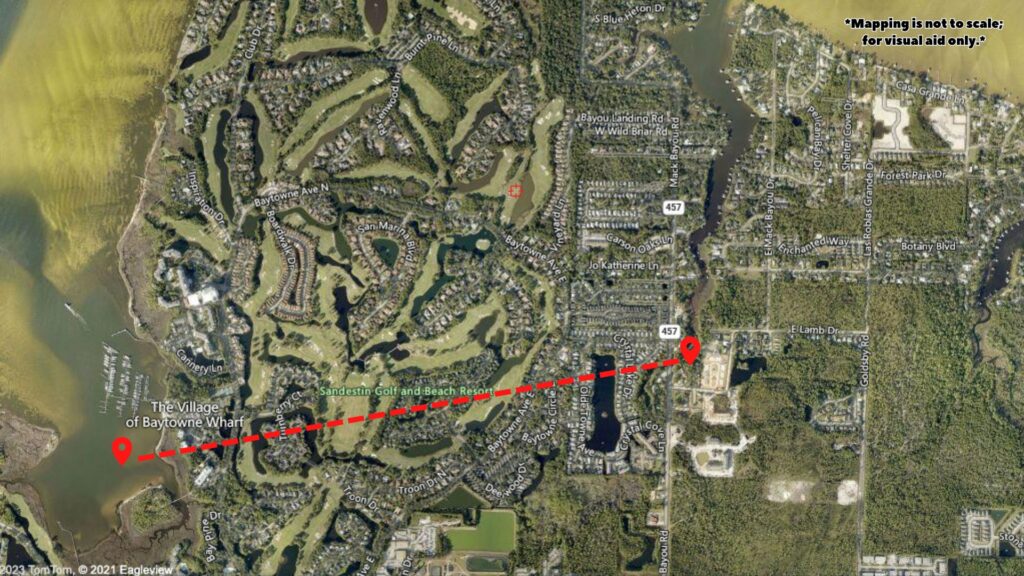 The tornado's path continued east, causing additional minor roof damage to a home on Olde Towne Avenue and uprooting a few more hardwood trees. The storm eventually moved beyond the resort area, snapping and uprooting trees along Mack Bayou Road and east Mack Bayou Drive. Several fences sustained damage, and a small business's roof suffered minor harm.
According to the National Weather Service's survey summary, the tornado's maximum wind speed reached 105 mph, consistent with its EF1 rating. The destructive winds finally dissipated east of Mack Bayou Drive.
In total, the tornado lasted approximately 5 minutes.