In a joint effort to crack down on unlicensed contractor activity, the Okaloosa County Sheriff's Office partnered with Florida's Department of Business and Professional Regulation (DBPR) to conduct a two-day sting operation.
The operation, which took place on March 1st and 2nd, aimed to identify and apprehend individuals engaging in contracting businesses without the required licenses.
DBPR had been actively researching unlicensed contractors who were advertising services that demand a state license. Undercover investigators from DBPR posed as homeowners seeking estimates for various construction projects. Contractors who agreed to provide estimates were then evaluated to determine their compliance with licensing regulations.
As a result of the investigation, six unlicensed contractors in the area are now facing charges. The collaboration between law enforcement and the Okaloosa County Department of Growth Management proved instrumental in the success of the operation.
Okaloosa Sheriff Eric Aden emphasized the importance of hiring licensed and insured contractors, especially during the ongoing 2023 hurricane season.
"It's imperative the public realize how critical it is to make sure anyone they hire to do repairs around their home is licensed and insured," he said. "It only takes a few minutes to check online and be sure you are taking the right steps to protect your property and your finances from unlicensed contractors who are violating the law."
Among those apprehended in the sting operation were Daemond Keith Powers, Samuel Murat Welshans, David Kuenzel, Christopher Edward Carroll, Robert Newton Carroll, and William Christopher Strickland. These individuals were found to be engaging in contracting businesses without the necessary licenses, resulting in charges being brought against them.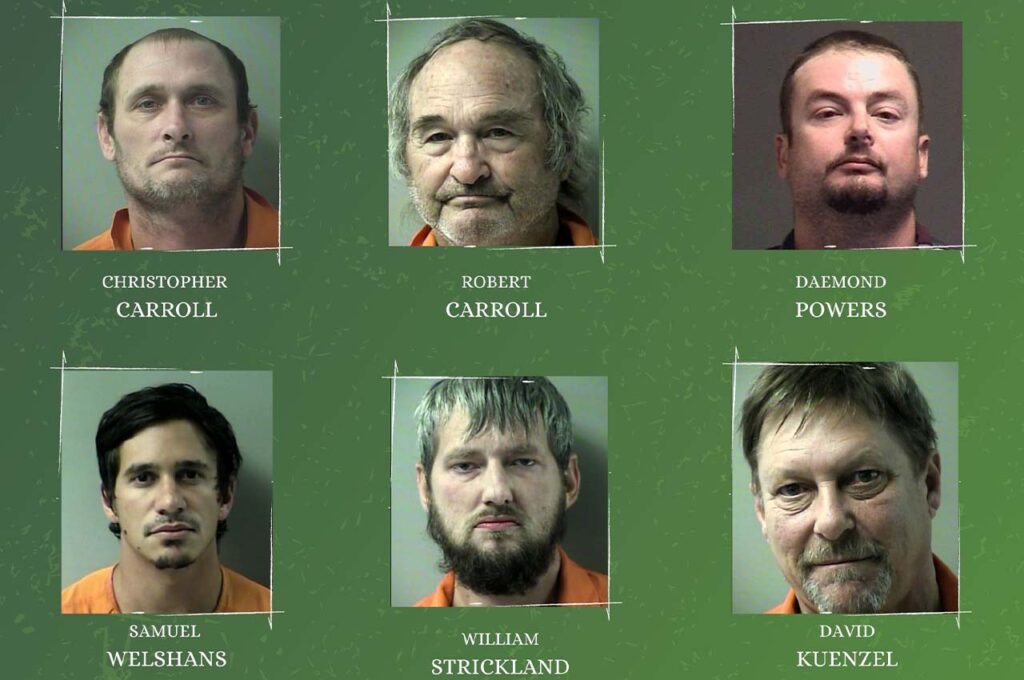 Arrest details:
Daemond Keith Powers, aged 36, operating his business "Daemond on Demand," allegedly provided estimates for a bathroom remodel ($5500) and exterior door and window installation ($2200) without possessing the specialty contractor license required for such work.
Welshans, aged 28, operating Destiny Remodeling/Destiny Renewed LLC, allegedly gave an estimate ($13,800) for a comprehensive bathroom remodel that involved plumbing and the installation of exterior doors and windows.
David Kuenzel, aged 60, allegedly sent a representative from Honey Do Services to bid on a construction job ($22,535.44) that required specialized licenses, despite being aware that their practice was limited to tasks that did not require permits.
Christopher Edward Carroll, aged 39, operating C&B Plumbing Repair and Handyman (or Father and Son Plumbing), allegedly detailed work that included regulated contractor activity without proper certification. Estimate was $1350.
Robert Newton Carroll, aged 70, along with his co-defendant Christopher Carroll, allegedly created a detailed quote for regulated contractor activity related to bathroom work. Both individuals responded to evaluate and provide estimates without the necessary certification, according to OCSO.
William Christopher Strickland, aged 38, operating Superior Plumbing 850 LLC, allegedly provided an estimate ($3000) for a bathroom remodel involving plumbing work without possessing a plumbing license.
DBPR Secretary Melanie S. Griffin expressed gratitude towards Sheriff Aden and local partners for their collaboration in protecting consumers from unlicensed activity scams.
She urged residents to verify contractor licenses at MyFloridaLicense.com to ensure they hire licensed professionals who possess the necessary experience and insurance coverage to complete jobs without leaving residents financially liable for damages or substandard work.
Jason Carducci, President of the Building Industry Association of Okaloosa and Walton Counties, praised the efforts of the DBPR and the Okaloosa County Sheriff's Department in combating illegal contracting. He highlighted the risks associated with hiring unlicensed contractors and encouraged individuals to research contractors before hiring or giving them deposits.
"There's a bunch of illegal activity that happens both locally and nationwide," he said. "Most people are under the impression that a handyman can do this work, and they might be correct in many instances. But just because they can do it, does not mean that are licensed or insured properly to do it."
Speaking about the potential consequences of hiring unlicensed contractors, Carducci warns that if a homeowner hires an unlicensed contractor and they have issues down the road, there's potentially no recourse because they hired an illegal person to do work outside of what they are allowed to by law.
"The easiest, most convenient way to safeguard yourself is to get their name, the business name, and then go on myfloridalicense.com and search the records," he added. "The DPBR and the Building Industry Association are really stepping up to try to stop this because the amount of money that's lost and stolen is absurd and it's only growing as the demand gets higher."