After years of planning and anticipation, the highly anticipated groundbreaking ceremony for the Brooks Bridge replacement project finally commenced on Wednesday morning at 10am.
The $171 million endeavor to construct two new parallel bridges over the Santa Rosa Sound in Fort Walton Beach officially kicked off with remarks from key officials and a ceremonial shovel photo opp.
The aging four-lane Brooks Bridge that opened in 1966 will be replaced by two new three-lane bridges, providing six total travel lanes with shoulders that can serve as refuge lanes during accidents. The new bridges will also feature a barrier-separated shared use path for bicyclists and pedestrians to accommodate the average annual daily traffic count of 66,000 vehicles.
Tim Smith, Director of Transportation Development for FDOT District 3, welcomed attendees and emphasized how the project will "ensure the mobility of people and goods and enhance economic prosperity, and preserve the quality of our environment and really connect our communities." He acknowledged that many in the community have witnessed preliminary construction activities in recent months like staging equipment, stockpiling materials, and other prep work.
Smith explained the local impact, stating "This is a really great opportunity for people to not just see asphalt, concrete and paint…it's really the opportunity to spend more time at home and less time in their cars. These improvements will certainly enhance the travel development abilities and navigate this area."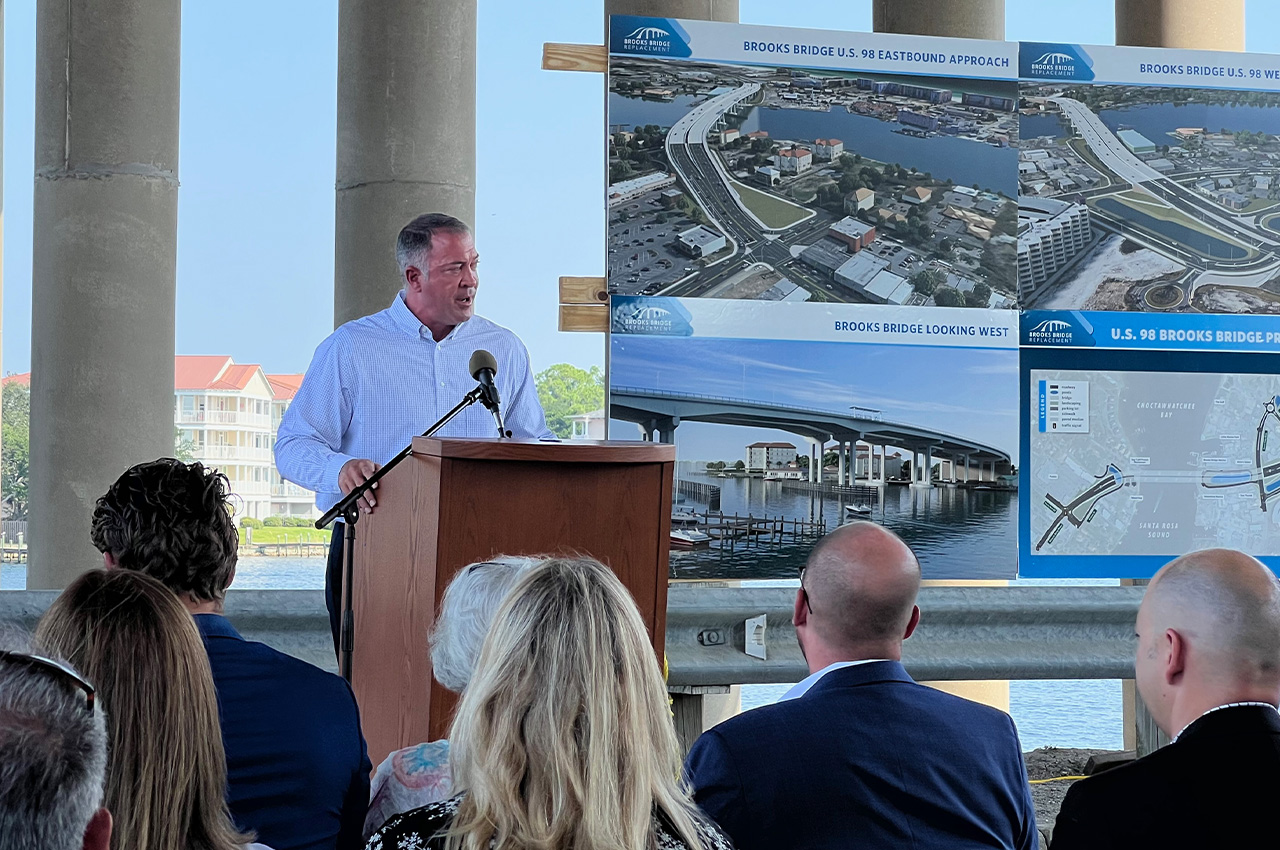 After thanking elected officials for their role in making the project happen, Smith also recognized the collaborative team involved in the replacement initiative, including lead contractor Superior Construction as well as engineering and consulting firms WSP, Eisman & Russo, Searight Group and Metric.
Jared Perdue, Secretary of the Florida Department of Transportation, proudly remarked on the project, noting his personal connection to the panhandle area after being raised locally in the area and spending most of his professional career with FDOT District 3, which covers Northwest Florida.
"This is going to be a beautiful project," Perdue said. "One thing that's really important to know is when we touch infrastructure here in Florida, we build it back more resilient. And this bridge is no exception to that."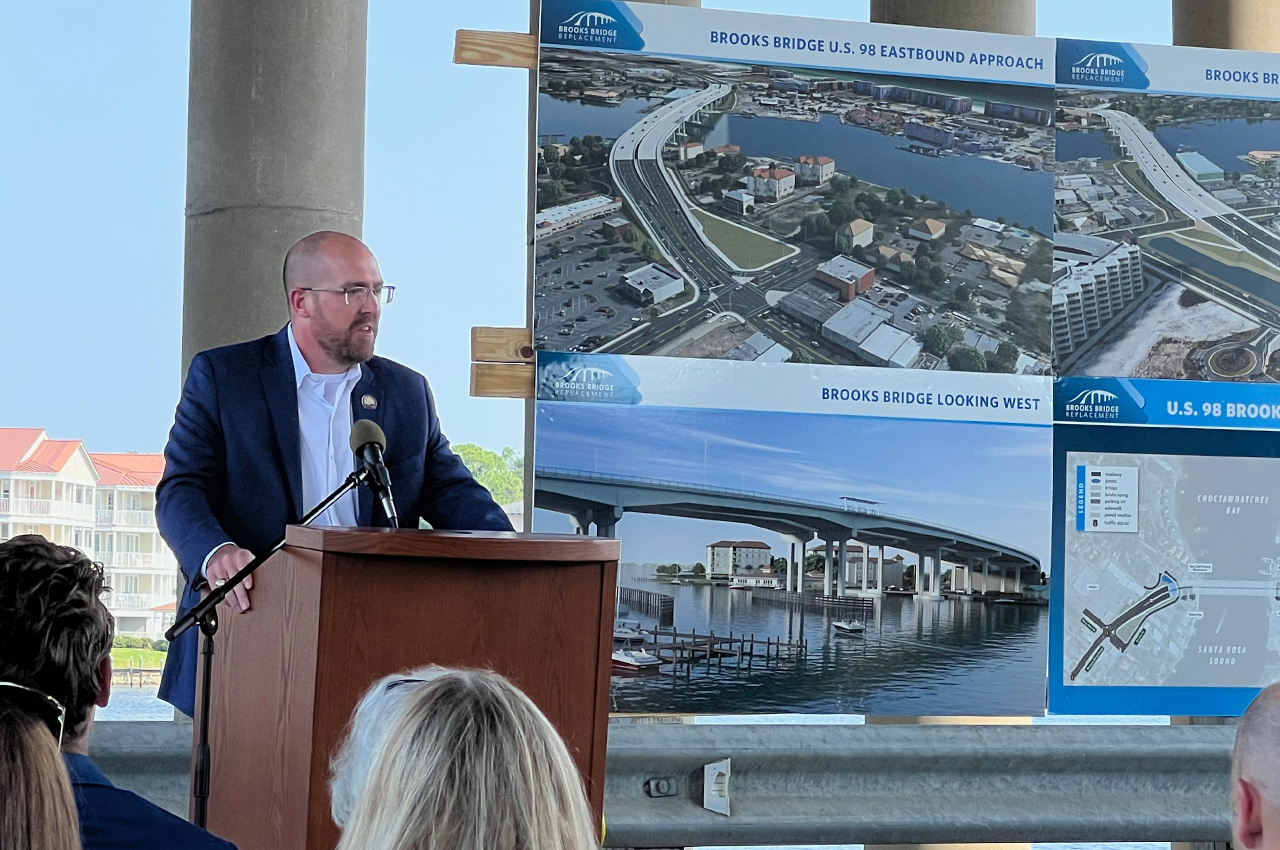 Perdue went on to explain that the bridge elevation will be raised to 65ft above the water along with an increase in capacity.
"Many of you probably remember that this bridge has been impacted several times by vessels. This is tremendously helpful for the future," he said. "And not only that, there's going to be a physically separated shared use path so that this community can really truly experience the natural beauty of this area."
The Secretary credited Governor Ron DeSantis for continuing to invest in transportation infrastructure as well as the state legislature, specifically calling out Senator Jay Trumbull Jr., Senator Doug Broxson, who is also the Senate Appropriations Chairman.
Perdue emphasized, "As we build this project, it's going to take nearly five years to construct. It's going to be a strong effort. We hope that you truly enjoy this bridge and what this area will become many years into the future."
When asked about the significance of the groundbreaking after so many years of advocating for the project, Okaloosa County Commissioner Carolyn Ketchel remarked, "I worked hard, but many people have worked hard to make this a reality. This has been a complete effort of our entire Okaloosa team."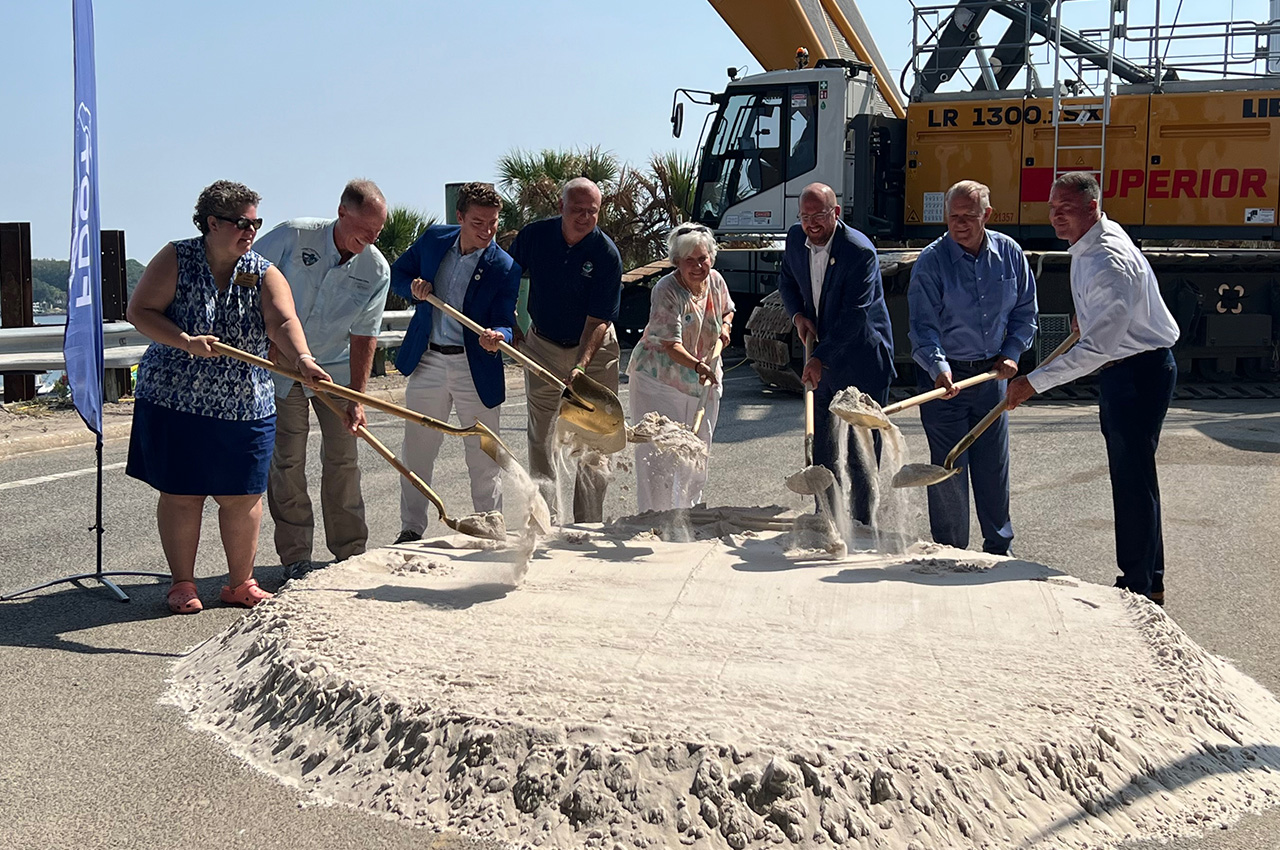 Commissioner Ketchel went on to thank each of her fellow commissioners, Senator Doug Broxson, Representative Patt Maney, everyone at FDOT, and the Chambers of Commerce for their work to get here.
"For over 35 years, everyone has known that this bridge needs to be replaced and it's taken a long time," she said.
Ketchel praised Senator Broxson's rise to Appropriations Chair as instrumental in securing funding and also acknowledged the many calls she expects to field about construction impacts over the next few years. She asked locals for patience and encouraged residents to look ahead to the benefits of the completed project.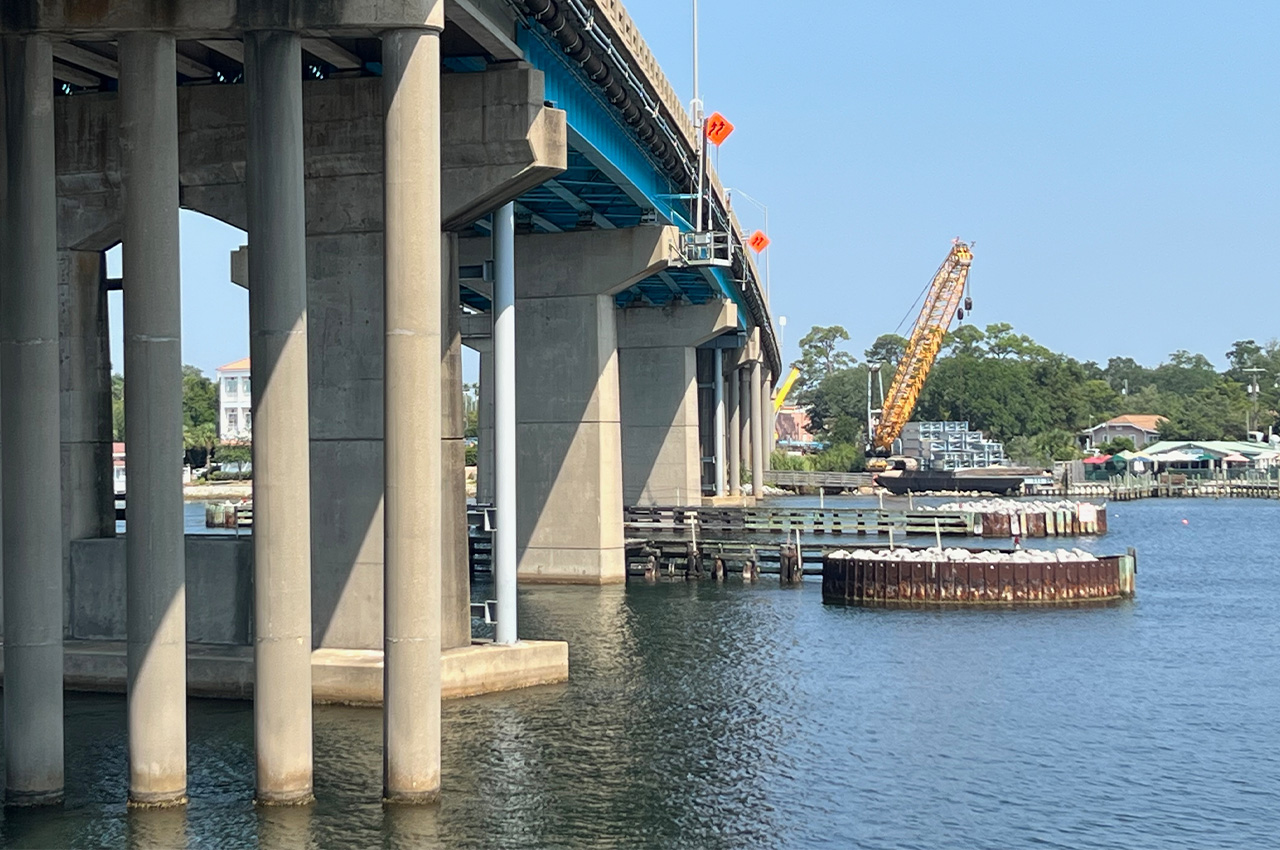 The outdated Brooks Bridge was constructed in 1966 and no longer meets current standards, ADA requirements, or waterway clearance regulations. As a critical east-west connector on US 98 serving a busy corridor, the bridge replacement will boost capacity from four to six lanes while providing enhanced bicycle and pedestrian access.
The new westbound structure will be built first while maintaining two lanes of traffic in each direction on the existing bridge. Once completed, all four lanes will temporarily shift to the new westbound bridge so the existing bridge can be demolished and the new eastbound one constructed.
The $171 million budget and 5 year timeline for the Brooks Bridge replacement underscores the magnitude of the undertaking. But officials emphasized it will yield huge benefits for mobility, safety, and economic growth while showcasing the area's natural scenic beauty.
Smith encapsulated the communal significance, stating the project "will really ensure the mobility of people and goods and enhance economic prosperity, and preserve the quality of our environment and really connect our communities."
After today's ceremonial shovel photo opp and speeches, the lengthy but long-awaited process of actually constructing the parallel bridges over Santa Rosa Sound will begin.