On Friday morning, an unexpected incident occurred when a City of Fort Walton Beach garbage truck caught fire while on its regular route. The incident took place on Marnan Drive off Lewis Turner Blvd., but luckily, no injuries were reported.
According to Public Works Director Daniel Payne, the truck involved in the incident was a commercial front-loading vehicle responsible for collecting dumpsters from various locations in the city. As the truck was en route back to the transfer station after completing its routine pickups, the onboard cameras detected smoke and flames emanating from the load it was carrying.
"When our drivers noticed the smoke and flames in the back of the truck, they immediately followed protocol," explained Payne. "Their first priority was to find a safe location away from buildings, power lines, and other structures. They then promptly dumped the contents of the truck onto the street and contacted the Fort Walton Beach Fire Department."
The swift response of the garbage truck driver and adherence to safety procedures allowed the firefighters to arrive promptly at the scene and extinguish the flames. Once the fire was under control and deemed safe, city workers used knuckle booms and other trucks to clear the waste from the road and transport it to the Transfer Station for further disposal.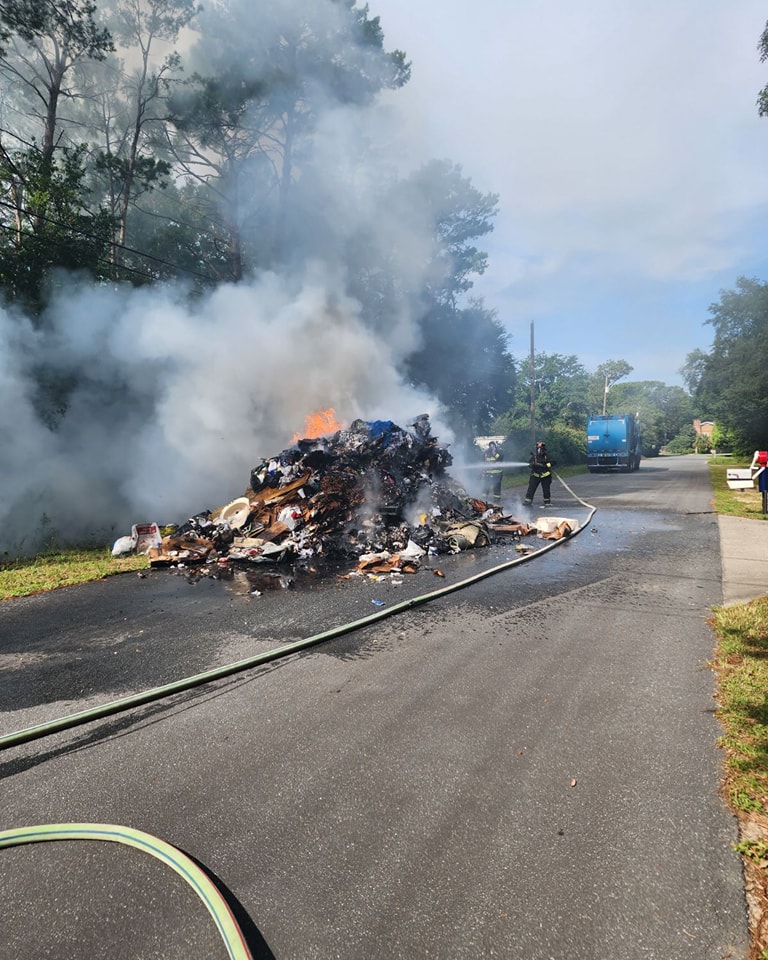 Surprisingly, this kind of incident is not as uncommon as you might think. Payne says that these types of situations happen around once or twice a year. When asked about the typical culprits behind garbage truck fires, he stated that there are several factors that can lead to these fires.
"During barbecue season, people often dispose of ashes or hot coals unknowingly into their dumpsters," he said. "Additionally, materials like gas, batteries, and cigarette butts can also cause fires in the garbage."
To prevent similar incidents in the future, Payne emphasized the importance of being mindful about what people dispose of in their dumpsters. He advised, "If you have ashes or coals from a cookout, make sure they are thoroughly wetted down or completely extinguished before disposal. Never toss any cigarette butts, batteries, or gas-related items into the dumpster. These items can pose a significant fire hazard."
To ensure proper and safe disposal of hazardous waste materials, Payne urged residents to utilize the county's Hazmat Center on Ready Avenue in Fort Walton Beach. "They accept all types of hazardous materials, including batteries and gas, and dispose of them correctly."
Watch