After 20 years of serving up smiles, waffle fries, and community support from his Chick-fil-A on Beal Parkway, franchise owner Matthew Sexton is ready to bring his successful recipe to a new Fort Walton Beach location.
On November 17th, Sexton will officially open the doors to his second Chick-fil-A restaurant, a $5,000 square-foot building located at 122 Eglin Parkway NE.
This new outpost has been years in the making for Sexton, who started with the company in Panama City before taking over the Santa Rosa Mall location 25 years ago. Now one of only 15% of Chick-fil-A franchisees operating multiple restaurants, Sexton is as fired up as ever to expand his reach in the community he has called home for over two decades.
"I've never been more passionate about what I get to do every single day," said an energetic Sexton. "I still have the same job I had since I was 15. My goal is to bring that attitude of gratitude and humble spirit to Eglin Parkway and have the community say, 'They really did it again.'"
Doing it again has posed both exciting opportunities and daunting challenges for the veteran franchise owner. But Sexton praised the city of Fort Walton Beach for making the process smooth and the construction crew who knows the ins-and-outs of standing up a new Chick-fil-A building.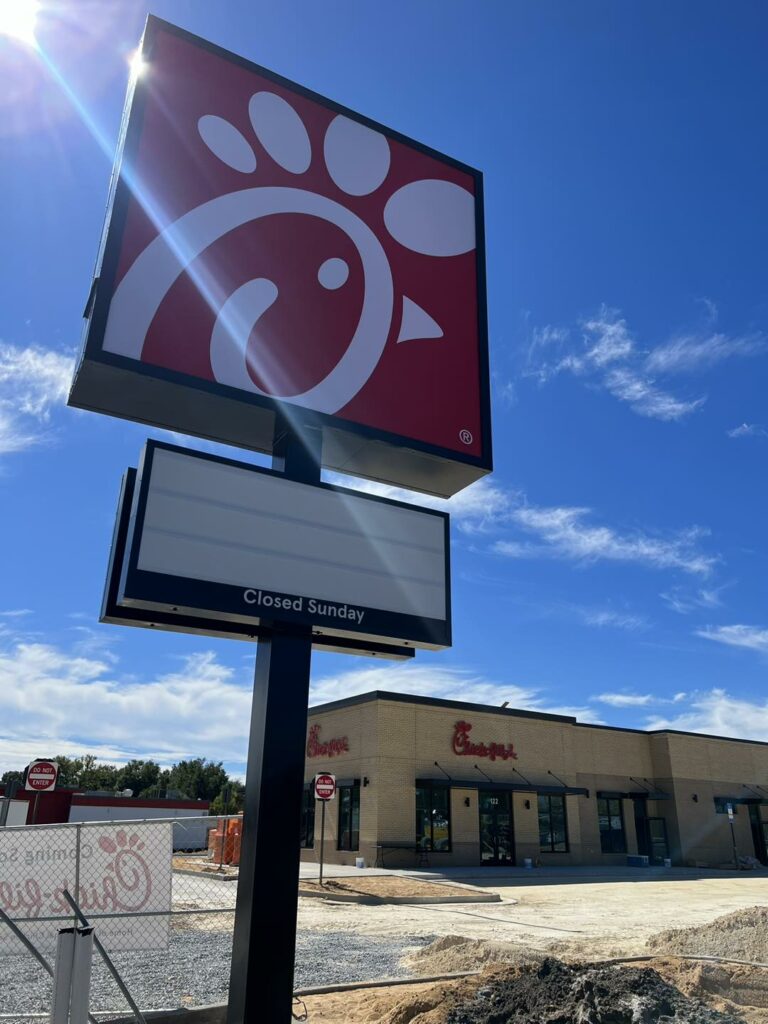 Designing the new building was also a chance to implement lessons learned from Beal Parkway over the past 20 years.
With a focus on drive-thru and mobile ordering, the Eglin location features only two registers inside but a massive 225 yards of concrete queuing that Sexton calls "the biggest drive-thru they've done in years."
The streamlined floorplan dedicates 85% of the space to food production and minimalist guest seating reflecting shifting trends in brick-and-mortar restaurant design. There are also new features like a guest sanitation-station and lighting sensors that make the new building extremely eco-friendly.
"There's a percentage of people that go to the restroom just to wash their hands," explained Sexton. "We've thought about that and now there's a whole sanitation station so that you can just wash your hands and not have to go into the bathroom."
"One culture, two locations."
Perhaps Sexton's biggest challenge has been preparing his team for the added demands of a second busy location while maintaining the customer service culture he has built at Beal Parkway. His solution was to strategically split long-time managers between the restaurants and hire nearly 100 new team members months in advance to train on-site.
"It's costing us a lot on the front end, but this is a long term strategy for us," noted Sexton. "Our goal is to invest in the quality, and invest in their experience now."
Sexton's investment in his employees is clearly paying off. Those making the move to Eglin Parkway are ecstatic for the opportunity, he said. And those remaining at Beal will get an opportunity to grow into bigger leadership roles.
"I've done this ever since I was 15 years old. This is my 32nd year wearing a name tag," said Sexton. "How's it going? About 90 miles an hour right now for me."
The busy lead-up to opening is par for the course in Sexton's decades of experience. But perhaps nothing excites him more than the chance to further give back to the community that has given so much to him.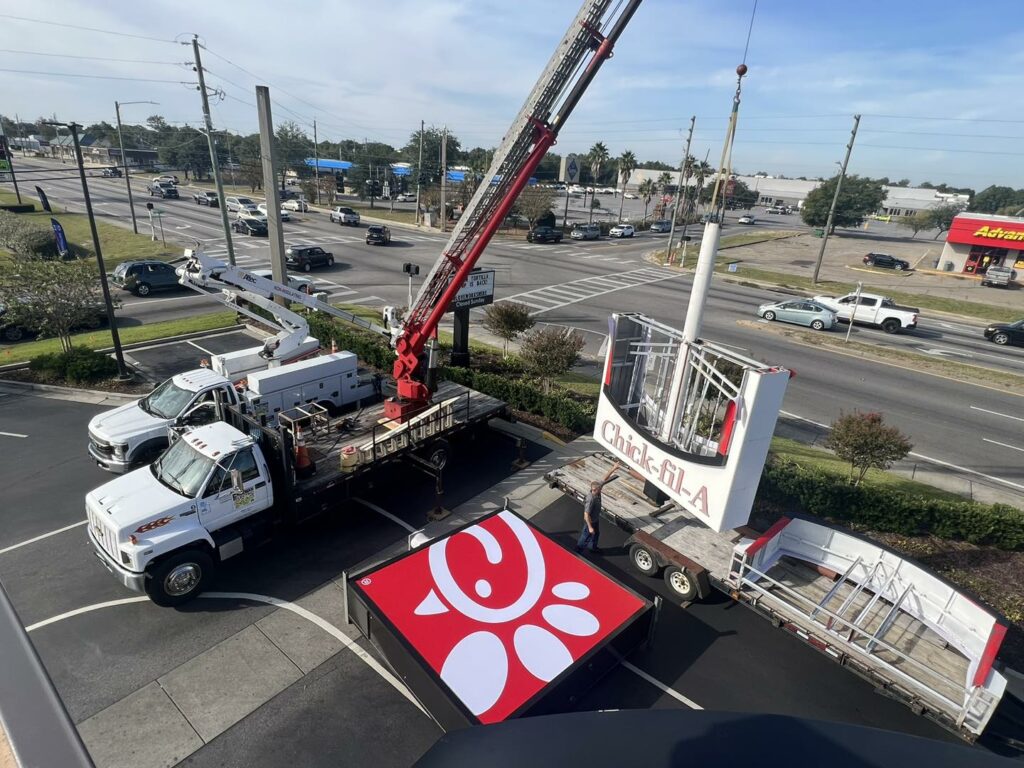 Giving back has always been at the core of Sexton's approach. His current Beal Parkway location is the third highest grossing Chick-fil-A in the entire state, serving over 5,000 guests per day. With the new Eglin Parkway restaurant, Sexton will be able to make an even bigger difference.
"This is a big project and it adds some nice curb appeal to Eglin Parkway," noted Sexton proudly. The prominent new building with double drive-thru lanes will significantly expand Sexton's reach beyond his current customer base with their proximity to Okaloosa Island.
"We have painstakingly spent months training our new employees in an actual restaurant with people and food. It's not ideal, but it's a long term strategy for us," said Sexton on readying new hires.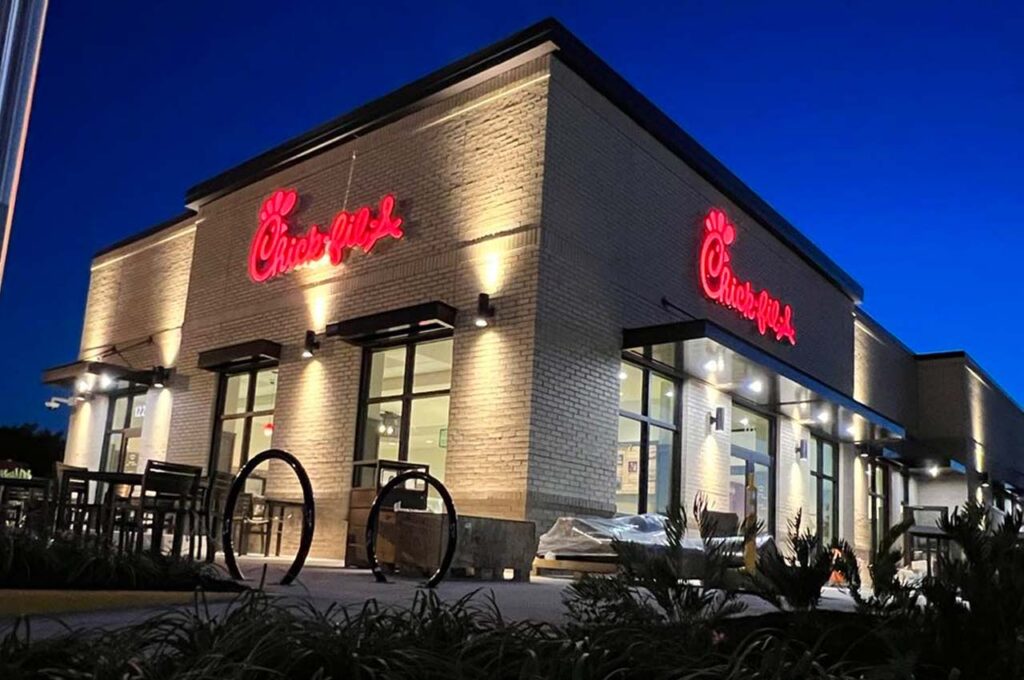 Sitting at a table in the middle of the Beal location, with 122 Eglin Parkway on his mind, Sexton looks around at the place that has his heart. Even in the excitement of November 17th, he intentionally plans to be at Beal at some point on opening day to show his unwavering commitment to the original.
"Beal Parkway is where I've parked my truck for 20 years. It's meant a lot to me and it still does. This is my heart," Sexton emphasized.
As opening day approaches, Sexton maintains his signature humility, attributing his success to the community he serves.
"I say this all the time, but thank you for giving me a job," he said to the community. "25 years of doing this, it's the only thing I've ever done. I've never been more passionate about what I do."
That passion will be on full display when Sexton welcomes the public to his new Chick-fil-A restaurant at 122 Eglin Parkway NE starting November 17th. After two decades of delighting the Fort Walton Beach community, he's ecstatic to keep it going at his new location. Sexton and his team have 50 gift bags full of Chick-fil-A merch for the first 50 people that arrive on grand opening day.
"Whoever comes in to eat here, that's who we built it for," he said. "And it really will be our pleasure."