PRESTO! at The Magic Parlor is a pop-up magic show coming to Destin for Summer 2022.
Produced by The Show Company, the cast includes six world-class magicians, mentalists and illusionists from around the world, bringing all the charm, energy, and magic to life in an astounding 90-minute performance.
PRESTO! presents a dazzling tapestry of illusion, showmanship and outright hilarity. Located at Destin Commons, this production is inspired by early 20th century magic performances and the beauty of a European dance hall from the early 1920's.
PRESTO! will run from May 19 through August 28, 2022, with 10 shows per week at Destin Commons.
"I'm extremely proud to be directing PRESTO! as it's filled with magicians and artists that I have enormous respect for, have admired and been friends with for many years," says Brett Loudermilk, director. "I love sharing this magical world with people and cannot wait for guests to take part in it. We had a great time creating this show, and I know you'll have fun watching it!"
The show will be hosted by David Williamson, who has been featured on ABC's Champions of Magic, CBS' Magician's Favorite Magicians, and NBC's World's Greatest Magic III.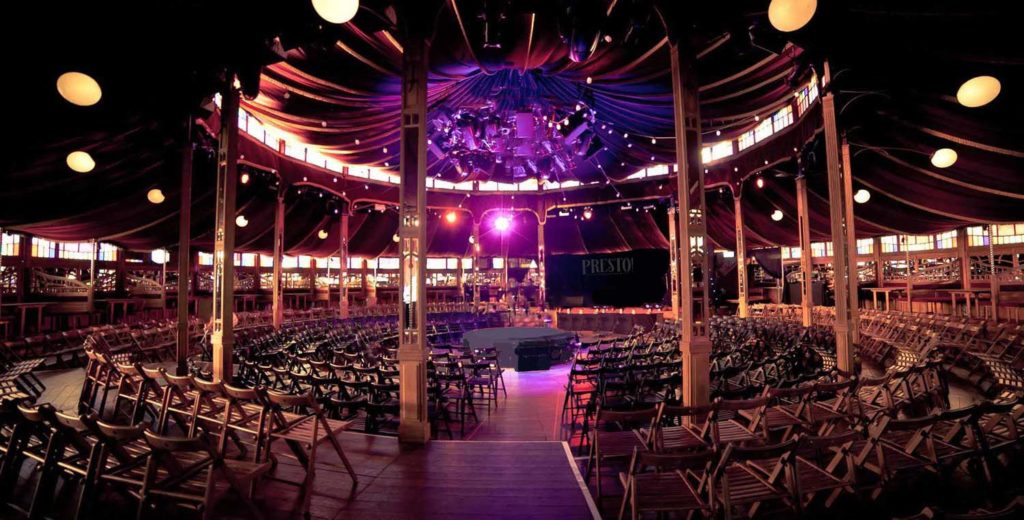 Additional talent includes:
Chris Cox – the only mind-reader in history to have starred on Broadway, the Sydney Opera House and in London's West End.
Yu Hojin – currently competing on this year's season of America's Got Talent on NBC.
The Great Kaplan – a modern-day vaudevillian master who has made numerous headliner appearances at the world-renowned Magic Castle in Hollywood, California.
Pablo Canovas – an internationally-known, dynamic magician who has established a reputation as a prodigy.
Local news sent to your inbox 🤝
Thousands of locals read our newsletter every morning! It's FREE and makes sure that you never miss important local updates.
To complement the magic, The Show Company has assembled variety artists Karl Herlinger and Michael Rayner to add to the hijinx.
To house PRESTO!, The Show Company has imported a beautiful antique theater from Belgium, which will appear almost overnight at Destin Commons in early May.
These European cabaret tents, known as spiegeltents (or mirror tents), were constructed in the 1910s by renowned craftsman Willem Klessens.
These circular theaters hosted dances, cabarets and celebrations throughout Europe for almost a century.
There are currently about thirty-five of these remarkable structures in existence, largely still seen throughout Europe.
"Guests to The Magic Parlor will be transported to what feels like another time, where the venue itself is one of the co-stars of the performance," said the company. "Standing over 30 feet tall, and with a diameter of almost 100 feet, The Magic Parlor can comfortably accommodate up to 500 guests, along with the performers, crew and hosts who serve them."
PRESTO! at The Magic Parlor will reside in Destin from May 19 through August 28, 2022, at Destin Commons with 10 shows per week, six days a week. The show is dark on Tuesdays.
Tickets start at $69.95 and $49.95 for children under 12, with special rates available for military and seniors.
Group rates are available for parties of 12 or more.
Reservations for the fun and excitement of PRESTO! can be made by visiting prestodestin.com.