January 18, 2023
|
Reading time:
14 mins
TOGETHER WITH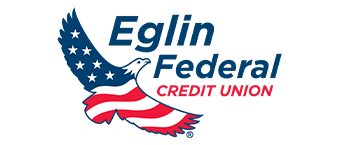 Good morning!
There's a lot to cover in this morning's newsletter. Top to bottom, this should only take 14 minutes to get you caught up on top stories in the Okaloosa County area.
Let's get to it 🙂
PARKS+REC
Okaloosa County bans smoking in all public parks and beaches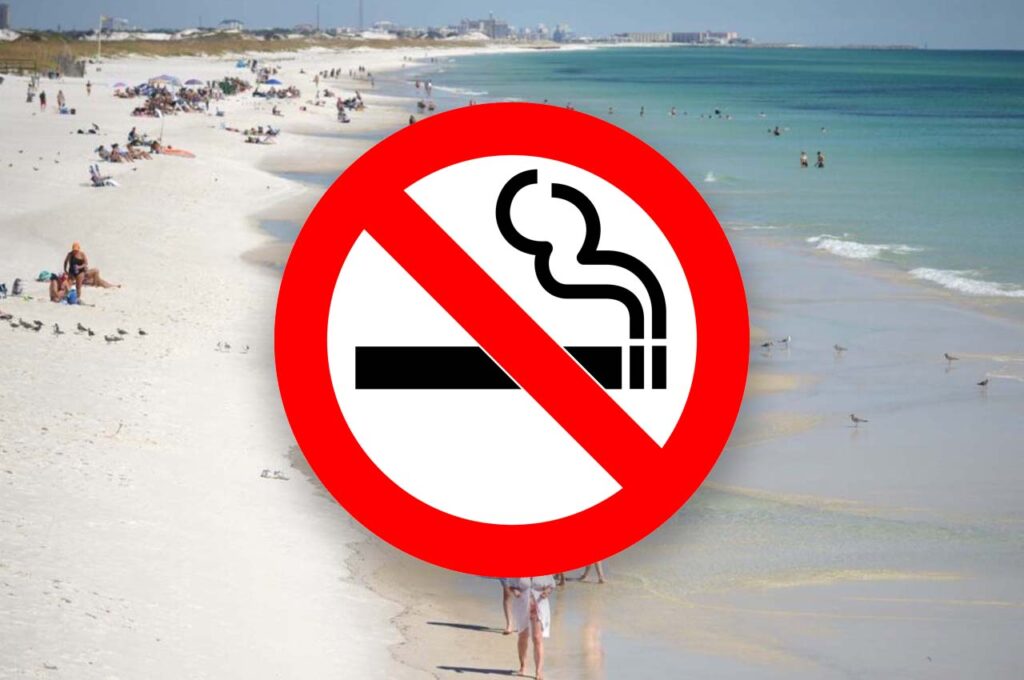 On Tuesday, January 17, 2023, the Okaloosa Board of County Commissioners passed a no smoking ban that will prohibit smoking and vaping within all County-owned public parks and public beaches.
The smoking ban is made possible by Chapter 2022-213, a law signed by Governor DeSantis on June 24, 2022, which amended the Florida Clean Air Act to allow counties and municipalities to restrict smoking in public beaches and parks they own.
Several other counties and cities in Florida have already enacted ordinances banning smoking in their public parks or beaches, including Fort Walton Beach, Panama City Beach and Pensacola.
According to Deputy County Administrator Craig Coffey, the main complaints the county receives are about smoking debris rather than actual smoking. Coffey says that smoking debris, including plastic vaping cartridges, is found at all of the county's parks and beaches, and is particularly prevalent on the beaches.
During the most recent International Beach Cleanup Day in September, volunteers collected 8,000 cigarette butts from 6 area beaches.
In response to this issue, an ordinance amendment to Section 16-43 does the following:
(c) Smoking and vaping prohibited within County-owned public parks and public beaches. It shall be prohibited for any person in or on any County-owned public park or public beach to smoke, burn, ignite, inhale, exhale or consume any cigarette, pipe, lighted tobacco product, electronic cigarette, or vapor producing device other than an unfiltered cigar.
The exception of unfiltered cigars is preempted by the state.
SPONSORED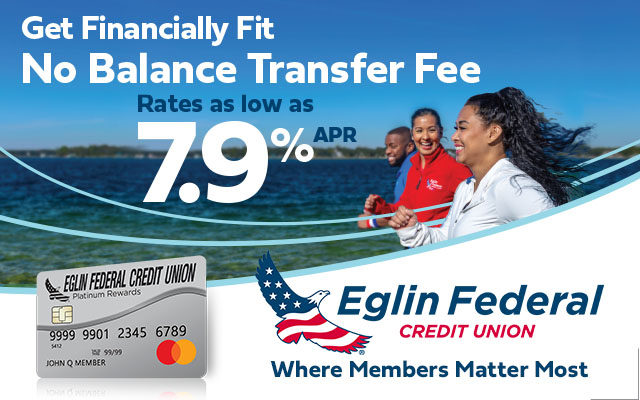 Start the New Year right by getting your finances in shape!
Lose the high interest credit card rate and transfer your balance to an Eglin Federal Credit Union Mastercard! There's no balance transfer fee, no annual fee, no cash advance fee, AND no international transaction fee. Interest rates are as low as 7.9% APR.
Get your finances in shape, and apply in person or online at eglinfcu.org/mastercard.
PUBLIC SAFETY
Fort Walton Beach Police discover Fentanyl disguised as Oxycodone inside apartment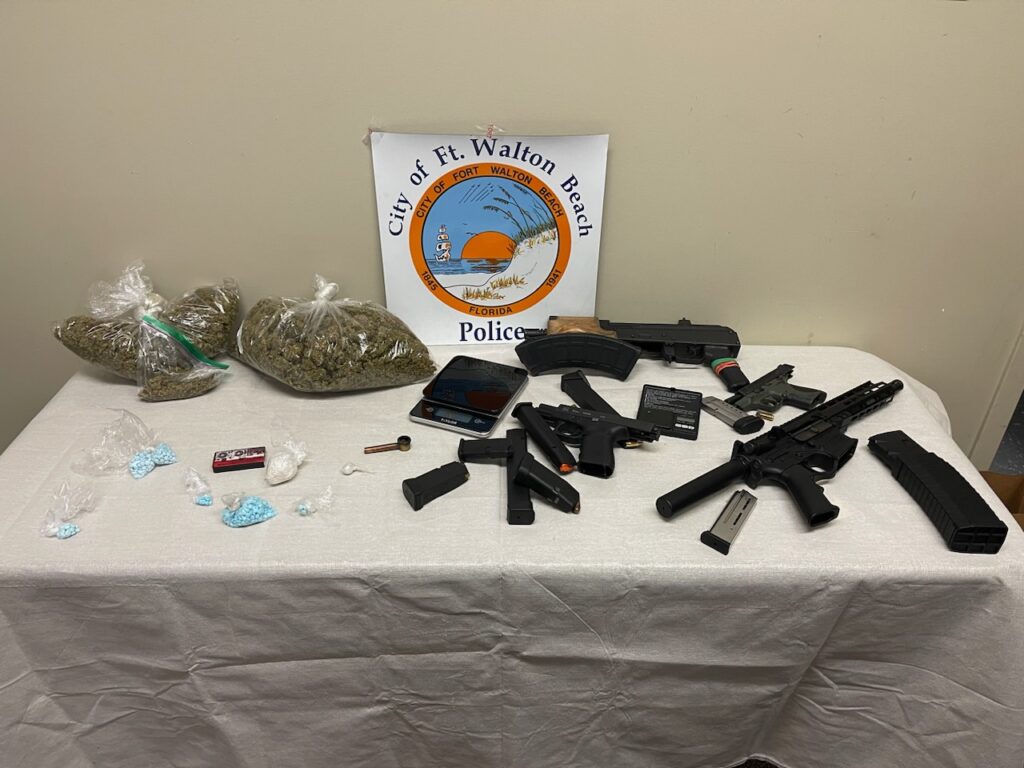 On January 14, 2023, the Fort Walton Beach Police Department made a number of felony drug and weapons arrests at an apartment building on Chestnut Avenue.
According to a press release from the department, an officer responding to a call for service noticed a group of five males near the building and became suspicious of possible illegal narcotics activity. As he approached the group to question them, the suspects fled on foot.
Additional officers were called in to assist with the search and all five suspects were eventually located and detained.
The Fort Walton Beach Police Department's Special Investigations Unit and Criminal Investigations Division were then able to obtain two search warrants, one for a vehicle and one for an apartment at the Chestnut Avenue address.
The search of the vehicle turned up a handgun with no serial number, an AR-pistol, and crack cocaine. The apartment search uncovered:
An AK-pistol.
A stolen handgun from Walton County that had been modified to fire in a fully automatic mode.
700 grams of marijuana.
91 grams of fentanyl.
The fentanyl was found to have been pressed to resemble oxycodone pills, which is a serious problem in the region and nation with fentanyl being disguised as other drugs.
According to the Fort Walton Beach Police Department, there has been an increase in drug overdoses in the area in recent years, and the department is committed to combating the problem.
"A lethal dose of fentanyl can be as little as 2mg," the statement noted.
As a result of the investigation, five individuals were arrested and charged with felony drug and weapons offenses, including an 18-year-old and two 16-year-olds.
POLITICS
Lannie Corbin, City Manager of Niceville for over 50 years, announces retirement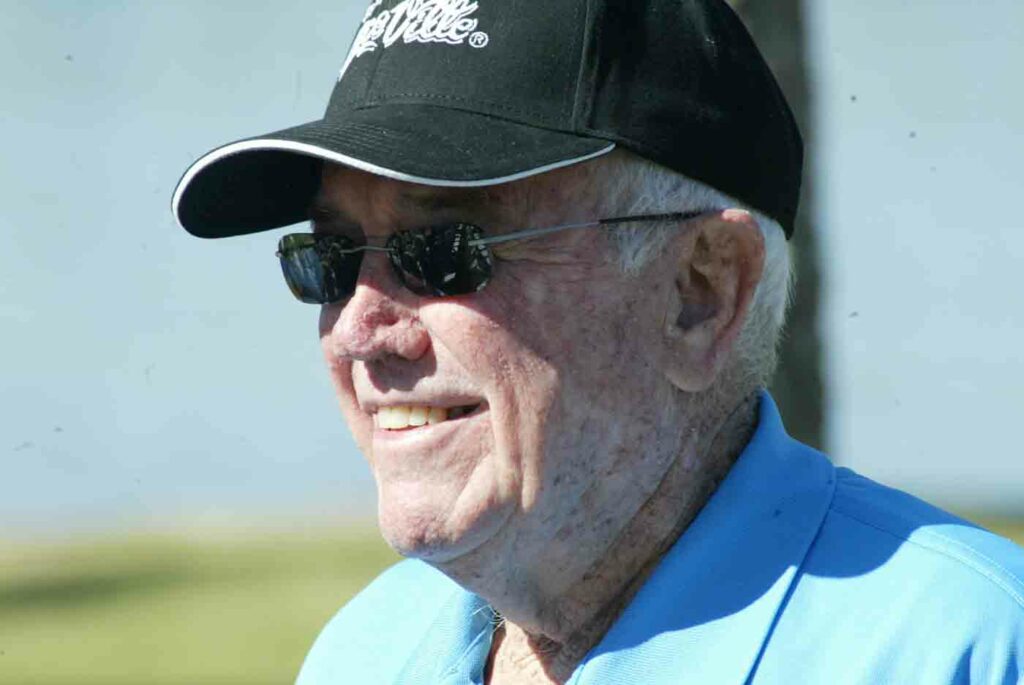 Lannie Corbin, the long-serving City Manager of Niceville, announced his plans to retire during last Tuesday's regular city council meeting, according to Niceville.com.
Corbin, who has held the position since 1971, is set to retire on August 1, 2023.
In light of Corbin's retirement, the city will be forming a committee to begin the search for a new City Manager.
Read more from on this story from our media partners at Niceville.com
BEACHES
Become a 'Little Adventures Beach Scout' or Lifeguard
Visit Destin-Fort Walton Beach is currently seeking applicants for the position of Little Adventures Beach Scout.
Little Adventures is a program that offers free classes, such as fishing, paddle boarding, and surfing, led by local experts who are passionate about the area's water culture. The classes are held on the beach and are open to families.
As a Beach Scout, you will be responsible for introducing families to the Little Adventures program and helping to facilitate the pop-up classes.
This is a seasonal position, starting in February and offering training and flexible hours to work around your schedule.
The application process is open now, and those interested can apply at the following link https://www.destinfwb.com/recruitment/beach-scout/ .
Lifeguard Opportunity
The Destin Fire Control District is currently accepting applications for lifeguards for the upcoming 2023 beach season. The season will begin in March and the pay range for the position is $18-23 per hour. Candidates must be at least 16 years of age to apply.
To be employed as a Lifeguard for the Destin Fire Control District you must attend training academies, as well as complete a 550 yard or 500 meter swim in 10:00 minutes or less.
To apply for the position, candidates can fill out the application form by clicking the link provided or can drop off a completed application at Destin Fire Control District – Station 10 located at 117 Crystal Beach Drive.
The application process is open now, and those interested in the position are encouraged to apply as soon as possible.
COASTAL RESOURCES
'Christ of the Gulf': 9-foot tall Jesus statue part of artificial reef deployment near Destin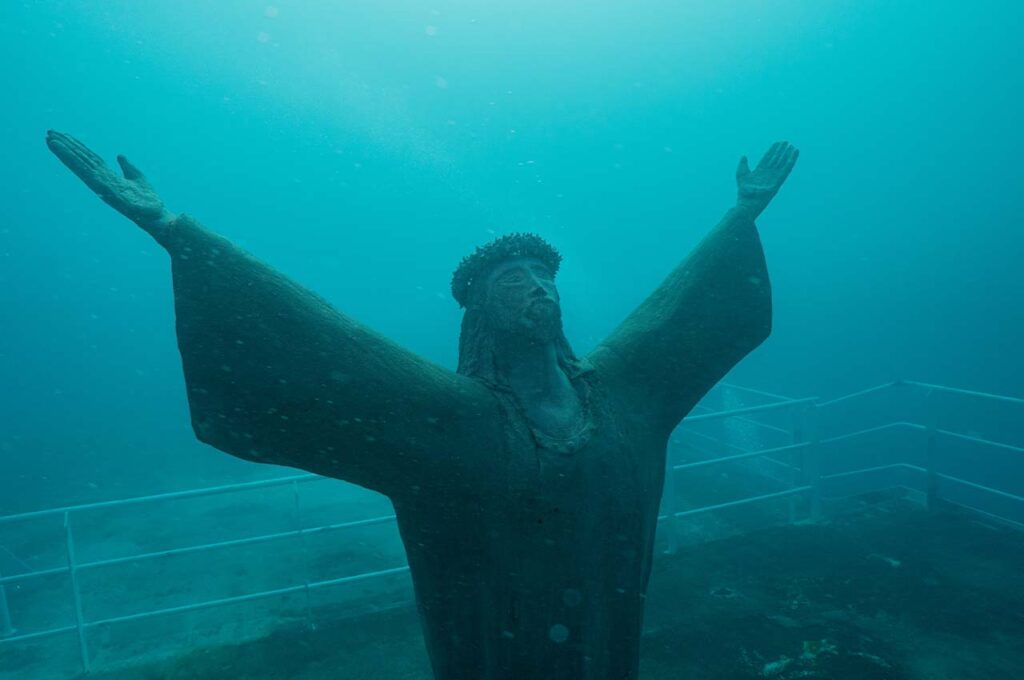 On January 15, 2023, the Okaloosa Coastal Resource Team successfully deployed the vessel MANTA off the coast of Destin-Fort Walton Beach in Okaloosa County, Florida.
The artificial reef was deployed in 111ft of water, approximately 16 nautical miles southwest of Destin, inside the LAARS C permitted area.
But, the MANTA is not your ordinary artificial reef, it features a unique addition – a Jesus statue that was mounted to the vessel, now sitting at the bottom of the Gulf of Mexico.
The idea for this statue came from Glenn Camplejohn Jr., a member of the spearfishing club out of Ocean Springs, Mississippi called Deepwater Mafia.
Camplejohn explained, "we were coming up with ideas on what to deploy and I came across a Jesus statue over here in Ocean Springs. We purchased it and we were told that it was full of rebar and was stout."
However, things didn't go as planned. Camplejohn says that during the first attempted deployment, the crane operator snapped the Jesus statue at the ankles, causing it to shatter all over the deck of a boat.
Determined to make it happen, Camplejohn decided to make a statue himself.
"I made the statue in my backyard," he says. "I have never made anything out of concrete in my life but I put plenty of rebar, mesh wire, and fiber cement into it to make it very stout."
The statue is 3,200 pounds, 8.5 feet tall and took him 9 months to build. The inspiration for the statue came from Camplejohn's Miami, Florida roots.
"There's a statue of Jesus Christ at John Pennekamp Coral Reef State Park called Christ of the Deep and that's what gave me the idea for doing this."
The statue was meant to be deployed in Mississippi, however, it couldn't happen due to permits and location. That's when Okaloosa County Coastal Resource Manager Alex Fogg reached out to him with the opportunity to mount the statue to the MANTA.
Camplejohn immediately jumped on board and was able to transport his statue from Mississippi to Lafitte, Louisiana where the MANTA was docked. On Sunday, what he had been working toward since 2017 finally came to fruition and "Christ of the Gulf" became a reality.
"I knew that being in Florida, the water is a lot clearer and it would just be a perfect spot," he said. "After all the downfalls, and all of the other places we tried to make it happen, I knew that this is where it was meant to be."
"I really wanted this statue to touch lives, to show people that Christ is here, He's in our hearts and He's everywhere we go," he added. "And now he's in the Gulf of Mexico. Building this statue has definitely changed my life and my family's life."
Click here to see more pictures and video of the statute underwater.
GIVING BACK
Dewey Destin's Seafood Restaurant hosts Charity Fish Fry to support Corporal Hamilton's Family
UPDATE: The location has been updated to the Northwest Florida Fairgrounds on Sunday, January 22, 2023 beginning at 12pm (noon) due to the possibility of bad weather.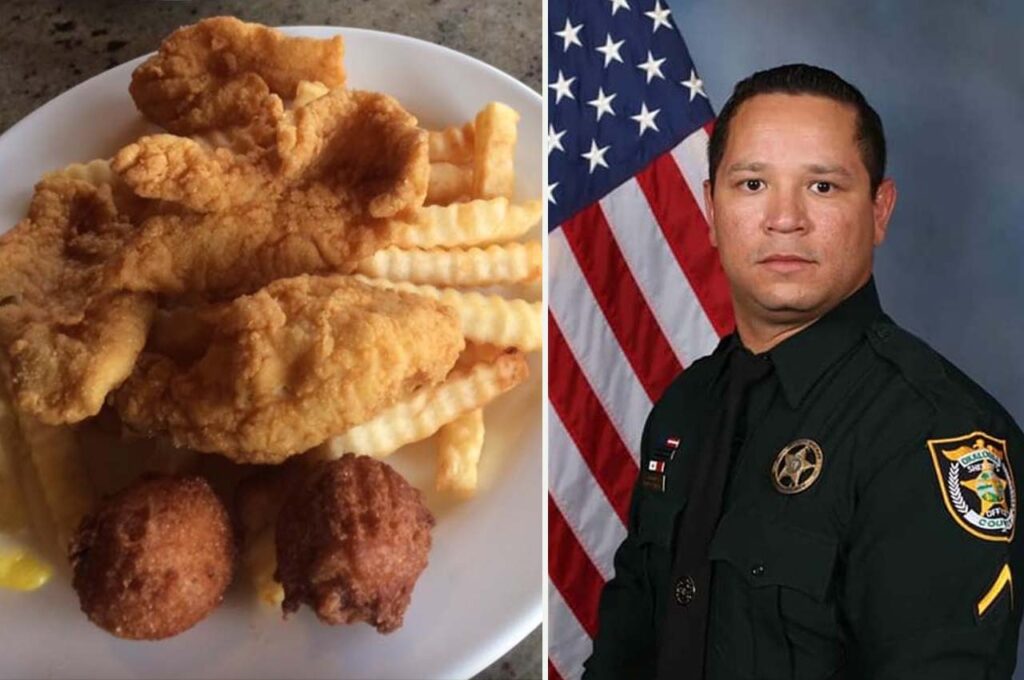 Dewey Destin's Seafood Restaurant is hosting a charity fish fry on Sunday, January 22, 2023 beginning 12pm (noon) at the Northwest Florida Fairgrounds in Fort Walton Beach, Florida to raise money for Corporal Ray Hamilton's family.
Corporal Hamilton was killed on Christmas Eve when a domestic violence suspect opened fire on responding deputies from inside his residence.
The event is being held to show support for Corporal Hamilton's family and to demonstrate to the men and women putting on the uniforms that the community sees them and cares deeply about them.
"I know all of us are just heartbroken over the loss of Corporal Hamilton," said Parker Destin. "I know that if there was an opportunity for everyone to come together to support Corporal Hamilton's family, while also demonstrating to the men and women putting on the uniforms that we see them and care deeply about them, that this would be one of them."
Destin says that the community fish fry is being held in a central location within the county so that the most people can participate. The event will take place that Sunday afternoon at the Northwest Florida Fairgrounds in Fort Walton Beach and will feature seafood plates for $10 per box. All proceeds will go to the Okaloosa County Sheriff's Office's Star Charities foundation in honor of Corporal Hamilton.
The Star Charities foundation is a licensed 501(c)(3) organization dedicated to assisting the employees of the Okaloosa County Sheriff's Office with unplanned life changing events as a means of giving back to those that work so hard for the community.
The foundation also provides assistance to both national and local charities as determined by their employees and board of directors.
"We're in a decent position to be able to do a big fish fry," added Parker Destin. "I hope we get just overwhelmed with folks because we're going to come ready to serve a lot of people. I sincerely hope that we run out of food."
Residents can pay their $10 by cash or credit card, and every plate of seafood will be given in a to-go box.
"They are going to get their sauces, forks and knives, along with fish (maybe shrimp), hushpuppies and a side," said Parker.
The community is invited to come out and show their support for Corporal Hamilton's family and the men and women of the Okaloosa County Sheriff's Office on January 22, 2023. With delicious seafood plates and all proceeds going to a good cause, it's an event not to be missed.
1958 Lewis Turner Blvd., Fort Walton Beach, Florida
OK, that's all I have for you this morning! I hope you have a great Wednesday!
p.s. What did you think of this morning's newsletter? Hit the reply button and let me know!
Published with ♥ by Get The Coast.
Did someone forward you this email? Subscribe here.
124 Eglin Parkway SE Fort Walton Beach, FL 32548