After serving as the Athletic Director at Destin High School for two years, Phil Dorn will be departing from his position as his contract comes to an end on June 30th, 2023. The decision was made by the Destin High School Governing Board on June 12 to not renew his contract, and comes on the heels of the school navigating financial issues and internal conflicts as the 2022-23 school year came to an end.
On May 23, 2023, the governing board approved a new Executive Director role that includes being the Athletic Director too. According to Board President Denise Fountain, Destin High School does not have an Athletic Director salary allowance in the 2023-2024 budget.
Dorn, in a letter addressed to Destin High Athletic Coaches, Boosters, and the school community, expressed his gratitude and reflected on the achievements made during his tenure. He acknowledged the challenges faced when he was initially hired in May 2021 but emphasized the collective effort and dedication that brought about the successful establishment of 25 sports at Destin High School.
Among the accomplishments highlighted in Dorn's letter were the initiation of 13 boys' teams and 12 girls' teams, and generating over $1.2 million in athletic revenue from 2021 to 2023. Dorn also recognized the collaborative efforts of the Destin community, which provided practice and competition facilities for all teams, ensuring full team schedules and the introduction of Destin High Athletic Jackets, Letters, and Pins Awards.
Under Dorn's leadership, Destin High School attained provisional membership in the Florida High School Athletic Association. The partnership with HCA Hospitals allowed for the provision of an athletic trainer, an athletic training room, and sports medicine supplies. The school also established a state-of-the-art strength and conditioning room for all students.
On top of that, annual fundraisers such as the 5K Run, Celebrity Luncheon, and Golf Tournament were started, in addition to starting the first-ever Fellowship of Christian Athletes huddle at the school.
Dorn says he also ensured all systems were in place for athletic compliance, including policies, paperwork, discipline procedures, equipment ordering, fundraising, awards, and financial documentation.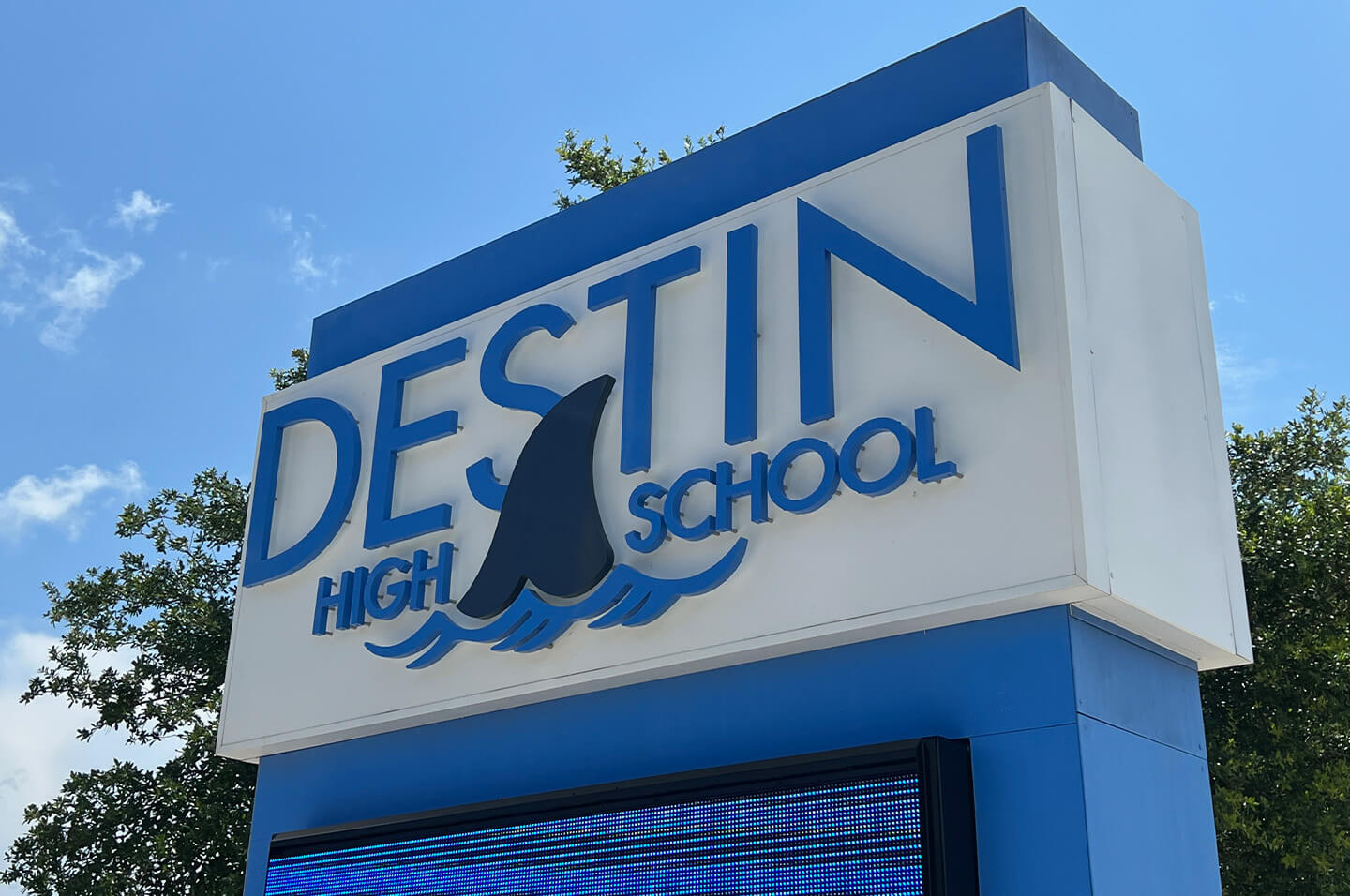 Through all of these dedicated efforts, Dorn said they were able to make not only Okaloosa County aware of their 25 sports programs, but made the entire state of Florida aware too.
Moving forward, the responsibilities of the Athletic Director will be incorporated into the new Executive Director role, as approved by the Destin High School Governing Board last month. The Executive Director will also be responsible for planning and directing interscholastic athletic activities, according to the job description.
In the interim, Dorn says in his letter that Principal Christine Cruickshank will serve as the go-to person for all athletics-related matters. Cruickshank will also assume the role of the FHSAA Representative and the sole administrator responsible for Home Campus compliance, according to Dorn.
As his tenure concludes, Dorn expressed his gratitude for the opportunity to work with the Destin community and the successful establishment of high school sports at Destin High School. He attributed the achievements to "God's Grace, elbow grease, and the coming together of all of us."